Elizabeth Moyer, Editor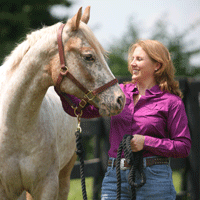 Elizabeth Moyer is the editor of Horse Illustrated, Your New Horse and HorseChannel.com. She is also the author of two Horse Illustrated Simple Solutions books on grooming and horse safety (BowTie Press).
Liz is a horse owner and lifelong equestrian. She has been in the equine industry for over 10 years. Prior to that, she worked in advertising and holds a Bachelor's degree from the University of Colorado's School of Journalism and Mass Communication.
Liz and her horse Chance live in the beautiful bluegrass horse country of Kentucky.
Click here to contact our editors and contributors.