Assistant Editor of Young Rider and Horse Illustrated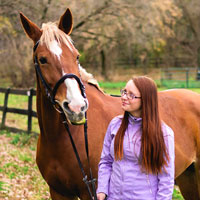 Shoshana Rudski is a graduate of Wilson College where she majored in Equine Journalism and minored in Communications and Political Science.
Shoshana owns and competes Izzy, a pony-mutt-thing, in eventing and dressage. Every so often they will dabble in the jumper ring, and when Shoshana is really feeling spritely a Hunter appearance may occur. She has 'done the working student thing' for Playland Equestrian Center and Schramm Equestrian and has a habit of mucking stalls late into the night in exchange for lessons.
In her spare time, Shoshana plays with her pet rats and ferret, and will occasionally make a superb chick pea salad.