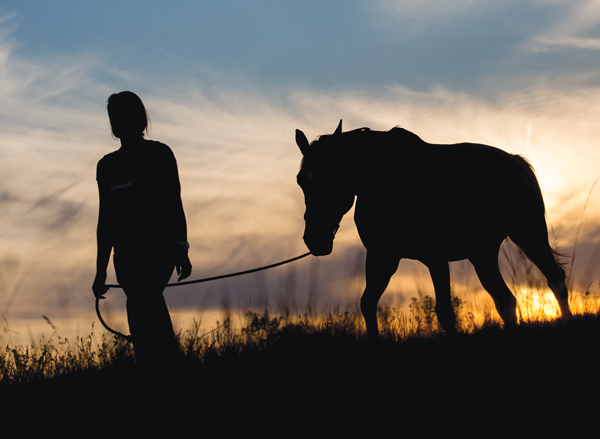 When she woke up one morning in 2015, Marianne Barry had no idea that she would have to say goodbye to her best friend. But after finding her horse in the throes of a severe colic episode, that's exactly what she did.
Barry and her 25-year-old Saddlebred gelding, Shanghi, had been together for six years when she had to relocate him to a new boarding barn. At the time of the move, the horse's health was already compromised by several conditions, and Barry believes that the stress of the move (combined with the horse's existing health challenges) was responsible for the colic episode.
By the time the veterinarian arrived to examine him, Shanghi's condition was irreparably compromised, and Barry had little choice but to instruct the veterinarian to euthanize him.
"I knew that this was eventually going to happen, but I was forced to make the decision that day," she says. "Even though I knew it was best for Shanghi, it was an awful decision to make."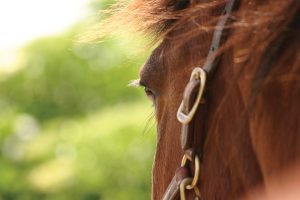 Facing the Inevitability of Euthanasia
Like Barry, most horse owners are aware that they will have to make end-of-life decisions for their horses someday, but euthanasia is not something they're likely to think much about until they're forced to do it. That's largely because facing the end of life, whether for humans or equines, is not pleasant.
Also, some owners put off making end-of-life decisions for their horses because choosing appropriate euthanasia makes them vulnerable to guilt and criticism from other horse owners.
"Think about a relative in hospice care," says Jim Boller of Code3, a firm that teaches law enforcement officers, veterinarians and others to recognize signs of equine abuse. "Hospice care is end-of-life care and [seems] acceptable for people, but not for animals."
Whether a horse can stay in his own home has become a standard question for making the euthanasia decision. Perhaps illness or injury have compromised his physical comfort, or his owner can no longer afford to provide specialized medical care.
"It has to do with quality of life," says Emily Weiss, Ph.D., CAAB, vice president of equine welfare for the ASPCA. "But people don't want to have a [horse euthanized] just because they can't keep him anymore."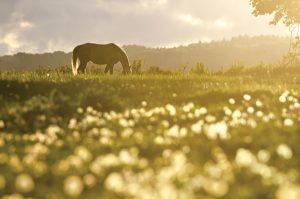 Rehoming an Ailing Horse
Quality of life should be a consideration for owners who ponder rehoming their horses rather than euthanizing them. Removing a horse from the familiarity of his routine, surroundings and pasture mates stresses an animal already challenged by chronic injury or illness.
Likewise, placing an ailing or elderly horse in a so-called retirement sanctuary exposes him to the stress of adapting to a new environment, as well as to the possibility of poor care.
"The horse might be turned out to pasture and continue to suffer from the condition he had in the first place, or be in a situation where he will be neglected or mistreated," says Weiss.
Even horses that have been rehomed to live out the remainder of their days frequently face risks that threaten their lives. That's because elderly or unwell horses are more likely to be ostracized from a new herd and denied access to water, food or the social interaction that horses require.
Horses that are placed in new homes at this stage don't always finish their lives peacefully.
"Of course you can try to rehome them, but you have to be prepared for what you don't know," says Nicole Maubert Walukewicz, founder of the Palmetto Equine Awareness & Rescue League (PEARL). "The new owner could be a kill buyer who knows that the horse is worth $200 on the meat market, and your horse could end up on a truck to Canada or Mexico."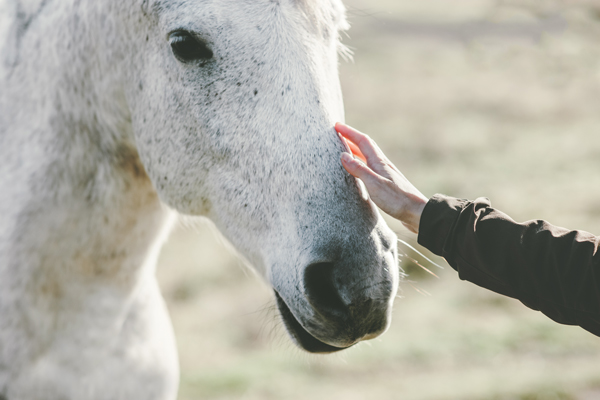 Euthanasia—The Kindest Option
Because of this, euthanasia performed by a licensed veterinarian is the most humane option. For those who do choose euthanasia, support is key. According to Weiss, owners who have a long-standing relationship with their veterinarian should count on them to carry out the euthanasia procedure in a humane way, often at reduced cost.
If you still feel the cost is out of reach, programs such as the ASPCA's Vet Direct Safety Net helps veterinarians offer reduced-cost services to owners.
"The [program] subsidizes veterinarians to do the good work that they want to do in their communities," says Weiss. "That sometimes means lower-cost euthanasia services."
Veterinarians can also provide owners with information about carcass removal, including state and county regulations about disposal, and help owners get in touch with local farmers or ranchers who are willing to have the horse buried on their property.
In addition, some rescue organizations host low-cost or no-cost euthanasia clinics for owners who are unable or unwilling to have their horses euthanized at home. However, veterinarians participating in rescue-sponsored clinics can still decline to euthanize some horses.
"If euthanasia is not appropriate, the veterinarian will talk to the owner and help them find other options for the horse," says Erin Clemm Ochoa, chief executive officer for the Days End Farm Horse Rescue (DEFHR).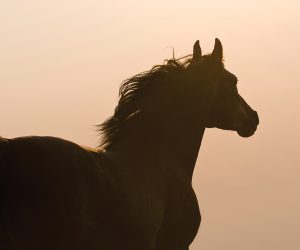 Support System
Some owners put off or decline euthanasia services for their horses to avoid guilt over making the decision to end the life of a beloved animal. If you do choose appropriate euthanasia, support is key to carrying out the decision. You can most often find euthanasia-day support by reaching out to other sympathetic horse owners, trainers and even operators of local rescues.
"Sometimes people just need someone to hold their hand, to hear 'it's OK,' and have their feelings validated," says Clemm Ochoa. "You can reach out to local rescue operators and others in the equine community. They will be happy to help."
In addition, need for moral support does not end after the euthanasia has taken place.
"It was a very difficult decision, and afterward I had a very difficult time," says Barry. "I had no one to turn to because no one knew what to say to me. Support for an owner who has just lost a horse is so important."
As difficult as it is, the decision to euthanize doesn't mean that the relationship with your horse is wasted or forgotten.
"Shanghi was my soulmate," says Barry.
"After 30 years away from horses, he was exactly what I needed because he gave me the confidence and knowledge to have another horse [after he was gone]. I'll never, ever forget him. He was a blessing."
How Euthanasia Works
Euthanasia is the final act of kindness that a horse owner can perform, but the process can be stressful. Knowing how the procedure is performed can help reduce your stress. Here's what to expect.
Who performs the procedure? Euthanasia is performed by a licensed veterinarian. A vet tech may or may not be present for the procedure. What drugs are used? Most veterinarians performing chemical euthanasia use sodium pentobarbital, a barbiturate drug that depresses the horse's nervous system and breathing and leads to cardiac arrest.
How is the procedure performed?
◆ Euthanasia begins with the horse in a standing position. A veterinary technician, trainer, or anyone else the owner might designate holds the horse's head.
◆ The veterinarian then injects the drug directly into a vein in the horse's neck.
◆ The horse will begin to feel tired, and the veterinarian and a helper, often the vet tech, will help the animal to the ground. "The horse is usually dead before he [reaches] the ground," says Emily Weiss, Ph.D., CAAB, vice president of equine welfare for the ASPCA.
Once the horse is on the ground, the veterinarian confirms that the horse is dead. When it's time to euthanize a horse, many owners seek the support of a trainer, friend or even a local horse rescue operator, whether they have experienced the procedure or not. All owners need do is ask, says Elizabeth Steed, founder and operator of the Livestock & Equine Awareness & Rescue Network (LEARN). "It's always an emotional time for the owner," says Steed. "People are always willing to help do the hand-holding when the time comes."
This article about equine euthanasia originally appeared in the October 2019 issue of Horse Illustrated magazine. Click here to subscribe!