Photo Courtesy ASPCA
Due to the global pandemic, an increasing amount of horses are in need of new homes. Equine rescues and shelters have been put under an immense amount of stress as these facilities have reduced functions due to lack of volunteers, staff, and resources due to COVID-19. However, many horses at these facilities still need permanent, loving homes. Therefore, the ASPCA has launched an innovative solution to help match horses to future owners through their ASPCA National Adoption Weekend, June 5-7. This nationwide remote event will not only help horses, but cats and dogs, find homes in a socially-distanced way.
"This is a historic moment for equines, as this is the first national adoption event to include equines," says Emily Weiss, Ph.D., CAAB, Vice President of ASPCA Equine Welfare. "Not only is this an indicator that equine adoption is growing as a way to obtain a horse, but also that horses are embraced by a growing number of the general public."
ASPCA research suggests there could be "at least 2.3 million adults in the U.S. with the resources and desire to adopt a horse in need." If you have the resources to adopt a horse, or know of someone else who has the resources to adopt, you and your friends and family can get involved in the ASPCA National Adoption Weekend by visiting www.aspca.org/adoptfromhome. Here you can find one of the 572 participating rescue groups and animal shelters nationwide, where you can search for available horses, as well as other animals in your local community.
You can also visit www.myrighthorse.org for more adoptable horses if you have a hard time finding a shelter near you on ASPCA's "Adopt from Home" map. MyRightHorse.org is the online equine-only adoption platform of The Right Horse Initiative (TRH), a program of the ASPCA.
There are hundreds of horses of varying breeds, ages and disciplines available for adoption on MyRightHorse.org, and many more waiting for rehoming opportunities. "By adopting a horse during this difficult time, you are helping multiple at-risk horses by opening a stall for the next horse in need," says Weiss.
One Adoption Partner's Unique Online Solutions
Moreover, with facilities in Kentucky, Pennsylvania, New York, Ohio and Louisiana, New Vocations Racehorse Adoption Program, a TRH adoption partner, is one example of an equine welfare organization using creative and unique solutions.
New Vocations has been creating innovative solutions to match horses with their future homes by hosting Facebook live meet-and-greets every day (except Sundays) at noon and doing Facetimes between one of their adoptable horse's trainer and a potential adopter.
During their Facebook Live meet-and-greets, potential adopters and horse lovers can receive a horse's comprehensive history and health, as well as see their temperament.
"The meet-and-greets were such a hit as people were a captive audience," says Sarah Coleman, Director of Public and Community Relations at the New Vocations Racehorse Adoption Program. "They were stuck at home, many with more time on their hands than normal, and spending more time on social media platforms. We adopted out 60 horses in April and another 60 in May—those numbers are HUGE, not only for this time of year, but because of what is going on in the world!"
New Vocations normally adopts around 500 horses each year, and up to about 40 percent of them are adopted without the potential adopter ever coming out to meet the horse in person, says Coleman. "Though this idea could seem foreign to some, New Vocations works diligently to provide as much information as possible to the potential adopter so they are comfortable with the horse; in addition to the plethora of photos and videos online,  the dialogue potential adopters can have with our trainers is very transparent and open. Because our trainers know the horses so well, they can answer all sorts of questions, from how the horse is in turnout to how he lunges, acts under saddle, etc."
Viewers can also engage by seeing the adoptable horse being ridden. Coleman explains that, even before the pandemic, potential adopters of horses at New Vocations are not allowed to ride horses at any of its locations before they adopt. "Because this precedent was already in place, our organization did not have to adjust as much as some other adoption and rehoming organizations did," she adds.
Coleman encourages other welfare organizations to engage with potential adopters on social media platforms during this time, because people are captive audiences right now. "What is helpful to remember is that people don't necessarily want a planned, perfectly executed sales video," she says. "During this time of unrest and uncertainty, people are even more interested in authenticity. People feel they really get to 'know' our trainers during the meet-and-greets, and their trust in them has grown exponentially."
"Getting on any format of live-streaming platforms really lets the audience feel they are a part of your organization—and bloopers are just fine! It's horses—we all know you can't plan down to the last detail anytime they are involved!"
You can check out their Facebook Lives, and share with friends and family, at www.facebook.com/new.vocations1.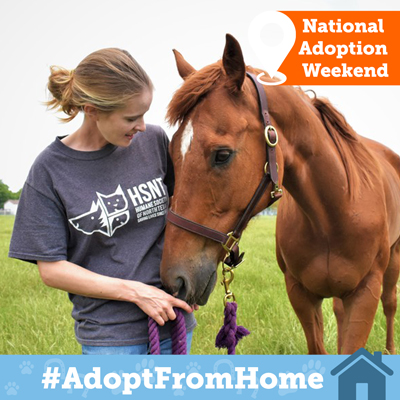 If You Can't Adopt
If you are not able to adopt at this time, Weiss shared a few other ways one can participate in the ASPCA National Adoption Weekend. She encourages those unable to adopt to share an available horse from MyRightHorse.org on their social media channels, especially with the hashtags #adoptfromhome and #righthorse.
"Not only will sharing from MyRightHorse.org help find that specific horse a home, but [it] will also increase the overall visibility of horses in transition," she says.