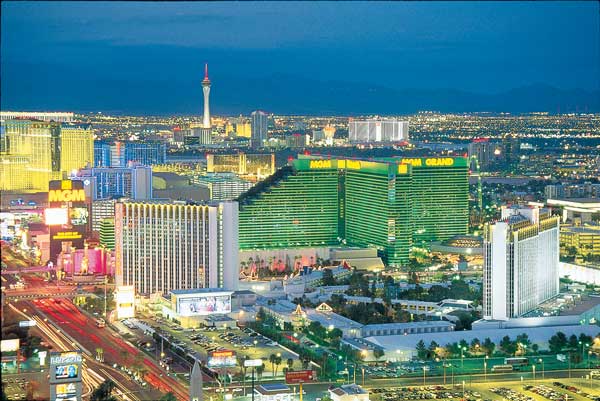 While this article ran for those who may want to attend the 2020 FEI World Cup Finals in Las Vegas, Nev., alas the COVID-19 pandemic hit all around the world and the event was cancelled. While the next time the event is scheduled to be in the U.S. is now in 2023 in Omaha, Neb., it is sure to return to the city of Las Vegas at some point. You can still learn about the competition below and about the many benefits of attending an equestrian event in Las Vegas, as the city has come to play host to a variety of horse competitions and demonstrations. 
This April, the world's top show jumping and dressage competitors will gather
in the land of neon lights and glitzy entertainment when the FEI World Cup Finals return to Las Vegas. Horses and riders from around the globe will compete for championship bragging rights and prize money at the University of Nevada Las Vegas's Thomas & Mack Center.
"This year's World Cup Finals in Las Vegas will be the best ever," says Pat Christenson, president of Las Vegas Events, Inc., producer of the Finals. "We have an elevated VIP experience with unique amenities and exciting in-event elements. Attendees will be able to sample amazing culinary creations from Michael Mina and several other of Las Vegas's top chefs and witness some amazing entertainment. And, of course, see the world's best horses and riders in both jumping and dressage!"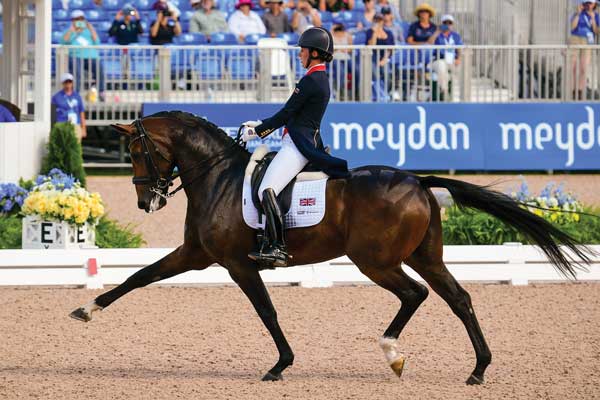 The Competition
The Finals are the conclusion of an annual international competition series for jumping and dressage with many Olympians and World Champions among the competitors. They are organized by the Fédération Equestre Internationale (FEI), which is the international govern-ing body for equestrian sport. FEI rules designate that a certain number of horse-and-rider combos representing several regional "leagues" from around the world will qualify for the Finals in each sport.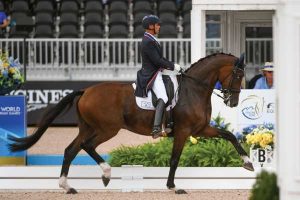 The jumping competition, which is sponsored by watchmaker Longines, will be con-tested in three rounds spread over four days. The dressage horses and riders will perform a Grand Prix test on day one and then a Grand Prix Freestyle two days later.
The organizer of this year's World Cup Finals is Las Vegas Events (LVE), and they worked closely with the FEI, Longines, the Thomas & Mack Center staff, and other key businesses and sponsors to produce this event. Staging an international show involves many tasks, including finding a venue that has both stabling and appropriate warm-up and competition arenas, setting a schedule, arranging for the quarantine of horses from outside the U.S., planning for ticket sales and spectator hospitality packages, contracting host hotels and spectator shuttles, and arranging for vendors in the commercial shopping and concession areas.
Other Entertainment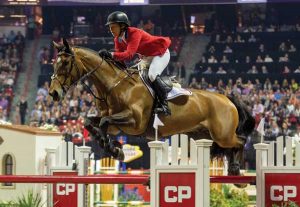 In addition to exciting World Cup action, ticket holders will be treated to a variety of Vegas-style entertainment acts and an appearance by the Young Living Essential Oils Percheron Six-Horse Hitch driven by Jason Goodman. Organizers hint that the Devou-coux Dressage Showcase on Friday afternoon will include some exciting surprises. The Las Vegas Grand Prix on Saturday afternoon is a show jumping invitational for top interna-tional riders who are not in the World Cup championship round.
A World Cup Gift Show shopping venue will allow visitors to indulge in the fun of "retail therapy" and will offer a wide range of vendors, including but not limited to, CWD, SmartPak, WC Equestrian, Voltaire, Tack of the Town, Der-Dau and others.
For more information, visit www.worldcuplasvegas.com and www.fei.org.
Planning Your Trip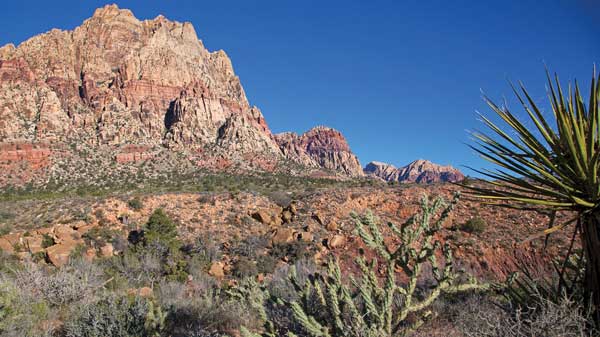 TOURISM TIPS: Besides the myriad of gambling and entertainment options offered on the Vegas strip and Fremont Street, don't miss some spectacular natural areas and parks. Red Rock Canyon National Conservation Area, Spring Mountain Ranch State Park, Valley of Fire State Park and Hoover Dam on Lake Mead are all nearby. Quirky and fun area attractions include the Mob Museum and the National Atomic Testing Museum. For more information, go to www.travelnevada.com.
WATCH ON TELEVISION: The FEI World Cup Finals take place April 15-19 and will be available for viewing on FEI TV, both livestreaming and on-demand. To subscribe, go to www.tv.fei.org.
For more information on tickets and partner hotels for the 2020 FEI World Cup Las Vegas, visit www.worldcuplasvegas.com.
This article about the 2020 FEI World Cup Finals Las Vegas appeared in the April 2020 issue of Horse Illustrated magazine. Click here to subscribe!