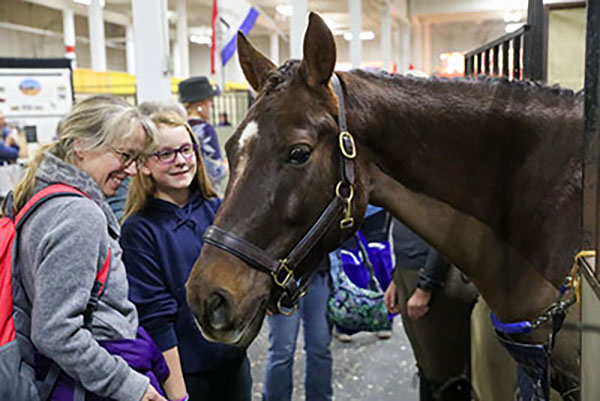 This fall, Equine Affaire returns to West Springfield, Mass. After three successful virtual Equine Affaire events, the event returns to the Eastern States Exposition on November 11-14, 2021, for the first in-person event since 2019. Make plans today to buy your tickets for the 2021 Equine Affair which will include the nation's premier equine exposition and equestrian gathering, where horse lovers and equestrians from all disciplines and walks of life will enjoy four jam-packed days of horse-themed education, entertainment, and shopping. Tickets for 2021 Equine Affaire and Fantasia are now on sale.
General admission for Equine Affaire includes entry to the trade show, theme pavilions, the Versatile Horse and Rider Competition and all clinics, seminars, and demonstrations. Tickets for adults are $16/day or $50/four-day pass; children's tickets for kids ages 7-10 are just $8/day; and children six and under are admitted for free! Get your hand stamped and come and go as you please during event hours, which are 9 a.m. to 7 p.m. Thursday through Saturday and 9 a.m. to 5 p.m. on Sunday. Please note the Eastern States Exposition charges for parking. Make your hotel reservations in advance, and if you stay at one of the host hotels (check out the full list on www.equineaffaire.com), make sure to mention Equine Affaire to get a special discounted rate.
When you buy your general admission tickets for Equine Affaire, remember to purchase separate tickets to save your seat for Fantasia! Equine Affaire's beloved musical celebration of the horse, Fantasia will also return to the Eastern States Exposition on Thursday, Friday, and Saturday evenings (Nov. 11-13) during the event. Sponsored by Absorbine, Fantasia features dressage, reining, liberty, Spanish garrocha, driving, specialty acts and much more. It's a show you won't want to miss! Tickets range from $14-$25 per seat and sell out fast.
Equine Affaire has been dedicated to elevating the equestrian experience since 1994, and that includes providing education for all equestrians, from the recreational trail rider to the Olympic medalist. This year's event schedule features hundreds of training clinics, seminars, and demos with some of the world's leading coaches, competitors, trainers, and experts. Attend the 2021 Equine Affaire in Massachusetts for your opportunity to learn from leading presenters Ken McNabb, Dan James, Lynn Palm and JR Robles.
Looking for something specific to your discipline? You're in luck! Attend our discipline-specific clinics and demos with Bryan Penquite (reining and ranch horse), Lendon Gray and Stephen Hayes (dressage), Bob Giles (driving), Shaina Humphrey (hunter under saddle), Anita Howe (easy gaited horses), Karen Rohlf (biomechanics), Luke Reinbold (trail obstacles), Ed Dabney (trail and general horsemanship), Stephanie Hayes (working equitation), plus others. More presenters will be announced in the coming months, so visit www.equineaffaire.com or follow them on Facebook @EquineAffaire to stay up to date!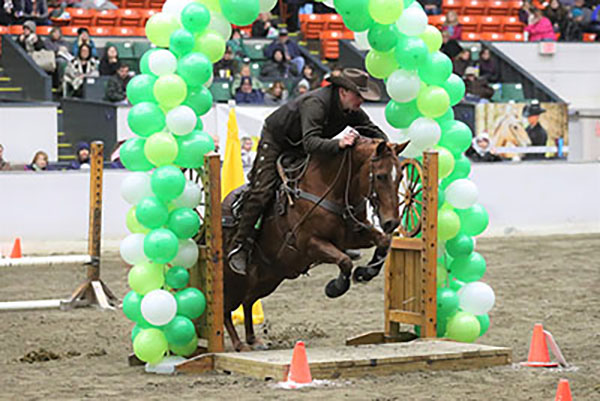 In between clinics, browse acres of shopping in Equine Affaire's massive trade show, which features hundreds of vendors spread out across five buildings. You'll also want to savor the opportunity to visit our breed pavilion and horse and farm exhibits, where you can get up close and personal with many different breeds of horses and learn about them firsthand from friendly breed representatives and horse owners. Aspiring and novice horse owners will love touring the Equine Fundamentals Forum, which showcases valuable information for horse lovers about all aspects of horse care and management. If you're shopping for a horse of your very own, be sure to stop by the for sale stalls to see the horses for sale.
Or if you've always wanted to adopt a horse, check out the Adoption Affaire! Equine Affaire is partnering with a variety of horse rescues and sanctuaries to help horses in need find their forever homes. On Friday, Nov. 12, check out the Versatile Horse and Rider Competition and cheer on your favorite horse-and-rider teams as they race the clock to conquer an obstacle course. All of these activities (and others) are included in the price of general admission, so there's always something to watch, learn about, shop for or admire.
Equine Affaire in Massachusetts will also feature three new activities for guests. First, if you have tack or other equine paraphernalia to sell, stop by The Marketplace to consign your items in Equine Affaire's own consignment shop. You can drop off your items in the morning and our friendly staff will tag and sell the items for you. Then you can stop by at the end of the day to collect your earnings. Next, we've partnered with the International Liberty Horse Association to offer the Freestyle Invitational. In the Freestyle Invitational, handlers will work with their horses at liberty to demonstrate a myriad of maneuvers and skills. You'll be amazed at the level of communication that's possible when a horse and handler trust each other and work together in liberty. Finally, young riders will love attending the Interscholastic Equestrian Association Clinic to learn more about this fantastic organization and how to improve their riding skills in the IEA show ring.
Equine Affaire wouldn't be possible without the support of generous sponsors: Absorbine, Farnam, Horizon Structures, GGT Footing, Nutrena, Mane 'n Tail, and Cowboy Magic. To learn more about these sponsors firsthand, plan to visit their booths in the trade show this fall.
Ready to plan your trip to Massachusetts? Visit www.equineaffaire.com for updates between now and November. If you have questions, call (740) 845-0085 any time from 9 a.m.-5 p.m. EST, Monday-Friday.