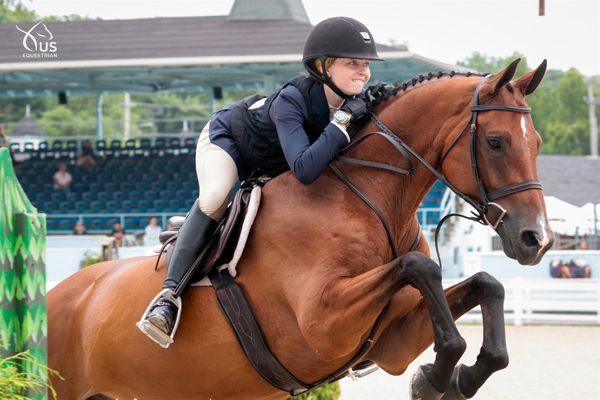 Winning at the Adequan/United States Equestrian Federation (USEF) Junior Hunter National Championship in the East requires near perfection, and Kat Fuqua, of Atlanta, Ga., and her gelding Grand Remo delivered this week at Pennsylvania's historic Devon Fairgrounds on their way to winning the 3'6" Large Junior Hunter 15 & Under National Championship and the 3'6" Overall Grand Championship. Then the 2021 edition of the championship closed out with a bang on Wednesday with 213 entries from the 3'3" sections completing their Handy Hunter rounds in Devon's Dixon Oval with Clara Propp and Arabesque coming out on Top
Adequan/USEF Junior Hunter National Championship – East Coast 3'6" Section
Kat Fuqua and Grand Remo were among the 324 total junior hunter entries competing in the East Coast final this week, marking a record number for the event, which returned to Devon for 2021 after a year away due to COVID restrictions.
Tuesday's competition day started off with thick fog and occasional light drizzle, providing some relief from July temperatures, while the 3'6" entries completed their Under Saddle and Handy Hunter rounds in the Dixon Oval. The 3'3" sections started with their Classic Rounds in the Wheeler Ring, followed by Under Saddle in the Dixon.
As the 3'6" overall grand champion, Fuqua was awarded the Monarch International Perpetual Trophy.
Fuqua and Remo were well positioned heading into the Large Junior Hunter 15 & Under Handy Round on Tuesday afternoon after turning in a polished Classic Round on Monday and a standout performance in the Under Saddle on Tuesday morning.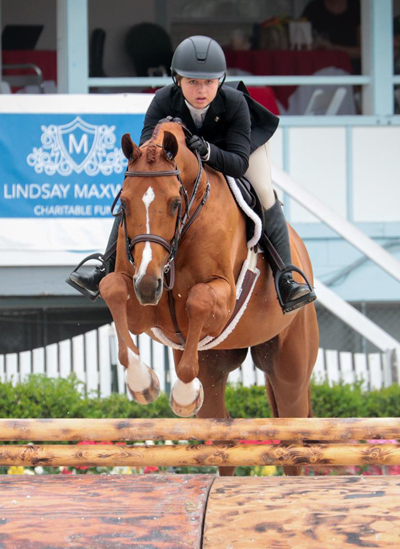 Fuqua is no stranger to competing at the National Championship level, but she admitted she did have some nerves before the final phase of competition in Devon.
"I was actually very nervous going into the handy, because I had won the hack and the classic, so it was a lot of pressure; I wanted to be champion," she said. "I always mess up the trot jump or chip the trot jump, so that was our main thing we were focusing on, and Remo was perfect!"
Grand Remo is a 2011 Dutch Warmblood gelding that Fuqua has owned and showed since 2019. "He has been so amazing," she said. "He is just the best mover and I've had so much fun riding him. He's really sweet and has been very successful in the 3'6" in 2020 and 2021."
Fuqua's trainer, Jimmy Torano, had similar high praise for Remo and for Fuqua, who also competed this week in the Small Junior Hunter 15 & Under section with her Westphalian gelding, Consent.
"We had a plan going into this," said Torano. "The horses came here last week to really gear up for this championship. You can only call on these horses a certain number of times, so this was really our goal. Both horses stepped right up…these horses continue to go out and try to win every time.
"Kat is a real talent," Torano added. "This didn't happen by accident. She is a real talent with great horses and her parents back her. I think we have a good group behind us with the grooms, and I know these horses like the back of my hand. I think it is a whole team event that came to a head today."
Fuqua and Grand Remo managed to hold on to the lead in the Large Junior Hunter 15 & Under section champion standing across all three rounds, but they had tight competition on their heels from Alexa Lignelli and High Society, the Dutch Warmblood gelding owned by The Lignelli Family. The pair performed nearly flawlessly in the Handy Hunter round on Tuesday afternoon, earning 90s from all three judges. Those scores gave them first place in the Handy and were good enough to put them in reserve for the section, as well as winning them the 3'6" overall reserve grand championship.
"He is such a special horse," Lignelli said of High Society. "I've only had him since August of last year. He is an amazing horse, and we clicked immediately. He is also special, because of his jump and his style around the ring. He can really feel the atmosphere and thrives off of it. So today, with the crowd and the beautiful atmosphere, he really shined.
"It means so much to me [to be reserve national champion.] The whole team works so hard," said Lignelli. "The occasion is so fun, and my horse was amazing. He deserves all the credit."
Adequan/USEF Junior Hunter National Championship – East Coast 3'3" Section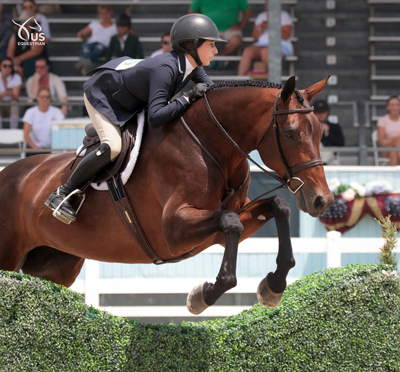 Clara Propp, of New York, N.Y., and Arabesque had the winning Handy Round in the Large Junior Hunter 15 & Under section on July 14, giving them the score they needed to place at the top of both the section and the 3'3" Overall Grand Championship. The pair performed like seasoned professionals throughout the finals, despite the fact that it was a first trip to the Junior Hunter National Championship for both of them.
"She's only eight. She's a baby," Propp said of Arabesque. "She's never been here before, let alone in this ring, so I'm really proud of her. I took a less handy turn to the first jump, because she's a little less experienced, and I didn't want to scare her going into the ring for the first time ever. But then, as I felt that she was comfortable, I could do all the rest of the inside turns and she was perfect.
"I've never been to Junior Hunter Finals before, so it's a really special first time here," Propp added. "I plan to have Arabesque for literally as long as I'm a junior. Forever. She's so great, so I know I'm going to get to do big things with her and eventually move up to the 3'6"."
"It's so special [to have trained the champion] especially for her first time doing this on the horses, on a horse that's never been here before," said Krista Goossens, Propp's trainer. "They both really stepped up to the plate. It's exciting. We've been showing all summer, but we've kind of backed off the last couple of weeks and just focused on training a little bit to get ready and make sure everyone was feeling their best. Arabesque is one of those horses that really rises to the occasion, so she makes our job easy."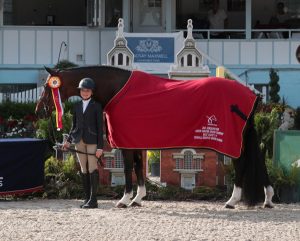 As the 3'3" Overall Grand Champion, Arabesque wins the Montserrat Perpetual Trophy donated by Sonoma Horse Park.
The Overall Reserve Grand Champion title went to the winners of the Small Junior Hunter 15 & Under section, Campbell Brown, of Fayetteville, Ark., and MMK Equestrian LLC's Fleetwood. Brown had nothing but praise for her horse after her successful showing in Devon.
"He is the sweetest animal in the barn," said Brown. "He likes cuddles, and my favorite part is the way he moves his lip. He always moves his bottom lip and makes this silly face and shows his teeth, and it's adorable."
Brown and Fleetwood won the Classic Round on Tuesday, meaning they were last in the order of go for the Handy Round. It was a little bit nerve-wracking, Brown said, but the handy was a chance to really shine.
"My favorite is to handy on him. He loves to turn," said Brown. "[Winning Overall Reserve Grand Champion] was better than I could have imagined. Fleetwood is perfect. Hopefully we just keep continuing to have fun and success will follow."
Live Stream and On-Demand
Watch the Adequan/USEF Junior Hunter National Championships – East on USEF Network.
Keep up with the competition by following USEF Junior Hunter National Championship on Facebook. Follow US Equestrian on Facebook, Twitter, Instagram, and TikTok.