Day 1 of the 2022 FEI World Championships commenced this morning in Herning, Denmark with first horse inspections for both dressage and vaulting. The U.S. Team presented four dressage horses and eight vaulting horses to the respective FEI Ground Juries and all American entries passed inspection without incident or holds.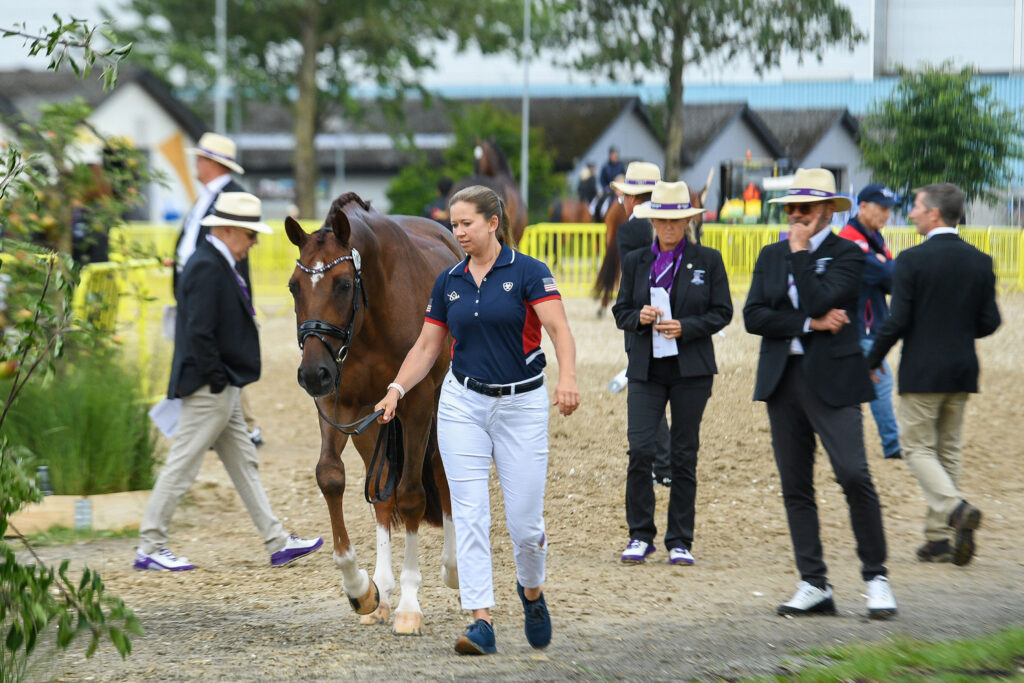 The four U.S. horse and rider dressage combos for the World Championships are: Katie Derrhammer and the 2008 chestnut gelding Brandenburg Quartett; Ashley Holzer and the 2010 Hanoverian mare Valentine; Adrienne Lyle and her Tokyo 2020 team silver medal partner Salvino, a 2007 Hanoverian stallion, and US Team veteran Steffen Peters with his Tokyo 2020 and 2018 FEI World Games mount Suppenkasper, a 2008 Dutch Warmblood gelding.
This is the first World Equestrian Championships for Duerrhammer and the first as an American rider for Ashley Holzer (she previously represented Canada). During their turn down the jog lane Steffen Peter's long-time equine dressage partner demonstrated some acrobatics and stepped squarely in a decorative flower pot obliterating it, but he seemed unscathed after. With the cool, crisp morning (53 degrees Fahrenheit and breezy at jog time) many of the horses showed off their slow-motion high stepping while snorting softly and eyeballing the flowers and bushes that decorated the presentation area.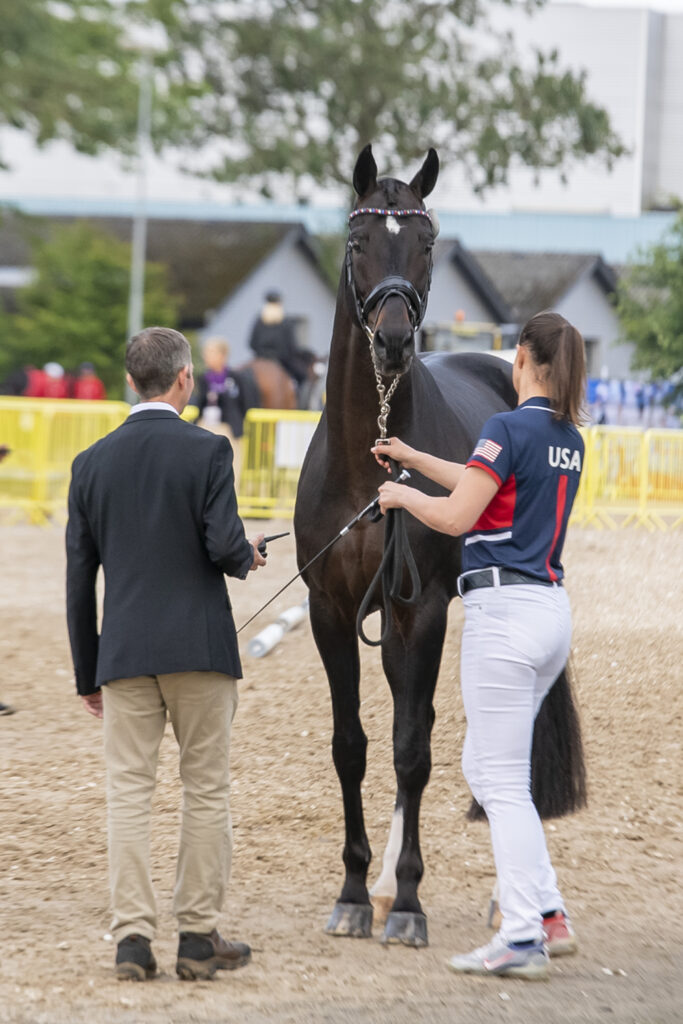 The 2018 FEI World Champion in dressage Isabell Werth (who won in Tryon that year with her chestnut supermare Bella Rose) is again on the German team, but with a new mount this time, the 2010 bay stallion DSP Quantaz. Also at this year's championship is the 2014 World Champion Charlotte Dujardin from Great Britain (who then rode the legendary Valegro). Durjardin also presented a new horse to the judges, the 2013 chestnut gelding Imhotep. Both horses were approved for competition.
But amongst all the dressage big names vying for the gold in Herning, the Danish Team (Daniel Bachmann Anderson and Marshall-Bell, Carina Cassøe Krüth and Heiline's Danceria, Catherine Laudrup -Dufour and Vamos Amigos, Nanna Merrald Rasmussen and Blue Hors Zack) has been on a roll of late topping international competition and they have high hopes for a big win for their home country. Based on analysis of recent scores earned by all international dressage riders they have a good shot to wave their red and white flag and have their national anthem played when it is all said and done.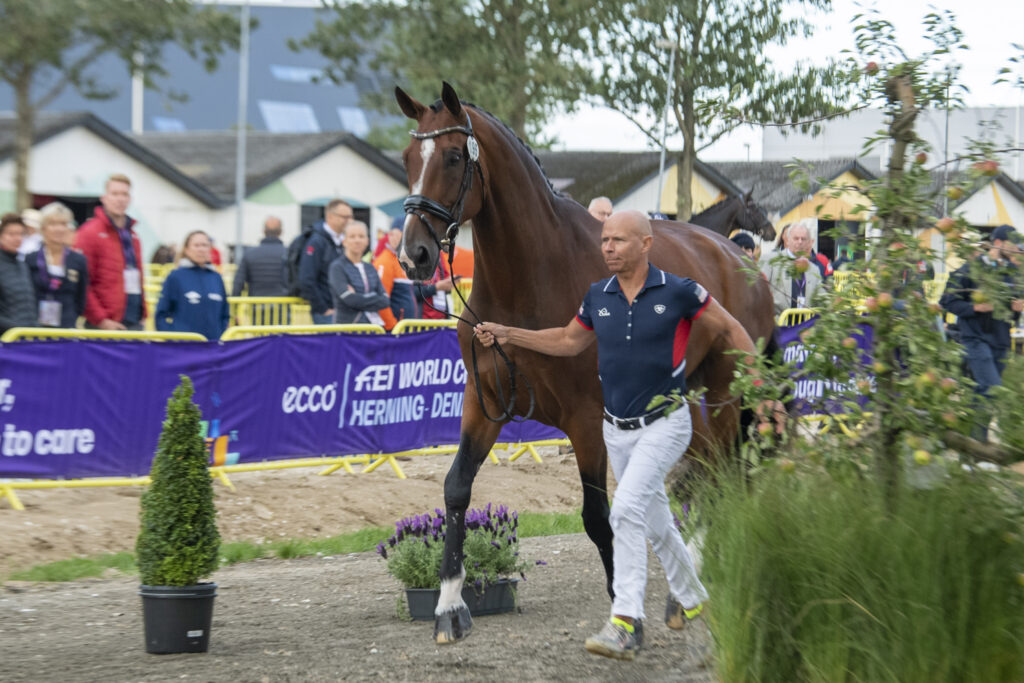 All dressage horses from all countries passed inspection, although several were asked to trot down the path more than once. So, it's on to the first half of the Grand Prix competition tomorrow morning, Saturday, August 6, at 11 a.m. Central European Time (6 hours ahead of the Eastern U.S.A.). Then, the second half of the Grand Prix dressage competition will be on Sunday, August 7. On Monday, August 8, dressage continues with the Grand Prix Special, and finally on Wednesday, August 10, dressage competition will conclude with the Grand Prix Freestyle (with a narrowed field based on ranking by score from previous days).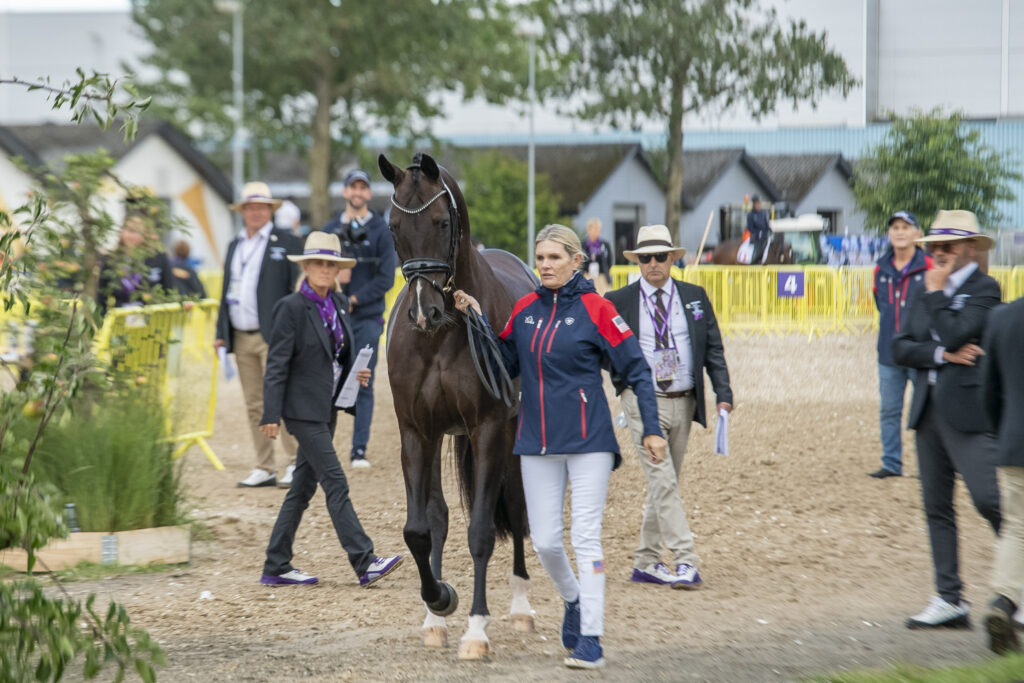 The vaulting horses were presented for their first veterinary inspection about 15 minutes after the dressage horses finished. These horses are often overshadowed by their high-flying human teammates, but without them there would be no vaulting. They must be sound, have the temperament to handle the activity and possess a well-established, rhythmical canter, among other attributes. The U.S. horses were all cleared for competition. They are: Christmas Ps Z; Drillian; Dwight; Eldoctro; Johnny; Lightning Jack 12; Sunday Song, and Smaragd.
2022 FEI World Championships U.S. Vaulting Team
Individual Female
◆ Tessa Divita (Portola Valley, Calif.)
◆ Kimberly Palmer (Half Moon Bay, Calif.)
◆ Emily Rose (Santa Cruz, Calif.)
Individual Male
◆ Jace Brooks (Eagle Mountain, Utah)
◆ Daniel Janes (Mountain View, Calif.)
Pas de Deux
◆ Calle Davis (Spanish Fork, Utah) and Todd Griffiths (Elk Ridge, Utah)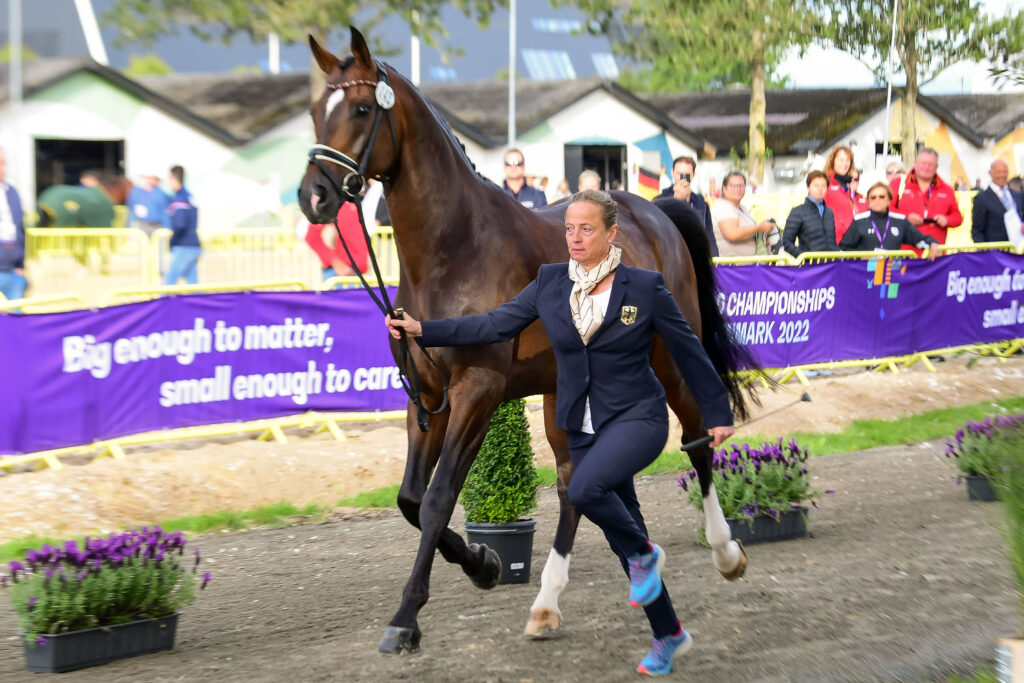 Squad
Oak Hills Squad
◆ Calle Davis (Spanish Fork, Utah)
◆ Miriam Griffiths (Elk Ridge, Utah)
◆ Todd Griffiths (Elk Ridge, Utah)
◆ Paula Hampshire (Kaysville, Utah)
◆ Jaynee Meyer (Salem, Utah)
◆ Alyssa Stoddard (Eagle Mountain, Utah)
Traveling Reserves
◆ Squad: Gracie Griffiths (Elk Ridge, Utah)
◆ Individual Female and Squad: Dusti Hausman (Waxhaw, N.C.)
With Day 1 of the FEI World Championships in the books, the vaulting competition will begin on Saturday, August 6, at 9 a.m. CET with compulsory competition. Technical and freestyle classes continue through next week concluding on Wednesday, August 10.
As the dressage and vaulting winds down, the para-dressage and show jumping competitors will take the FEI World Championship stage later next week. Stay tuned for more photos and daily updates throughout the 2022 FEI World Championships in Herning, Denmark. To see in-depth information for the U.S. competitors, visit US Equestrian's World Championship hub on their website. For more general information about the Herning Championships, visit their website and download an app to follow the competition.