Day 3 of the 2022 FEI World Championships at the MCH Arena in Denmark brought fans through the gates in throngs to see the final round of dressage Grand Prix and the subsequent crowning of the world champion dressage team. And, a continuation of the vaulting competition, as well as shopping, dining and educational displays around the grounds gave spectators lots to do and see.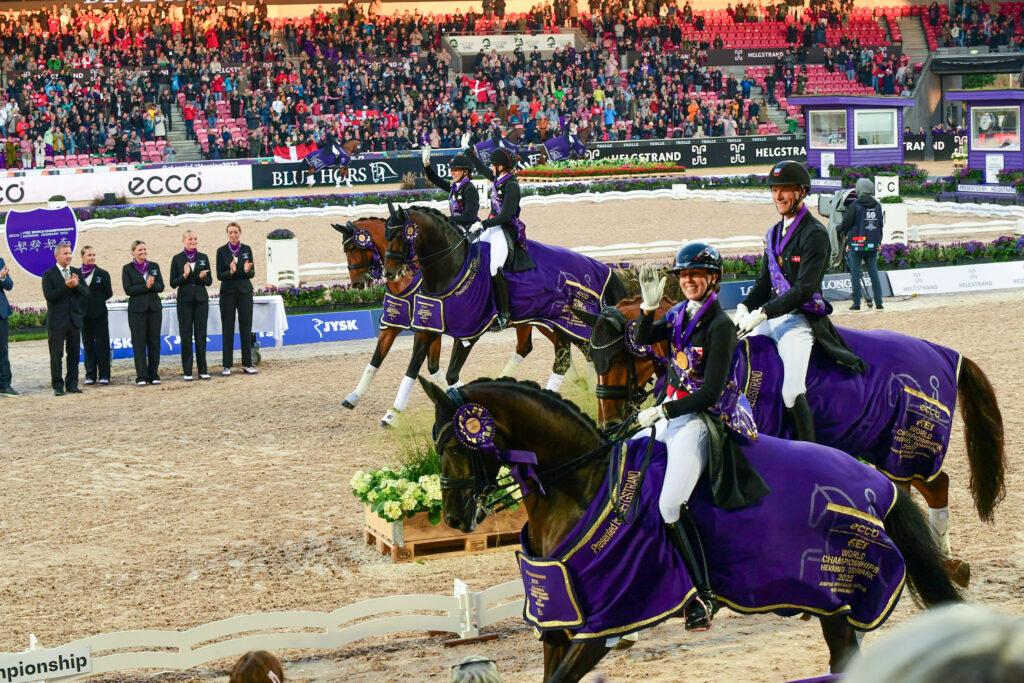 Grand Prix Dressage Decides Team Medals
Today, the final two riders from each country's team performed their Grand Prix tests. U.S. riders Adrienne Lyle on her Tokyo 2020 Olympic partner Salvino and Steffen Peters on his Tokyo Olympic mount Suppenkasper were up for the U.S. Team and put in nice rounds to end the day in ninth and 17
th
places respectively. Their individual scores were high enough for each to qualify to move on to the Grand Prix Special class tomorrow.
The battle for the team medals was respectfully intense. Everyone loves Cinderella story and today a real-life one unfolded. The Danish Team captured their first-ever World Championship Dressage Team Gold title (235.541) topping star-studded teams from Great Britain in the silver position (234.223) and Germany in third (230.791). They had been planning for this scenario since it was announced that Herning was granted the 2022 Championships in mid-November of 2019.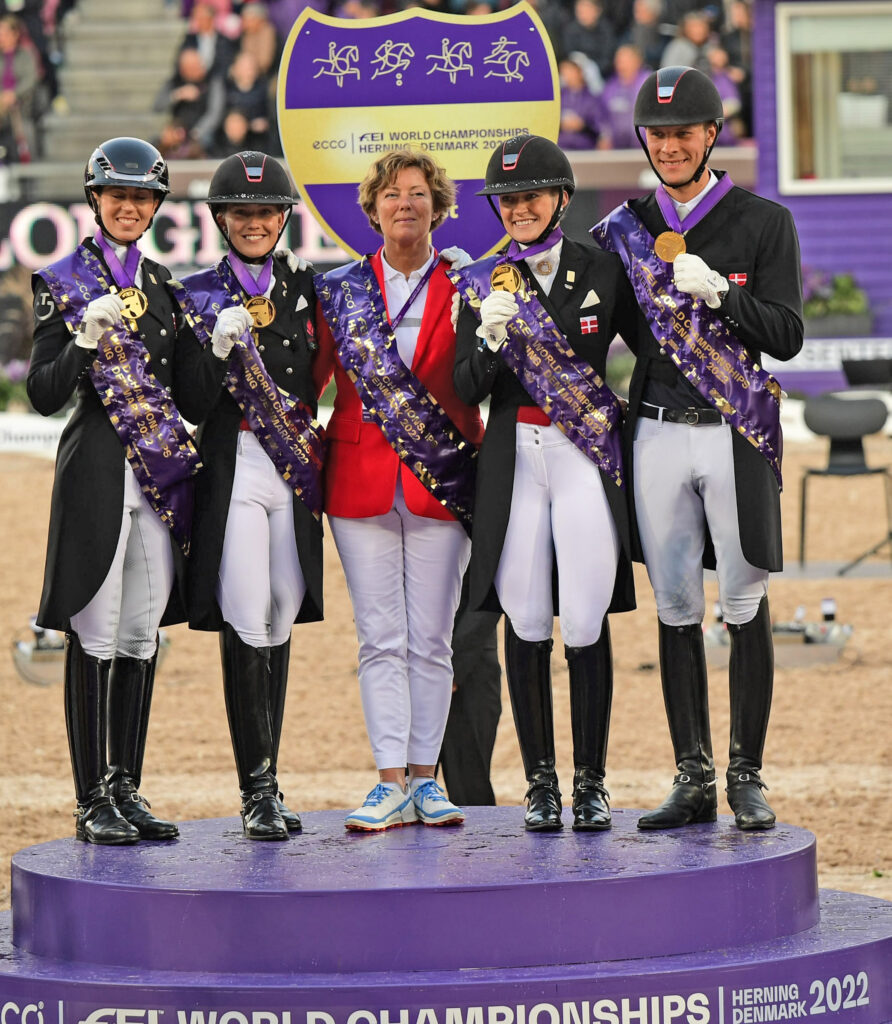 Denmark is only one of four nations to top Germany at a World Championship, the other three being the Soviet Union in 1970 (Aachen) and the Netherlands who won gold with Great Britain winning silver over Germany in bronze position, both in Kentucky in 2010.
The 2022 Danish "dream team" included Daniel Bachmann Anderson riding Marshall-Bell, Carina Cassøe Krüth riding Heiline's Danceria, Catherine Laudrup-Dufour riding Vamos Amigos and Nanna Merrald Rasmussen mounted on Blue Hors Zack, all under the watchful eye of Danish Chef d' Equipe Anne-Metta Binder.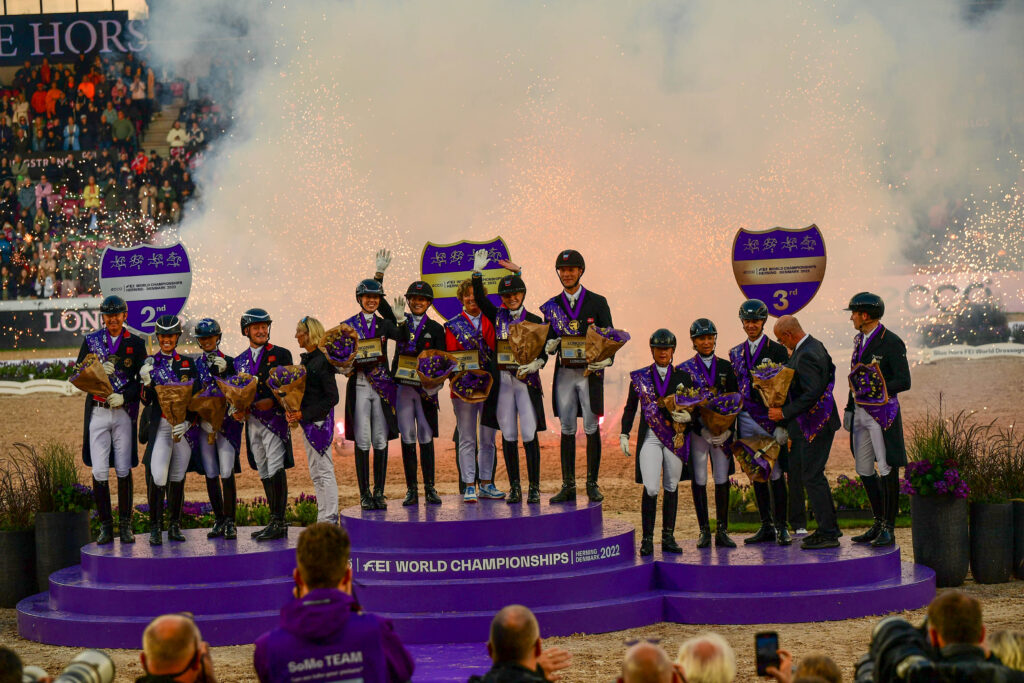 Through a whole lot of hard work and carefully grooming younger riders through their dressage development pipeline (Nanna Merrald Rasmussen among them), all of the Danish Dressage Team's aspirations came true as gold medals hung around their necks in front of the home crowd. Their countrymen and women in the stands erupted into cheers of patriotic pride as the four took their victory lap around the stadium.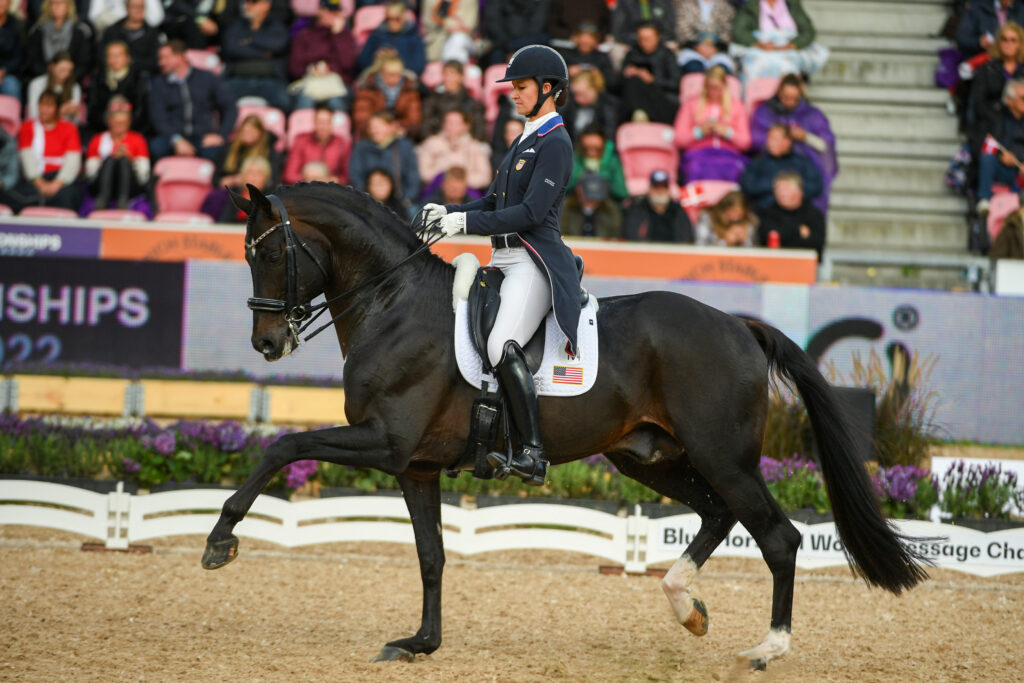 Sweden finished was fourth and the Netherlands took fifth. The U.S. Dressage Team (Adrienne Lyle and Salvino, Steffen Peters and Suppenkasper, Katie Duerrhammer and Quartett and Ashley Holzer and Valentine) finished in sixth place, which is a high enough to seal the deal for their qualification for the Paris 2024 Olympics.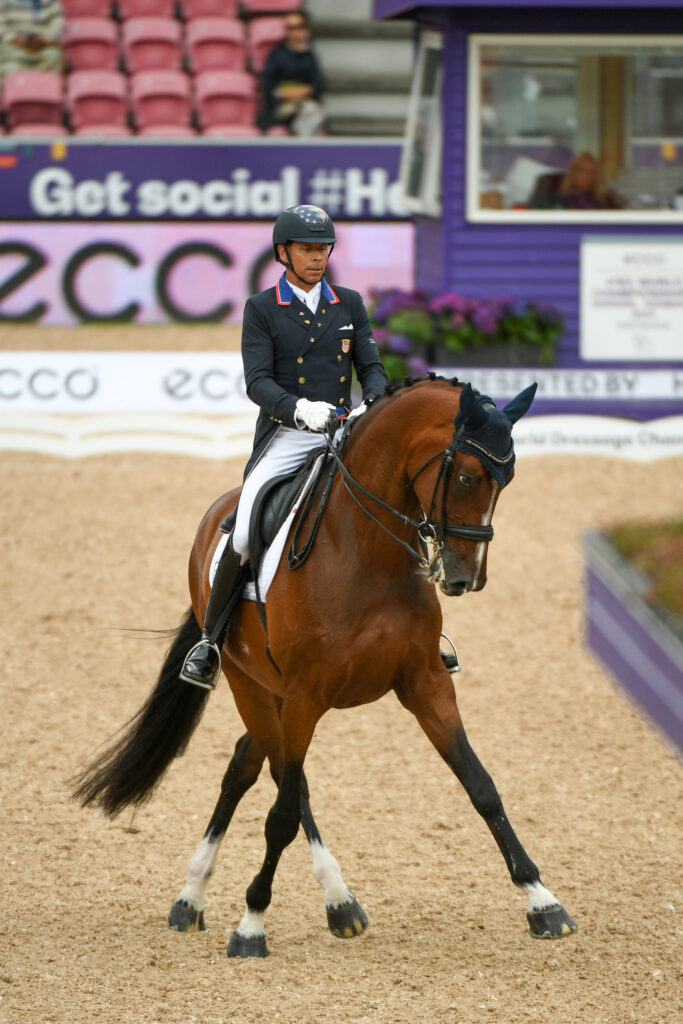 Vaulting In the Box
The other equestrian sport discipline running concurrently with dressage at the Herning World Championships is vaulting in the Jyske Bank Boxen arena, which is as the names implies, a black building in the shape of a box. Today was the vaulting women's and men's technical classes and the first of two days of competition for the pas-de-duex vaulting pairs.
2022 FEI World Championships Day 3: Vaulting
Competition in Jyske Bank Boxen
Women's Individual Championship Current Leader: Manon Moutinho (FRA) on Saitiri lunged by Corinne Bosshard with their freestyle class to come tomorrow.
Men's Individual Vaulting Championship Current leader: Lambert Leclezio (FRA) on Estado IFCE lunged by Loric Devedu with their freestyle class to come tomorrow.
Pas de Deux (Pairs) Current Leaders After Round One: Chiara Congia and Justin van Gerven (GER) on Highlight lunged by Alexandra Knauf with a second round to come on Wednesday, August 10.
American Vaulters in the Standings
On Day 3 of the 2022 FEI World Championships, Kimberly Palmer from California, on Rosenstolz 99 lunged by Laura Carnabuci, is in sixth place and poised to be in the top finishing individual vaulter from the U.S.A. The other two U.S. women vaulters, Tessa Divita (on Sunday Song lunged by Lasse Kristensen) and Emily Rose (on Eldoctro Lunged by Carolyn Bland) are in 10th and 24th respectively going into their final freestyle round tomorrow (Monday, August 8).
After two rounds the U.S. men vaulters, Daniel James on Christmas PS Z lunged by Nienke de Wolff and Jace Brooks on Dwight lunged by Maurits De Vries, are in 16th and 17th places respectively. They have one more round tomorrow (Monday, August 8).
U.S. Pas de Deux vaulters Calle Davis and Todd Griffiths on Lightning Jack 12 lunged by Thordis Thoroe are standing in seventh after the first round. Vaulting Pas de Duex will conclude with one more round on Wednesday, August 10.
The vaulting squads did not compete today, but the current leader from yesterday is the French Team and the U.S. Team is standing in sixth place for the moment. Vaulting squads have two more classes yet to come over the next couple of days.
Tomorrow's Competition
The dressage Grand Prix Special and medals are on the docket tomorrow, Monday, August 8. Plus more vaulting including women's and men's final freestyles and the vaulting squads' second-round freestyle tests. The show jumpers will also begin their run in Herning with their first horse inspection. The next day, Tuesday, August 9, is a day off for all competitors other than a para-dressage first horse inspection and ring familiarization for the jumpers and para riders.
Stay tuned for more photos and daily updates throughout the 2022 FEI World Championships in Herning, Denmark. To see in-depth information for the U.S. competitors, visit US Equestrian's World Championship hub on their website. For more general information about the Herning Championships, visit their website and download an app to follow the competition.