The weather in Denmark has turned abnormally warm over the last two days (the locals label it "quite hot," but at home in the Midwest this would be just "regular summer weather"). In keeping with the trend, day 6 of the 2022 FEI World Championships in Denmark brought more show jumping that was just as hot in many ways.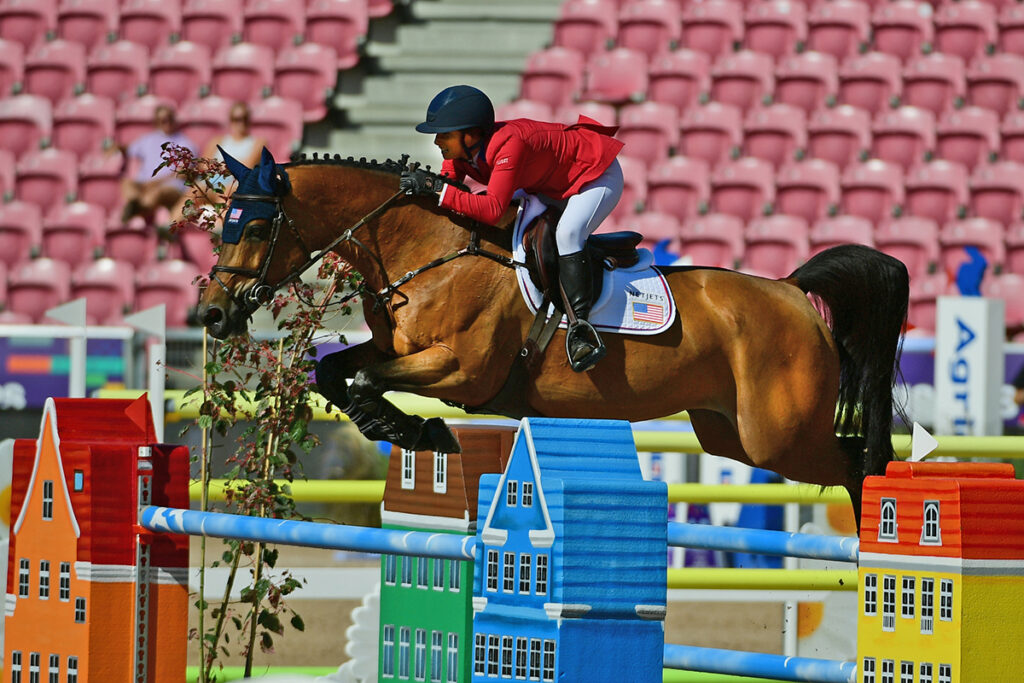 Show Jumping
Teams Sweden and France added zero penalties to their previous score from Wednesday's speed class, leaving them only 1.75 penalties apart. The Swedes are still basking in the glow of their Olympic win last summer and for France show jumping success is a matter of national pride. Third place Germany, another traditional show jumping powerhouse, is just over six points behind after adding a rail to their score.
America's team finished 11th, just one place too far down the list to return for tomorrow's team competition. This leaves the U.S. Team the task of still needing to qualify for the 2024 Paris Olympic Games. U.S. riders McLain Ward and Brian Moggre are in 12th and 25th, respectively, from Wednesday's class and will be able to continue competing as individuals tomorrow (Friday, August 12).
Less than one point now separates the top five jumper riders vying for spots in the individual finals. Tomorrow's team final class will also help to sort out who will move on to Sunday's those individual medal finals. At the end of the day yesterday France's Julien Epaillard held first with no penalties. Scott Brash of Great Britain, Peder Fredricson and Henrik von Eckermann of Sweden and Canada's Tiffany Foster round out the top five.
Between the unusual heat wave and the fantastic competition, tomorrow's show jumping won't be turning down the heat at all.
Para-Dressage in the Spotlight
Turning to the Orifarm Healthcare FEI World Para Dressage Individual Para-Dressage World Championships competition over in the BB Horse Arena, the U.S. riders were faring better. Grades III and V competed in their individual tests today with medal ceremonies following.
The U.S.A. had one entry in the Grade III Finals (Rebecca Hart riding Rowan O' Riley's El Corona Texel, a 13-year-old bay KWPN gelding by Wynton) and the U.S. Virgin Islands had an entry in the Grade V Finals (Lee Frawley riding Waldron Wild Skye, her 15-year-old black half Warmblood-half Gotland Pony gelding by Wild Dice Bowes).
Hart and "Tex" turned in a very nice test to earn a 73.147% and the bronze medal. To date this is the U.S.A.'s only medal of the Championships in any division.
Coming Up On Friday, August 12
Para Grades IV, II and I return to the BB Horse Arena with their Team Tests during the day and the show jumping team finals will light up the night when they begin at 9 p.m. local Denmark time with medal ceremonies to follow.
Stay tuned for more photos and daily updates throughout the 2022 FEI World Championships in Herning, Denmark. To see in-depth information for the U.S. competitors, visit US Equestrian's World Championship hub on their website. For more general information about the Herning Championships, visit their website and download an app to follow the competition. For full results from Day 5 of the 2022 FEI World Championships, click here.