The Lazio region in the picturesque countryside of Italy southeast of Rome is hosting the 2022 FEI World Eventing and Driving World Championships this month. The venue is the equestrian facility Pratoni del Vivaro, which was also the site for the 1960 Olympic Games equestrian competition.
First up on the docket is the FEI Eventing Championships with the first horse inspection on September 14 which was followed by two days of dressage on September 15-16, then cross-country will be on September 17 and show jumping and awards on September 18.
Here are a few highlights and photos from the horse inspection and the first day (1 of 2) of the dressage phase. Two riders out of five who are representing the USA in Italy (4 team riders and 1 individual) competed on the first day of dressage.
The next weekend, September 21-25, 2022, the world four-in-hand driving championships will be held at the same venue. The USA's Chester Webster is ready to drive his team and vie for the medals.
The overall leader after day 1 of the dressage phase at the 2022 FEI World Eventing Championships in Italy was Great Britain's Laura Collett and London 52, a 13-year-old Holsteiner gelding (by Landos, out of Vernante by Quinar Z, bred by Ocke Riewerts) owned by Keith Scott, Karen Bartlett and Laura Collett. They laid down a super test to score 19.3, a personal best and the third best score in World Championships history, following Bettina Hoy (GER) and Pippa Funnell (GBR) who scored better at Jerez de la Frontera World Championships in Spain in 2002.
Jasmin Ingham and Banzai du Loir of Great Britain are shown during their test on day 1 of the 2022 FEI Eventing World Championships in Italy. They scored 22.0 putting them in second behind their teammates Laura Collett and London 52 at the end of dressage day 1. Banzai du Loir is an 11-year-old Selle Français gelding by Nouma D'auzay and out of a mare by Livarot, was bred by Pierre Gouye (FRA), and is owned by Sue Davies and Jeanette Chin of Great Britain.
New Zealand's Monica Spencer and her 11-year-old Thoroughbred gelding Artist (bred by Windsor Park Stud Ltd.) put in a lovely, relaxed test on their way to third in the standings (25.6) at the end of day 1 of dressage at the 2022 FEI Eventing World Championships in Italy. It is the pair's first World Championships.
Will Coleman, Gordonsville, VA, and Off The Record, led the way for the US Team on day 1, September 15, in the eventing dressage phase. Off the Record is a 2009 Irish Sport Horse gelding (by Arkansas, out of Drumagoland Bay by Ard Ohio, bred by Peter G. Brady and owned by the Off The Record Syndicate). Coleman and Off The Record finished day 1 of dressage sitting on a 26.4 good enough for fifth place.
Lauren Nicholson and Jacqueline Mar's 15-year-old Anglo-Arabian gelding Vermiculus were the second team members to perform dressage on day 1 for the USA. They scored a respectable 27.1 to sit in seventh at the end of the day with the other half of the competitor list to go tomorrow. Vermiculus is by Sazeram, out of Wake Me Gently and was bred by Lawson Williams.
Ariel Grald, Southern Pines, NC, and Leamore Master Plan are pictured here in the first horse inspection during the 2022 FEI Eventing World Championships in Italy. She is riding as an individual for the USA in their first world championships. Leamore Master Plan (Master Imp-Cavalier Royale) is a 2009 Irish Sport Horse gelding owned by Anne Eldridge.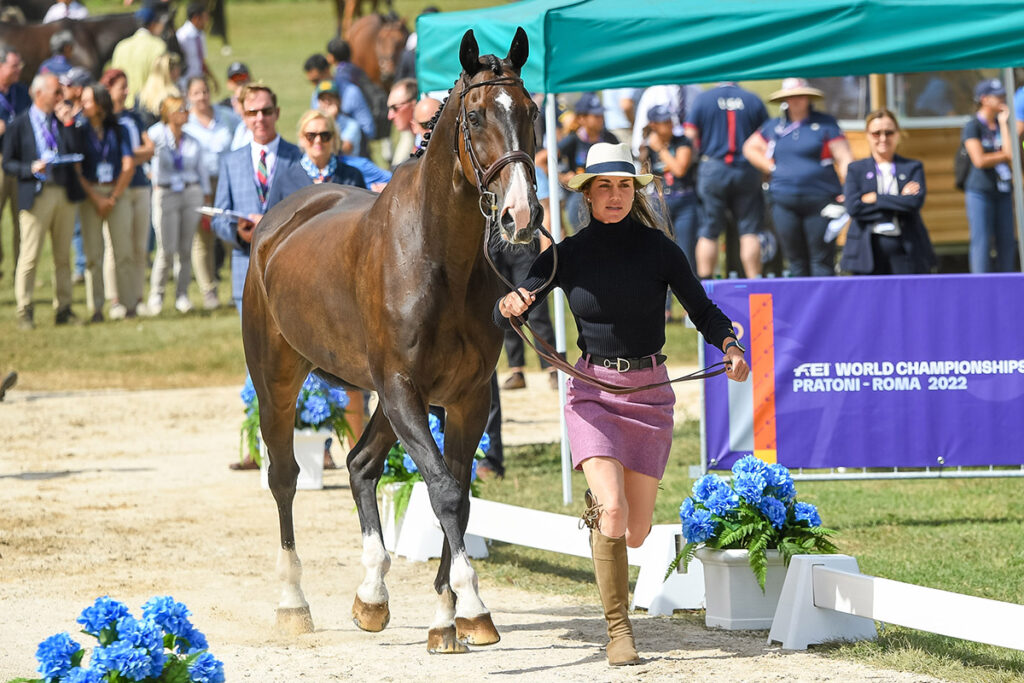 The USA's Boyd Martin, Cochranville, PA, and his longtime partner Tsetserleg TSF presented a handsome picture as they trotted in front of the ground jury for the first horse inspection on September 14 at the 2022 FEI Eventing World Championships in Italy. Tsetserleg (by E.H. Windfall, out of Thabana by E.H. Buddenbrock) is a 15-year-old Trakehner gelding bred by Dr. Timothy and Cheryl Holekamp, Ocala, FL, and is owned by Christine Turner and family from Austin, TX.