Day two of the 2022 Land Rover Kentucky Three-Day Event in Lexington brought more incredible dressage performances in both divisions, and Germany's Michael Jung took a commanding lead in the CCI5*-L division.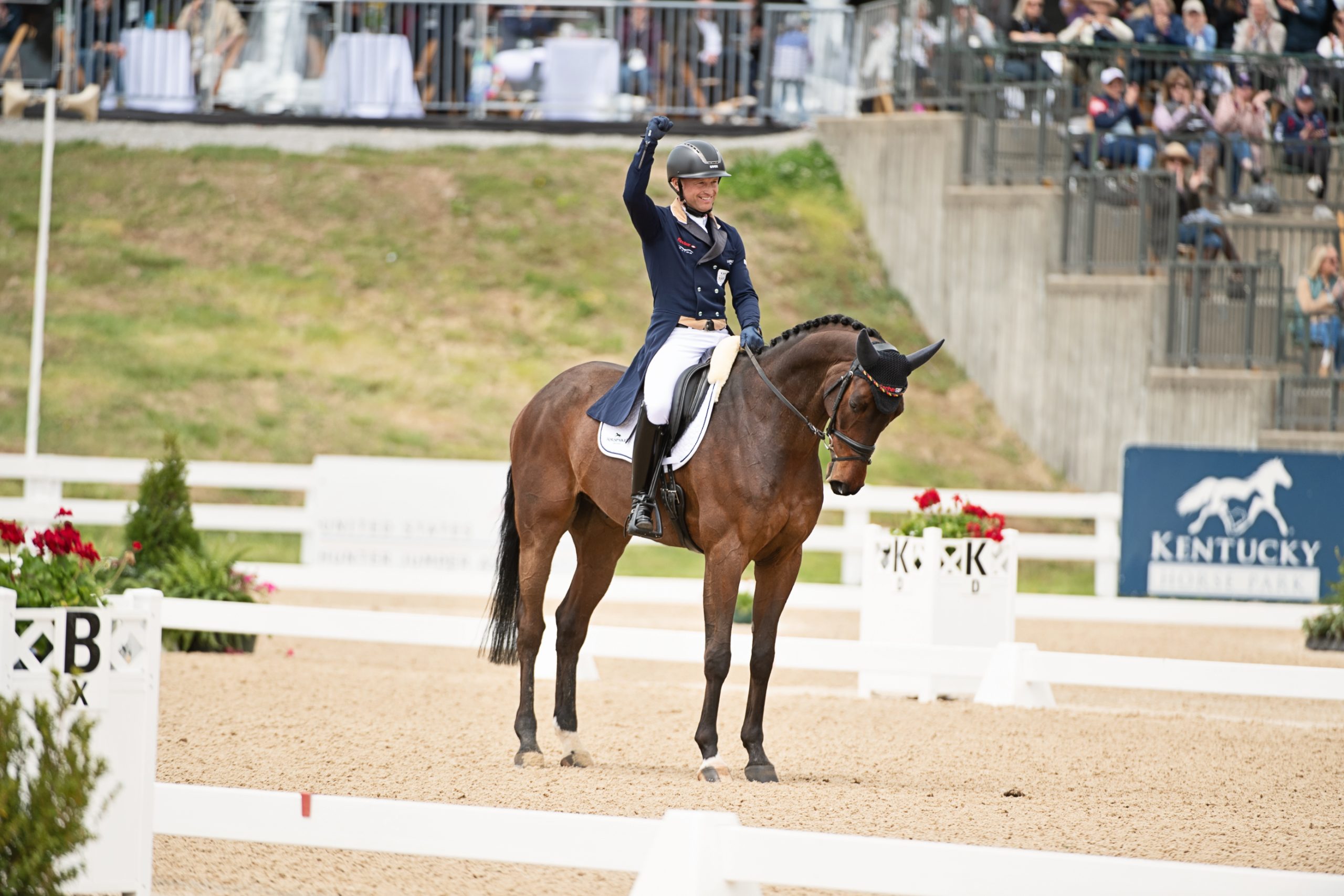 Land Rover Kentucky Three-Day Event Day Two Leader
He's won three Olympic gold medals. He's won the Rolex Kentucky Three-Day Event three times. He's won the Rolex Grand Slam of eventing. So it came as a surprise to absolutely no one when Michael Jung (GER) took the lead in dressage by nearly 10 points after a test that left spectators breathless on day two of the Land Rover Kentucky Three-Day Event.
Although later riders got a little closer to that score, he still leads by a comfortable point spread going into cross-country day aboard the 14-year-old Hanoverian gelding FischerChipmunk FRH.
"Chipmunk is a superstar; it's a joy to ride him," said Jung after the day wrapped. "He was powerful and really relaxed—a good balance."
If the pair goes double-clear on cross-country, they will have a full rail in hand going into show jumping—an amazing position for any rider to be in with a $123,000 purse on the line to the winner.
British rider Sarah Bullimore snuck in with a surprisingly good performance on day two of the Land Rover Kentucky Three-Day Event to land in second after dressage on a 25.7 aboard 11-year-old British Thoroughbred, Corouet.
"It's an absolute privilege to be back here," she said. "We don't always get to come here, and I'm not getting any younger, so I grabbed this with both hands. Everyone bends over backwards to help you."
She describes him as "a mighty big attitude in a small package!" He is listed as 16 hands in the program, but when asked how the cross-country course looked, Bullimore laughed.
"I'm on a tiny pony and it looks quite big to me!"
Bruce (Buck) Davidson Jr. landed on the top-three podium for the USA after day two of the Land Rover Kentucky Three-Day Event with a 27.4, riding late in the order aboard Carlevo, a 15-year-old Holsteiner gelding.
"He's been very consistent through his career, and feels better than he ever has," said Davidson. "We started training him more like a racehorse, hopefully it shows up tomorrow. He's not the fastest horse here, but we've added more energy to his food."
Sounds like Buck will have his racing saddle on tomorrow to try to make the time!
Back to Kentucky
Over 12,000 grateful spectators roamed the Kentucky Horse Park in Lexington on Friday. The iconic late-April event was first run under the Land Rover banner in 2019, followed by a cancellation in 2020 due to covid. In 2021, the event was closed to spectators. But it seems the vendor village and enthusiastic shoppers have all reconvened in a mutually beneficial arrangement.
Although rain is expected for the big cross-country day on Saturday, that never seems to keep anyone away from the experience. Ponchos and rain boots will no doubt be flying off the shelves.
Follow along with the progress in Kentucky this weekend at HorseIllustrated.com and track live scoring at online.
Top 10 in the CCI5*-L Division after dressage:
Michael Jung (GER) and Fischerchipmunk FRH – 20.1
Sarah Bullimore (GBR) and Corouet – 25.7
Bruce Davidson Jr. (USA) and Carlevo – 27.4
Yasmin Ingham (GBR) and Banzai du Loir – 28.1
Pippa Funnell (GBR) and Maybach – 29.0
Boyd Martin (USA) and Tsetserleg TSF – 29.3
William Coleman (USA) and Off the Record – 32.5
Tamra Smith (USA) and Fleeceworks Royal – 32.9
Jonelle Price (NZL) and McClaren – 33.4
Colleen Rutledge (USA) and Covert Rights – 33.8
Top Four in the CCI4*-S Division Dressage
Doug Payne (USA) and Starr Witness – 23.2
Colleen Loach (CAN) and Vermont – 24.5
Elisabeth Halliday-Sharp (USA) and Cooley Quicksilver – 25.7
Clayton Fredericks (AUS) and FE Coldplay – 26.7
About the Land Rover Kentucky Three-Day Event
The Land Rover Kentucky Three-Day Event presented by MARS EQUESTRIAN™(LRK3DE), April 28-May 1, 2022 at the Kentucky Horse Park in Lexington, Ky., hosts one of only seven annual Five Star three-day events in the world. The event also hosts a CCI4*-S as well as the $225,000 Kentucky CSI3* Invitational Grand Prix presented by Hagyard Equine Medical Institute. Known as "The Best Weekend All Year," the event annually attracts more than 80,000 spectators who also enjoy extensive shopping, a variety of hospitality experiences and a wide array of demonstrations.
The Land Rover Kentucky Three-Day Event is a thrilling multi-day competition featuring Olympic-level riders and horses in what can best be described as an equestrian triathlon. Horse and rider pairs compete in three phases of the competition – Dressage, Cross-Country and Show Jumping. The Five Star riders compete for their share of $375,000 in prize money as well as a shot at the $350,000 Rolex Grand Slam of Eventing, which is awarded to any rider who wins the Land Rover Kentucky, Badminton and Land Rover Burghley Five Star Events in succession. LRK3DE is the longest-running Five Star event in the Americas and as the United States' premier event, also serves as the Land Rover/USEF CCI-5*-L Eventing National Championship presented by MARS EQUESTRIAN™ for the U.S. athletes.
Visit www.kentuckythreedayevent.com for competition info, follow along with the progress in Kentucky at HorseIllustrated.com, and track live scoring at online.