Day three of the 2022 Land Rover Kentucky Three-Day Event—the greatest day of eventing all year in the USA—came to a close with excitement buzzing in the air. After a cancellation of the Land Rover Kentucky Three-Day Event in 2020 and a spectator-less edition in 2021, over 35,000 fans mobbed the Kentucky Horse Park on a beautiful partially sunny day to experience the "best weekend all year."
Michael Jung (GER) Holds Lead
Michael Jung of Germany, the leader after dressage, held onto his score of 20.1 by adding no jumping or time penalties on the cross-country course. Only three horse/rider pairs out of 43 to start the course finished double clear.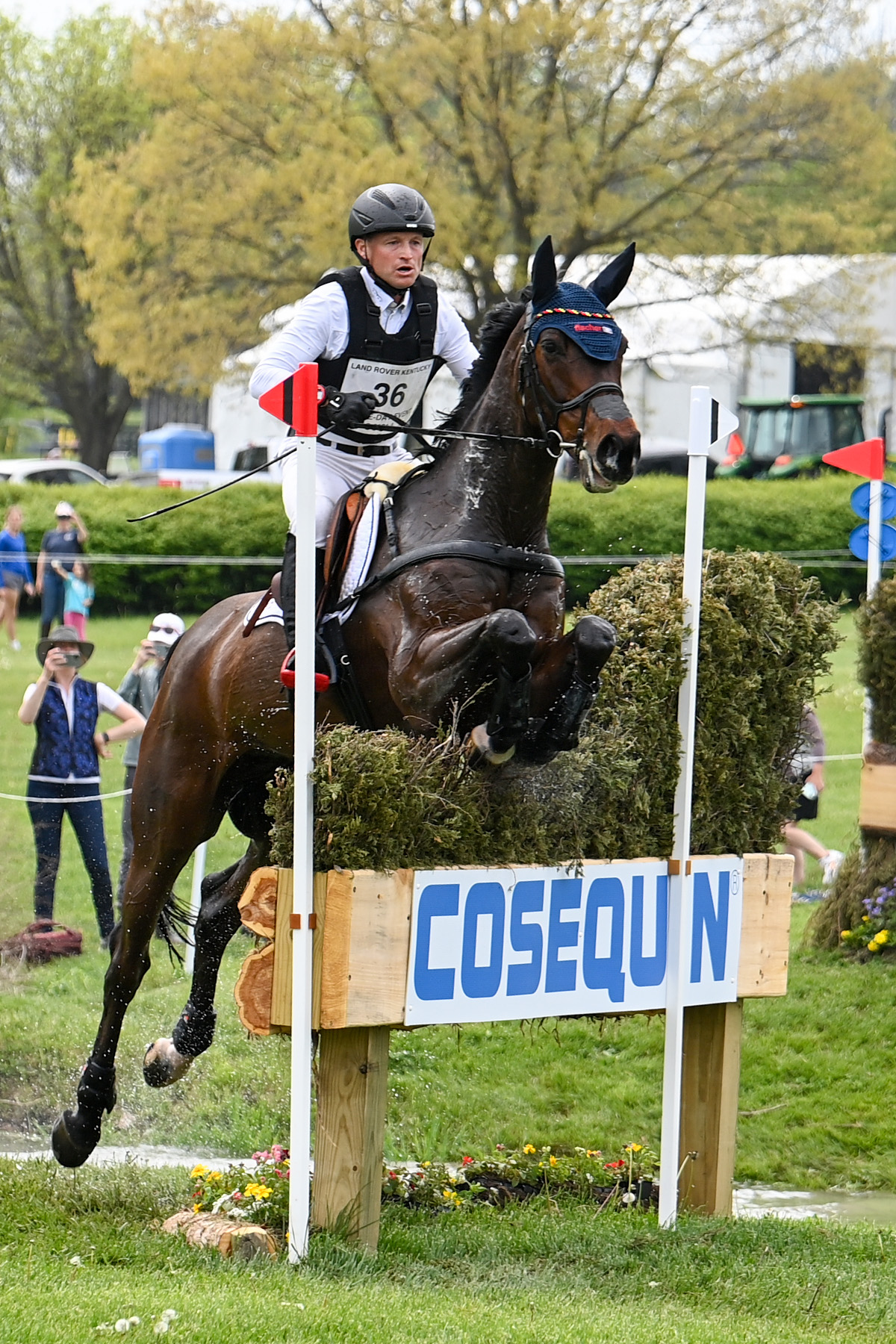 Most people won't be surprised that the multiple Olympic gold medalist and three-time winner of the Kentucky Three-Day Event (2015, 2016, 2017) came to do more than school one of his newer rides, fischerChipmunk FRH. The quiet and unassuming Jung makes the journey across the Atlantic with one of his horses in order to win.
"I'm very proud of my horse," Jung said after his ride. "He was so fast running, powerful jumping, and [his] brain was always with me. It was a great feeling."
Although they have occasionally had rails in the show jumping phase, they currently have two rails in hand, as the riders closest on his heels experienced some problems on cross-country and expanded the margin of Jung's lead. It's a comfortable place to be, indeed, as Jung looks to be the first four-time winner of Kentucky at the 5* level. Kim Severson, William Fox-Pitt (GBR) and Oliver Townend (GBR) are fellow three-time winners.
Boyd Martin (USA) Climbs into Second
Vaulting from 6th place into 2nd on a score of 29.3, Boyd Martin and the beautiful 15-year-old black Trakehner gelding Tsetserleg TSF (aka "Thomas") cooked around the course for a double-clear round.
"The track didn't walk as tough as last year, but watching the early horses, they struggled with the track," said Martin. "My boy was smooth sailing today—he did the time well and I couldn't be happier with him. He's at the point now where he knows his job."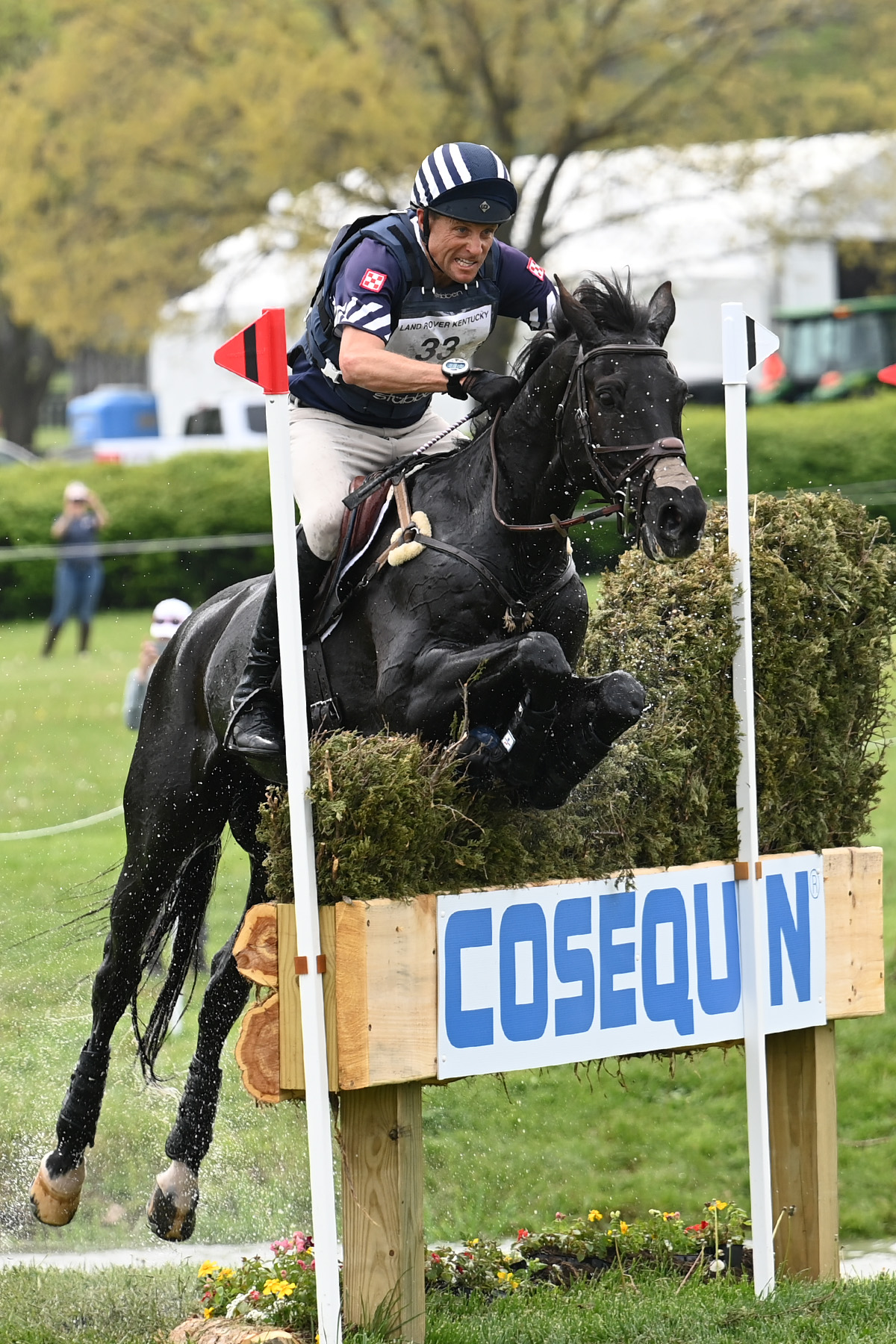 Thomas is the first Trakehner Martin has ever had, and he has the distinction of being one of the few U.S.-bred horses competing at the highest levels of eventing.
"I remember coming to America in 2006 and seeing Darren Chiacchia ride Windfall [Thomas's sire]," Martin recalls. "I was in awe. I didn't think Thomas was any good when he turned up [because] didn't show much in his training, but he's got a heart of gold. His best attribute is how hard he tries in cross-country; he will do everything he can to please me."
Yasmin Ingham (GBR) Moves into Third
Although just 25 years old, Great Britain's Yasmin Ingham has been logging excellent results consistently across the pond. Her mount, the 11-year-old Selle Français gelding Banzai Du Loir, is making his CCI5* debut. Their strong dressage score of 28.1 increased by just 2.8 time penalties after cross-country, moving them up from fourth to third as other riders ran into trouble on course.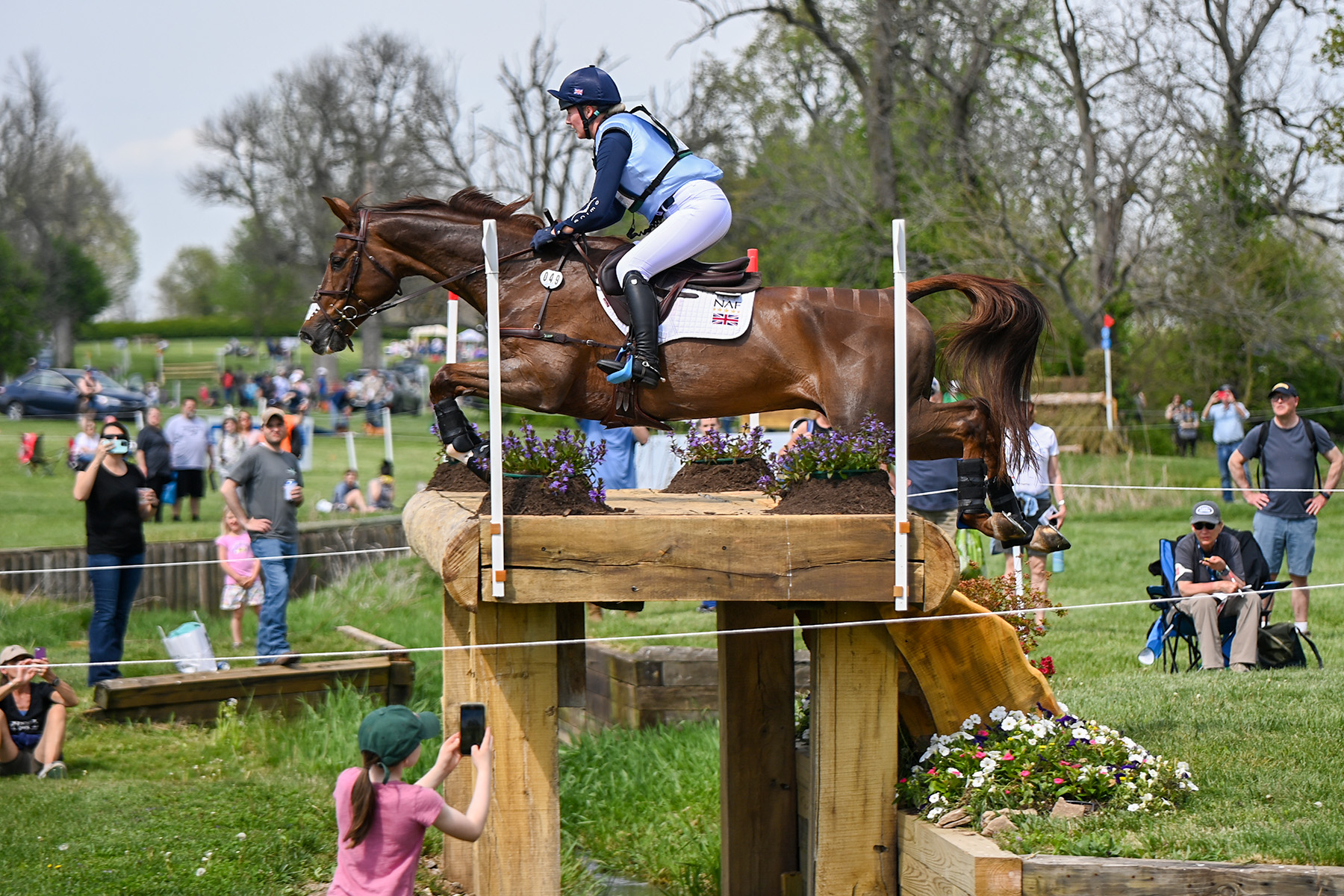 "I was delighted with my horse's first time at this level," says Ingham. "He was brilliant at the coffin then did go a little green but after that just powered on. He has the stride and speed—all of what it takes to be a top event horse. He's a blood horse [a high percentage of Thoroughbred], so I think he could have gone on a bit longer than 11 minutes."
Stay tuned on Sunday to watch every nail-biting rattle of the jump poles with the Land Rover Kentucky Three-Day Event CCI5* title on the line.
Top 10 in the CCI5*-L Division after Cross Country
Michael Jung (GER) and fischerChipmunk FRH — 20.1
Boyd Martin (USA) and Tsetserleg TSF — 29.3
Yasmin Ingham (GBR) and Banzai Du Loir — 30.9
Bruce Davidson Jr. (USA) and Carlevo — 37.4
Doug Payne (USA) and Quantum Leap — 38.4
Sydney Elliott (USA) and QC Diamantaire — 38.4
Phillip Dutton (USA) and Sea of Clouds — 38.8
William Coleman (USA) and Off the Record — 39.7
Pippa Funnell (GBR) and Maybach — 40.6
William Coleman (USA) and Dondante — 41.4
About the Land Rover Kentucky Three-Day Event
The Land Rover Kentucky Three-Day Event presented by MARS EQUESTRIAN™(LRK3DE), April 28-May 1, 2022 at the Kentucky Horse Park in Lexington, Ky., hosts one of only seven annual Five Star three-day events in the world. The event also hosts a CCI4*-S as well as the $225,000 Kentucky CSI3* Invitational Grand Prix presented by Hagyard Equine Medical Institute. Known as "The Best Weekend All Year," the event annually attracts more than 80,000 spectators who also enjoy extensive shopping, a variety of hospitality experiences and a wide array of demonstrations.
The Land Rover Kentucky Three-Day Event is a thrilling multi-day competition featuring Olympic-level riders and horses in what can best be described as an equestrian triathlon. Horse and rider pairs compete in three phases of the competition – Dressage, Cross-Country and Show Jumping. The Five Star riders compete for their share of $375,000 in prize money as well as a shot at the $350,000 Rolex Grand Slam of Eventing, which is awarded to any rider who wins the Land Rover Kentucky, Badminton and Land Rover Burghley Five Star Events in succession. LRK3DE is the longest-running Five Star event in the Americas and as the United States' premier event, also serves as the Land Rover/USEF CCI-5*-L Eventing National Championship presented by MARS EQUESTRIAN™ for the U.S. athletes.
Visit www.kentuckythreedayevent.com for competition info, follow along with the progress in Kentucky at HorseIllustrated.com, and track live scoring at online.