The culminating moment of "the best weekend all year" came today as the 2022 Land Rover Kentucky Three-Day Event crowned its champion.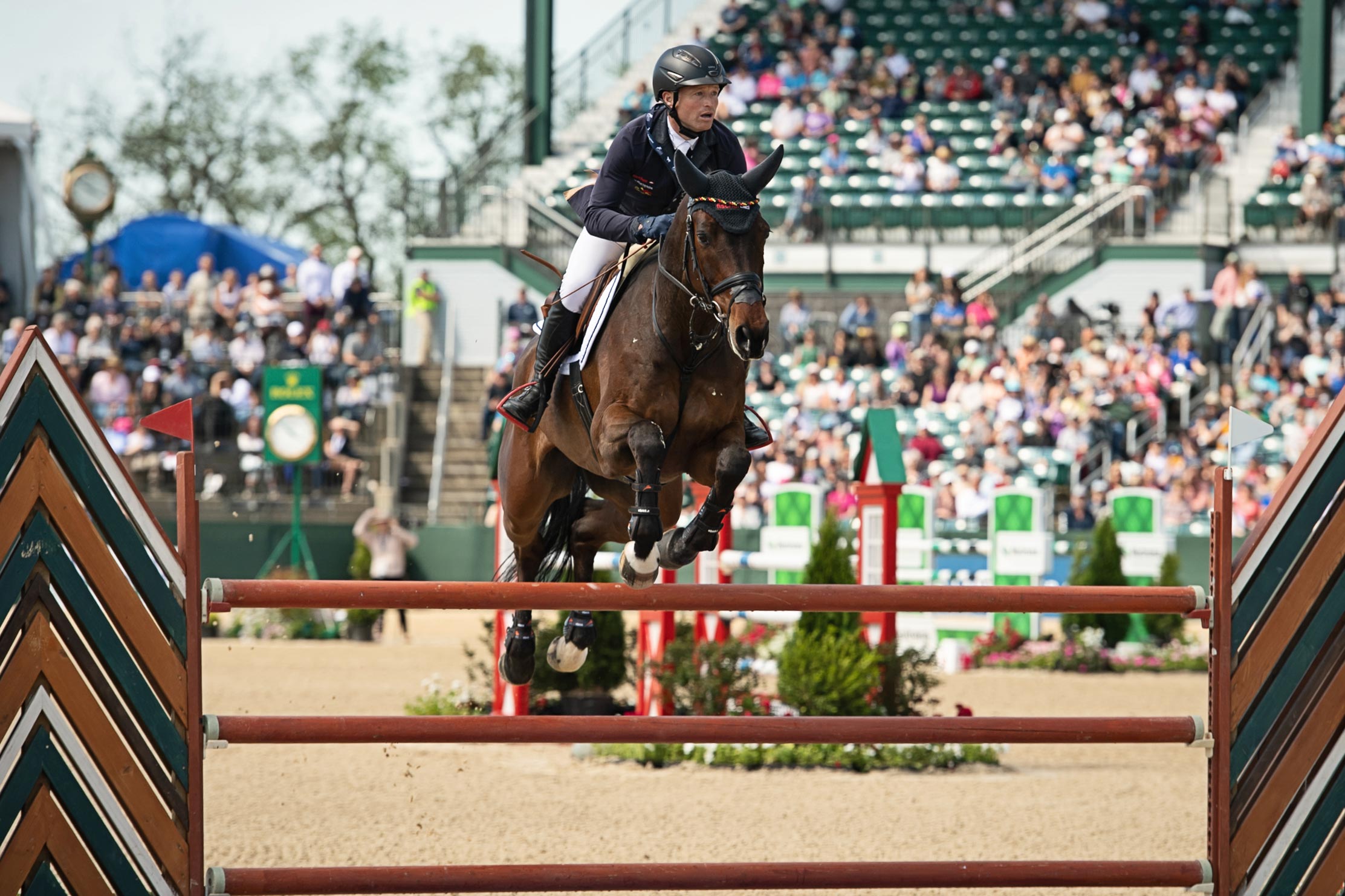 Making History in Kentucky
Michael Jung of Germany and the stunning 14-year-old Hanoverian gelding fischerChipmunk FRH held their score of 20.1 to finish with more than a 10-point lead to win the CCI5*-L. Jung is now the only rider in history to win the 5* Kentucky event four times. (Three others have won it three times: Kim Severson, William Fox-Pitt (GBR) and Oliver Townend (GBR).)
"It's a very special moment for me," Jung shared following the win. "A very big thank you to my whole team for helping me train the horses and get [fischerChipmunk FRH] to this level."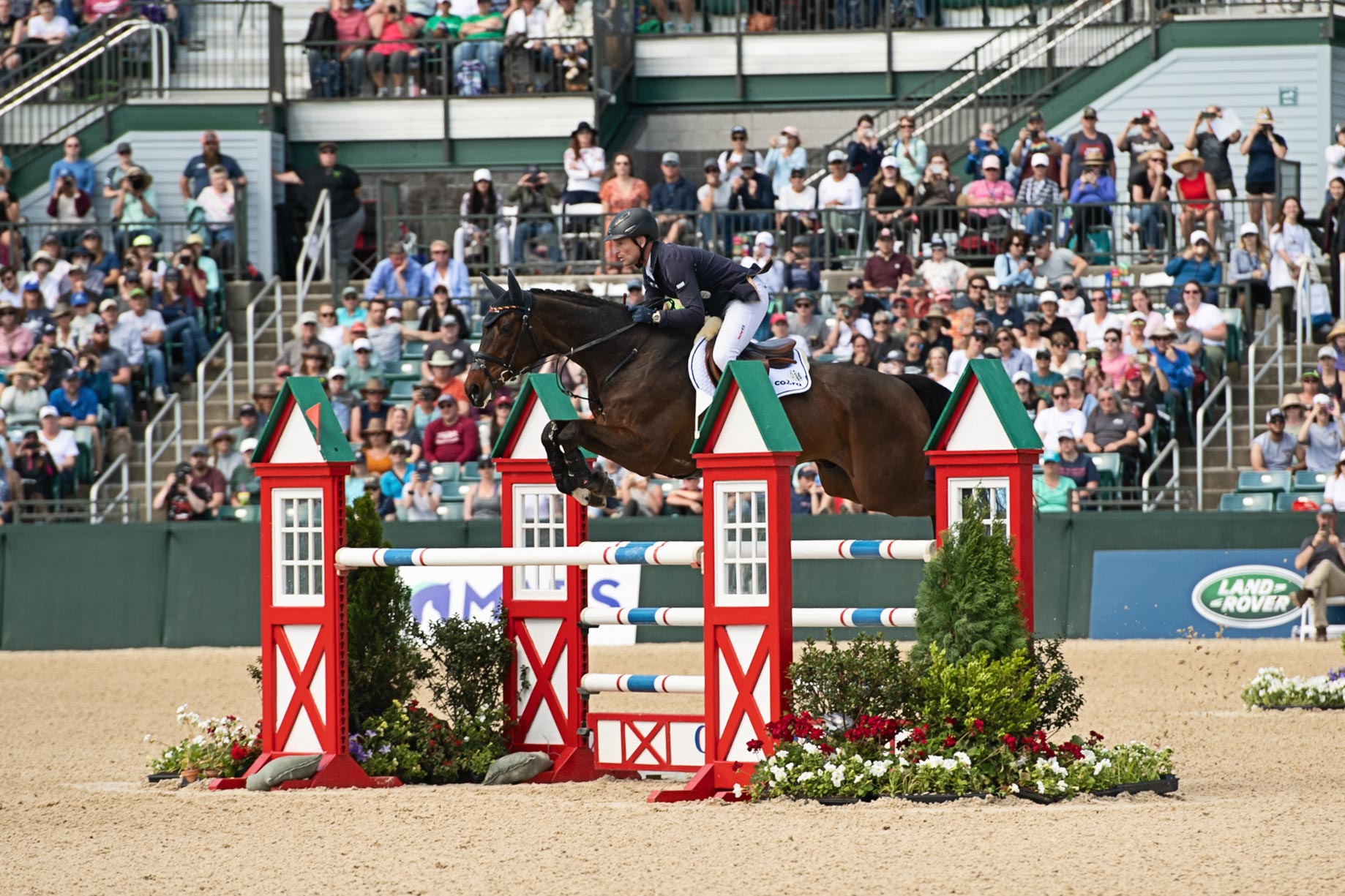 Jung's incredible 20.1 ranks as the lowest finishing score ever marked at a 5* event, proving his and fischerChipmunk FRH's prowess in all three challenging phases. Following a strong start that set him on top after dressage, Jung rode double clear on cross-country as one of only three pairs to accomplish that feat this year. Today, the pair maintained their score through the stadium jumping, with no time or jump penalties.
"I had a really great feeling on the warmup that makes you a bit more relaxed, but still the pressure is on," Jung noted. "I tried to stay really concentrated and focused."
Jung is quick to credit his mount for handling the physical pressure of this three-day competition and staying strong through the final phase.
"FischerChipmunk was amazing," Jung said. "Jumping today, [he was] a really good show jumping horse—very careful, strong, and powerful. It's a great feeling for the rider."
First Time is a Charm
During her first trip to compete at the Land Rover Kentucky Three-Day Event, Yasmin Ingham of Great Britain finished second in the 5* riding the 11-year-old Selle Français gelding Banzai Du Loir. At just 25 years old, Ingham was the youngest rider competing in Kentucky this year.
"If someone told me that I'd be coming here and I'd be in second … it's a dream come true," Ingham reflected. "This really exceeded all expectations. It's amazing when you can pull it all together for all three phases."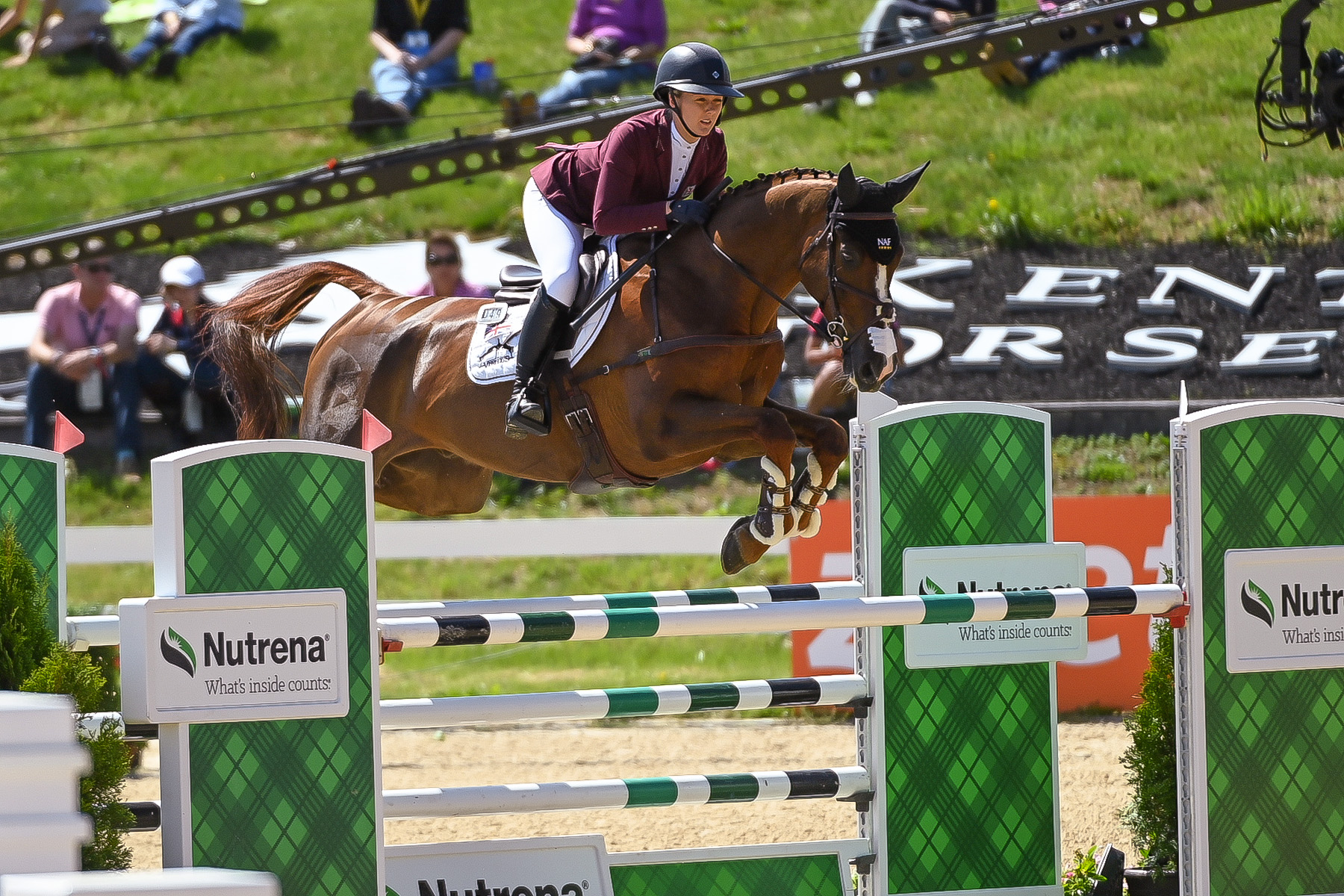 Ingham praised her horse, Banzai Du Loir, who made his CCI5* debut during this event.
"We all think [Banzai Du Loir] is so special," Ingham affirmed. "He deserves these results."
A Rewarding Journey
Finishing third, Doug Payne of the United States won the Roger Haller Perpetual Trophy, awarded to the US Equestrian CCI5* National Champion (highest-placed U.S. rider). He rode U.S.-bred 11-year-old Holsteiner gelding Quantum Leap, whom he purchased as a weanling. Payne also earned the USET Foundation Pinnacle Cup for the top-placed eligible U.S. rider.
"It's been a lifetime of work," Payne said of the journey to this title. "The future is incredibly bright."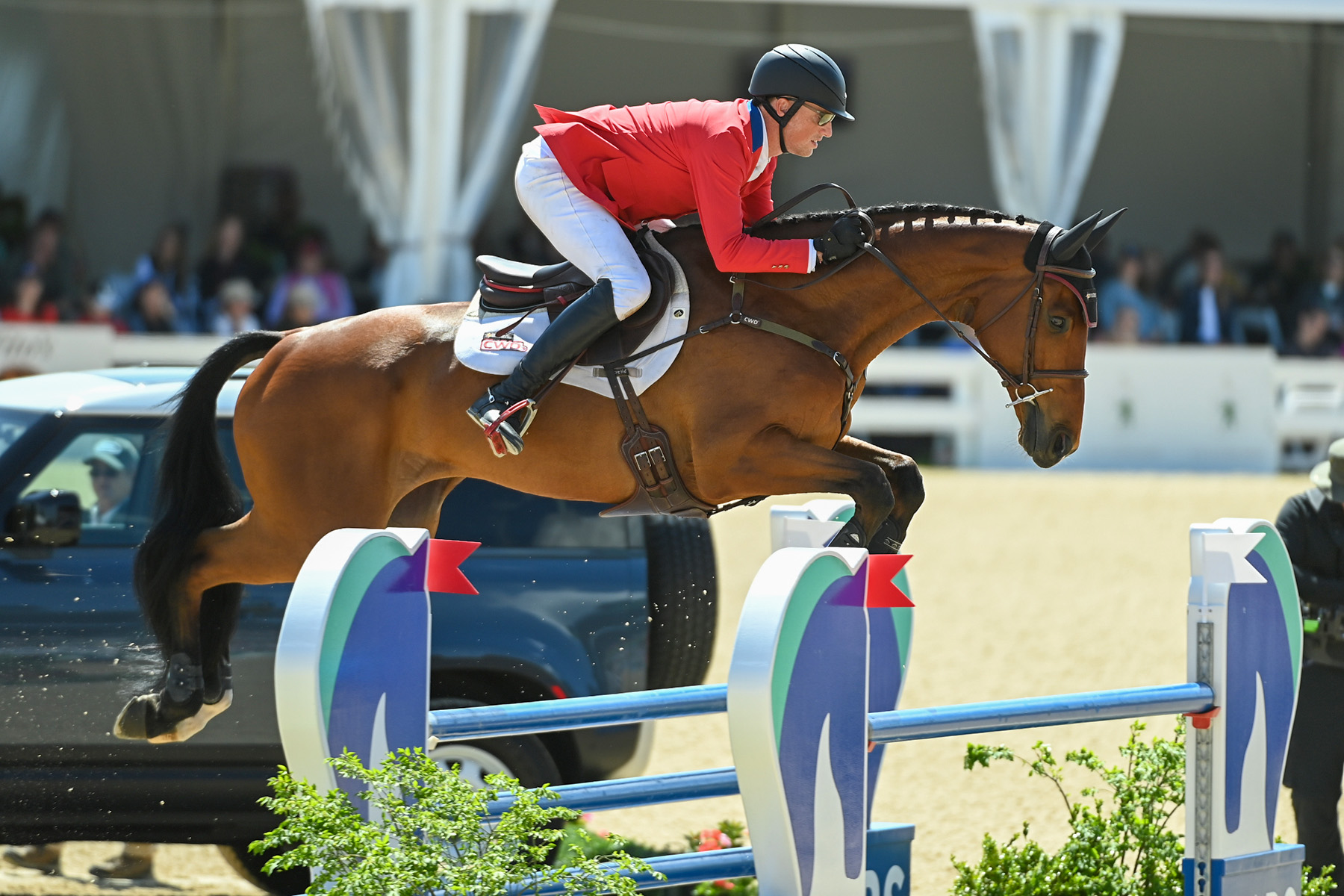 Payne and Quantum Leap added just 1.2 time penalties to their dressage score during cross-country and jumped double-clear in stadium to move all the way from 25th place after dressage to a third-place finish. The horse's athleticism and Payne's talent culminated in a score of 38.4.
An unfortunate two rails and 1.2 time penalties in show jumping bumped Boyd Martin and Tsetserleg from 2nd after cross-country to a fourth-place finish. The pair finished 2nd in the 5* in 2019. Maybe next year will be the year for this pair after coming so close twice now! We're already looking forward to the 2023 LRK3DE.
Final Top 10 in the CCI5*-L Division
Michael Jung (GER) and fischerChipmunk FRH — 20.1
Yasmin Ingham (GBR) and Banzai Du Loir — 31.7
Doug Payne (USA) and Quantum Leap — 38.4
Boyd Martin (USA) and Tsetserleg TSF — 38.5
Bruce Davidson Jr. (USA) and Carlevo — 38.6
Pippa Funnell (GBR) and Maybach — 40.6
William Coleman (USA) and Off the Record — 41.4
Sydney Elliott (USA) and QC Diamantaire — 44.0
Joseph Murphy (IRL) and Calmaro — 45.2
Phillip Dutton (USA) and Sea of Clouds — 46.8
About the Land Rover Kentucky Three-Day Event
The Land Rover Kentucky Three-Day Event presented by MARS EQUESTRIAN™(LRK3DE), April 28-May 1, 2022 at the Kentucky Horse Park in Lexington, Ky., hosts one of only seven annual Five Star three-day events in the world. The event also hosts a CCI4*-S as well as the $225,000 Kentucky CSI3* Invitational Grand Prix presented by Hagyard Equine Medical Institute. Known as "The Best Weekend All Year," the event annually attracts more than 80,000 spectators who also enjoy extensive shopping, a variety of hospitality experiences and a wide array of demonstrations.
The Land Rover Kentucky Three-Day Event is a thrilling multi-day competition featuring Olympic-level riders and horses in what can best be described as an equestrian triathlon. Horse and rider pairs compete in three phases of the competition – Dressage, Cross-Country and Show Jumping. The Five Star riders compete for their share of $375,000 in prize money as well as a shot at the $350,000 Rolex Grand Slam of Eventing, which is awarded to any rider who wins the Land Rover Kentucky, Badminton and Land Rover Burghley Five Star Events in succession. LRK3DE is the longest-running Five Star event in the Americas and as the United States' premier event, also serves as the Land Rover/USEF CCI-5*-L Eventing National Championship presented by MARS EQUESTRIAN™ for the U.S. athletes.
Visit www.kentuckythreedayevent.com for competition info, follow along with the progress in Kentucky at HorseIllustrated.com, and track live scoring at online.