Catch up on the action from the 2023 Pan American Games. See a recap from each day of competition below, and follow links to the full stories.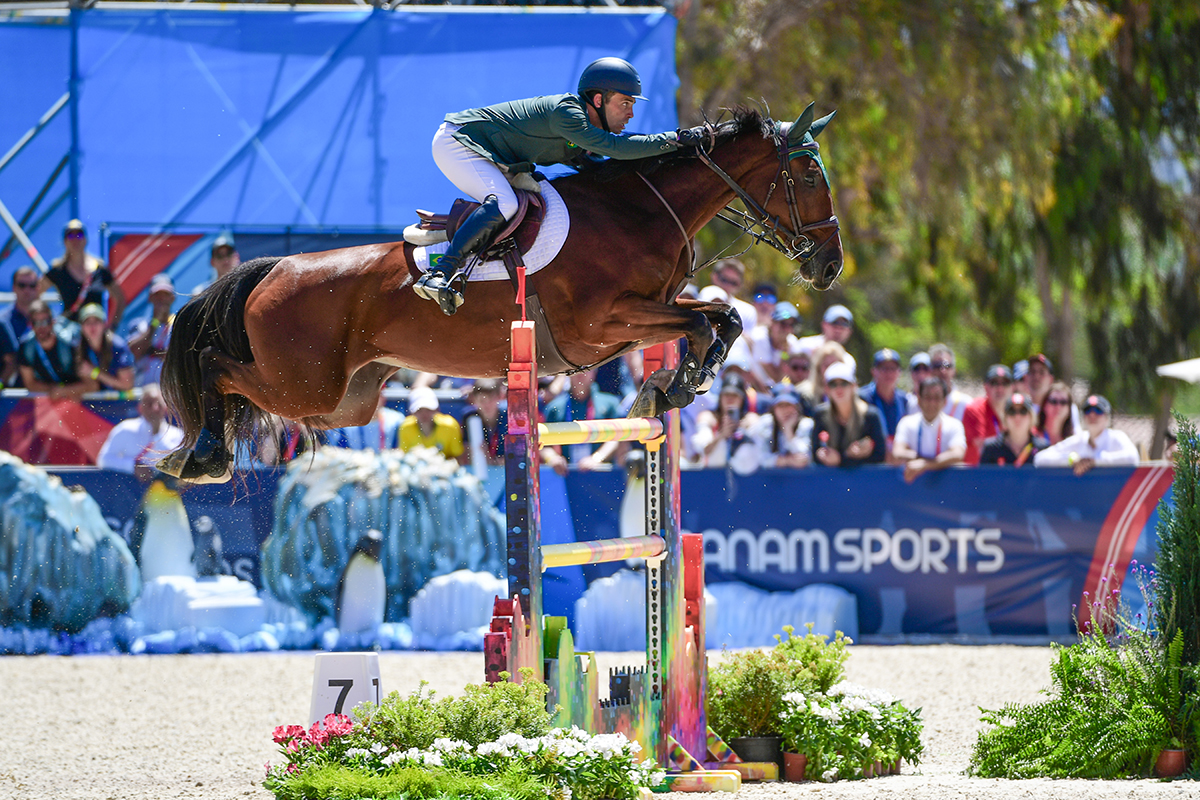 After the excitement of the team jumper finals on Wednesday at the Pan American Games where the USA pulled out all of the stops to win gold with Canada silver and Brazil bronze, thoughts turned to individual medals yesterday. The day was the hottest by far of the two weeks of Pan Am Games equestrian competition, with the temperature reaching the upper 80s Fahrenheit and bright sunshine all day.
The Pan American Games individual jumper finals comprised two rounds (A and B) both over 1.60-meter courses judged under Table A rules (not against the clock). Once again the jumps were beautifully decorated with themes from Chilean history and architecture, traditional hats worn by Chilean cowboys called "chupalla," Native American culture, Chilean wildlife (flamingos and penguins), a semi-precious stone called lapis lazuli mined in Chile, and more.
Twenty-eight horse and rider combinations representing 13 nations (Argentina, Brazil, Canada, Chile, Colombia, Mexico, Panama, Paraguay, Peru, Puerto Rico, United States, Uruguay, Venezuela), and one independent athlete, took their turn over course designer Marina Azevedo's (BRA) Round A track. The course was technically challenging and the fences were big. Penalty point scores carried over from previous days and they jumped in reverse order of placing thus far.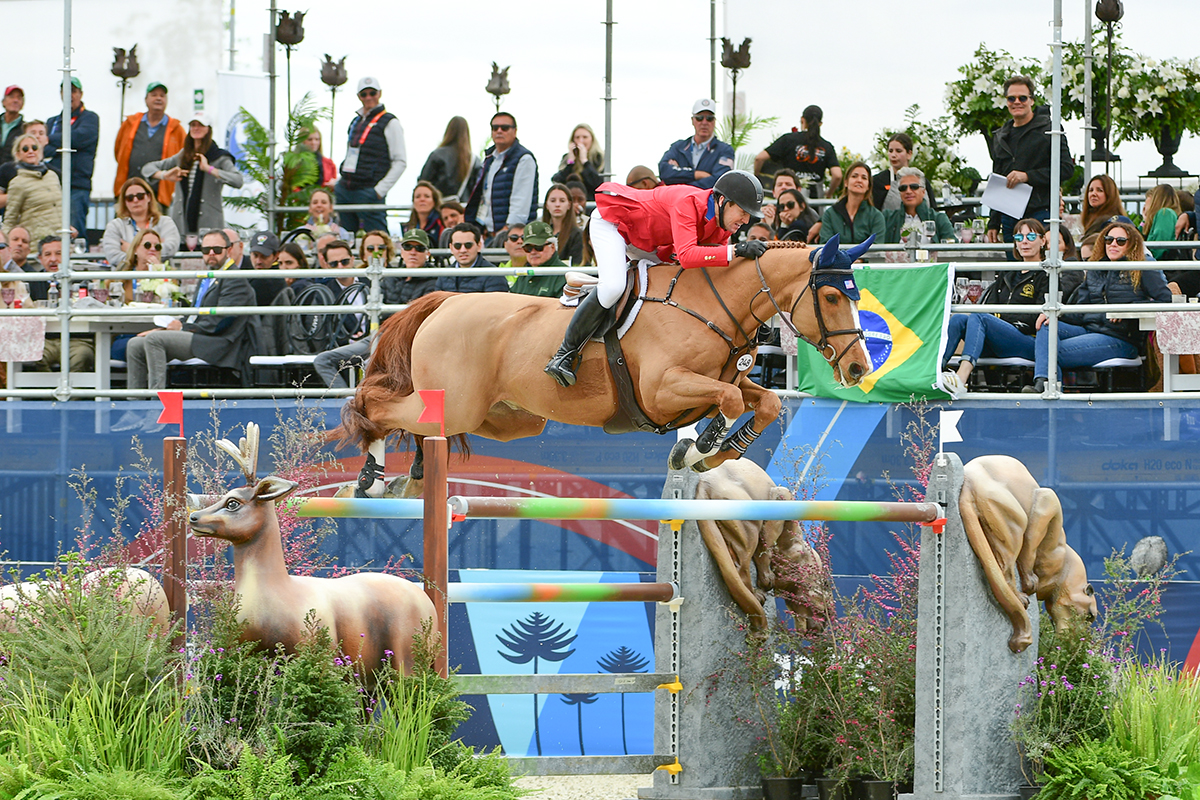 It might be enough to say "Job done, next stop Paris 2024!" but expounding on that theme, the U.S. Show Jumping Team put on a spectacular show today at the 2023 Santiago Pan American Games equestrian sports venue near Quillota, Chile. Competitors jumped two rounds yesterday over designer Marina Azevedo's (BRA) challenging, but fair, and beautifully decorated courses.
Seven of eight rounds that the U.S. Team members jumped today were "foot-perfect" with Karl Cook's first round on Caracole de La Roque the only outlier (12 faults). McLain Ward riding Contagious, Kent Farrington riding Landon and Laura Kraut on Dorado 212 rubber stamped clean round after clean round to produce a winning team score of 12.37.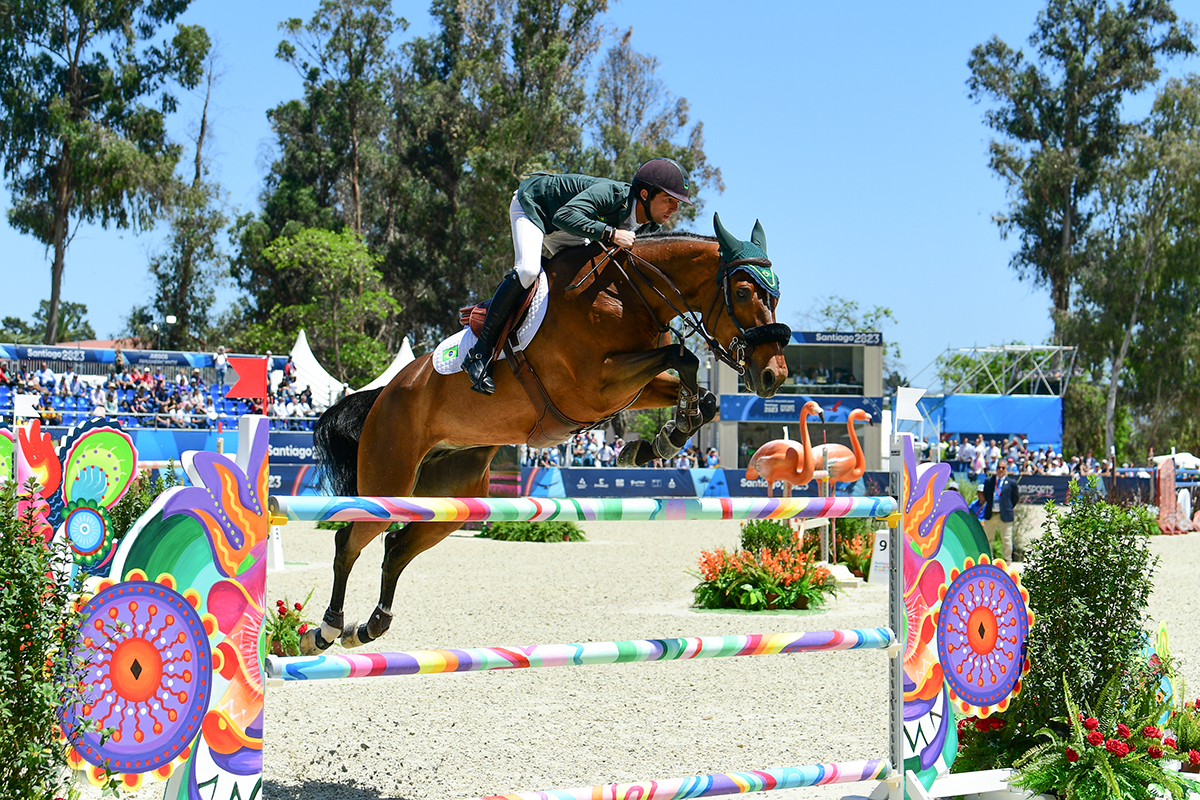 The first of three days of the Santiago 2023 Pan American Games show jumping competition kicked off yesterday with the "speed" class, an FEI jumper rules "Table C" class where rails knocked down are converted to time and added to the time it took the horse and rider to complete the course. The course was listed as a Table A course, but judged under Table C rules (no jump off to break ties).
The 1.50-meter course featured 13 obstacles and 16 jumping efforts with a length of about 600 meters and a time limit of 120 seconds. The class was both a team and an individual qualifying class. Forty-six starters tackled the show jumping course with two being eliminated for refusals, Andres Julio Soto Peña riding Optimus Blue from the Dominican Republic and Bolivia's Diego Alejandro Bedoya Yañez and Skara Glen's Para Bellum.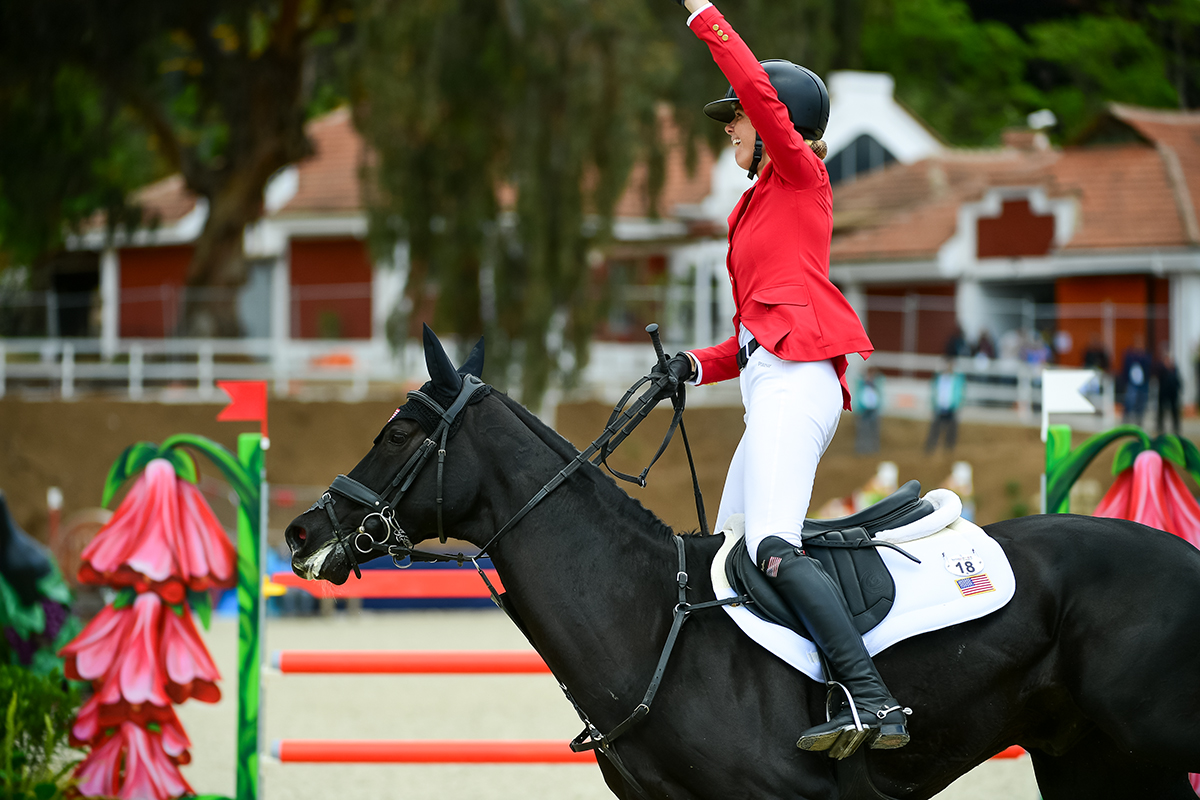 Yesterday was the first day since the 2023 Pan American Games began in Chile that it rained here in Quillota. But a damp morning gave way to drier conditions and partial sunshine when the show jumping phase of eventing kicked off at noon here at the Grenadier Regiment Riding School. The pressure was on with the push to win medals and to claim the two qualifying spots for the Paris 2024 Olympic Games.
Earlier in the day 25 event horses (all who had finished cross-country the day before) were presented to the ground jury at the second horse inspection for eventing. Of those 25, three horses were sent to the hold box (Canada's Bacyrouge ridden by Lindsay Traisnel, Mexico's Anahuac SDN ridden by Fernando Parroquin Delfin, and Argentina's Chaman Ginn ridden by Juan Benitez Gallardo), then represented and were accepted to show jump on second look by the jury.
The eventing show jumping course for 2023 was created by Marina Azevedo from Brazil, the first time a women has ever been the official course designer for a Pan American Games eventing show jumping course. She created a challenging course worthy of a continental championship. The CCI4* (Table A, 1.25-meter-high, 470-meter-long) course had 12 numbered obstacles and 15 jumping efforts, including double and triple combinations, and a time allowed of 76 seconds.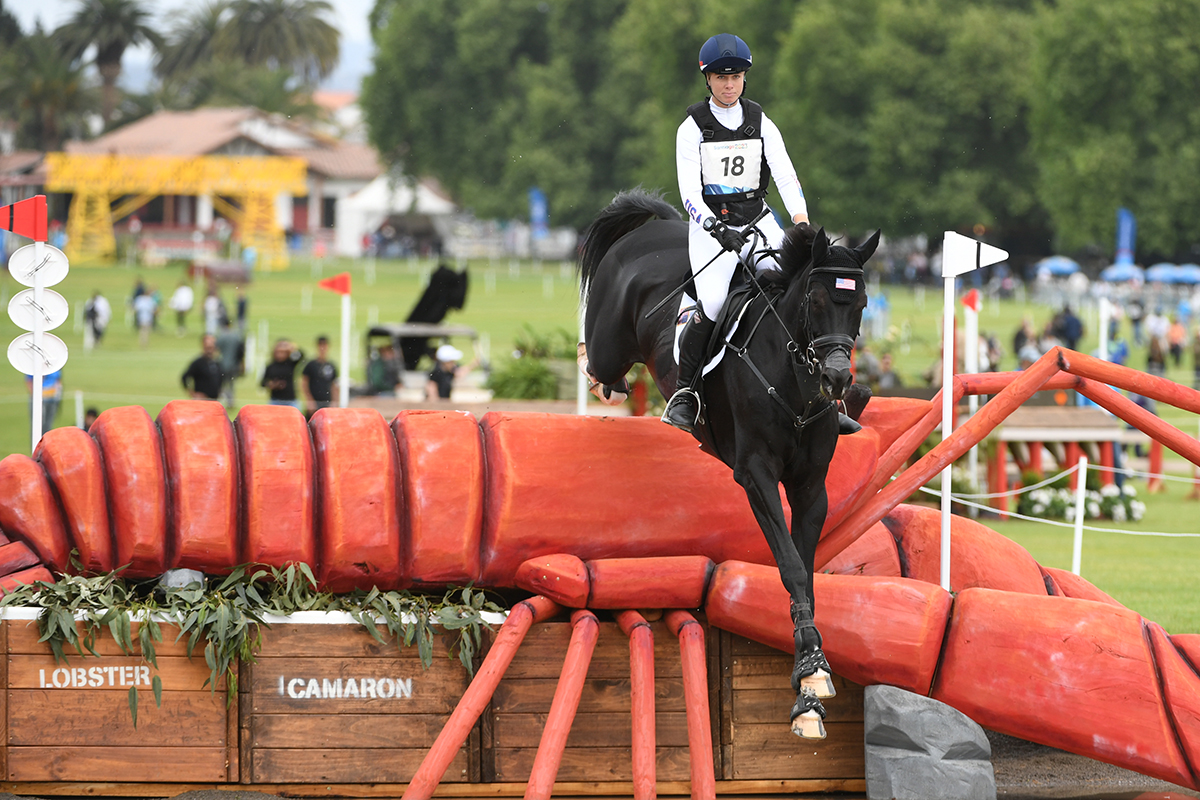 Nestled in low mountains on the border of La Campana National Park about half an hour inland from the Pacific coastline, the Grenadier Regiment Riding School (a military cavalry school) is the equestrian venue for the 2023 Santiago Pan American Games. Both the Pacific Ocean and part of the Andes mountain range can be viewed from the 6,170-foot mountain called Cerro La Campana which is located inside the park.
British explorer Charles Darwin visited the area in 1834 while on one of his many excursions. In fact, there is a large tree within the compound of the military post that was already planted and growing in the year that Darwin visited. The area is known for producing lemons, avocados and cherimoya fruit, among other agricultural products.
This scenic backdrop gave Pan American Games cross-country course designer Pierre Le Goupil (FRA) and course builder Dominic Moore (GBR) a wonderful opportunity to incorporate the landscape and history of the area into his course design. Each jump had some sort of theme related to Chilean history, culture, agricultural and mining products and geography.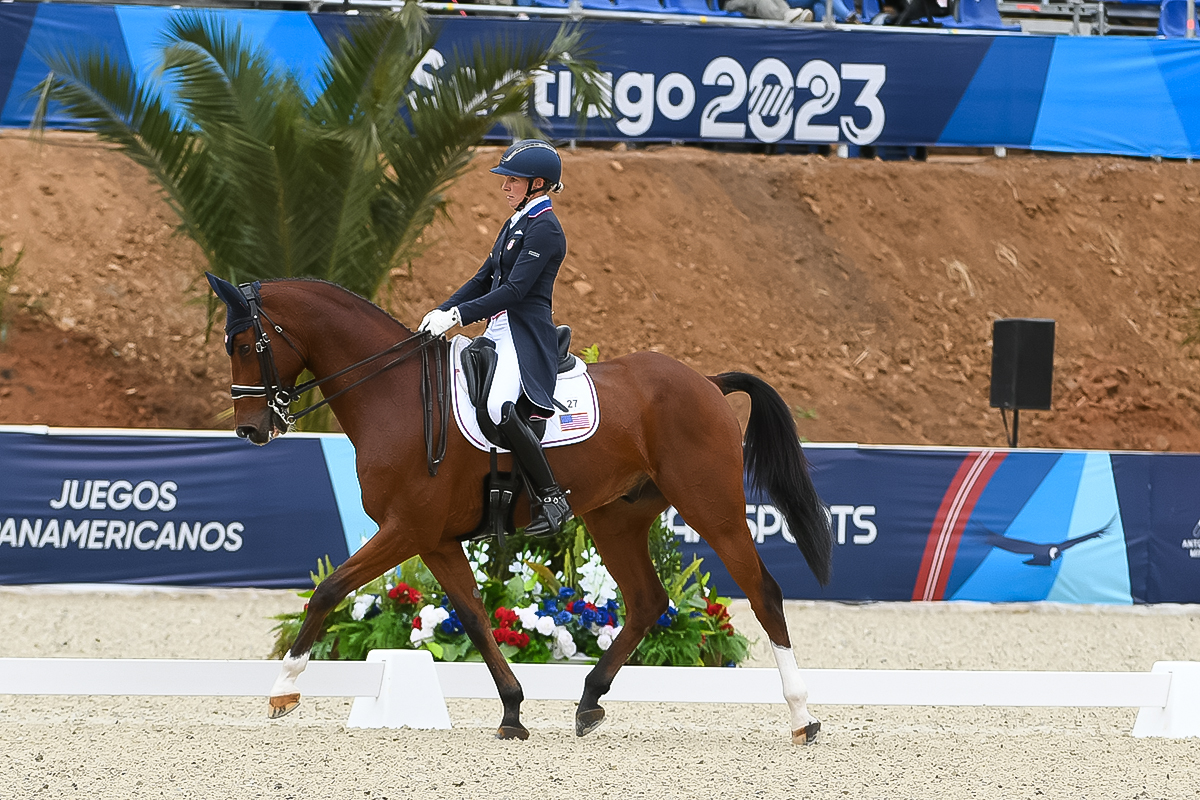 It was time to play in the sandbox for the Pan American Games eventers today as they did their best to correctly execute FEI CCI4* Dressage Test B. Thirty-four competitors from nine Pan American countries moved down center line in front of ground jury members Sandy Phillips (GBR) at E, Robert Stevenson (USA) at C, and Marina Sciocchetti Campello (ITA) at M.
The four U.S. riders all scored well, with three of them receiving marks under 30 and all in the top ten. Their scores and placings after dressage are: Liz Halliday and Miks Master C, first, 24.8; Caroline Pamukcu and HSH Blake, second, 26.8; Sharon White and Claus 63, third, 28.2; and Sydney Elliott and QC Diamantaire, tenth, 33.3.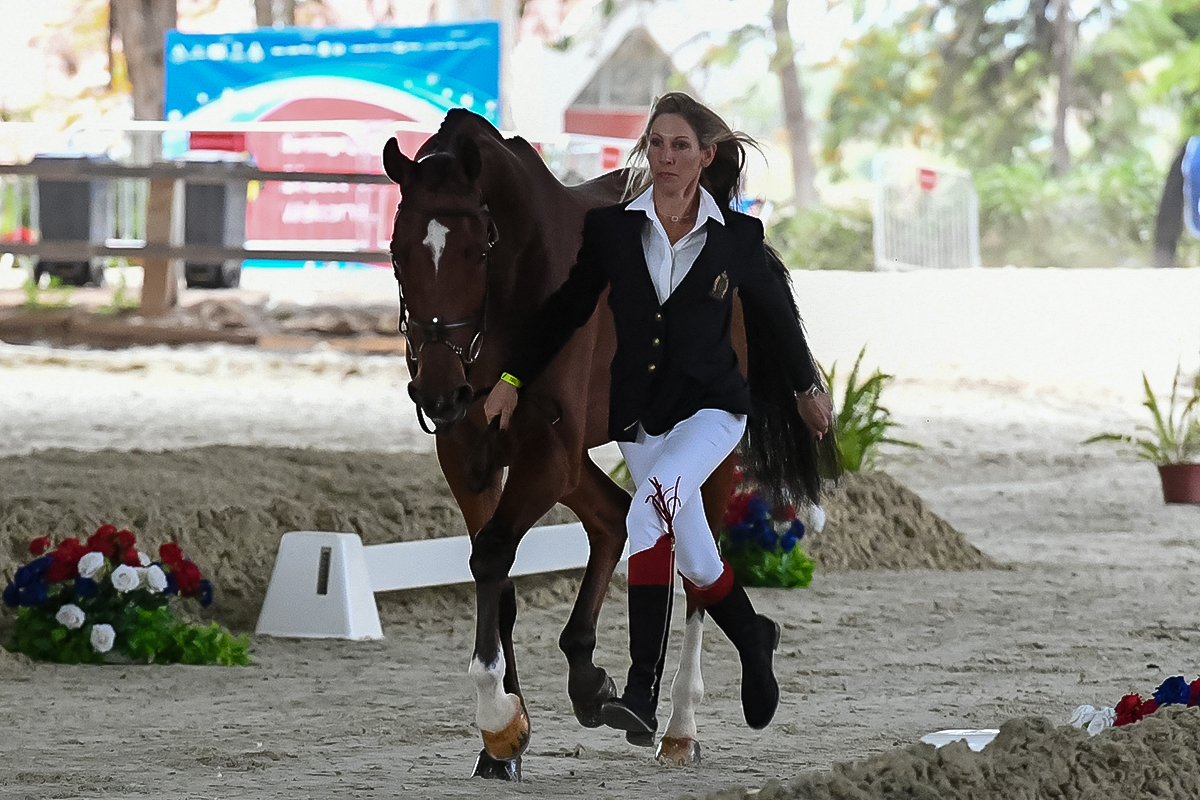 As the 2023 Santiago Pan American Games dressage competition ended, event horses grazing alongside their grooms starting dotting the landscape around the Grenadier Regiment Riding School here in Quillota. It is their turn to mix it up for medals and their country's honor in eventing at the Pan American Games.
Having safely qualified for the Paris 2024 Olympic Games at last year's World Championships in Italy, the United States has the luxury of giving Pan American Games experience to several riders who have not yet participated in a major games representing the stars and stripes. But for Canada it is do or die time; they have to qualify for Paris 2024 with a good performance here.
There are two Paris 2024 Olympic qualifying spots up for grabs at this Santiago 2023 Games. Teams seeking to claim one of these two Olympic qualifying spots are Argentina, Brazil, Canada, Chile, Colombia, Mexico and Uruguay.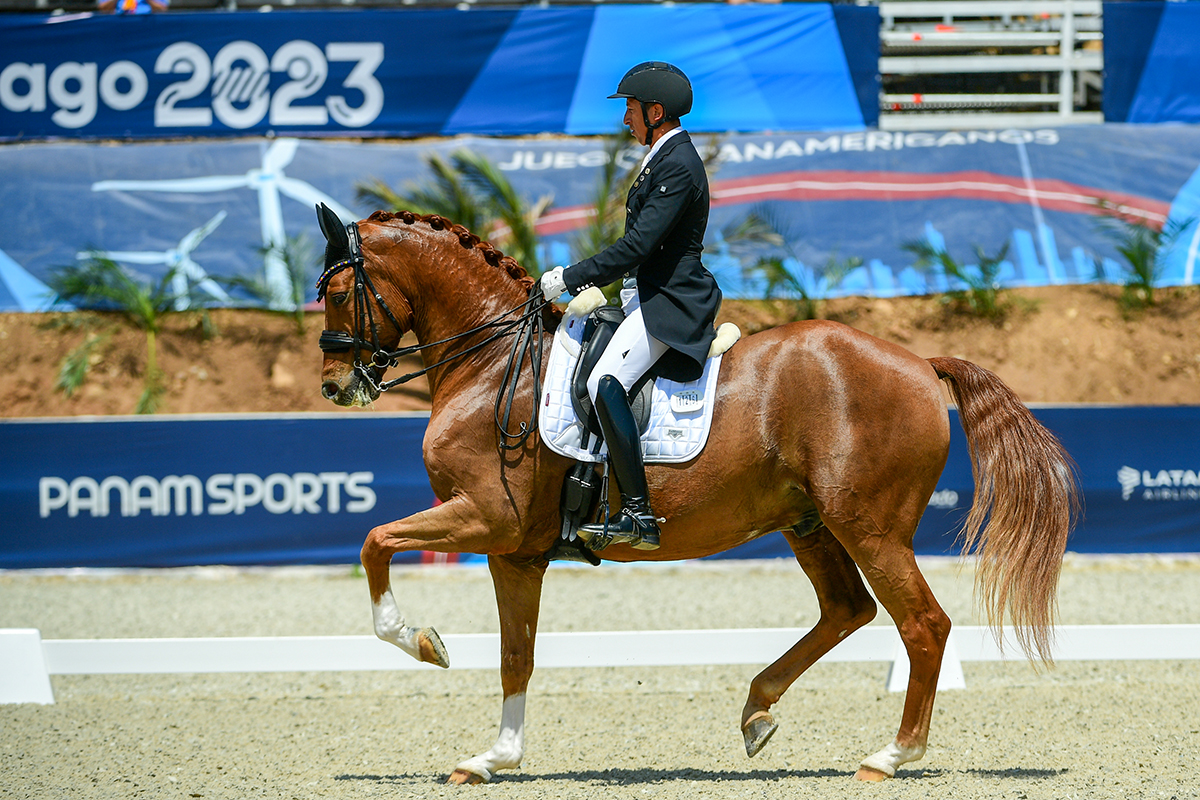 United States-based Ecuadorian rider Julio Mendoza Loor, riding the 12-year-old Dutch Warmblood gelding Jewel's Goldstrike, captured Ecuador's first-ever gold medal in dressage today at the Santiago 2023 Pan American Games. Mendoza is a familiar face to most U.S. dressage fans since he and his wife Jessica are based in South Carolina, about an hour from the Tryon International Equestrian Center. His 87.230% score was a personal best and he and "Goldie" were in synch and spot on the entire test.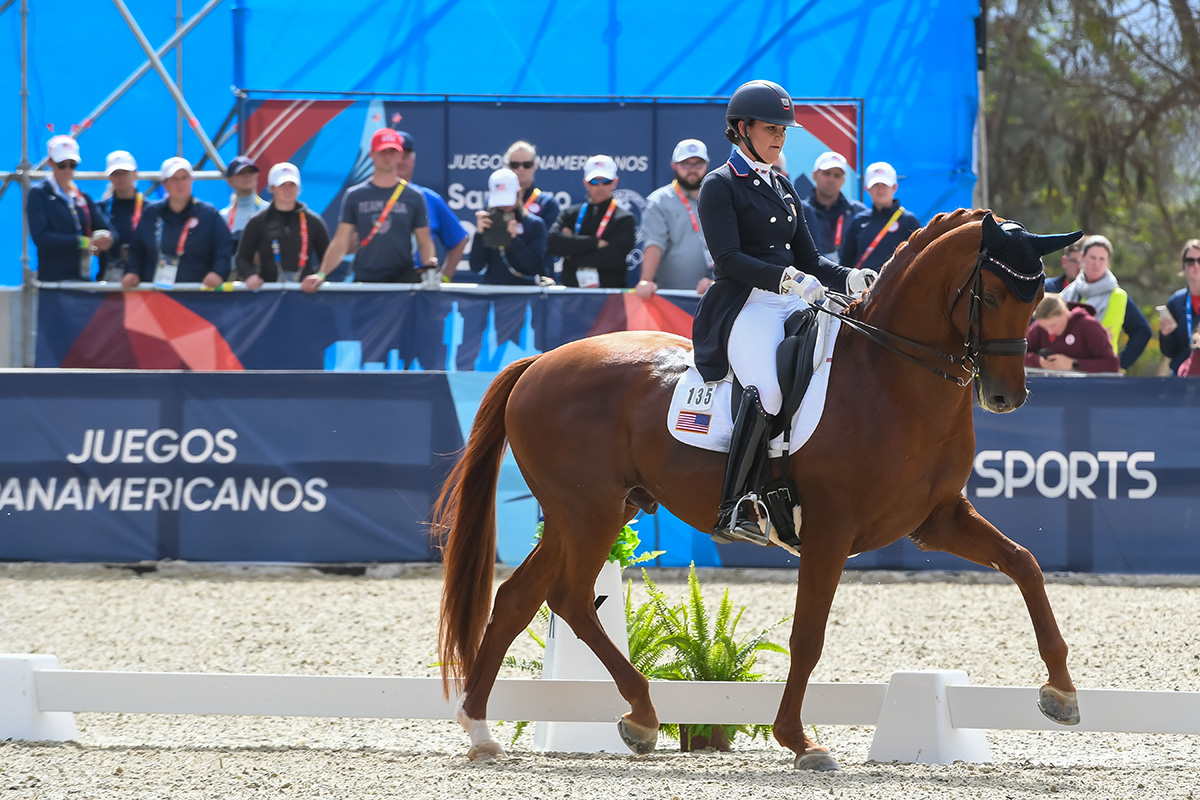 Watch the Pan American Games dressage freestyle competition today, Wednesday, October 25, 2023, starting at 11 a.m. Eastern (10 a.m. Central, 9 a.m. Mountain, 8 a.m. Pacific and 5 a.m. Hawaii.)
United States riders competing will be Codi Harrison on Katholt's Bossco, Anna Marek on Fire Fly, and Sarah Tubman on First Apple. U.S.-based Ecuadorian rider Julio Mendoza Loor, who lives in South Carolina, will also be competing on Jewel's Goldstrike.
Twenty riders representing a total of 10 countries (Argentina, Brazil, Canada, Chile, Colombia, Dominican Republic, Ecuador, Mexico, U.S., Venezuela) will ride either an Intermediate 1 freestyle or Grand Prix freestyle to compete for Pan American Games individual medals. In the team competition the two previous days, the USA won gold, Brazil silver and Canada bronze.