This coverage of eventing at the 2023 Pan American Games is a web exclusive for Horse Illustrated magazine.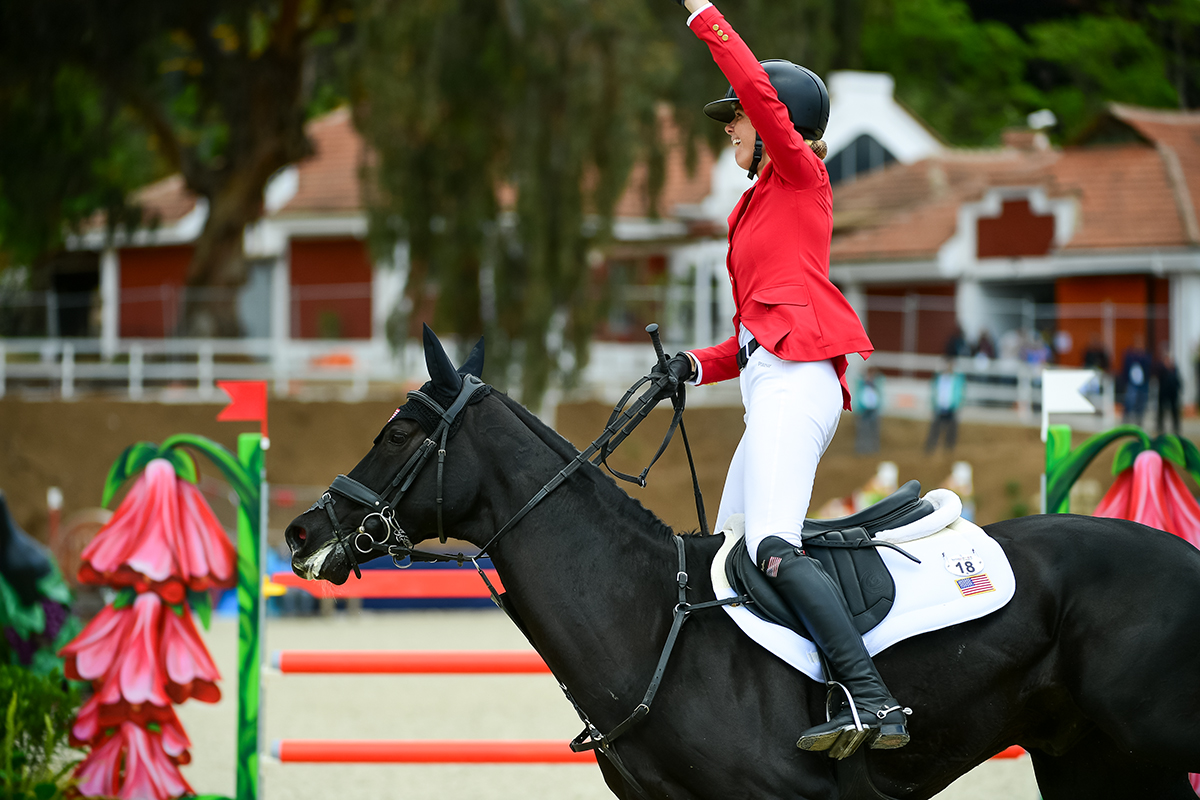 Yesterday was the first day since the 2023 Pan American Games began in Chile that it rained here in Quillota. But a damp morning gave way to drier conditions and partial sunshine when the show jumping phase of eventing kicked off at noon here at the Grenadier Regiment Riding School. The pressure was on with the push to win medals and to claim the two qualifying spots for the Paris 2024 Olympic Games.
Earlier in the day 25 event horses (all who had finished cross-country the day before) were presented to the ground jury at the second horse inspection for eventing. Of those 25, three horses were sent to the hold box (Canada's Bacyrouge ridden by Lindsay Traisnel, Mexico's Anahuac SDN ridden by Fernando Parroquin Delfin, and Argentina's Chaman Ginn ridden by Juan Benitez Gallardo), then represented and were accepted to show jump on second look by the jury.
The eventing show jumping course for 2023 was created by Marina Azevedo from Brazil, the first time a women has ever been the official course designer for a Pan American Games eventing show jumping course. She created a challenging course worthy of a continental championship. The CCI4* (Table A, 1.25-meter-high, 470-meter-long) course had 12 numbered obstacles and 15 jumping efforts, including double and triple combinations, and a time allowed of 76 seconds.
The time allowed wasn't easy to make and only four of the 25 competitors completed their round within the time (Caroline Pamukcu on HSH Blake for the USA, Karl Slezak on Hot Bobo from Canada, Colleen Loach on FE Golden Eye from Canada, and Carlos Parro on Safira from Brazil). Leaving all the rails up was equally difficult and only five out of the 25 were able to jump cleanly.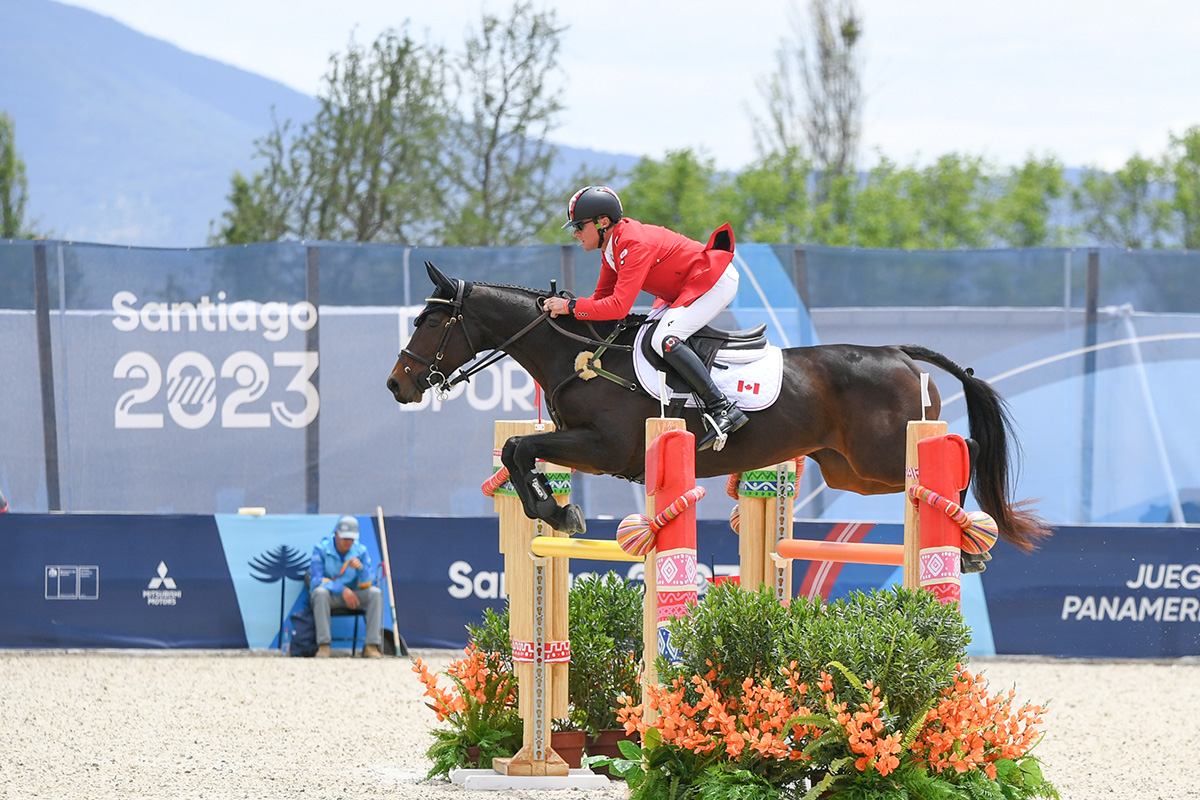 Only one competitor, Colleen Loach of Canada riding FE Golden Eye, did not lower the height of any jump and finished within the time allowed, adding nothing to their cross-country total (41.8) to finish in sixth place. Others with clear jumping rounds, but with time faults, were Brazil's Ruy Fonseca on Ballypatrick SRS (0.4 time penalties for a total of 56.7), Canada's Michael Winter on El Mundo (0.8 time penalties for a total of 40.7) and Canada's Lindsay Traisnel on Bacyrouge (1.6 time penalties for a total of 34.2).
Because of their great results on cross-country day, and because the eventers show jump in reverse order of placings in the final phase, all of the American horse and rider combinations jumped in the final third of the show jumping yesterday. First up to jump for the U.S. Team was Sydney Elliott and Carol Stevens' black, 13-year-old Oldenburg gelding QC Diamantaire. Although they looked fresh, they unfortunately pulled two rails and added 1.2 time penalties for a final score of 42.5 to finish in eighth place.
Four riders later, American Sharon White on her own Claus 63, an 11-year-old bay Holsteiner gelding (standing in third after cross-country), had her turn over the course. Although Claus is normally a good show jumper, it wasn't their day and they pulled four rails and added 0.4 time faults to finish on 47.0, dropping them to tenth place.
Liz Halliday, USA, and Miks Master C, a bay 11-year-old gelding owned by Ocala Horse Properties and Deborah Palmer, were next in the ring. Thus far they had had an impressive Pan American Games, being first after the dressage phase and second after cross-country. In April 2023, this pair had placed a notable third at the Land Rover Kentucky Three-Day Event CCI5*-L, but it was not to be at these Pan American Games. They dropped three rails and incurred 1.6 time faults to finish on 42.4 for seventh place.
The final rider to jump in the Pan Am eventing competition was the leader after cross-country―the USA's Caroline Pamukcu and HSH Blake, a black 8-year-old Irish Sport Horse gelding owned by Mollie Hoff, the rider and her mother, Sherrie Martin. They entered the arena and most fans were holding their breath as it was all on the line for the team medals and the chance for an individual medal for Pamukcu.
Their round was going well until a major miscommunication caused them to swim through fence 5, taking down all of the rails (but that only meant one penalty of four faults since it was all at one fence). Much credit should go to Pamukcu for recovering quickly and settling her young and impressive horse down to finish the rest of the course without any further jumping penalties and within the time. They added only 4 for a final score of 30.8, capturing individual gold and securing team silver for the USA.
Pamukcu talked about her round and the win, "I'm just so grateful for this opportunity and still in shock to be honest. I really came here to deliver a good result for the team and that was my focus. These teammates really took me under their wing this week, and I think that we have a great pipeline in our country, both with riders and horses. That's really exciting, and I feel like this medal is a testament to that. I got a little bit eager at fence 5, but grateful for a great horse. When you make a mistake, you have to put yourself together and keep kicking on."
The U.S. Team had gone into the day leading in the team standings after cross-country by 15.3 points over Brazil and 19 points over Canada, but the costly rails by all four team members dashed their hopes of a team gold. In the end, Canada, whose team members put on an impressive jumping show, pulled ahead, jumping from third after cross-country to win gold by a very narrow margin of 0.1 (115.6) by over the USA (115.7). Brazil captured bronze (127.1). Mexico finished fourth (253), and Argentina fifth (254.1). Although the teams from Uruguay, Chile and Colombia were assigned final scores, each of those teams had enough riders eliminated on cross-country (and subsequently 1,000 points added to their score per elimination) they were not in contention for medals.
Though there was much celebration by the U.S. Team and fans for Pamukcu's gold medal win and their silver team medal, there was also a fair amount of disappointment. Chef d'Equipe Bobby Costello summed up the highs and lows of the day, "Firstly, in our disappointment of today, we're also absolutely thrilled for Caroline, her owners and her support group. She was incredible this whole week. We're very proud of her and it's so well-deserved. It's hard in the moment to look back and immediately start analyzing, but we all need to think about it for a couple of days. With that will come more clarity on what we can do moving forward to not be in this position again. It's good that we are all disappointed with silver because it means we want to be better. But, [we] are also genuinely happy for our friends, the Canadians, and glad to see both them and Brazil punch their tickets to Paris. As a team, we're going to have to go away from this, analyze ourselves, and find a way to come back stronger."
After the eventing wrapped, the U.S. Show Jumping Team began their Pan Am journey with the first horse inspection in the late afternoon. Fifty-two horses from 15 countries, and one horse presented by an independent athlete, were shown to the ground jury (Patrice Alvado, FRA; Norma Angelica Rodriguez, MEX; Jorge Aros, CHI; Neil O'Connor, USA; Colleen Hoffman, CAN). Three were held for re-inspection the next day (Laura Kraut's Dorado 212 from the USA, Rodrigo Pessoa's Major Tom from Brazil and Andres Julio Soto Peña's Optimus Blue from the Dominican Republic) and all passed on re-inspection.
The jumper competitors had a training session today. Tomorrow will start their first day of three days of competition at 11:30 a.m. Chile time (which is 10:30 a.m. Eastern US time, 9:30 a.m. Central, 8:30 a.m. Mountain, 7:30 a.m. Pacific, and 4:30 a.m. Hawaii). Fans can watch on either ClipMyHorseTV.com (with paid subscription) or possibly on the Pan Am Sports Channel for free at this link (may have to download a free app).
For more information on the U.S. Equestrian Team competing in Chile, click here.
Find schedules, start lists and results on the official games website here and click on "equestrian eventing" or "equestrian jumping."