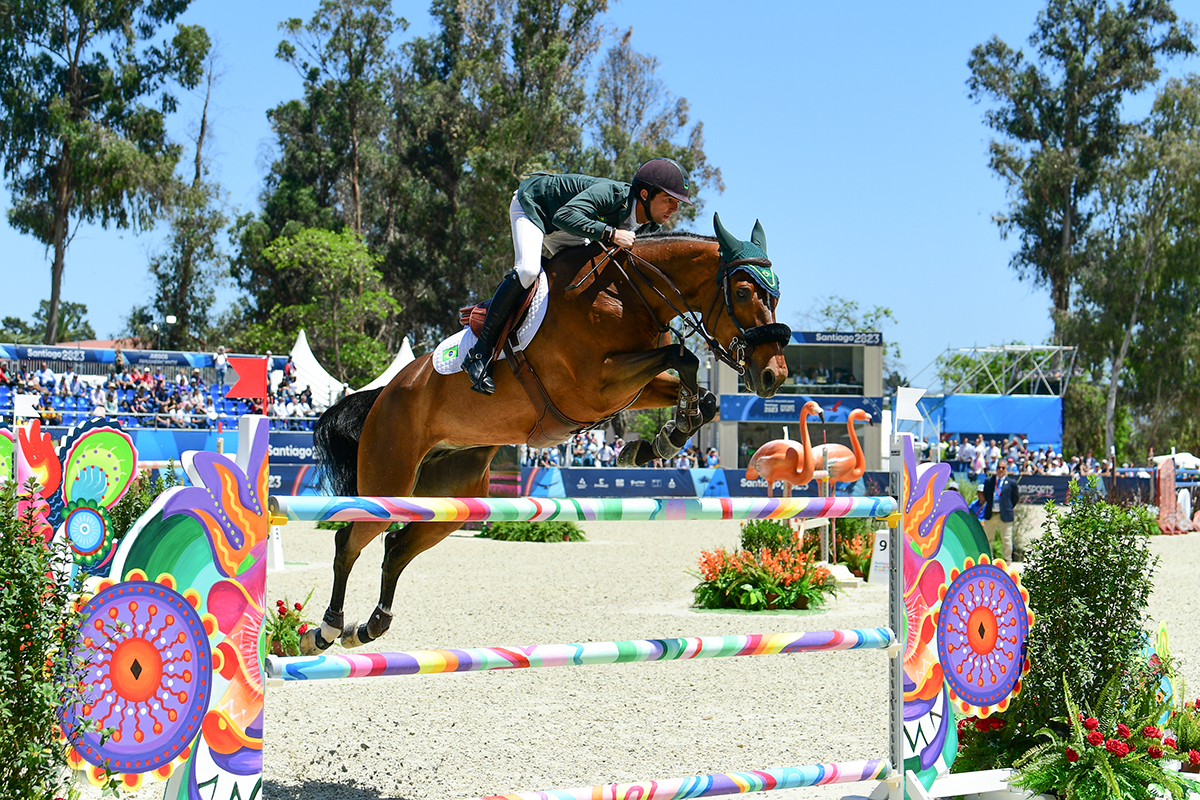 The first of three days of the Santiago 2023 Pan American Games show jumping competition kicked off yesterday with the "speed" class, an FEI jumper rules "Table C" class where rails knocked down are converted to time and added to the time it took the horse and rider to complete the course. The course was listed as a Table A course, but judged under Table C rules (no jump off to break ties).
The 1.50-meter course featured 13 obstacles and 16 jumping efforts with a length of about 600 meters and a time limit of 120 seconds. All but one of the jumps were decorated with themes from the north of Chile. The exception was the first jump which was one borrowed from the 2019 Pan American Games in Lima, Peru. Jump decorations included: The Valley of the Moon (Valle de la Luna); Chilean flamingos; the flowering Atacama desert (Desierto Florido de Atacama); traditional music from Native American people in Chile; a famous Chilean poet named Gabriela Mistral; mining in Chile, and others.
The class was both a team and an individual qualifying class. Forty-six starters tackled the show jumping course with two being eliminated for refusals, Andres Julio Soto Peña riding Optimus Blue from the Dominican Republic and Bolivia's Diego Alejandro Bedoya Yañez and Skara Glen's Para Bellum.
The U.S. Team had drawn sixth to go in the order, so with individuals competing without a team mixed in, the first U.S. rider to jump was McLain Ward in the ninth time slot. Ward rode his long-time partner Contagious, a 14-year-old Zweibrücker gelding owned by Beechwood Stables. They pulled one rail and finished in 79.56. Through a complicated formula, their first qualifying score — which will carry into today's first class — was converted to 3.34.
Ten riders later, Karl Cook from the USA took the ring on the somewhat fractious, yet talented mare, Caracole de La Roque (11-year-old Selle Français owned by Signe Ostby). They pulled two rails and had a run out at fence number 6, incurring extra time. In the end, their qualifying score was converted to 19.28.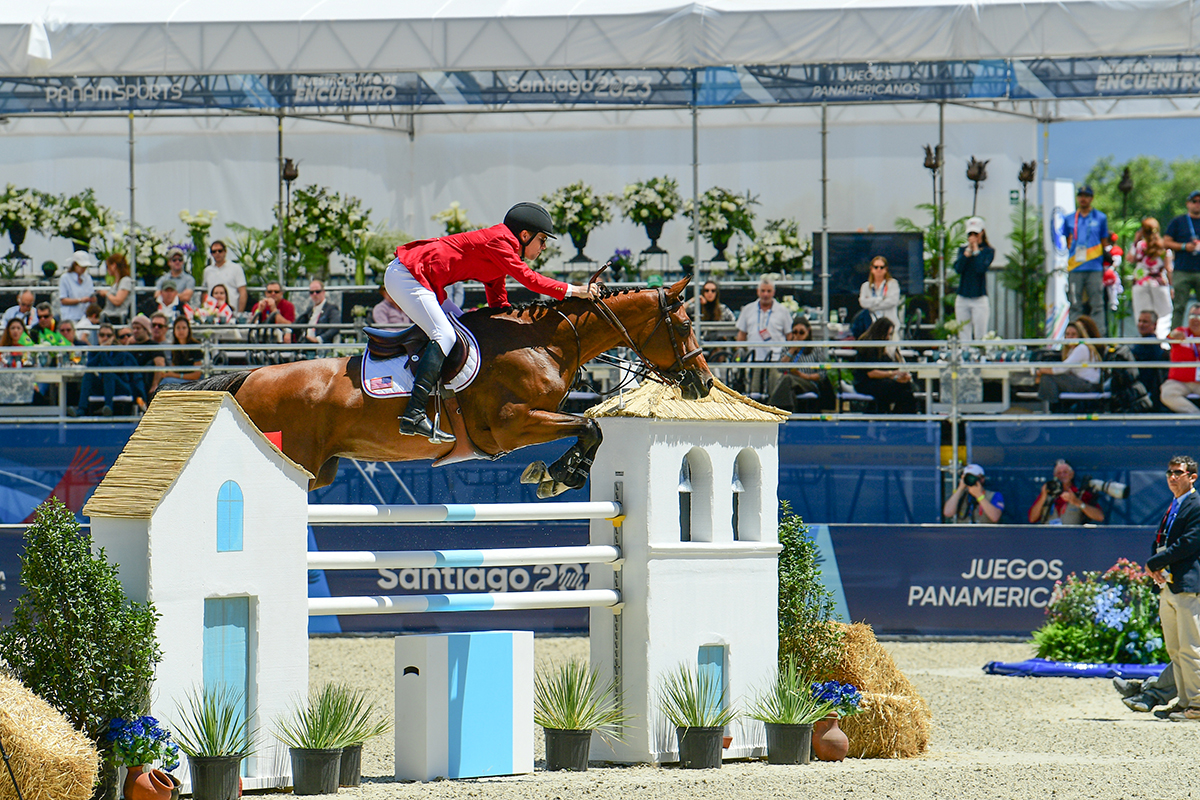 Another 10 riders later, Kent Farrington, USA, guided Landon, a 10-year-old Zangersheide gelding owned by Haitey McNerney, around the colorful course. They pulled two unfortunate rails, finishing in 84.16 which converted to 5.64 qualifying points going into today.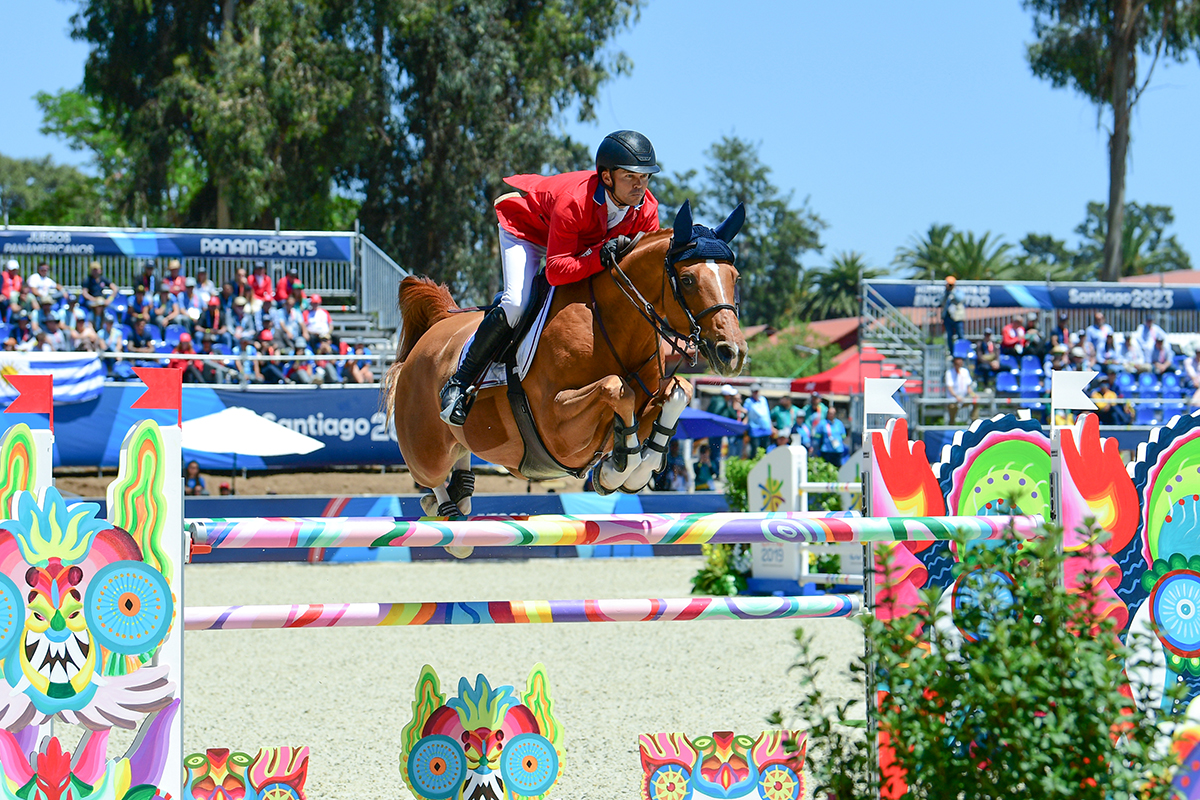 Twelve spots after Cook, the final U.S. rider was Laura Kraut on Dorado 212, an 11-year-old Warmblood gelding owned by St. Bride's Farm. The pressure was on them to produce a good round and they responded by jumping clear and in a time of 79.66 which converted to 3.39 qualifying points going into today.
U.S. Jumping Team Chef d'Equipe Robert Ridland commented on the day and their end goal, "Our takeaway today is no different than what we knew coming in. You can't also leave everything on the table on the first day, because there are twice as many jumps tomorrow and it only gets bigger from here on out. Our team needs to focus on what we can control, which is how we approach tomorrow; it's a new day for each of the teams here."
Marlon Modolo Zanotelli from Brazil riding Deesse de Coquerie topped the standings after yesterday's class with a clear jumping round and a time of 72.87 which converted to a qualifying score of 0. His countryman Pedro Veniss and Nimrod de Muze Z were second in the standings with a qualifying score of 0.26. Colombia's Rene Lopez Lizarazo on Kheros Van'T Hoogeinde is in third with a qualifying score of 0.72 and Mexico's Eugenio Garza Perez riding Contago is next best with a qualifying score of 1.63. Canada's Amy Millar on Truman had the fifth best qualifying score of 1.71.
The team standings after one class are:  Brazil, first, 4.32; Colombia, second, 7.29; Canada, third, 9.62; Argentina, fourth, 12.01; USA, fifth, 12.37; Mexico, sixth, 14.58; Chile, seventh, 16.75; Uruguay, eighth, 35.57, and Ecuador, ninth, 40.98.
The three highest ranked teams from the 2023 Pan American Games, from FEI Olympic Groups D (North America) and/or E (Central and South America) and excluding teams already qualified, will punch their ticket for Paris 2024. The countries here chasing qualification for Paris are Argentina, Canada, Chile, Colombia, Ecuador, Mexico, Uruguay and USA. Brazil has already qualified. Four individual qualifying spots for athletes from countries without teams, in Groups D and E, are also up for grabs.
Today's show jumping will be over two rounds, the first from 11 a.m.-2 p.m. Chile  time (1 hour ahead of the Eastern U.S.) and the second from 2:30-5 p.m. (1 hour ahead of the Eastern U.S.).
Fans can watch on either ClipMyHorseTV.com (with paid subscription, although a free live stream is mentioned for today, November 1) or possibly on the Pan Am Sports Channel for free at this link (may have to load an free app).
For more information on the U.S. Equestrian Team competing in Chile, click here.
Find schedules, start lists and results on the official games website here and click on "equestrian jumping."
This coverage of show jumping at the 2023 Pan American Games is a web exclusive for Horse Illustrated magazine. Click here to subscribe!