Although some horse people won't admit it, a perfect night is spent in front of the television watching horse movies. In 2006, the Horse Illustrated editors picked 30 of their favorite horse movies in celebration of the magazine's 30th anniversary. These favorites vary in terms of technical merit, but they're all loved for the simple reason that they tell good stories. 
Did we miss your favorite film? Click "Submit a Comment" at the end of this article and share your picks for best horse flicks.
Don't forget to check out 30 great horse books and 30 great horse songs.
30 of the Best Horse Movies
Sylvester
In search of a hefty paycheck, cowgirl Melissa Gilbert enlists a former cavalryman to help her win a prestigious three-day event with her favorite bronco.
Spirit:  Stallion of the Cimarron
As a wild stallion travels across the frontiers of the Old West, he befriends a young human and finds true love with a mare.
The Silver Stallion: King of the Wild Brumbies
Russell Crowe plays a part in this movie about an Australian wild horse and the impact he has on a rural family.

Seabiscuit
Based on the book by Laura Hillenbrand, this true story tells of the undersized Depression-era racehorse whose victories lifted not only the spirits of the team behind it but also those of the nation as well.

National Velvet
Liz Taylor, as Velvet Brown, lives the dream we all had as children—win a horse in a lottery and turn him into a champion. In this case, young Velvet disguises herself as a boy and wins England's famous Grand National steeplechase on her beloved Pie.

The Man From Snowy River
An entertaining and visually stunning Australian western about a born horseman who single-handedly rounds up a herd of wild horses and pursues a rich rancher's daughter.

Ladyhawke
While not strictly about horses, this fantasy movie stars a fabulous Friesian, who became the heartthrob of many horse people when the movie was released in 1985.
International Velvet
This is a sequel of sorts to "National Velvet." A family tragedy brings Velvet's niece, Sarah, to England. Sarah joins forces with a descendant of the great Pie and eventually makes the British three-day event team where she finds Olympic glory and true love.
The Horsemasters
In this horse movie, enthusiastic equestrians work long and hard to earn British Horse Society certification.

Hildalgo
Set in 1890, this is the story of a Pony Express courier (Viggo Mortensen) who travels to Arabia to compete with his horse, Hidalgo, in a dangerous race for a big prize.
The Electric Horseman
In his pre-whispering days, Robert Redford starred in this story about a former rodeo cowboy who abandons the Las Vegas stage and takes off into the desert astride a former Derby winner.
A Day at the Races
The Marx Brothers go to the races. Enough said.

Champions
This testament to the strength of the human spirit is based on the life of English steeplechase jockey Bob Champion who was stricken with cancer at the age of 31 but never wavered in his dream of winning the Grand National.
The Black Stallion Returns
In this sequel to "The Black Stallion," Alec Ramsey travels to the Middle East to rescue his kidnapped horse.
Black Beauty
Several versions have been created based on Anna Sewell's classic horse book. In this movie, Beauty tells his own story about leaving his wonderful first home and being passed through indifferent and abusive owners before finally being reunited with the boy he loved.

The Story of Seabiscuit
The 1949 film version of the unlikely champion, complete with a perfect Hollywood ending. Seabiscuit, a colt no one believes in, rises from the claiming ranks to become one of most successful racehorses of the 1930s.

Something to Talk About
Julia Roberts stars as Grace, a Southern woman who discovers that her husband has been unfaithful. Although moderately funny, the movie makes our list for its horse scenes. Grace's father breeds show horses and her daughter rides.

Shergar
A true tale about the Irish Thoroughbred who was kidnapped by the IRA and never seen again.
Phar Lap
This movie chronicles the life of the much-loved Australian racehorse Phar Lap, who raced to stardom in the 1930s, and the gentle groom who loved him. Despite having to carry increasing amounts of weight, the horse is unbeatable.  Phar Lap's tale ends tragically when he dies under mysterious circumstances soon after winning his most important race—the Agua Caliente Handicap in Mexico.

Miracle of the White Stallions
During World War II, the Lipizzan Stallions of the famous Spanish Riding School were in danger of being destroyed. They are rescued by General George Patton and the U.S. Army.
Let It Ride
A cab driver learns about a horse race that's going to be fixed. Succumbing to the temptation, he wins big, then bets it all on a horse named Hot to Trot.

Into the West
Two gypsy boys growing up in poverty in Dublin, Ireland, are led on an adventure into the Connemara by a mysterious white horse.
The Horse Whisperer
This romance movie centers on the relationship between a workaholic mother, an injured daughter, a frightened horse and the "horse whisperer" who touches their lives.

The Horse in the Gray Flannel Suit
A businessman uses a show horse ridden by his daughter as a advertising promotion for a stomach-ailment remedy.
Flicka
Starring country singing legend Tim McGraw, this is a story of how a young girl claims a wild horse as her own. Such gallantry proves to the girl's father (McGraw) that she is capable of one day taking over the family ranch.

Dreamer
Cale Crane (played by young Dakota Fanning) catalyzes the rescue and rehabilitation of Sonador, a racehorse with a broken leg.
Danny
A young girl inherits a cute gray pony named Danny who is discarded by the spoiled daughter of a barn owner. She rehabilitates the pony from an injury and is eventually champion at the big show.
Casey's Shadow
A young boy and his Quarter Horse-training father raise and train a foal that takes them all the way to the All American Quarter Horse Futurity.

The Black Stallion
Based on the Walter Farley children's book of the same name, The Black Stallion is a film about a young boy who, after surviving a shipwreck, is stranded on an island with a mysterious black horse. The pair form a powerful bond that helps them, once rescued, to race against and beat the fastest horses in the country.

All the Pretty Horses
A coming-of-age tale based on the novel by Cormac McCarthy. Young Texas rancher John Grady Cole, played by Matt Damon, gets more adventure than he can handle when he heads to Mexico after the death of his father.
Want to find out more about horse movies? Here are more resources on horses in film:
"Out of the Wild" to Bring Mark Rashid's Horsemanship to the Big Screen

For the horse trainer known for his respect and consideration of the horse, Mark Rashid's journey of seeing his first novel, "Out of the Wild," transformed into a feature film has been a lot like his horsemanship.
Continue Reading >>
5 Classic Must-See Horse Movies

Let's step back into the past and revisit horse movies from the 1940s-1960s that still portray timeless messages and provide inspiration for contemporary horse enthusiasts.
Continue Reading >>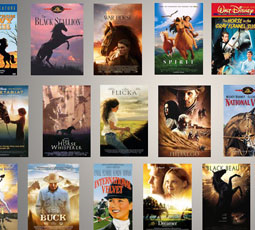 Rider Insider: The Best Horse Movies

We're recruiting your help in updating this list. Are there any classics that we missed? Are there some newer titles that deserve recognition?
Continue Reading >>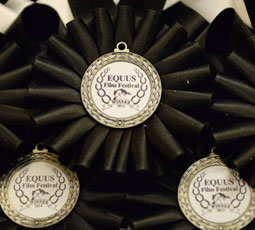 Horse Movies Given Center Stage at the Equus Film Festival

The inaugural New York City Equus Film Festival took place in Harlem, showcasing 119 films that were narrowed down from the 149 that were entered.
Continue Reading >>
From Derby Dream to Silver Screen

"50 to 1," the new major motion picture about Kentucky Derby winner Mine That Bird, opens in theaters March 21, 2014 in New Mexico and will then expand across the country.
Continue Reading >>
Friesians in Film

The Friesian's magnetic beauty is a perfect fit for the silver screen, and many movie and TV-show directors seek out these horses for their commanding presence.
Continue Reading >>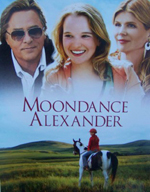 Movie Review: Moondance Alexander

Horse lovers are so desperate for films that accurately portray their lifestyle that they anxiously await the release of every horse flick. Often they are disappointed, as will probably be the case with Moondance Alexander.
Continue Reading >>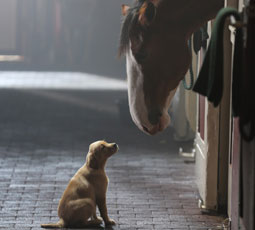 Training Horses for the Silver Screen

As a lifelong horse-crazy person, I feel qualified to be a critic of riders in TV shows, movies and advertisements, and I always wonder about the training that happens behind the scenes.
Continue Reading >>