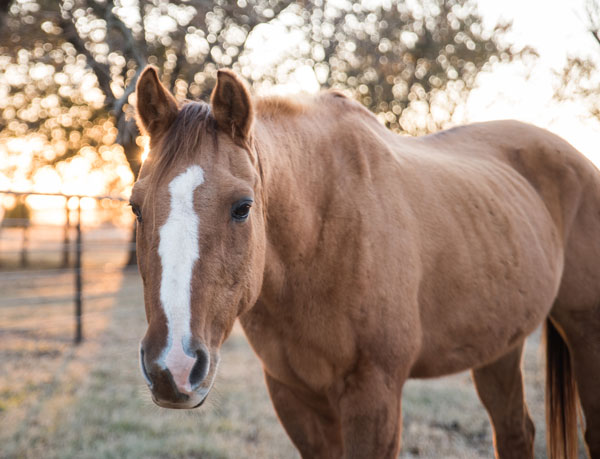 It's Adopt a Senior Pet Month. And to celebrate, we've got a great option for you below, but first, let's look at three reasons why you should consider adopting a senior horse this November during Adopt a Senior Pet Month, or any time of year.
1. 20 is the new 10: Don't be afraid of committing to an older hose as many live well into their 20s and beyond. Today's nutrition, veterinary and farrier care, plus scads of research into caring for older horses, keeps them feeling, looking and acting younger well into what most people used to consider senior years! Many older horses are looking for the same thing as you are—a good friend to make memories with on the trails or in the arena.
2. A little bit of gray goes a long way: Not only are senior horses adorable, but time has made them all the more gentle and patient. With age comes experience, and when you're learning to ride and care for horses, a little extra wisdom and focus from your equine partner can go a long way. Senior horses often have many years of training and can gently teach a new or young rider the skills to become more comfortable and confident.
3. Keeping things in check: No one knows what time of day it is better than a senior horse! They will tell you when it is time to come in, when to go out, when to eat and where you should put their hay. They love their routine but adapt well, making them excellent partners for humans and horses alike thanks to their years of social experience.
An Equine Adoptable Senior Pet of the Month
Meet Ida Mae! At 30 years old, she is still full of spunk and character! Ida Mae is looking for a new home through one of the American Society for the Prevention of Cruelty to Animals' (ASPCA) adoption partners, Nexus Equine.
This former show horse gone lesson horse has learned a thing or two in her day, proving that old horses can learn new tricks. She keeps everyone at the adoption center on a tight schedule, and she can be seen walking solo from her paddock to her stall just in time for dinner and out again in the morning to find a sunny spot to nap in.
If you are interested in inquiring about Ida Mae, please email info@nexusequine.org.