A new equestrian building is one of the largest investments you'll ever make. In your quest to make the right choice, it's easy to be skeptical of builders claiming to have the best designs, material and capabilities. How do you really know and choose?
One thing you can be sure of is that besides being a reputable national supplier of high-quality buildings since 1947, Lester and your local Lester Builder,
can
offer the industry's most transparent, informed and professional building experience.
Buildings the Easier, Modern Way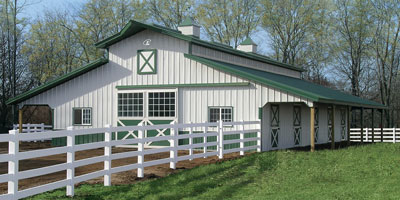 It starts with eBuildings, America's only online pricing for post-frame buildings. With a simple zipcode login, you can sort through a catalog of eBuildings and their material/labor pricing as offered by your independent Lester dealer. Take control when you add options, apply colors and instantly reprice your building. The information and convenience provided by eBuildings is unprecedented.
Your project is fully-realized, however, with the help of Improv®, Lester's trailblazing, industry-exclusive software. Your Lester dealer calls upon Improv to fully design, price and engineer most structures. Improv even generates detailed elevation, floorplan and 3D drawings that can oftentimes be used for permitting.
Eliminate the Wait
With eBuildings and Improv, you and your Lester dealer can co-create your Lester building, at your home, office, or wherever it's most convenient for you. No more waiting weeks for drawings and a firm price based on a rough sketch. No more waiting if you change your mind on things like porches, windows, doors, locations, and the like.
It's the end of the "way it's always been done" and the beginning of a modern, professional, more confident building buying experience.
For More Information:
lesterbuildings.com
800-826-4439
Significant spring discounts now available