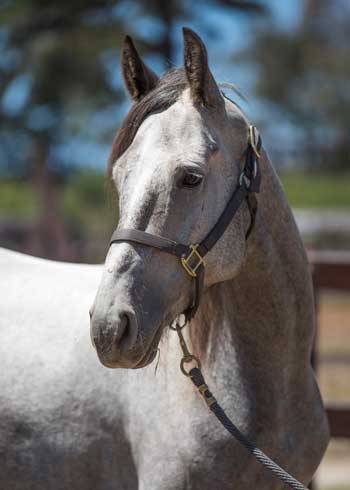 A Bureau of Land Management (BLM) American Mustang has become the latest member of a unique program of the United States military, but while his unit at the Vandenberg Air Force Base (VAFB) may be one-of a-kind, 5-year-old Ghost is not the only horse that BLM has placed with other branches of the U.S. military in recent years.
According to base spokesperson U.S. Air Force Master Seargeant Farrah S.C. Kaufmann, Vandenberg supports West Coast launch activities for the Air Force, Department of Defense (DOD), National Aeronautics and Space Administration (NASA), other national programs, and various private industry contractors. It's host, the 30th Space Wing, has been rolled into the recently created U.S. Space Force.
Ghost, along with four other horses, are used in the base's conservation Military Working Horse Program. Begun in 1996, it is the only Air Force program of its kind. Members of the program are charged with patrolling the 99,000-acres of terrain in Central California's rocky terrain and enforce conservation laws there.
"Vandenburg AFB is located in the Central Coast of California and parts of the base cannot be reached on foot and certainly not by an all-terrain vehicle (ATV)–so horses are used," Kaufmann says. "Members of the unit enforce conservation laws and make sure that hunters are not on the property when launches take place."
The seven human members of the Military Working Horse Program are recruited from other Air Force programs, Kaufmann says.
"Members do not have to have equestrian experience when we recruit them," she says.
Once they join the program, members are assigned to a specific horse and are responsible for its care, including grooming and daily inspections for signs of injury.
"Also a veterinarian lives on the base," she says.
At the end of their careers, equine members of the program retire.
"Just like any other military animals, such as dogs, (the horses) retire and are rehomed," Kaufman adds.
According to Paul McGuire, outreach specialist for the BLM's national Wild Horse and Burro Program, the agency has been placing Mustangs with other public agencies since 2017, when Congress included funding provisions allowing such a transfer.
"Prior to the transfer authority, the BLM placed animals with other agencies through adoption or sale," McGuire shares.
All told, the BLM has placed a total of 43 horses with branches of the U.S. military, including the U.S. Army, the U.S. Marine Corps, and now the U.S. Air Force.
"Three of (those horses) were transferred and 40 were adopted," says McGuire.
Meanwhile, the BLM has placed an additional 391 animals with the U.S. Border Patrol, of which 382 were adopted, eight were transferred, and one was sold.
"These animals have been used for a variety of tasks, including patrolling the border, escorting fallen heroes to their final resting place and supporting military exercises," says McGuire.
While Ghost is the first BLM Mustang to join the the program at Vandenberg, he is unlikely to be the last.
"BLM Mustangs are sturdy horses that can handle the work we need, but we are excited to see what the future may hold for these once-wild horses in our section," Sgt. Michael Terrazas said in a recent U.S. Air Force tweet.
"With the acquisition of Ghost, our vision is to have a Military Working Horse Program that consists entirely of BLM Mustangs."