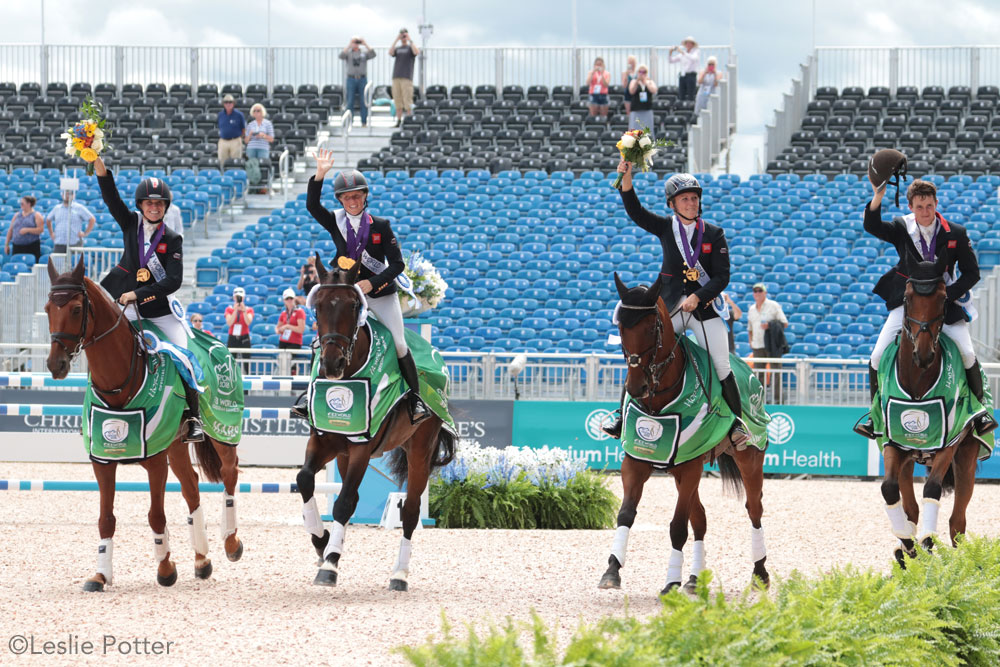 At the FEI World Equestrian Games Tryon 2018, three-day eventing took five days. Read more on how Great Britain wins the gold in the eventing phase at the 2018 World Equestrian Games in Tryon, North Carolina.
The biggest competitions in the sport tend to take four days to complete all three phases, since dressage tends to require two days. At Tryon, former-hurricane Florence added the fifth: an unplanned rest day in between cross-country and stadium jumping while wind and rain pummeled the Tryon International Equestrian Center at 2018 WEG.
Fortunately, all of the horses and their riders weathered the storm, and with the exception of the jumbotron, which was taken down as a precaution ahead of the peak wind, the US Trust Stadium held up well, too. The sun even came out for parts of Monday's stadium jumping phase at 2018 WEG.
The team from Great Britain had a phenomenal cross-country day and came into the final phase 8.2 penalty points ahead of the second-placed Irish team. Ireland kept the pressure on. Sam Watson and Padraig McCarthy both turned in double-clear rounds. Sarah Ennis and Cathal Daniels had just one rail each; with the drop score, they only added four penalty points at 2018 WEG.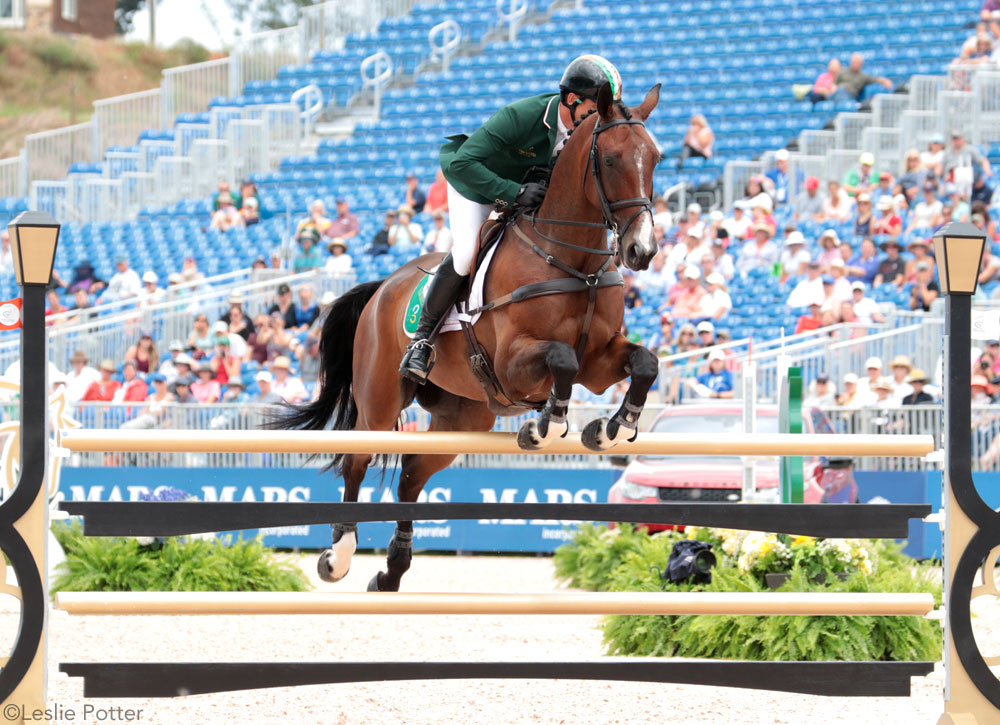 Gemma Tattersall was the first of the Brits to ride today, and she racked up 12 points. Piggy French and Tom McEwen added just four each. The team's final rider, Rosalind Canter, had a single rail in hand to maintain the team's lead as she started her round. She and her Dutch Warmblood gelding, Allstar B, delivered a fault-free round to secure gold for the Brits.
The team from France completed the podium, adding just two rails to their team score to finish in bronze medal position at 2018 WEG.
On the individual side, Padraig McCarthy of Ireland and his British Sport Horse, Mr. Chunky, moved up in the rankings with their double-clear round thanks to teammate Sarah Ennis's unlucky rail with Horseware Stellor Rebound, which ultimately dropped her from third place to fifth. Canter's clear round guaranteed her at least silver, with just overnight leader Ingrid Klimke of Germany with her Oldenburg gelding, SAP Hale Bob OLD, left to jump at 2018 WEG.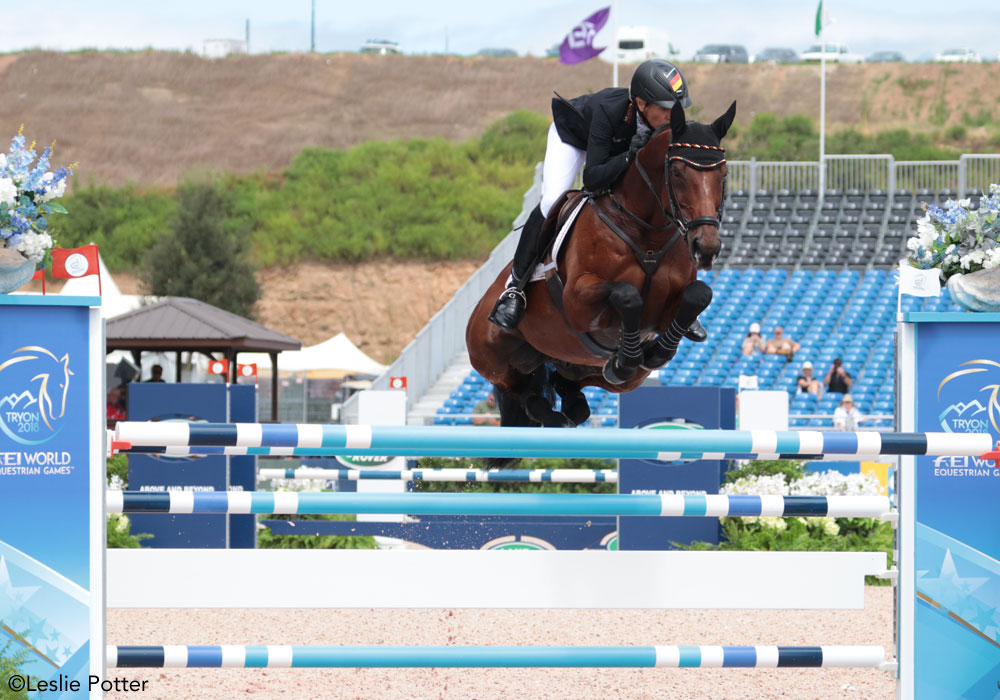 Klimke had less than two points separating her from Canter, so she'd have to be nearly perfect to hang on to gold at 2018 WEG. And she almost was, expertly navigating the course until the very last fence. Bobby hit the top rail with a hind leg, knocking down an expensive rail that dropped Klimke from first to third, bumping Canter up to gold and McCarthy to silver at 2018 WEG.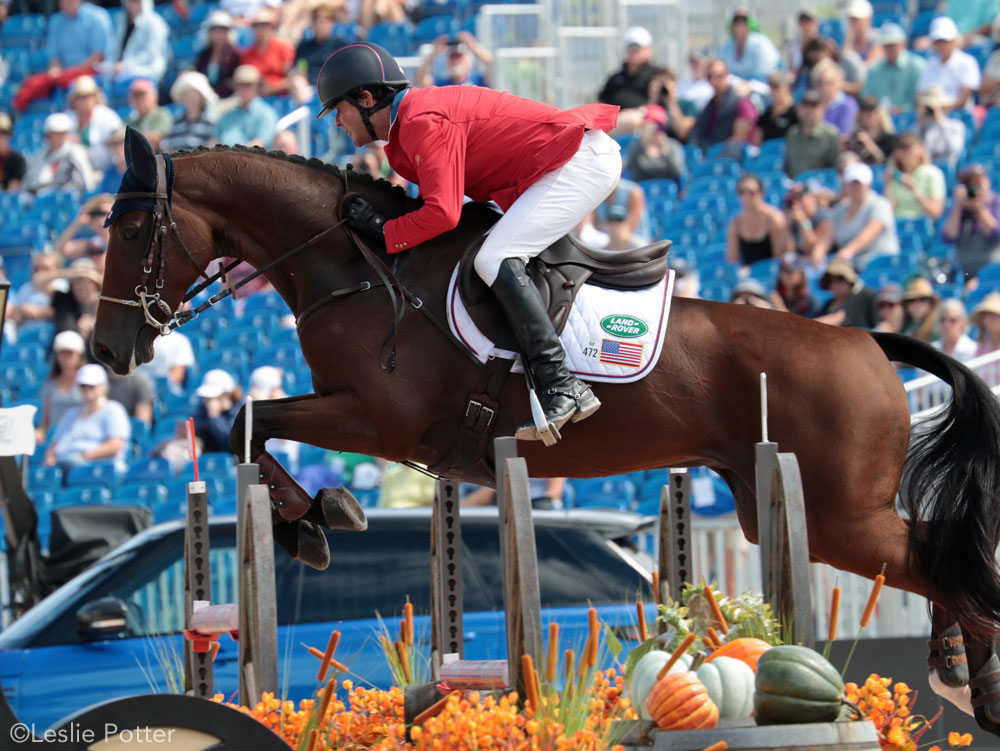 For the Americans, it was a tough WEG that ended with an eighth place team finish. This placing is consequential as the top six teams from this WEG, excluding Olympic host nation Japan, earned their qualifications for the 2020 Olympics. The U.S. will now need to qualify at the 2019 Pan-Am Games in Lima, Peru.
Phillip Dutton and Z were the only American pair to turn in a fault-free round today, which moved them up from 21st individually after cross-country to 13th overall. The other three pairs, Lynn Symansky and Donner, Boyd Martin and Tsetserleg, and Will Coleman and Tight Lines, each added 12 points to their score. Symansky was the next best placed American, finishing 25th out of the 70 who completed the event at 2018 WEG.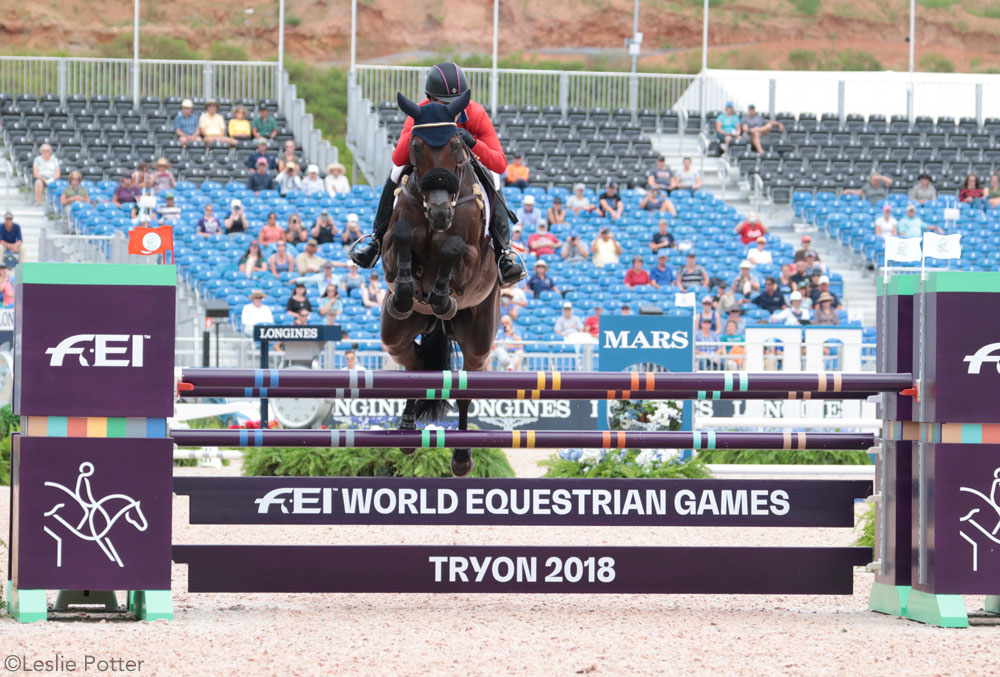 What's Next?
The end of eventing marks the end of the first half of WEG, and we'll see four different equestrian disciplines in the second half, beginning on Tuesday with para-dressage and vaulting. Show jumping competition begins on Wednesday, and combined driving will take place from Thursday through the end of the WEG on Sunday.
Tryon 2018 WEG Moment of the Day
Your WEG Moment of the Day for Monday, September 17: Rosalind Canter of Great Britain celebrates after finishing her stadium jumping round with Allstar B. Her clear round meant the British team secured team gold in eventing. Canter also won individual gold after overnight leader Ingrid Klimke knocked a rail on the final fence, dropping her placing to third.