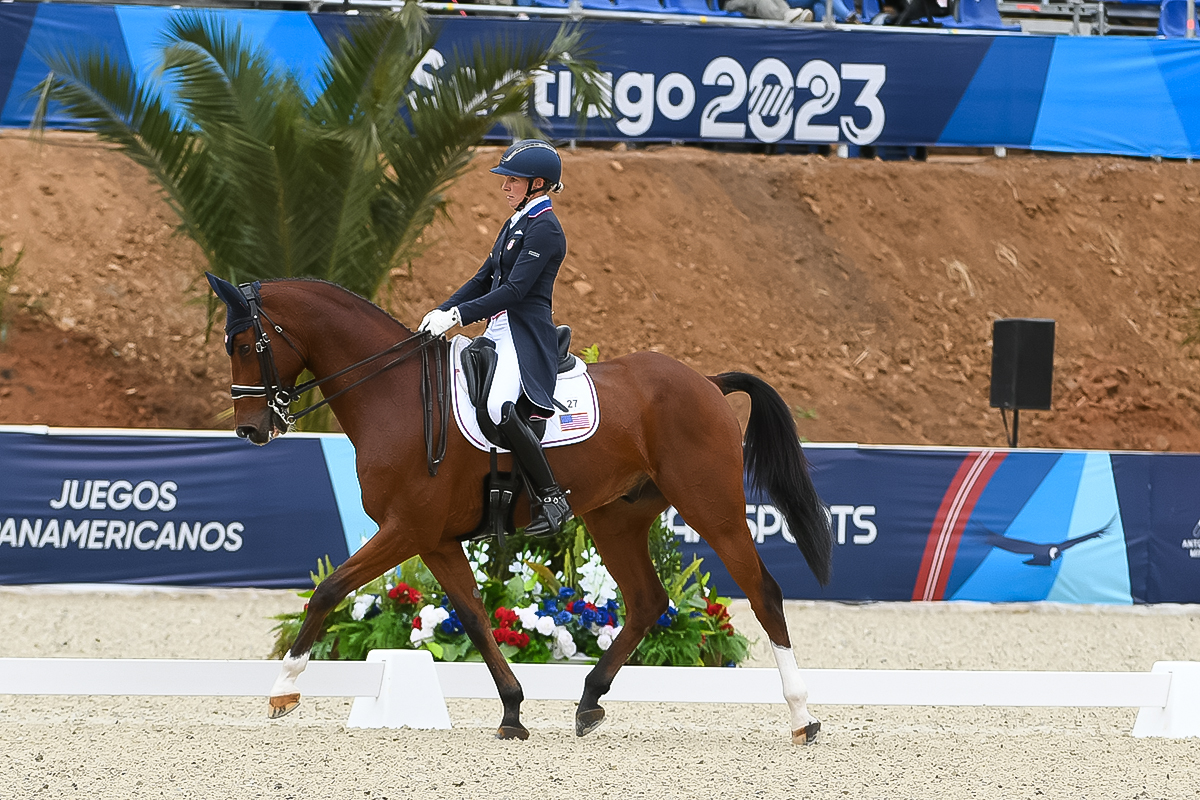 It was time to play in the sandbox for the Pan American Games eventers today as they did their best to correctly execute FEI CCI4* Dressage Test B. Thirty-four competitors from nine Pan American countries moved down center line in front of ground jury members Sandy Phillips (GBR) at E, Robert Stevenson (USA) at C, and Marina Sciocchetti Campello (ITA) at M.
The four U.S. riders all scored well, with three of them receiving marks under 30 and all in the top ten. Their scores and placings after dressage are: Liz Halliday and Miks Master C, first, 24.8; Caroline Pamukcu and HSH Blake, second, 26.8; Sharon White and Claus 63, third, 28.2; and Sydney Elliott and QC Diamantaire, tenth, 33.3.
For Halliday it was a moment she'd long been waiting for. "It's an absolute pleasure to be here. He's such a wonderful horse and he always offers me so much every single time. I thought he really had incredible half-passes in the trot and the extended canter [today]. For tomorrow [cross-country], the footing is spectacular. The course is going to be tough enough and I think the time will be influential and there's a lot to do. It's a quality track and it's certainly up to standard. It will take some respect."
Chef d'Equipe Bobby Costello spoke about the U.S. Team's showing thus far and what's ahead. "I was proud of team today and the results produced, but ultimately, we're already focused on tomorrow. We know that this course is legitimate. We need to be looking ahead at everything we can do to be prepared as a team for the next phase across the board."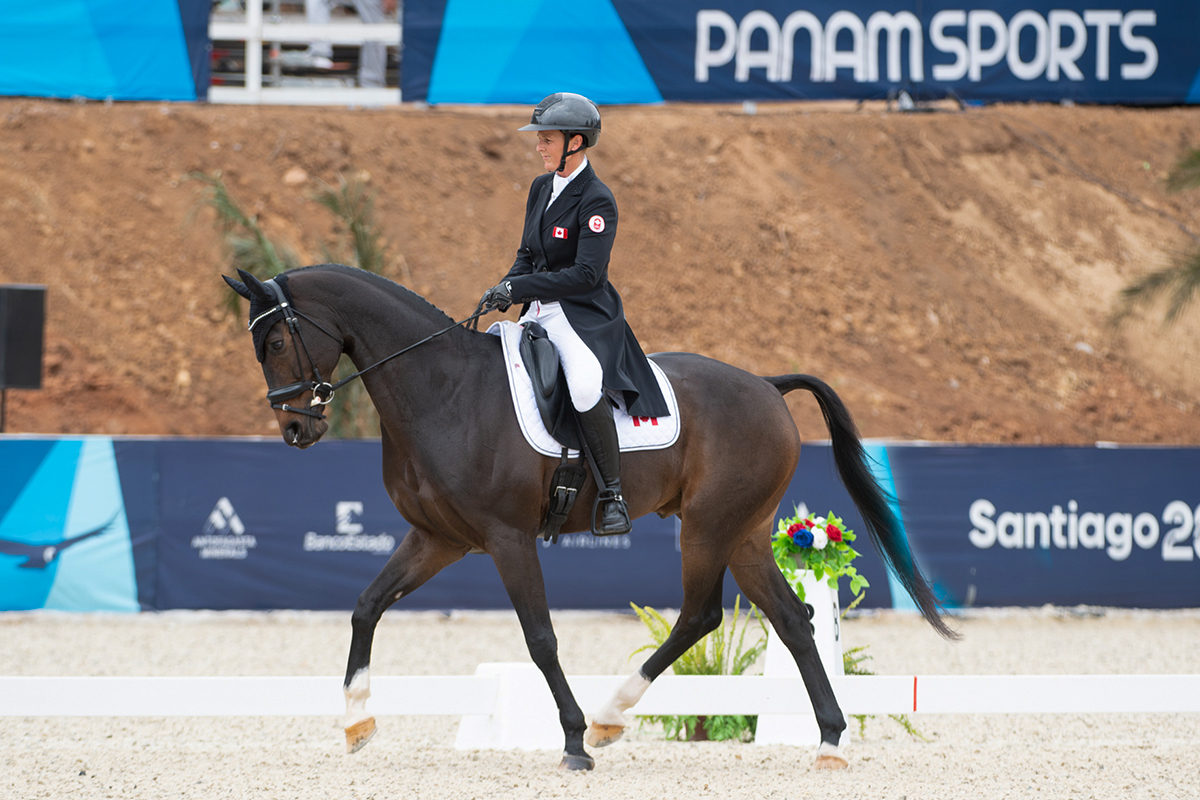 Rounding out the competitors with scores under 30 were Canada's Colleen Loach with Fe Golden Eye stands in fourth on a score of 28.6 and Brazil's Marcio Carvalho Jorge rode Castle Howard Casanova to fifth place (29.8) after dressage.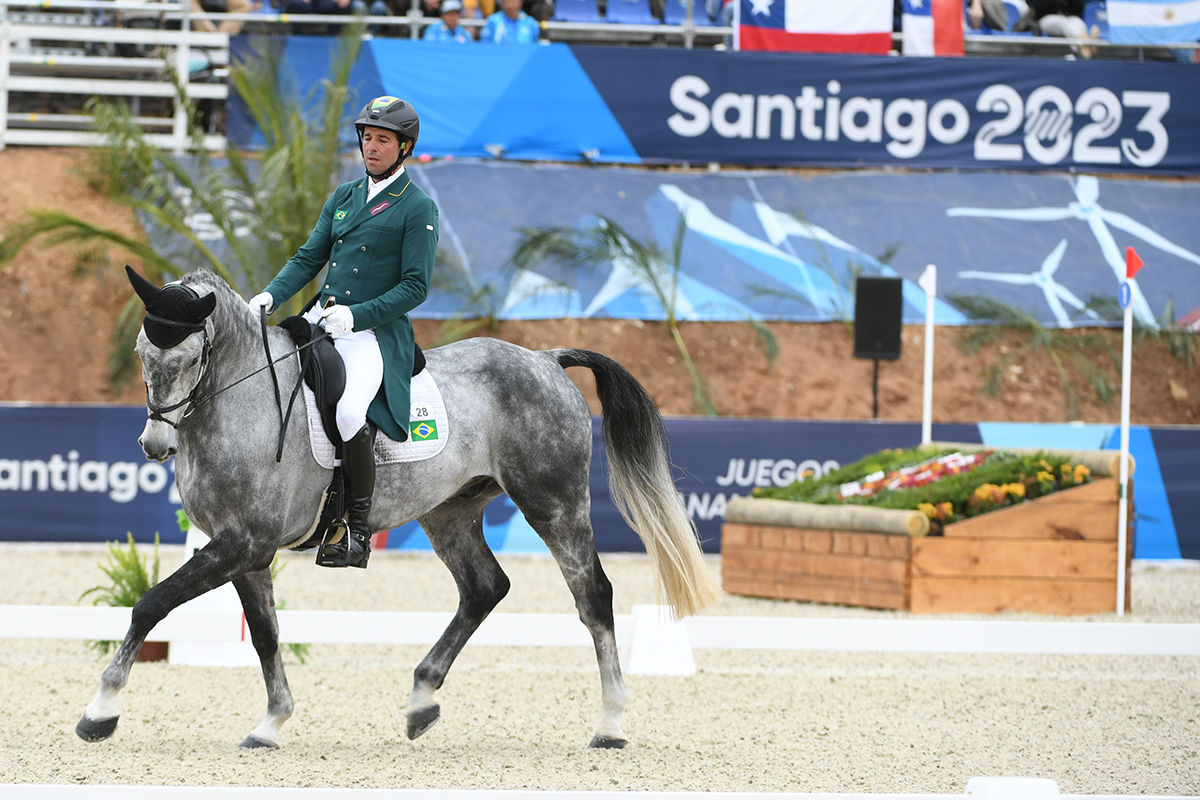 Canadians Michael Winter on El Mundo, Lindsay Traisnel on Bacyrouge, and Karl Slezak on Hot Bobo hold places six through eight, respectively. Mexico's Fernando Parroquin Delfin riding Anahuac SDN holds the ninth spot to complete the top ten.
The U.S. Team is currently in first place (79.8) over Canada in second (93.5) and third-place Brazil (99.9). Mexico is in fourth place on 109.2 followed by Uruguay, Chile, Argentina and Colombia. But, anything can happen tomorrow as the competitors tackle the cross-country course designed by Pierre Le Goupil (FRA) and built by Dominic Moore (GBR).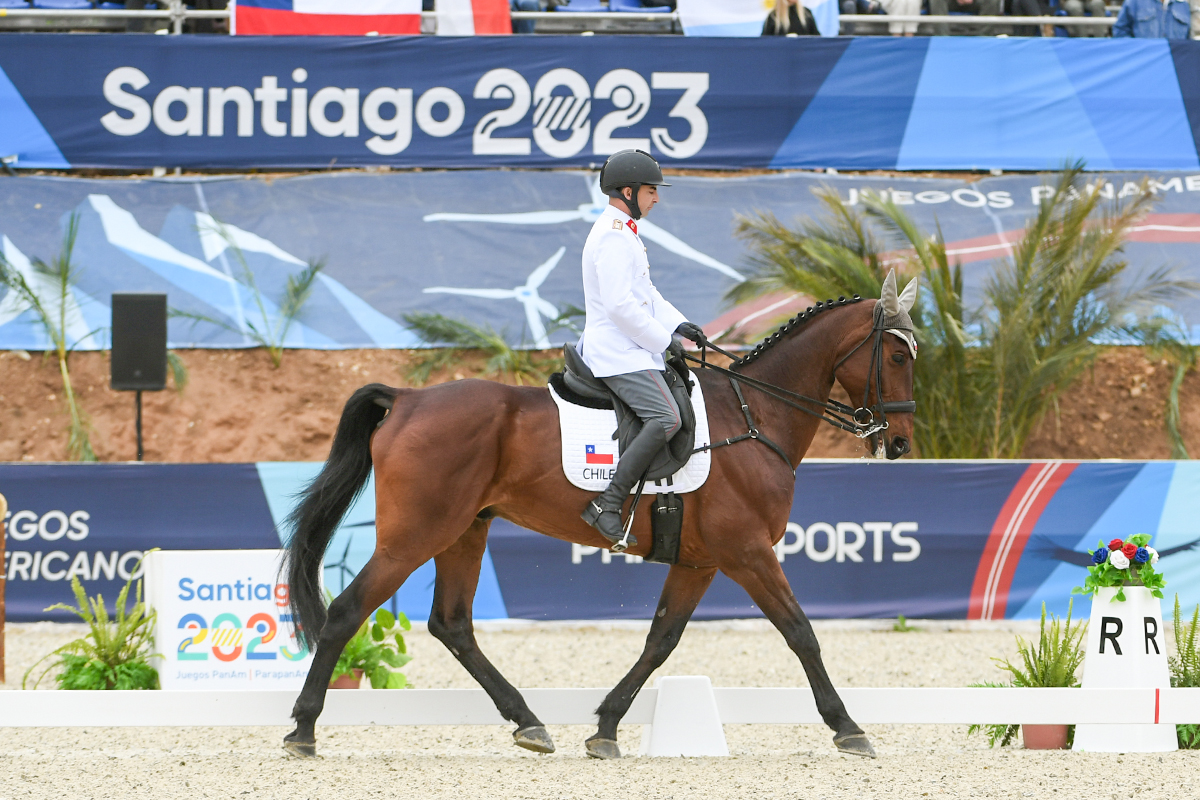 The competition may be viewed live or watched later on demand on FEI TV via ClipMyHorse.com (subscription required.) Plan to settle in to view the action and support your favorite teams and individuals as cross-country begins at 11 a.m. today, Saturday, October 28, Chile time (which is 10 a.m. Eastern US time, 9 a.m. Central, 8 a.m. Mountain, 7 a.m. Pacific, and 4 a.m. Hawaii).
The Santiago 2023 Pan American Games eventing cross-country map for tomorrow can be viewed on crosscountryapp.com.
Find schedules, start lists and results on the official games website here and click on "Equestrian Eventing."
For more information on the U.S. Equestrian Team competing in Chile, click here.
This coverage of eventing at the 2023 Pan American Games is a web exclusive for Horse Illustrated magazine. Click here to subscribe!