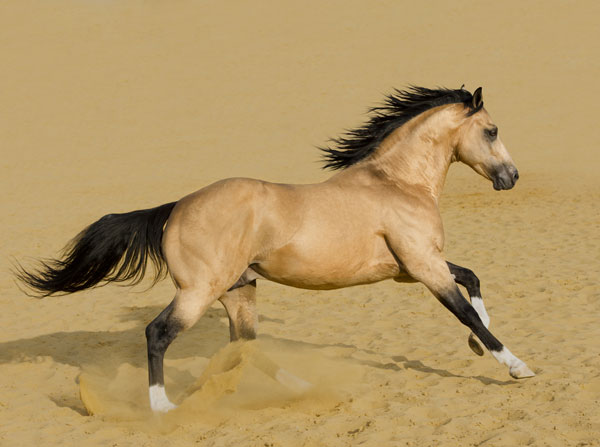 When it comes to sheer numbers, no breed can match the popularity of the American Quarter Horse. With a total of more than 2.5 million individual horses in the U.S., the Quarter Horse can easily be called the king of breeds.
The Quarter Horse's backstory is closely linked to the history of America. English horses used for racing by the Colonists and speedy
Spanish Barbs
kept by the Chickasaw Indians were bred together to produce a horse that could run a quarter-mile faster than any other.
The Foundation Sires of the American Quarter Horse
Although many horses went into creating the American Quarter Horse we know today, three foundation sires made a huge imprint around the turn of the 20th century: Peter McCue, Traveler and Old Fred all made their mark on the breed and can be seen in many modern Quarter Horse pedigrees.
Peter McCue
Foaled in 1895 in Illinois, Peter McCue was born into a bit of controversy. He was registered as a Thoroughbred, with his papers showing he was out of a Thoroughbred mare named Nora M and by a Thoroughbred stallion named Duke of the Highlands.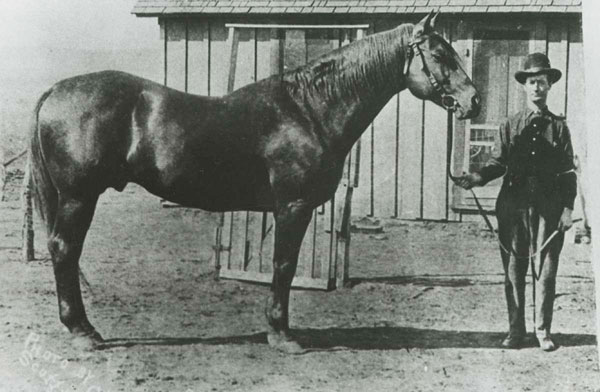 Peter McCue's breeder later insisted otherwise, saying the bay stallion was sired by a Quarter Horse named Dan Tucker. To this day, people still argue about who sired Peter McCue. Regardless of his parentage, Peter McCue was an impressive racehorse and a prolific sire. Two of his sons, Old Red Buck and Chief, were among the first 20 horses listed in the American Quarter Horse Association (AQHA) Stud Book.
Those first 20 horses are considered the founders of the breed and called the "Grand 20." Five of Peter McCue's descendants are also part of the Grand 20: Wimpy, Tomate Laureles, Little Richard, Whiskaway and Colonel.
AQHA Hall of Famer Peter McCue can be seen in the pedigree of thousands of American Quarter Horses. He is known for producing horses that can race as well as show.
Traveler
Foundation sire Traveler, born in 1885, has a rags-to-riches story. Of unknown breeding, the roan stallion was "discovered" at around 8 years old while being used as workhorse on the Texas and Pacific Railway. Two Texas horsemen named John Cooper and Brown Seay recognized the stallion as a "Steeldust type," meaning he looked like he could have been descended from the well-known racing stallion Steeldust, who appears in just about every American Quarter Horse pedigree today.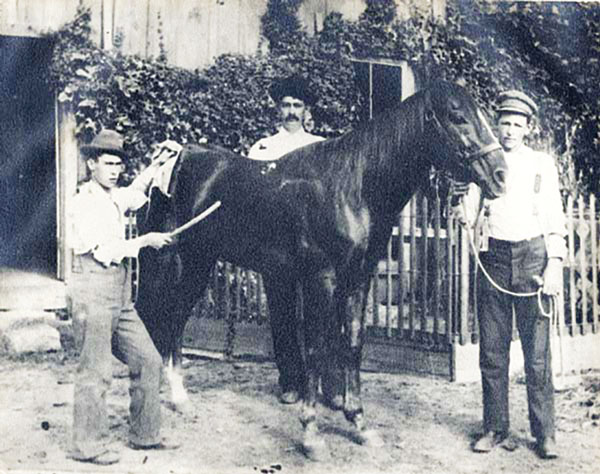 The men traded a mule for the stallion and brought him home where he was trained to race. He became a successful sprinter and a great sire, producing three famous Quarter Horses out of a mare named Jenny: Little Joe, King and Black Bess.
Many champions are descended from Traveler, and five of his descendants are part of the Grand 20 foundation horses of the Quarter Horse breed.
Old Fred
Another stallion that went from being a workhorse to a prestigious foundation sire was Old Fred. Foaled in 1894 in Missouri, Old Fred, a palomino, was brought to Colorado as a 2-year-old. He was descended from three of the original foundation lines of Steeldust, Printer and Shiloh.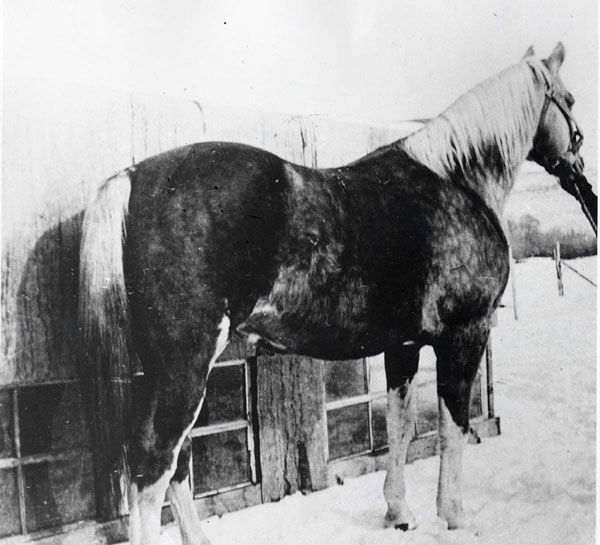 When legendary Quarter Horse breeder Coke Roberds saw Old Fred on a freighter's hitch one day, he bought him. In Roberds' hands, Old Fred became famous for producing great running Quarter Horses. His son, Bob H, became a record-holding sprinter, and even today, many racing Quarter Horses carry his name in their pedigree. Old Fred was also known for producing hardworking cow horses that could stand up to the rigors of ranch work.
Old Fred produced great broodmares, too. When his daughters were bred to Peter McCue, some great racehorses resulted. One mare named Squaw won 49 out of 50 races and went on to be successful as a broodmare.
Many palomino Quarter Horses can trace their pedigrees back to Old Fred, who was also one of the Grand 20.
More Articles on the American Quarter Horse
◆ A Winning Combination: Appendix Quarter Horse
◆ America's Horse Has Talent

Fast Facts
Height: 14.3 to 15.1 hands
Color: Sorrel, black, bay, brown, buckskin, dun, cremello, palomino, roan overall Appearance: Short, broad head; large eyes set wide apart; medium-length neck; deep, broad chest; close-coupled back; deep and heavy rear quarters.
Associations:
American Quarter Horse Association
www.aqha.com
Foundation Quarter Horse Association
www.nfqha.com