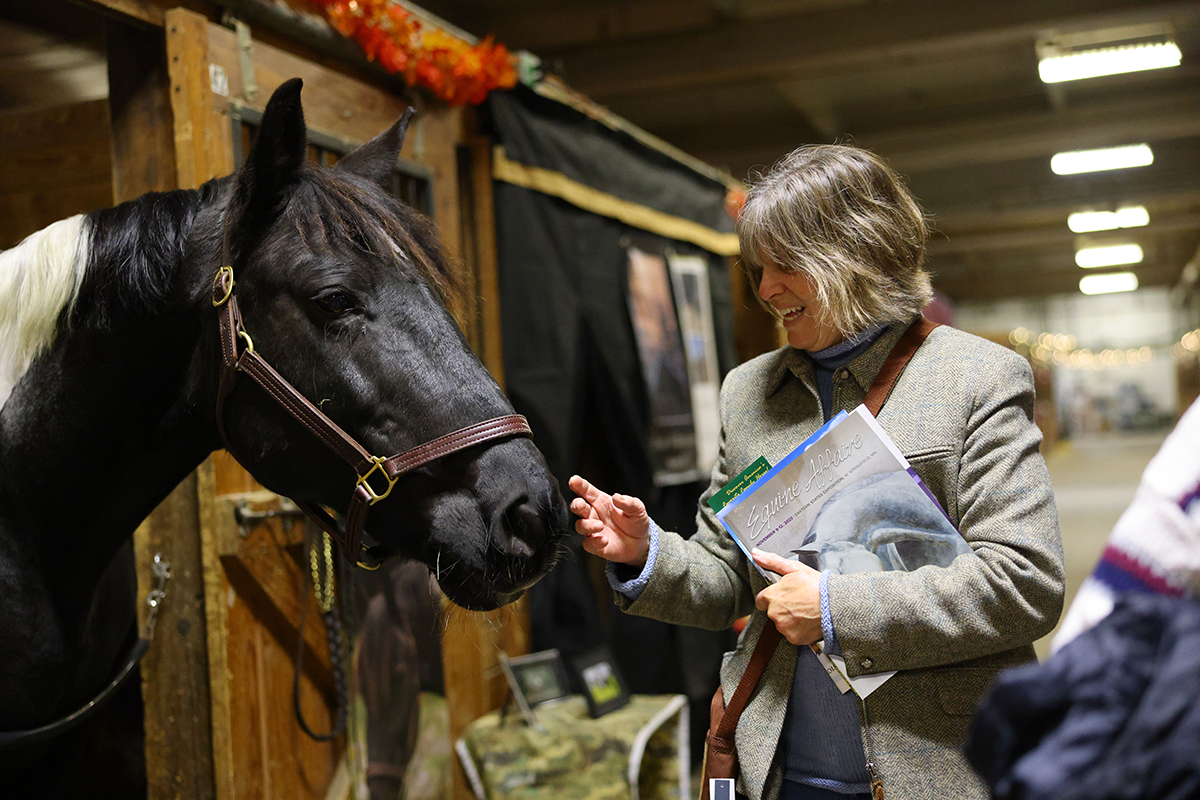 For horse lovers of all ages and backgrounds, this was an affair to remember—the four-day Equine Affaire held at the Eastern States Exposition in West Springfield, Mass, November 9-12, 2023.
Tens of thousands of enthusiastic horse owners, riders and trainers from every discipline, as well as vendors and spectators, attended. An exceptional lineup of presenters simultaneously taught seminars, interactive clinics, and breed demonstrations across six different arenas. Unparalleled shopping at the largest horse-related trade show in the East kept visitors busy browsing acres (yes, you read that right!) of products and services. Healthy, beautiful horses were available for adoption. And the sold-out, not-to-be-missed Fantasia presentation was truly unforgettable.
Clinics, Seminars, and Demonstrations
Equine Affaire is North America's premier equine exposition and equestrian gathering—and affords top-notch education from Olympians, World and National Champions, judges, and veterinarians.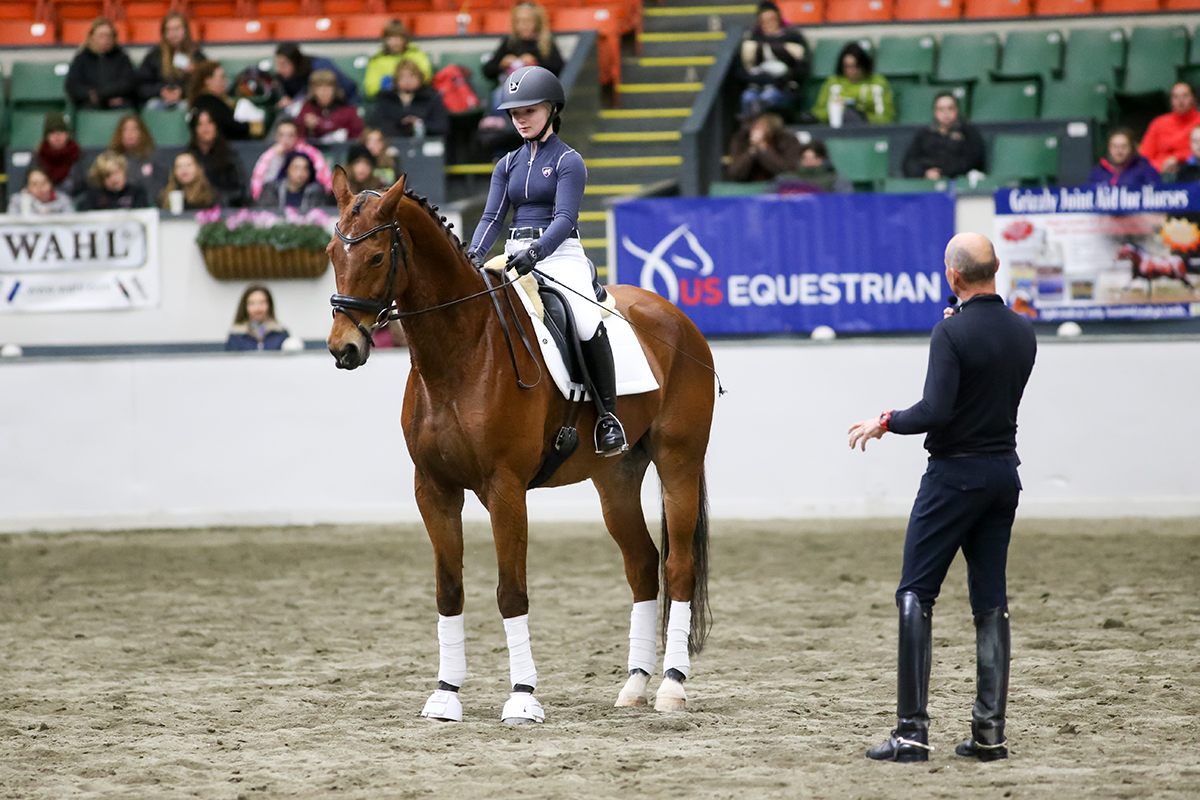 Steffen Peters, a four-time Olympic dressage competitor, three-time USEF Horseman of the Year, and co-owner with his wife, Shannon, of SPeters Dressage at Arroyo Del Mar, presented engaging, comprehensive clinics. He helped riders to analyze the horse's reaction and commitment of energy to the use of aids.
"We can only change something that the horse is aware of," Peters said in his clinics.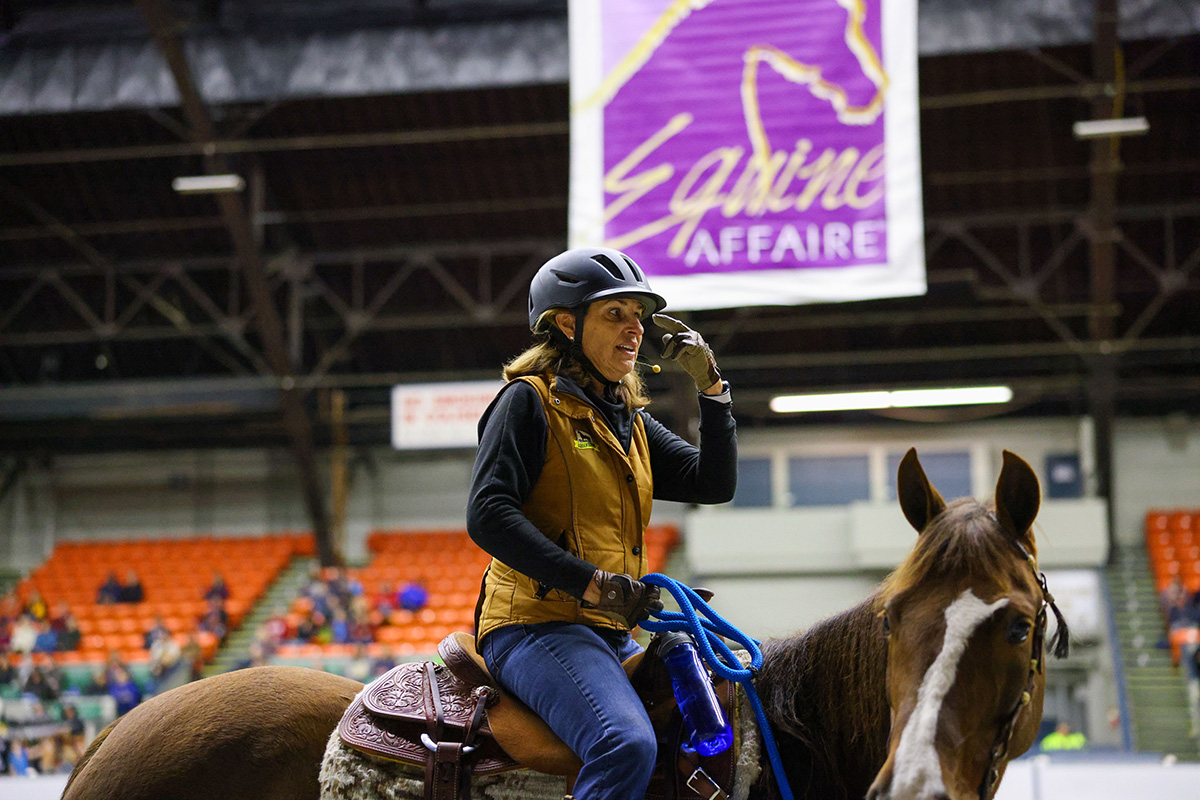 Julie Goodnight is the producer of the award-winning TV show, Horse Master with Julie Goodnight, and training programs at JulieGoodnight.com/Academy. She is a spokesperson for the Certified Horsemanship Association and an Equine Affaire Exceptional Equestrian Educator. Julie's brand message is "Helping horses… one human at a time," and she enthusiastically explained her training philosophy at multiple clinics.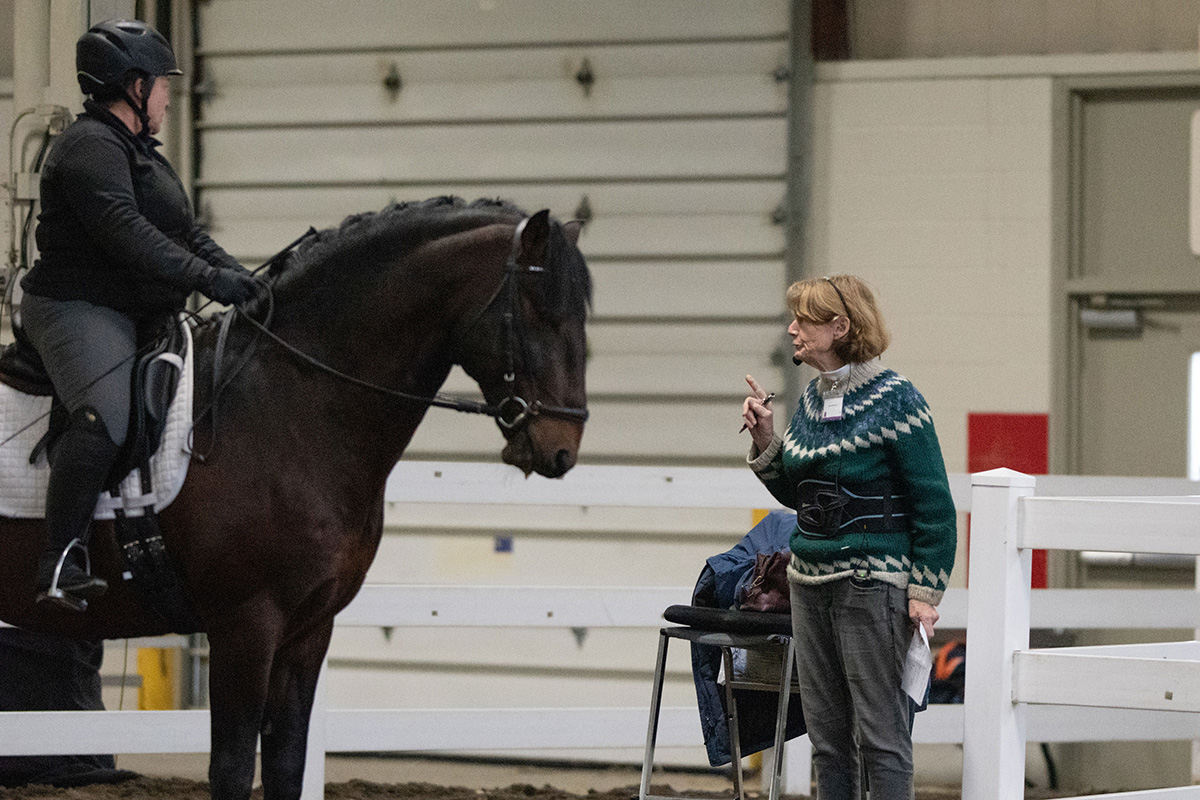 Jeanne McDonald is a Grand Prix dressage rider, U.S. Dressage Federation bronze, silver, and gold medalist, and U.S. Equestrian Federation "S" 4* judge. She shared her expertise with riders starting higher level dressage figures and movements. She drew attention to patiently listening to the horse: "The horse will breathe if you do," and showing compassion, "Give her a second to be a horse."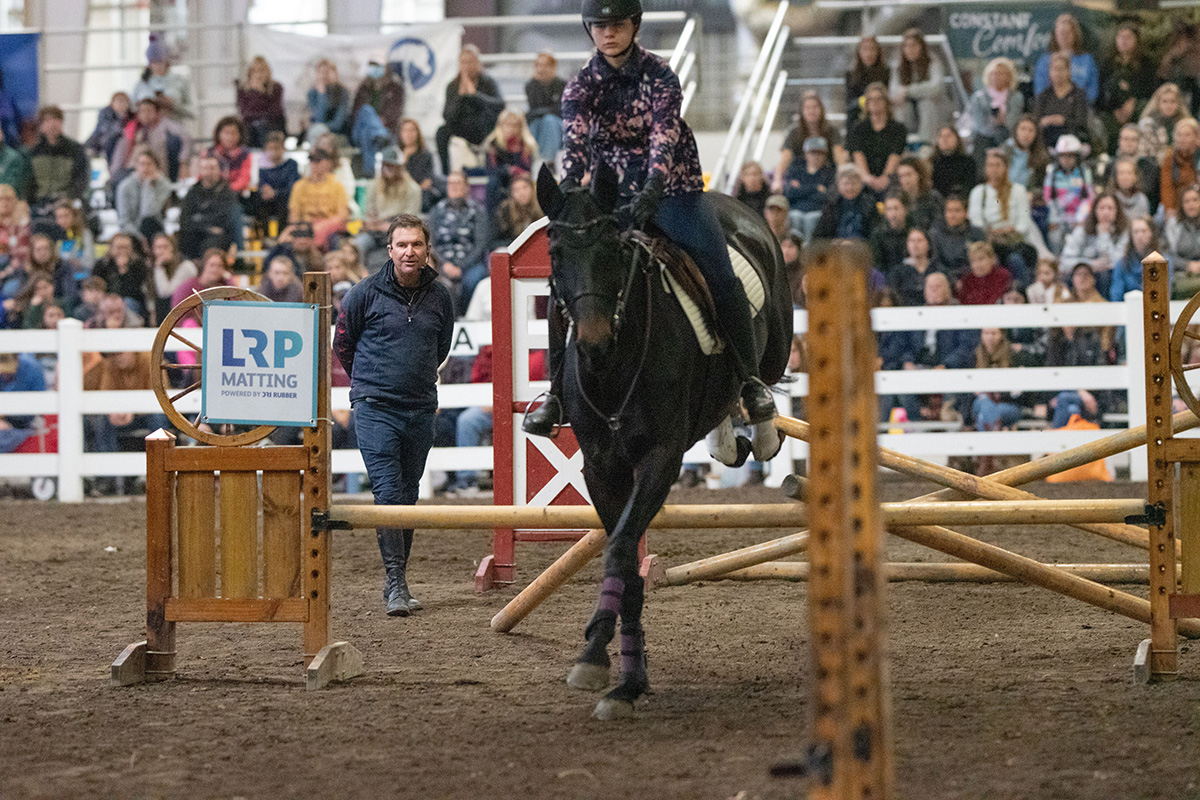 Phillip Dutton is a seven-time Olympian and three-time Olympic medalist, a co-owner of True Prospect Farm and Phillip Dutton Eventing with his wife Evie, and he was voted the Developing Rider Coach of the Year. He shared expert tips to help riders improve their jumping and create a more confident horse and rider team.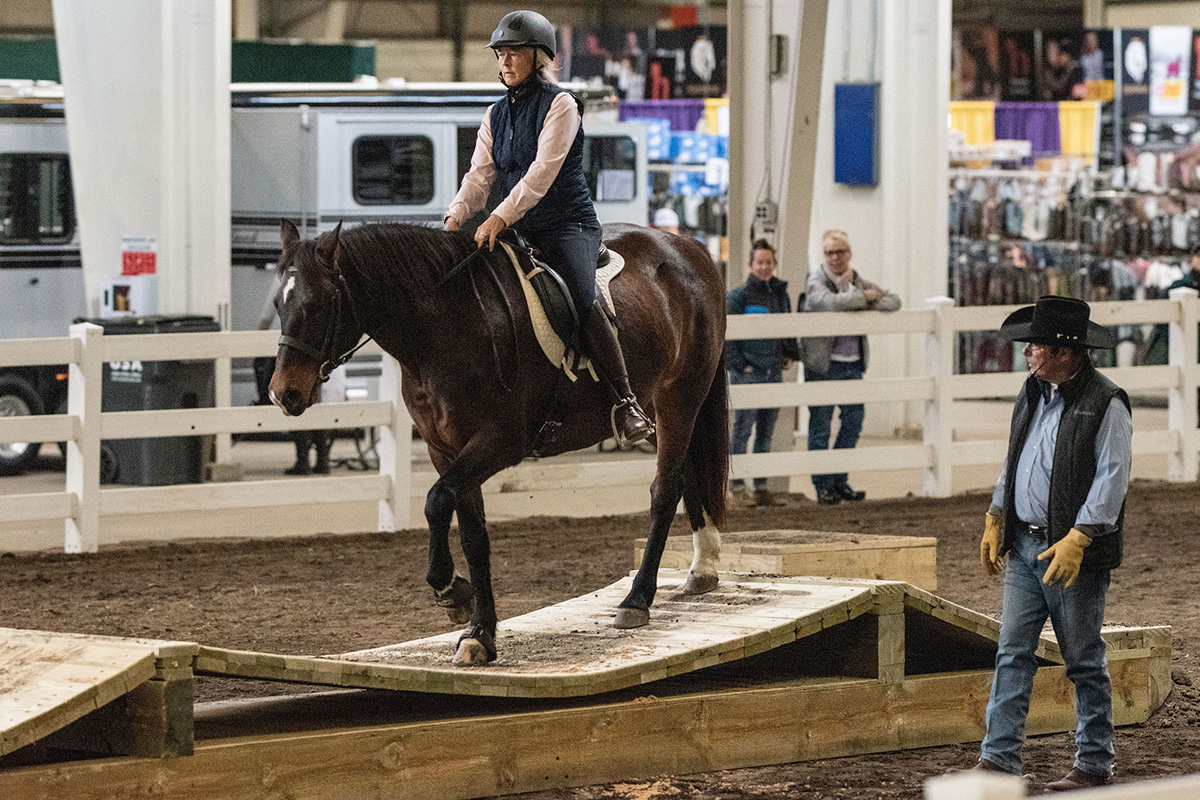 Mark Bolender, co-owner with his wife, Lee, of Bolender Horse Park, founder of the International Mountain Trail Challenge Association (IMTCA), and a three-time National Mountain Trail Champion, presented clinics demonstrating how to safely introduce and ask a horse to walk over any obstacle. Within minutes of establishing leadership and trust, Mark had each horse and rider walking a balance beam, a teeter-totter, and even a suspension bridge.
Breed Pavilion
The Breed Pavilion was the place to be for discovering fascinating horse breeds from around the world. Dozens of horse breeds and registries were available for an up close and personal introduction, including Freibergers, Gypsy Vanner, Gypsy Cobb, Lippitt Morgan, and the Dales Pony. National, regional and local breed association representatives happily answered questions and shared a wealth of information about these unique breeds.
Versatile Horse & Rider Competition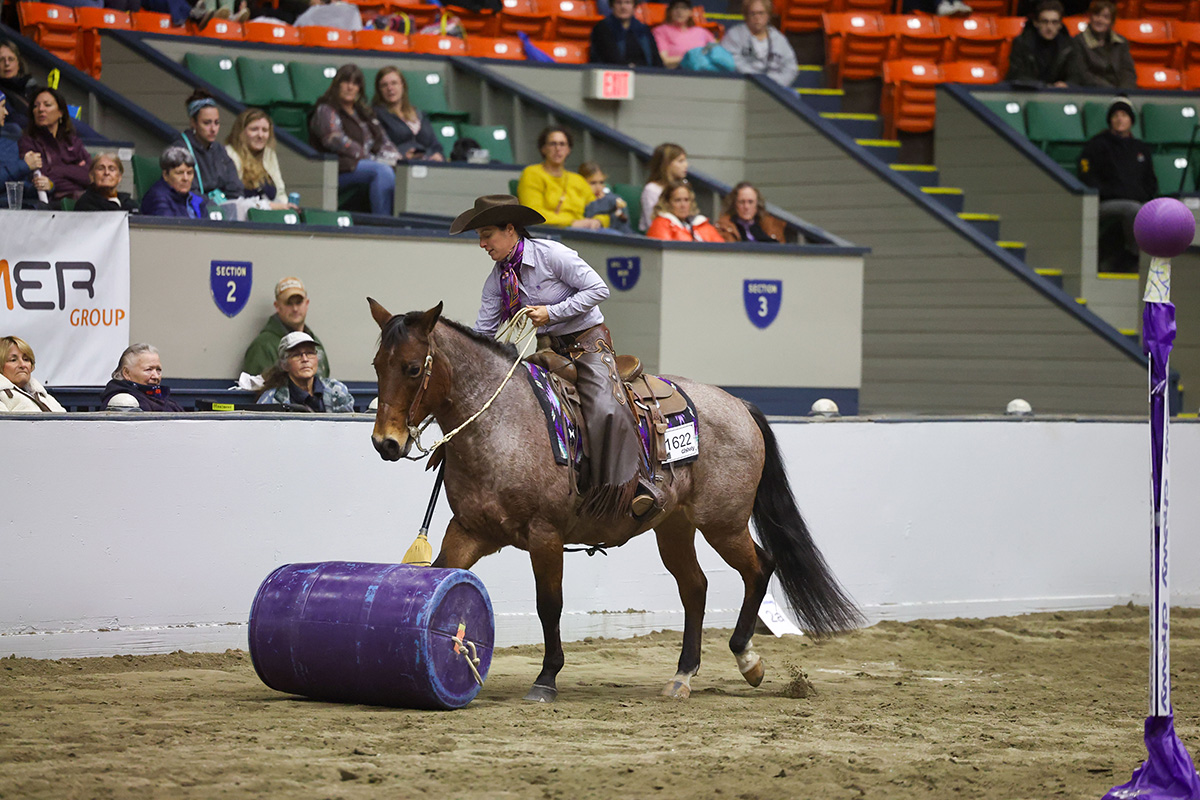 One of the most popular events at Equine Affaire is the exhilarating Versatile Horse & Rider Competition. This is a judged and timed race through an obstacle course, testing the communication between the horse and rider. Riders navigated intense trail riding challenges, including jumping over obstacles, pole bending, working gates, and backing up through a pattern — truly a team performance!
Great Equestrian Fitness Challenge
New to Equine Affaire in 2023 was the Great Equestrian Fitness Challenge, a fun competition where participants showed off their skills and muscles in three barnyard Olympic-style events. No horses here — just you and your hay-stacking, stall-mucking, tack-cleaning, and wheelbarrowing skills put to the ultimate test.
Adoption Affaire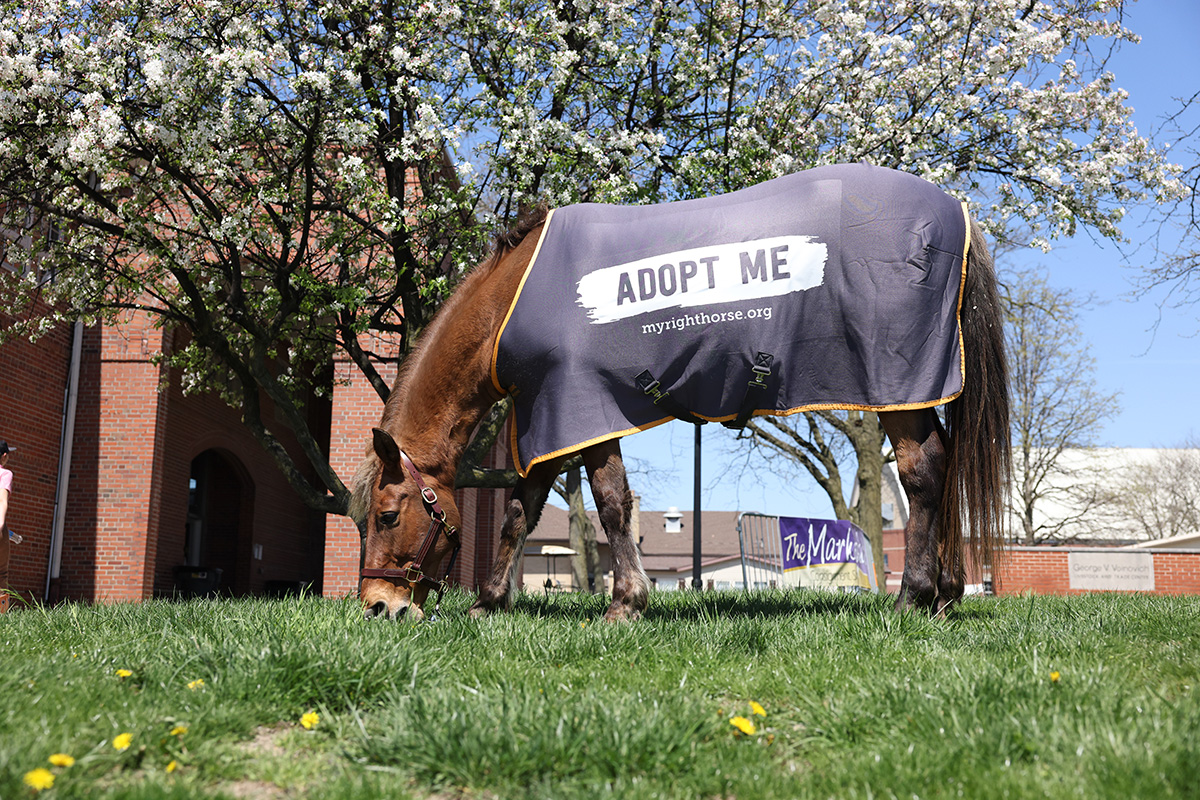 The Adoption Affaire introduced visitors to healthy, trained horses of all different breeds, disciplines, and ages — and ready for adoption. Rescue and adoption organizations carefully process all applications to ensure the horses find the perfect forever home. At the Ohio Equine Affaire in 2023, 24 out of 37 horses onsite were adopted.
Trade Show and Marketplace Consignment Shop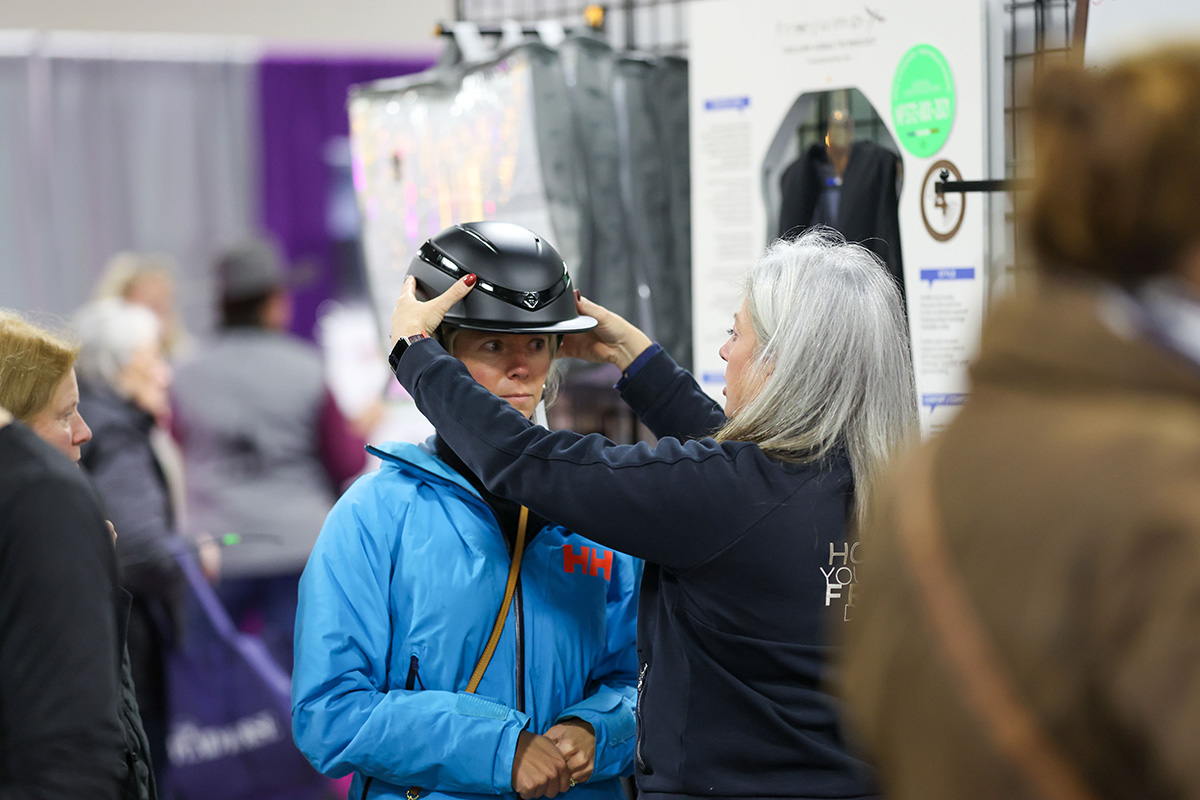 The Trade Show and Marketplace Consignment were buzzing with retail excitement to outfit you, your horse, and your barn. With riding apparel, tack, grooming supplies, feed and supplements, gifts, fencing, farm equipment, trailers, and more, shoppers needed all four days to see it all.
Drive a Draft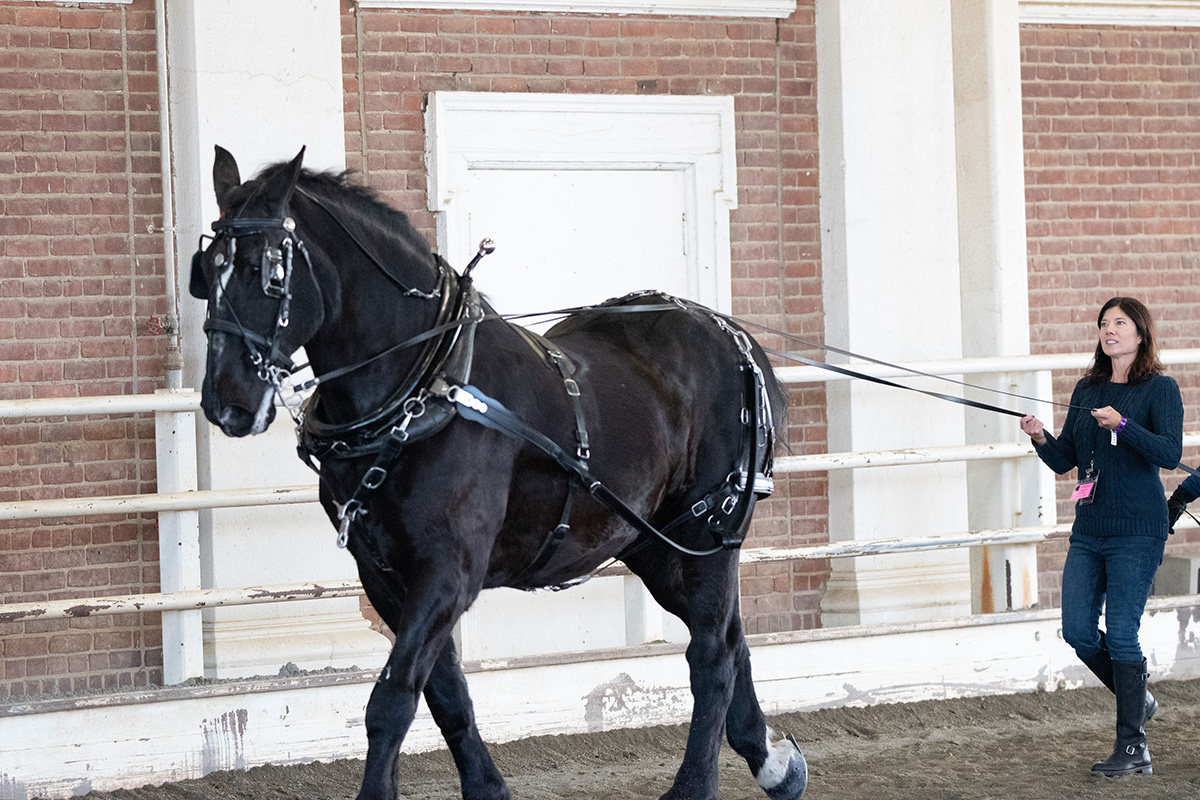 Sam and Kellie Rettinger of Whispery Pines Percherons offered the thrilling experience of learning how to drive a gentle giant — the majestic Percheron. And these gorgeous black geldings wowed the crowds during a six-horse hitch performance at the Fantasia.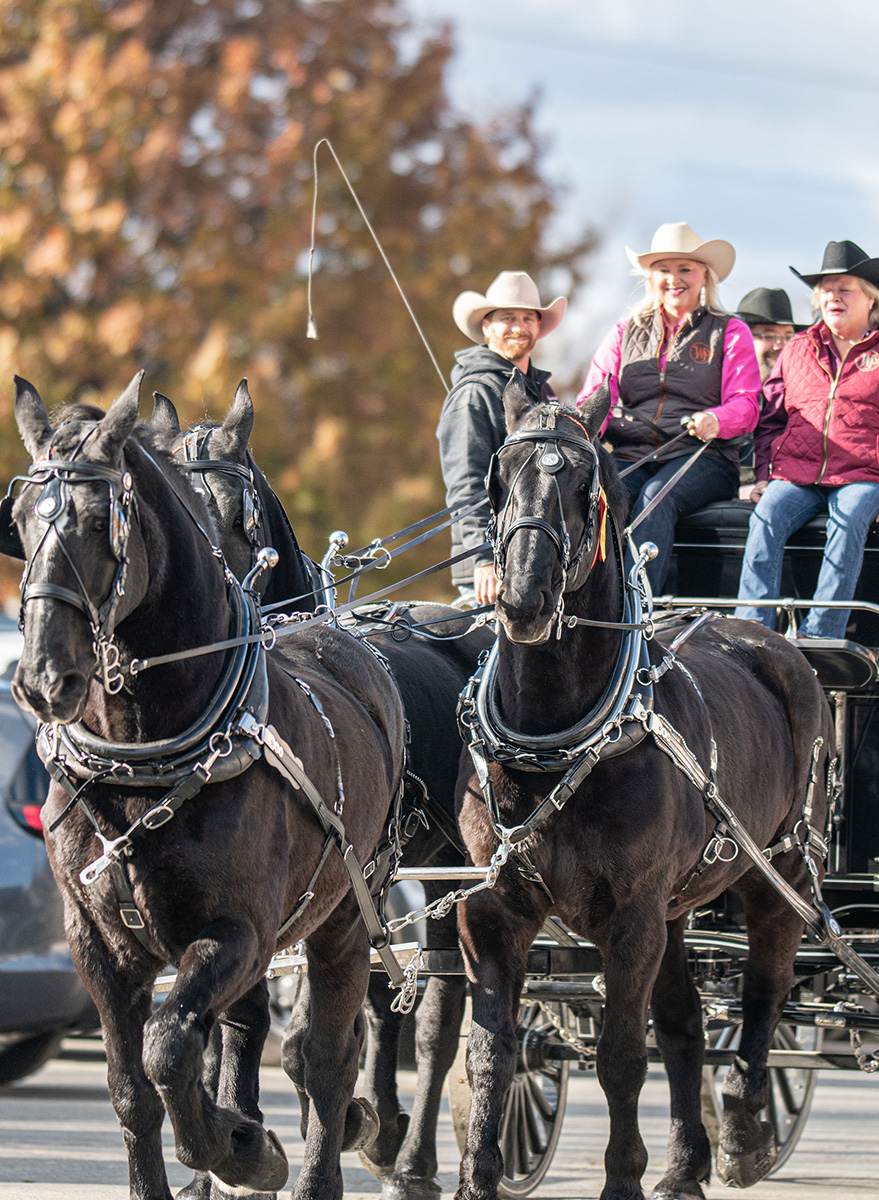 Fantasia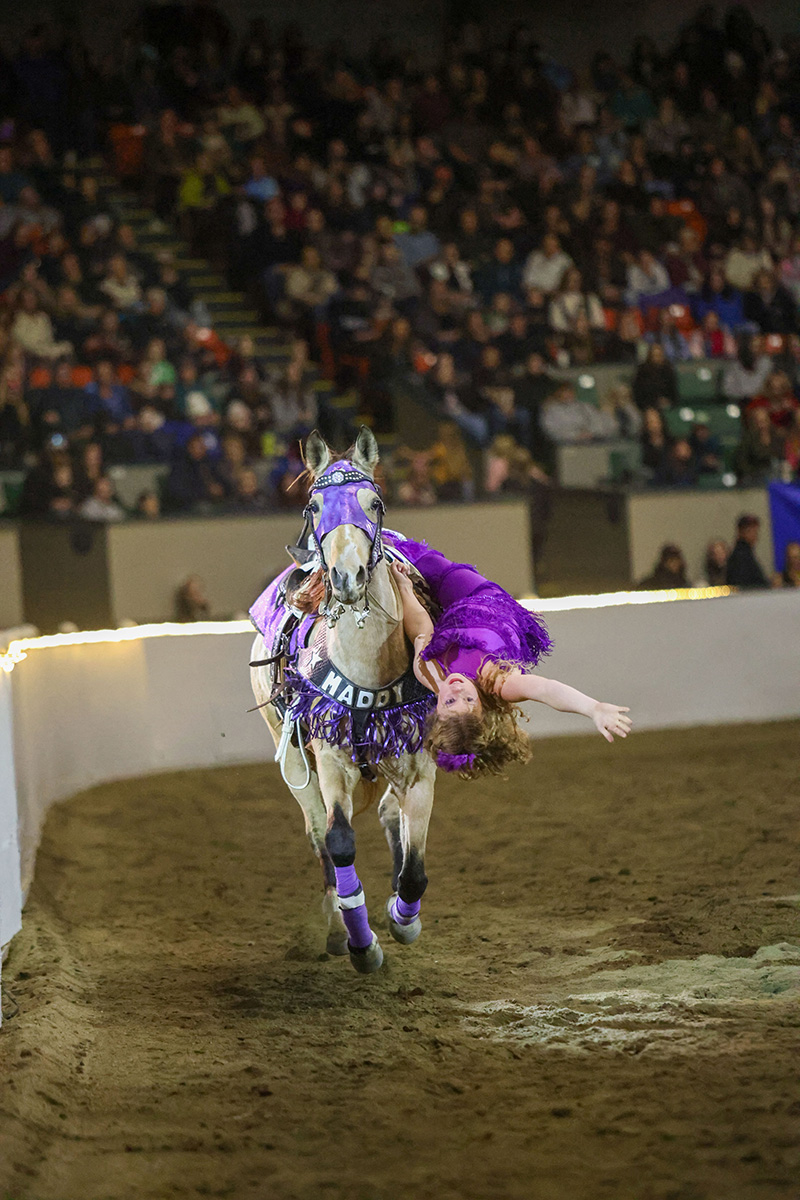 This breathtaking 2-hour event is filled with stunning horses, talented riders, and a musical backdrop that stirs your emotions and quickens the pulse. Fantasia's mesmerizing choreography of remarkable horsemanship, fast-paced action, dramatic lighting, and overall energy was outstanding.
The Allure of Equine Affaire
Equine Affaire is a massive undertaking. The dedicated staff working tirelessly behind the scenes throughout the year and over 50 volunteers — many of whom return year after year— keep everything running smoothly.
Allison Rehnborg, Marketing Coordinator of Equine Affaire, says: "Working for Equine Affaire is a dream job. It's a lot of work to put on two events each year, but when it's all about sharing and spreading the love of the horse, that makes it all worth it."
She adds, "When you participate in putting on an event like this over and over, you become a family… We work hard, but we also laugh together and enjoy watching what happens when you bring horse people from all different disciplines and breeds together for four days of sharing everything horse."
If you missed out on all the excitement of Equine Affaire 2023 in Massachusetts, don't despair! Make plans now to attend Equine Affaire in Columbus, Ohio (Ohio Expo Center) April 11-14, 2024. Visit equineaffaire.com/events/ohio for a schedule of events, presenters, exhibitors, and to purchase tickets.
This article about Equine Affaire is a web exclusive for Horse Illustrated magazine. Click here to subscribe!