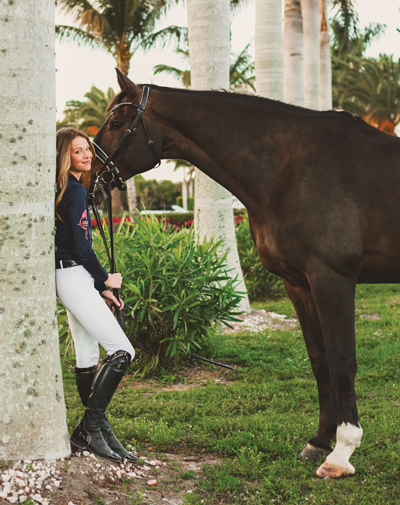 I'm Annelise Klepper. I'm a 15-year-old international-level Junior dressage rider from Ohio and co-founder of Annie's Equestrienne Apparel. I design show clothing, schooling wear, and accessories.
The idea for the business started as I delved more into the horse world and realized the kinds of clothes I wanted to wear just didn't exist for kids. As the business progressed, I think that still rings true today.
I often design for what I would want to wear, knowing that those clothes would attract others like me who were searching for something unique that resonated with their own sense of style.
The fun, colorful breeches that hallmarked the earlier days of Annie's Equestrienne Apparel were something completely different, which definitely set us apart and attracted an amazing group of customers. We made it a priority
to maintain our close relationship with these customers by staying a boutique brand. In other words, you can only find our pieces in our store. I think it was these two factors that helped establish Annie's Equestrienne Apparel as a fresh, fun, and up-and-coming brand.

I started the business to fulfill the void of cute riding wear available for kids, and as I've gotten older, the company has grown up too. Now I primarily design in adult sizes, but I still try to keep the unique and fresh designs that characterized the brand from the very beginning.
Riding Louis
I've been fortunate to have some fantastic horses through the years, getting my start in the pony division before progressing to horses. I'm currently riding Happy Texas Moonlight (aka "Louis"), my Oldenburg gelding. We've been partners for almost three years, but it still doesn't feel real that I get the privilege of riding such a talented, kind-hearted, and ginormous horse (he's 18 hands!).
These last few years have been a whirlwind of exciting opportunities. Louis and I won our first international medals at the North American Youth Championships (NAYC) in 2019. I was the youngest rider in the Junior division, and we won gold in the individual and freestyle classes. I also helped my team secure a silver in that same competition.
Louis and I continued our dressage competitions together in Wellington, Fla., and we were accepted into the U.S. Emerging Athlete Program. Unfortunately, due to COVID-19, some of our show plans were derailed, but this season, we hope to pick up where we left off and venture into Prix St. George and Intermediare, along with hopefully qualifying for NAYC and Festival of Champions in the Junior division in 2021.
A New Focus
While it was certainly disappointing not being able to compete as much as we would've liked to this past year, the extra time in quarantine gave me the opportunity to develop lots of ideas and exciting plans for the business. I designed a new collection for Annie's to raise spirits and promote health and positivity in this difficult time.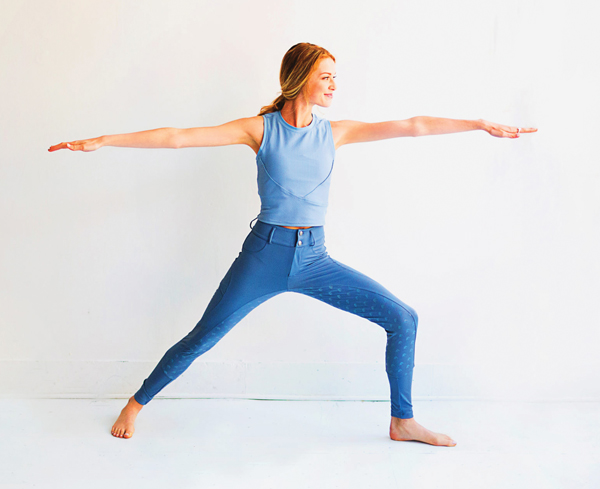 "Annie's All Day" was my next step in our company as it continues to mature. I carefully curated items that meld together the equestrian lifestyle and wellbeing, from crystal-infused water bottles to breeches that fit like yoga pants.
I'm very passionate about health and horses, so it was exciting to reflect that in this new phase of the company. I knew exactly what I wanted our products to be in order to accommodate the hard work and long hours the equestrian life requires. I want my clothes to help keep people confident and comfortable throughout their busy days.
What's Next
Between school, Annie's Equestrienne Apparel, and my own competition goals, I know I'll stay on my toes. But I love the fast-paced schedule I've grown accustomed to in Florida. This season I'll be looking toward my future plans.
I, Annelise Klepper, want to continue taking Annie's Equestrienne Apparel in exciting new directions, coming up with ideas for future products and designs that reflect who I am, what I love, and what makes my customers happy. I'm so excited to find out what this year brings, and no matter what COVID-esque curveballs I'm thrown, I know I'll have my passion for horses and creativity to keep me grounded.
This article about Annelise Klepper and Annie's Equestrienne Apparel appeared in the Spring 2021 issue of Young Rider magazine. Click here to subscribe!