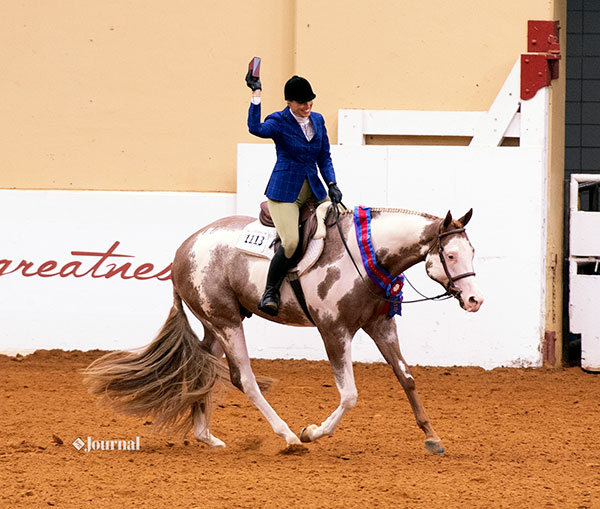 American Paint Horse exhibitors pocketed a record $1 million-plus in cash and prizes at the 2019 American Paint Horse Association World Championship Show (APHA World Show), which was held September 16-29 at Will Rogers Memorial Center in Fort Worth, Texas.
More than 1,030 horses were on display with more than 15,600 entries. The American Paint Horse Association (APHA) named 211 world champions over the course of 14 days and held a total of 268 classes. Fifty U.S. states were represented as well as Brazil, Belgium, Canada, Mexico, Paraguay and Sweden.
The show saw an increase in several key areas over the 2018 Open/Amateur World Show including Amateur Solid Paint-Bred Halter (up 16%), Solid Paint-Bred Halter (up 16%), Solid Paint-Bred Performance (up 9%), Breeders' Futurity classes (up 15%) and added-money classes (up 2%).
The Breeders' Trust Pleasure Stakes classes saw an impressive total payout of $84,250. The Breeders' Trust 2-Year-Old Hunter Under Saddle Stakes alone paid over $39,000, with the winner taking home more than $10,000. The Breeders' Trust Pleasure Stakes consist of western pleasure and hunter under saddle classes in two age categories each: 2-year-olds and non-pro 3- and 4-year-olds.
APHA welcomed ranch work competitors of all breeds to the Ranch Work Championships. The event drew 80 entries, and exhibitors competed in three classes—ranch course, ranch penning and ranch roping—for $6,900 in prize money.
This marked the first year mounted shooting world championships took place at the APHA World Show (previously held at external competitions), and it proved to be a good move. Entries more than tripled over last year. Exhibitors took home a combined $7,300 in this exciting competition.
Halter competition took a surge at the 2019 World Show. APHA once again partnered with the World Conformation Horse Association (WCHA) to offer big money to halter enthusiasts through two premier halter events: the APHA World Championship Show and the (all-breed) WCHA Breeder's Championship and Big Money Futurities. All in all, more than $640,000 was up for grabs for halter horses—that included more than $165,000 in APHA Platinum Breeders' Futurity classes (29% increase over 2018), over $47,000 in Gold Breeders' Futurity payouts (34% increase over 2018), $20,000 in the Breeders Halter Futurity bonus payouts, $10,500 from the Lynn Simons Memorial Halter Futurity, and $400,377 in the WCHA Breeder's Championship and Big Money Futurities (22% increase over 2018). The WCHA events alone drew 862 entries.
All in all, APHA show entries totaled 14,660 (2,932 x five judges) bringing the total entries for all combined events to 15,602.
APHA World Show Youth Competition
In addition, the knowledge and skills of young judges were put to the test September 19, during the APHA Horse IQ World Championship Judging Contest, held in conjunction with the APHA World Show. Featuring both collegiate and youth (18 & under) divisions, the contest presented both team and individual awards in halter, performance, reasons and overall. Kansas State University took home the top spot in collegiate teams overall while Chouteau FFA captured the overall top youth team victory. The collegiate overall high-point individual was Ariana Horton of Northeastern Oklahoma A&M College; the youth overall high-point individual went to J'Cee Petty of Team COA.
APHA World Show Amateur Competition
With the help of some dedicated APHA partners, two lucky amateur competitors walked away with incredible prizes at the 2019 APHA World Championship Show, just by entering amateur classes at the event. Through a random drawing of entrants in all amateur classes, Tammy Burch of Craig, Colo., won a John Deere Gator courtesy of APHA Xtras partner John Deere. In addition, every entry into all amateur classes qualified exhibitors for a random drawing for a custom Platinum Trailer. The trailer was provided by Platinum Trailers in conjunction with APHA corporate partner Cowboy Trailer Sales. Wendy Hull of Corvallis, Ore., was the lucky winner.
Marked for Greatness
The American Paint Horse Foundation (APHF) also held the Marked For Greatness Celebration on September 23 in conjunction with the World Show. The event—held at Whiskey Ranch just 15 minutes from the show grounds—drew over 100 attendees ranging from World Show exhibitors to business partners, and offered food, fun and spirits while educating guests on the association's upcoming move to the world-famous Fort Worth Stockyards. Silent and live auctions featured unique, one-of-a-kind items. Proceeds, which totaled nearly $60,000, will benefit APHF's youth scholarship program, as well as APHA's upcoming move.
"This year's show was one for the books," said APHA Executive Director Billy Smith. "Being able to award over $1 million in cash and prizes to our hard-working exhibitors is a great feeling. A huge thanks goes out to all our exhibitors, staff and sponsors for making this year's event such a success."
Watch for more World Show wrap-up information in the November/December 2019 issue of APHA's official publication, the Paint Horse Journal.
About APHA and the Open/Amateur World Championship Show
The American Paint Horse Association is the world's second-largest equine breed association, registering more than a million horses in 59 nations and territories since it was founded in 1962. Its mission is to promote, preserve and provide meaningful experiences with Paint Horses. For more information about the American Paint Horse Association, visit www.apha.com or connect with Paint Horse fans globally at facebook.com/americanpainthorse or on Twitter @APHANews.
The World Championship Paint Horse Show features the finest gathering of Paint Horses from around the globe. APHA hosts two annual world-class competitions to showcase the talents of American Paint Horses and their owners. The second in the series, the Open/Amateur World Championship Show takes place at the Will Rogers Memorial Center in Fort Worth's cultural district.