Welcome to Horse Illustrated's weekly installment of the Right Horse Adoptable Horse of the Week, offered in partnership with the ASPCA's Right Horse program. This week's adoptable horse is Rowan's Hunter! Check back weekly for a new featured horse so you can find your Right Horse.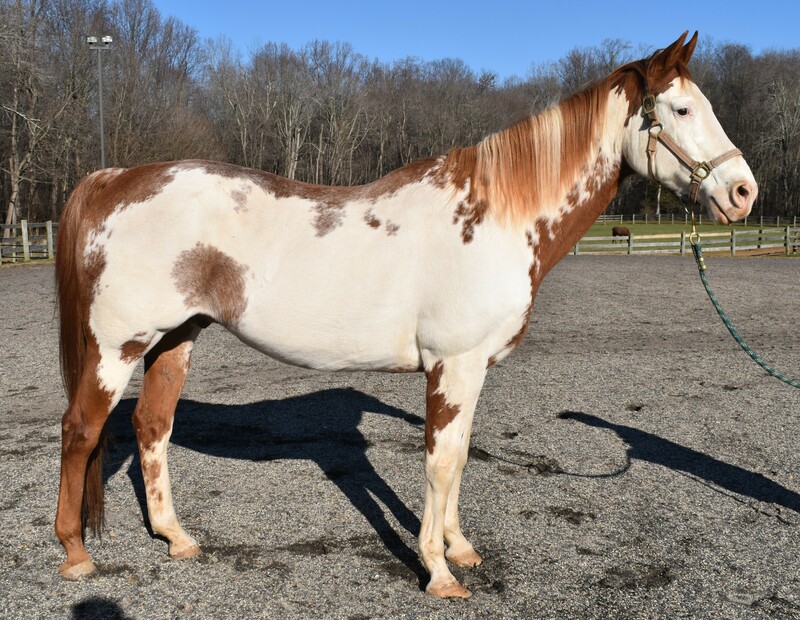 Adoptable Horse: Rowan's Hunter
, an 18-year-old 16.0hh Paint/Pinto gelding
Organization: Maryland Equine Transition Service (Owner Assistance Program at DEFHR)
, Woodbine, Md.
Get to Know Adoptable Horse Rowan's Hunter
Rowan's Hunter is an eye-catching, about 18-year-old, 16 hands high grade Paint-type gelding seeking a new home. After many years of dedication to him, Rowan's owner has sadly been hospitalized and is unable to continue caring for him. It is the hope of his caretaker that he can find a home where he will be loved and cherished until the end of his days, just as his owner intended for him.
Due to an old injury to the left hind suspensory, Rowan would be suited primarily as a companion horse. He may be able to be very lightly ridden at the walk for pleasure/trails, but it has been several years since he was last ridden and would need a refresher. To what degree, the Maryland Equine Transition Service isn't sure. The organization did get to observe him lunged in both directions, for which he was quite excited and fresh.
When Rowan came back down to the trot, it was evident that he was off on the left hind. He was also slightly sore along his topline, especially in the right withers and left croup area, which could very well be due to compensating for the left hind. All of this is why they suggest that he find a home primarily as a companion.
Rowan has been managed on half-day turnout in a mixed herd. He keeps a neutral position within the herd and really doesn't cause any issues with the other horses.
Due to pink skin around his right eye, he wears a fly mask year-round when turned out during the day to protect his skin from the sun. Rowan is barefoot and muzzled during seasons when the grass is growing. He is HYPP positive, but has had no issues since being on his medication (acetazolamide 2x/day). Rowan stands well for the vet and farrier, is good in a stall, ties and bathes. He is up-to-date on care and just needs to find his new home.
Contact the Maryland Equine Transition Service today about ASPCA Right Horse Adoptable Horse of the Week, Rowan's Hunter!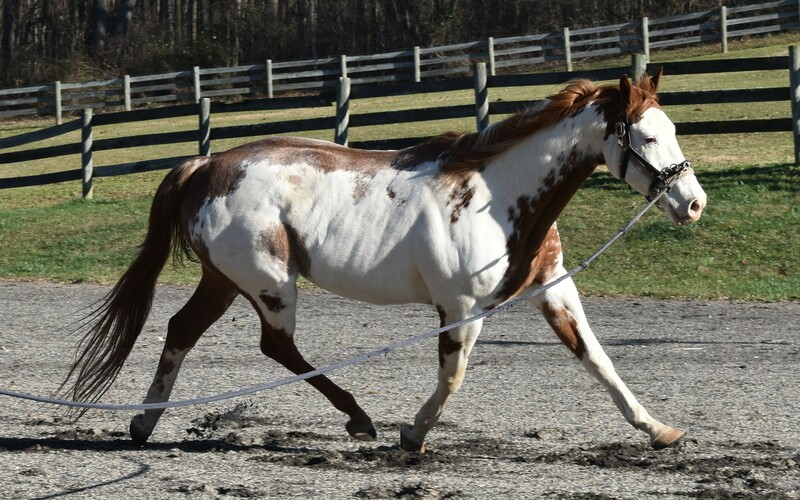 Could this week's adoptable horse be the Right Horse you have been waiting for? Click here for more information about Rowan's Hunter, the ASPCA Right Horse Adoptable Horse of the Week.
ASPCA Right Horse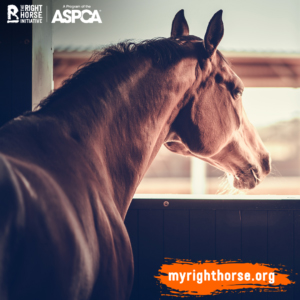 ASPCA Right Horse is the online adoption platform of The Right Horse Initiative, a collection of equine industry and welfare professionals and advocates working together to improve the lives of horses in transition. A program of the ASPCA, their goal is to massively increase horse adoption in the United States. To find more adoptable horses and foster horses, visit www.myrighthorse.org. To learn more about The Right Horse, a program of the ASPCA, visit www.aspcarighthorse.org.