Welcome to Horse Illustrated's weekly installment of the Right Horse Adoptable Horse of the Week, offered in partnership with the ASPCA's Right Horse program. This week's adoptable horse is Tristan! Check back weekly for a new featured horse so you can find your Right Horse.
Adoptable Horse: Tristan
, a 12-year-old 12.0hh pony gelding
Organization: Wild at Heart Horse Rescue
, Lancaster, Calif.
Get to Know Adoptable Horse Tristan
What a darling little boy Tristan is! He is not only adorable but he has the personality to match his good looks.
With his previous owner, Tristan was started in cart training and at Wild at Heart, he has begun saddle training. They can see great potential in his future, as he has learned his round pen work and he has been picking up all the new concepts very well. As such a well-behaved boy, Tristan is also perfect for the farrier.
With such a great temperament and standing at only 12 hands high, he could be the perfect pony for a child! Contact Wild at Heart Horse Rescue today to inquire about adoptable horse Tristan.
Could this week's adoptable horse be the Right Horse you have been waiting for? Click here for more information about Tristan, the ASPCA Right Horse Adoptable Horse of the Week.
My Right Horse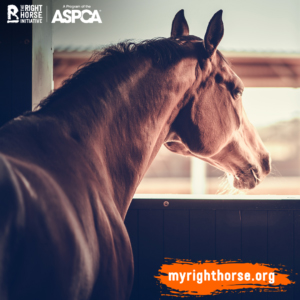 My Right Horse is the online adoption platform of The Right Horse Initiative, a collection of equine industry and welfare professionals and advocates working together to improve the lives of horses in transition. A program of the ASPCA, their goal is to massively increase horse adoption in the United States. To find more adoptable horses and foster horses, visit www.myrighthorse.org. To learn more about The Right Horse, a program of the ASPCA, visit www.aspcarighthorse.org.