The 2023 ASPCA Right Horse Summit in Lexington Kentucky, kicked off with a discussion about intake and assessment best practices. In addition to ensuring that the horses are up to date on vaccinations and basic veterinary care, considering soundness and potential neurologic concerns is essential. 
Charlotte Kin, DVM, is the primary veterinarian for the Equine Transition and Adoption Center, an Oklahoma-based program with the goal of finding homes for at-risk horses. She said that a good physical exam is at the top of her list for all horses coming into the program.
Kin said that while adoption center staff does their best to catch problems, there are some things that are necessary to diagnose. Her intake exams are similar to a pre-purchase exam. This gives the rescue a solid baseline on the horse and also provides potential adopters with a thorough report.
Kin likes to perform basic blood work to help catch issues early. To catch and treat cases of pituitary pars intermedia dysfunction (PPID) — often referred to as Cushing's Disease — early, horses over 12 typically have a Adrenocorticotropic Hormone (ACTH) test. Depending on the results of the ACTH test and time of year, Kin might perform a thyrotropin-releasing hormone (TRH) stimulation test to better confirm a diagnosis. 
During intake, Kin makes a neurological exam a priority. While a hands-on approach is ideal, she keeps neurological concerns in mind when evaluating horses in the field, too. In Oklahoma, her saying is, "Equine Protozoal Myeloencephalitis (EPM) until proven otherwise."
Most of the horses she sees have been exposed to EPM, but catching symptomatic horses and providing treatment early is critical to ensuring their quality of life and adoptability. She begins with a blood test and if the results are positive and the horse is displaying signs, she starts treatment. If the blood test results come back inconclusive or negative but the horse is showing typical signs of EPM, she performs a spinal tap to either confirm or debunk the potential diagnosis. 
Kin also said that staying ahead of and on top of possible gastric ulcers can make horses more comfortable in their transition.
Kaycie McCarthy, the Equine and Farm Animal Rescue and Outreach Manager for the Massachusetts Society for the Prevention of Cruelty to Animals (MSPCA)-Angell in Boston, said that her rescue has started streamlining their intake process. They used to wait until horses were at a good weight and health to perform a soundness exam, but they started running into situations where they would have a horse for an extensive amount of time, spend time and resources to get them heathy, and then find out that they had major soundness concerns when they began working more with them. By making soundness exams a priority early on, they are able to create better programs with better outcomes.
Last year, McCarthy had 18 horses come into the rescue in one group. They did not have proper paperwork and the entire facility had to be quarantined. They had the 18 horses housed in their indoor arena in round pens. While the situation was far from ideal, they used their quarantine to perform thorough evaluations of all of the horses. The local media got involved and when the horses were ready to be adopted, the coverage they had gained through the local media and their own social media outreach helped find homes for 17 of the horses quickly. She said that the situation "forced us to be creative" and while it resulted in some atypical procedures, it aided in getting the MSPCA in the public eye.
She added that when euthanasia is on the table, a full staff meeting is called (with the vet present when possible). She said that the open communication and discussion about what might be best for the horse (or cat, dog, and guinea pig) can make everyone more comfortable with the hard decisions.
Bonnie McRae, founder and director of After the Races — a racehorse rehoming program in Elkton, Md. — said that a thorough intake exam can help save costs long term. Additionally, knowing more about the possible rehabilitation a horse might need helps them find homes more quickly. When they began doing more thorough intake exams, their horses began staying less than half of the time than they did before, cutting the average time from 170 days down to 42 days.
To help with organization, a veterinarian fills out an intake form for After the Races. Having thorough documentation that can be sent out to potential adopters keeps everyone on the same page and keeps the horses' wellbeing a priority.
New Vocations Racehorse Adoption Program Thoroughbred Director Anna Ford agreed that more diagnostics means more adoptions. She added that radiographs and ultrasounds becoming digital was a big change. It became easier to store and share records and the began making a dropbox for each horse to increase organization.
Ford reminded attendees that they can do your own basic physicals, flexion tests, and baseline exams even before a vet is able to see the horse. Doing your own basic exam can save time (and resources) when the vet is present to pinpoint more specific concerns.
Investing in a thorough intake evaluation sets horses and their potential adopters up for success. The more the rescues know about the health and history of the horses, and the more they are therefore able to inform their adopters, the better the outcome.
ASPCA Right Horse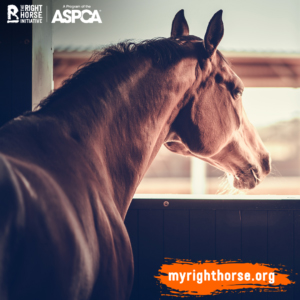 ASPCA Right Horse is the online adoption platform of The Right Horse Initiative, a collection of equine industry and welfare professionals and advocates working together to improve the lives of horses in transition. A program of the ASPCA, their goal is to massively increase horse adoption in the United States. To find more adoptable horses and foster horses, visit www.myrighthorse.org. To learn more about The Right Horse, a program of the ASPCA, visit www.aspcarighthorse.org.