Welcome to Horse Illustrated's weekly installment of the Right Horse Adoptable Horse of the Week, offered in partnership with the ASPCA's Right Horse program. This week's adoptable horse is Lettie! Check back weekly for a new featured horse so you can find your Right Horse.
Adoptable Horse:
Lettie
, a 6-year-old 14.0hh Paso Fino mare
Organization:
Horses' Haven
, Howell, Mich.
Get to Know Lettie
Lettie is sure to be a fun partner for a lucky person who loves a mare with personality in a small package! Put together well with three flashy gaits (walk, trot, canter—she may have a Paso gait to be developed with collection work, but she has only shown a little of it under saddle so far), she's sure to be a great partner in the arena and out on the trail.
Confident in her own ideas, Lettie will be best suited for a horse person of a confident intermediate level or higher, or a rider with the support of a trainer who enjoys a bit of spunk. Lettie is a joy to work with once she gets to know you and as long as she's given clear, patient communication. Prior to rescue, she was green under saddle. She has gone through a groundwork program and she's currently being ridden on the trail and in the arena—both bareback and saddled at the walk, trot and canter. She has also been exposed to some obstacle work.
She's ready for her next adventure! She could be a great all-around horse who may excel at trail riding, endurance riding, obstacle courses or gaming with further finishing. Lettie will come with a very nice western saddle and pad ready to ride.
Could this be your Right Horse? Click here for more information about Lettie, the ASPCA Right Horse Adoptable Horse of the Week.
My Right Horse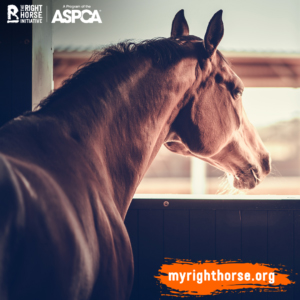 My Right Horse is the online adoption platform of The Right Horse Initiative, a collection of equine industry and welfare professionals and advocates working together to improve the lives of horses in transition. A program of the ASPCA, their goal is to massively increase horse adoption in the United States. To find more adoptable horses and foster horses, visit www.myrighthorse.org. To learn more about The Right Horse, a program of the ASPCA, visit www.therighthorse.org.