Welcome to Horse Illustrated's weekly installment of the Right Horse Adoptable Horse of the Week, offered in partnership with the ASPCA's Right Horse program. This week's adoptable horse is Onyx! Check back weekly for a new featured horse so you can find your Right Horse.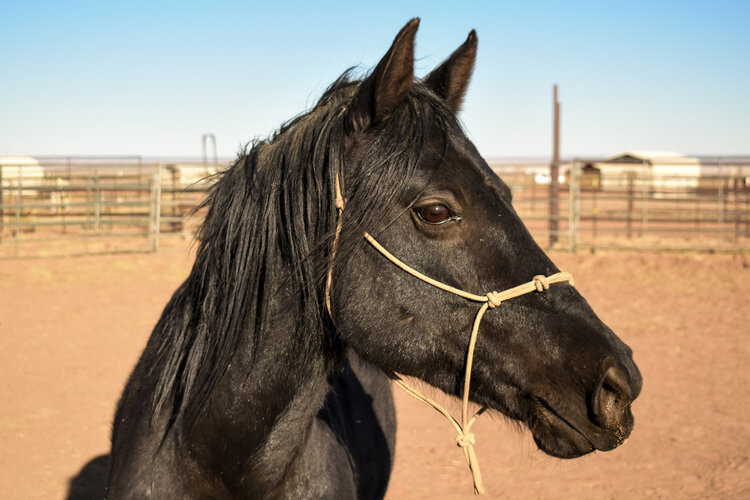 Adoptable Horse: Onyx
, a 11-year-old 14.2hh grade mare
Organization: New Mexico Horse Rescue at Walkin N Circles Ranch
, Stanley, N.M.
Get to Know Onyx
Onyx is an 11-year-old black beauty. She and her foal, Tucker, were saved by the ranch moments before they were sent to slaughter. Tucker grew into a beautiful young gelding while at the ranch and was adopted in 2021. Onyx is still waiting to find her forever family.
Previously untouched, Onyx is continuing to learn how to trust new handlers and has made great progress. She still can be a bit challenging to catch in a large paddock and has the tendency to bond with one person at a time. She halters, leads and performs in-hand obstacles well and competed in Walkin N Circles' 2022 Training Challenge where she and her handler won most improved!
Onyx is also responsive when longeing in a round pen. She's learned to trailer well and has improved greatly with the farrier, though she still has some reactivity with her back hooves. Walkin N Circles' trainers recently put a saddle and pad on Onyx and she responded very well.
Could this be your Right Horse? Click here for more information about Onyx, the ASPCA Right Horse Adoptable Horse of the Week.
My Right Horse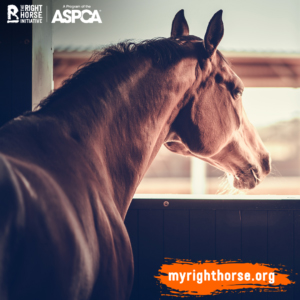 My Right Horse is the online adoption platform of The Right Horse Initiative, a collection of equine industry and welfare professionals and advocates working together to improve the lives of horses in transition. A program of the ASPCA, their goal is to massively increase horse adoption in the United States. To find more adoptable horses and foster horses, visit www.myrighthorse.org. To learn more about The Right Horse, a program of the ASPCA, visit www.therighthorse.org.