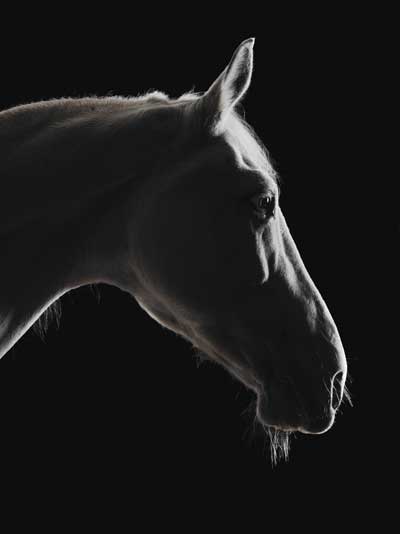 In the equine aftercare world, every adoption organization and individual has a niche, whether that's rescuing horses in transition directly from slaughter auctions, giving retired racehorses a safe place to land, or providing shelter and medical care for horses that are relinquished by their owners. Each of these roles is extremely important and integral to providing a safety net to horses in transition.
The terminology of the aftercare world can be a bit confusing. For our purposes, "adoption" can mean getting a horse from a plethora of organizations, including both rescues and adoption programs; these organizations take on the responsibility of caring for the horse and transitioning him from his current situation into a new home and/or career.
An individual can also go to an auction on their own and purchase a horse, incurring all costs of feeding and medical care solely on their own. Getting a horse in this manner is much riskier than adopting one from an established organization.
In my role at New Vocations, we work diligently to ensure people understand the difference between adoption and rescue. Our organization focuses on adoption, not rescue, meaning we don't pull horses in transition from kill pens or auctions, and we don't take on neglect or abuse cases from state agencies. Does this make what we do any less necessary? Not at all.
While it may seem like splitting hairs to some, semantics are very important to the horse industry. New Vocations doesn't "rescue" racehorses—our horses are donated to us by caring owners and trainers who want to be sure their horses end up in a good home with a quality second career. These horses, just like the ones in auction houses and shelters, are in transition: each is looking for a new, loving home.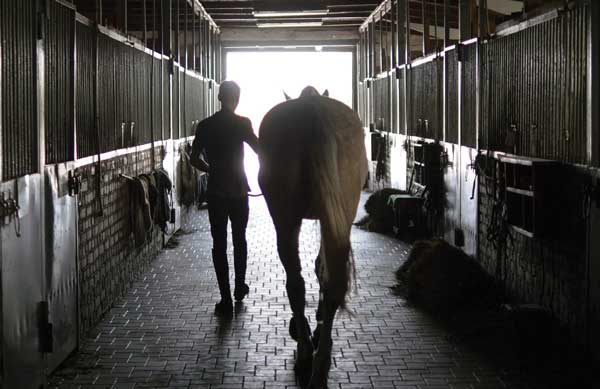 The Adoption Option for Horses in Transition
I consider myself an adept horse person. I've been involved in the equine industry for decades and try my hardest to stay up to date on health and wellness trends, issues and breakthroughs. However, even with these experiences, I still don't consider myself skilled enough to take on the care of a horse in a dire situation, like one I could purchase from an auction. I leave this to the experts in equine rescue and support them with donations as I am able.
Those involved in rescue deserve all the accolades we can offer them—their jobs are deeply stressful, and compassion fatigue is a real (and daunting) part of their job. I am not sure my heart could bear the hurt many of them see on a daily basis, and I'm absolutely certain that each of them has earned their wings.
Like most things in life, what is best for one horse lover isn't always best for another. Deciding to adopt a horse or purchase a horse from an auction is a profoundly personal decision, and each choice has merit. As with any equine-oriented purchase, it pays to do your due diligence no matter which route you decide to take.
If you're thinking of adopting, scope out the organization beforehand. It's worthwhile to investigate the following:
◆ Does the organization have a 501(c)3 status?
While not a dealbreaker, this designation is an extra assurance that the organization is reputable and that it's not a fly-by-night entity.
◆ Is the organization sanctioned by other accrediting bodies?
The Thoroughbred Aftercare Alliance, Guide-Star, the Global Federation of Animal Sanctuaries and other entities offer their "stamp of approval" to organizations that meet their exacting standards. Each of these is an additional feather in the organization's cap.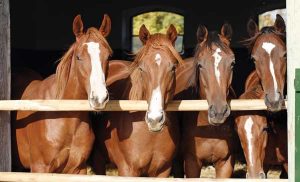 ◆ Does the organization have a solid return policy in place?
New Vocations, like other quality adoption agencies, will always take a graduate back into their program if he needs a place to go. That's a really big load off your shoulders if you ever get to the point where you have to find your horse a new home in a hurry.
For me, here were some of the reasons I chose to adopt my personal OTTB, Chizzy:
◆ The horse came with a known history, even if what's known was only during the time he was in that program.
When I adopted Chizzy, I gained access to all the history they had on him—what his bowed tendon looked like; how he was in turnout; how he was for the vet, farrier and under saddle; and all his (many!) personality quirks were explained to me in detail. I needed to be as sure as possible that the horse I adopted was the right fit for me.
◆ Help was always available.
I've been lucky enough to not run into any-thing more than run-of-the-mill issues with Chizzy. However, the trainers at many adoption programs are more than happy to assist when an adopter is having issues with their mount.
Each adoption agency wants the same thing—for their adopters to love the horse they have. Many, many hours are spent on the phone and via email helping new owners work through issues ranging from riding and leading to gaining weight and turnout issues.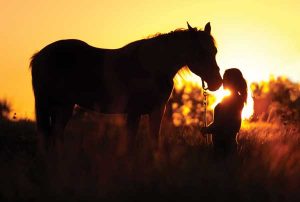 Auction Cautions
There are many quality equine auctions throughout the United States, but it goes without saying that there are other auctions where horses can meet a dire fate. If you've never been to an auction, be prepared. Here are some of the reasons why I support organizations that rescue and then adopt the horses out, rather than rescue a horse personally:
◆ You can't always tell when a horse is sick.
Bringing him home, especially if you don't have a true quarantine area, can be risky.
I board my horses, so I am at the mercy of my (wonderful!) barn owner. The farm is a busy boarding and lesson barn as well, so there are loads of traffic (and nose patting) happening every day.
◆ The horse's past is truly unknown.
You have no health, training or personality history on the horse you bring home. This means no X-rays, ultrasounds or training history, let alone character assessment. While this may be fine for a professional trainer, the extent of the gray area is out of the comfort zone of most adult amateurs and casual horse owners.
◆ You probably don't possess unlimited funds.
The cheapest part of owning a horse is buying him. Horses in auctions, specifically low-end auction houses, can be very ill and in need of prolonged medical care. If you board, this could mean that you need to be at the farm at all hours for treatments, and a herd of vets and farriers may be needed to care for the horse as he heals.
◆ What you buy is not necessarily what you end up with.
Once the horse is healed and healthy, he may not be the sweet horse you met in the auction pen. As he gains strength and confidence, his entire demeanor may change—and not for the better.
Regardless of whether you choose to adopt from a adoption organization or a purchase a horse at an auction, know that you are deeply impacting the life of horses in transition.
This article about the differences between auctions and adoption for horses in transition appeared in the April 2020 issue of Horse Illustrated magazine. Click here to subscribe!
Further Reading
◆ Homes for More Horses
◆ Helping Horses with The Right Horse
◆ Back to School for Horses in Need
◆ My Right Horse Connects Horses and Adopters