Cindy Hale, Contributor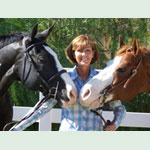 Cindy Hale's life with horses has been filled with variety. As a child she rode western and learned to barrel race. Then she worked as a groom for a show barn, and was taught to harness and drive Welsh ponies. But once she'd taken her first lessons aboard American Saddlebreds she was hooked on English riding. Hunters and huntseat equitation came next, and she spent decades competing in those divisions on the West Coast. Always seeking to improve her horsemanship, she rode in clinics conducted by world-class riders like George Morris, Kathy Kusner and Anne Kursinski. During that time, her family began raising Thoroughbred and warmblood sport horses, and Cindy experienced the thrills and challenges of training and showing the homebred greenies. Now retired from active competition, she's a popular judge at local and county-rated open and hunter/jumper shows. She rides recreationally both English and western. Her Paint gelding, Wally, lives at home with her and her non-horsey husband, Ron.
Click here to contact our editors and contributors.
Finding the right loping speed
The Seven Stages of Aging on Horseback
Moving on to a new horse trainer