Are you like me, obsessive about your horses? Would you like to be able to spy on them at all hours of the day or night, from anywhere in the world? It's possible, and I am going to show you how. Read on to learn more about a horse barn cam.
When my husband and I bought our own 5-acre dream farm, I knew I would want to set up barn cameras. When researching how to go about this, I had these requirements in mind:
Connected to the internet, so I can log in remotely, even when I'm not home
Viewable on my TV, smartphone, or other mobile device
Able to record video and play it back
Ability to pan, tilt and zoom to cover a maximum amount of area
Night vision, so I can see the horses after the sun goes down and the lights are turned off
Initially, we set up two cameras. We have two horses, so we placed the first camera between their stalls. We installed the other one in the run-in shed, which is attached to the back of the barn and opens up to the turnout paddock they use in the winter and when not grazing in the summer. Using the phone app that comes with the cameras, I can pan back and forth to cover a wide viewing area in both locations.
Horse Barn Cam: Getting Connected
My first big challenge was getting internet to my barn. The signal from the house was barely strong enough to reach the stall camera, and not strong enough to reach the run-in's camera. The solution was to add a Wi-Fi range extender, which grabs the Wi-Fi signal from our home network and rebroadcasts it throughout the barn.
Our barn is a metal building, so we obtained the best results by putting the extender near a window, where it could get a better signal from the house. Once installed, we had Wi-Fi all the way to the run-in. The extra benefit of this setup is having Wi-Fi in my barn for internet search activities, such as Googling "is it safe to feed my horse donuts?"
If your barn is a significant distance from your home, you may need to get a separate internet device for your barn, such as satellite or cellular. You must have your cameras connected to the internet in order to view them from other locations.
Once the network is up and running, it's time to set up the cameras. The cameras we chose from Amcrest were easy to set up; I just downloaded the app to my phone and scanned the QR code on the bottom of the camera. I chose the wireless network to use, gave the camera a name and password, and I was in business!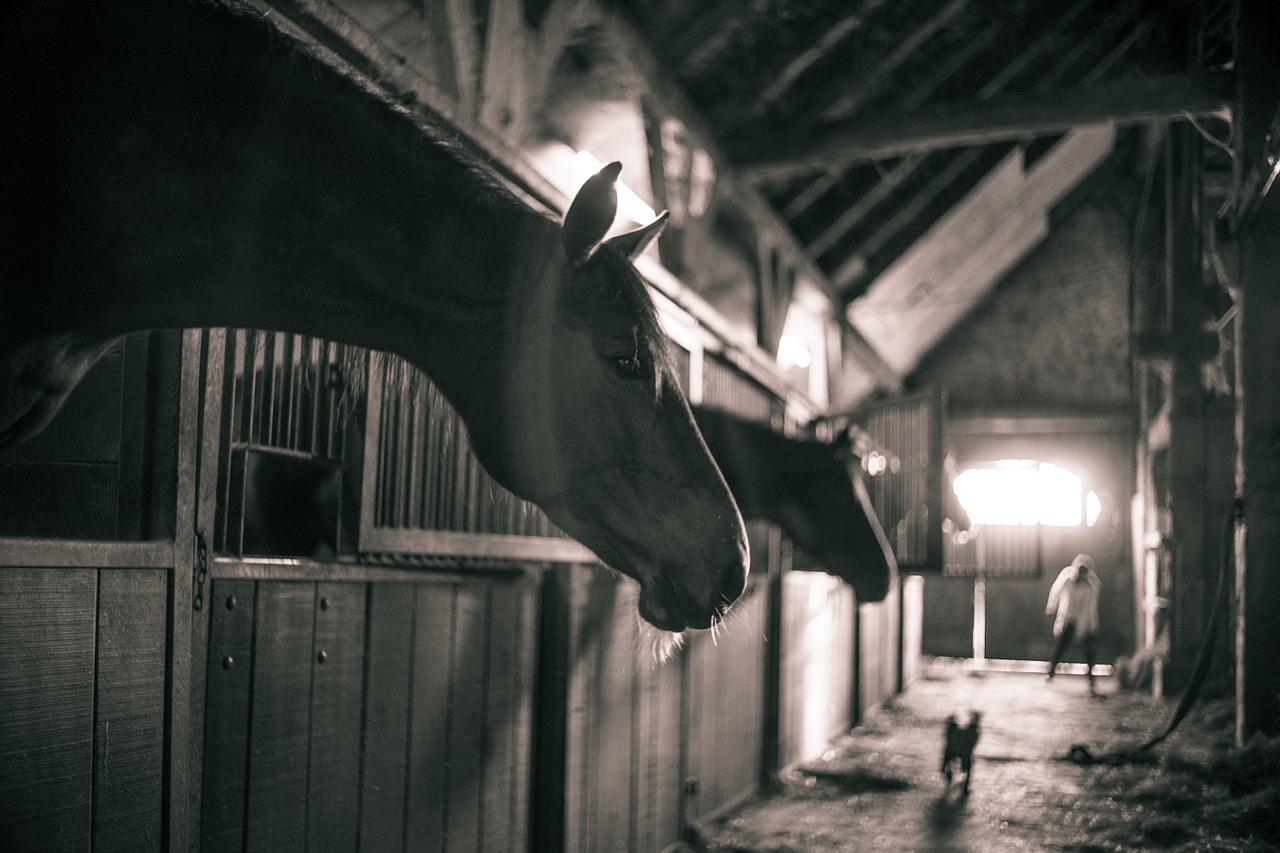 Whatever the Weather
It's been a big relief being able to keep tabs on my horses in all kinds of bad weather, from severe thunderstorms to blizzards, without having to actually go out in the elements to check on them. I travel frequently and like being able to log in from anywhere to find out if my horses are OK.
Aside from the joy of spying on my horses, barn cameras with recording capabilities have the added benefit of adding a layer of security to your property. Should something go wrong with either my horses or personal property, I can play back the footage and see exactly what happened.
The peace of mind that comes from having cameras in your barn makes horse and farm ownership a lot less stressful and a little more fun.
Choose Your Camera
Because the locations I wanted to cover weren't out in the elements, I opted to get budget-friendly cameras that are not weather-sealed. We've have had them for almost two years and have had no significant issues. Most brands also make outdoor cameras.
Amcrest ProHD 1080P Wi-Fi Camera*
Foscam HD Home Security Camera
Reolink HD Wireless Security Camera
The above cameras all feature PTZ (pan/tilt/zoom), which allows you to visually cover a much larger area than a fixed perspective camera. If you don't feel you need PTZ, here are some other popular options:
Arlo Q by NETGEAR
NestCam Security Camera
Amazon Cloud Cam Security Camera
Routers
NETGEAR Nighthawk R7800*
Linksys AC1900
ASUS RT-AC3200
Extenders
NETGEAR Wi-Fi AC1200 Range Extender*
Linksys RE6500 AC1200
TP-Link AC1900
*Indicates the equipment we use
This article originally appeared in the September 2018 issue of Horse Illustrated magazine. Click here to subscribe!