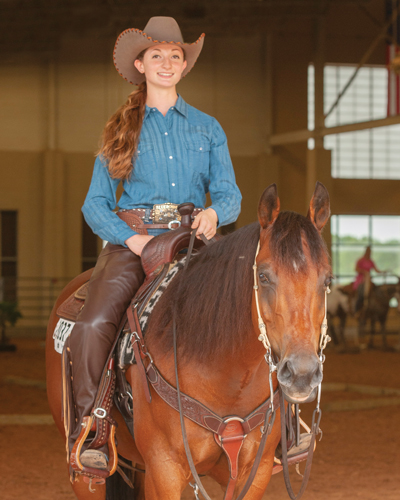 You've been practicing your maneuvers and getting your horse ready to show off his moves in western classes. But now you need the best western show outfit. You want your clothes to be appropriate for each class without distracting from your performance. Your choice of clothing will vary, depending on if you're showing at a local open show or the American Quarter Horse Youth Association (AQHYA) World Championship show.
"Exhibitors should always look their best and present themselves as though they are the winner each and every time they enter the arena," says all-around trainer Chad Christensen of Pilot Point, Texas.

We've put together some examples of blue ribbon-worthy outfits for three events, with options for showing at different levels of competition to help you suit up in style. Tammy Dyer of D. Designs created these pieces (next page), and she offers her advice along with Christensen.
Showmanship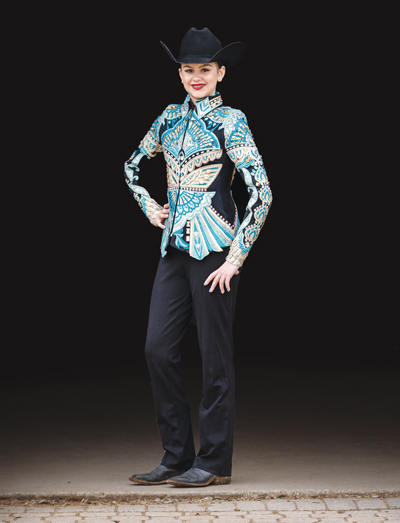 Top: A well-fitting showmanship jacket should be long enough to cover the top of your hips; it can go down to mid-hip. You want your sleeves to hit 1 inch past your wrist bone with your arm bent. Underneath, most riders wear a camisole as well.
Pants: Your pants should complement your jacket. Aim a for tailored and well-fitting pant without any adornment or embellishment. The hem should hit just above the ground; avoid pants that are too short.
Boots: Chad says square-toed boots are in style right now for all classes. Avoid a round or pointed toe; they are outdated styles for these events. And stick to a "walking heel" versus a riding heel.
Hat: Your hat style is subject to preference. Many trainers have a particular shape they prefer for clients, but you can ask a hat shaper to shape your hat in the current style for the breed you are showing. Avoid a stampede string for any class outside of speed events. You can wear the same hat for any of these events mentioned, as long as it coordinates with your outfit.
Accessories: Tammy says small earrings that accent your outfit are nice, but to avoid oversized earrings. A small ribbon tied in neatly done-up hair is a good finishing touch. Your hair should be in a bun if possible and very neat and tight, without loose pieces or flyaways.
Entry Level Look: Your attire can be slightly more relaxed, but still respectful of the horse show atmosphere.
Upgrade: As you move up to bigger shows, Tammy says your clothing should become more elegant.
Boys: You'll want to wear a well-tailored suit. Your jacket and pants should always match, and you should wear a nice tie. Finish with square-toed boots for the best western show outfit for showmanship.
Horsemanship/Western pleasure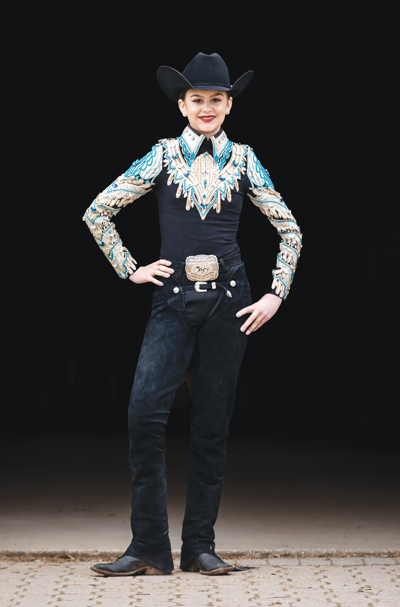 Top: Tammy recommends a snug-fitting top that tucks into your pants, preferably one that zips up the back, although it can also zip up the front. The key is a perfect fit with square shoulders. For western pleasure, you'll want to wear a nice jacket that complements the color of your horse. This jacket will be shorter than a showmanship jacket to avoid sitting on it when riding.
Pants/Chaps: Chad says to choose fringed chaps that fit you well and extend 2 inches past your boot heel in the saddle. You want a single covered button in the back for horsemanship.
Accessories: Horsemanship requires a snug bun, but in western pleasure, you can wear a ponytail pulled back tightly.
Upgrade: Wear an embellished jacket for extra sparkle.
Entry Level Look: Chad says a tailored button-down shirt with a scarf can be worn for both of these classes.
Boys: Wear a tailored shirt, chaps over jeans, and square-toe boots. Add a neck scarf for horsemanship.
Trail/Western Riding/Reining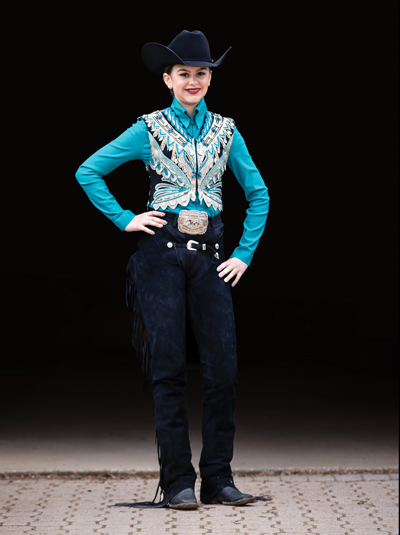 Top: Wear a tailored and collared long-sleeve button-down shirt tucked smoothly into your pants. It does not have to be as form-fitting as horsemanship.
Pants/Chaps: You can wear showmanship pants or jeans under your chaps for these classes. Your chaps can have a two-tone yoke and/or a silver concho on the back.
Upgrade: To dress up your look, add a fitted and embellished vest.
Accessories: Your hair can be pulled back in a snug ponytail. A scarf is optional.
Boys: The same attire as for western pleasure is acceptable. Scarf is optional.
This article about creating the best western show outfit appeared in the Summer 2020 issue of Young Rider magazine. Click here to subscribe!