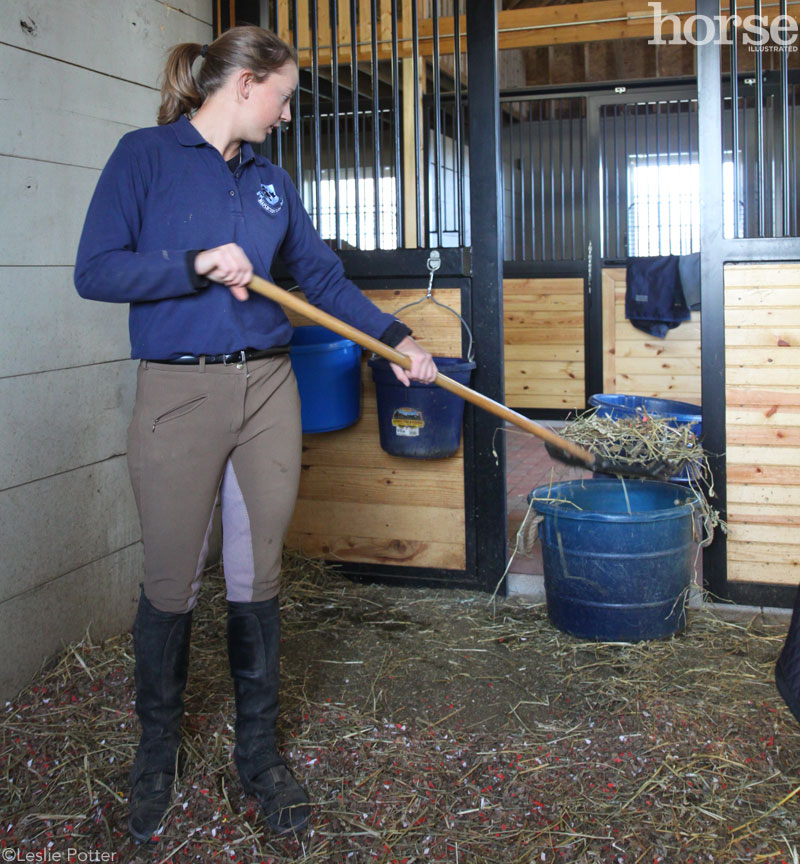 When it comes to cleaning stalls, it's not rocket science. But any time you're dealing with the health and comfort of your horse, you'll want to make sure to do the best job possible. If you can do it faster and easier, that's even better.
To find out how the experts make short work of cleaning stalls, we turned to the Kentucky Horse Park in Lexington, Ky., home of the 
Rolex Kentucky Three-Day Event
  and site of the
2010 World Equestrian Games
. The Kentucky Horse Park also offers several different programs, including one on equine management where aspiring equine professionals learn about horse and barn management, equitation and more.
Ellen Hamilton, equine science instructor at the Kentucky Horse Park, shared the park's stall cleaning routine. She notes that whether the stall is bedded with straw or shavings, the same cleaning method is used. Stall floors are either concrete or rubber mats, depending on the barn.
"With straw, we use a metal pitchfork, and we use plastic pitchforks for shavings," says Hamilton. "We sift through everything, and all the clean bedding is tossed against the walls and into the back corners. Everything dirty is tossed into the center of the stall toward the door."
Once the clean bedding is out of the way, the manure and dirty bedding are raked out of the stall and placed in a manure spreader in the barn shedrow. A shovel is used to pick up any material that falls through the fork, and the center of the stall is then swept clean with a broom. Any damp spots are treated with an absorbent deodorizer, usually available at a local feed store.
The stall is left to air out and dry completely, with bedding pushed back against the walls, until just before horses are brought inside in the afternoon. At that point, the remaining clean bedding that was against the walls is spread over the stall floor, and new bedding is added, if needed.
"So we don't have any wet spots on the bottom, all of our stalls are basically bone dry before we put any bedding back on them," explains Hamilton. "If you're this thorough every time, you never have to do a big cleaning job. You'll strip your stall less often and will save a lot of bedding."
The Kentucky Horse Park has larger-than-standard stalls that are 16×16-feet or 14×16-feet. Even so, by following their regime, Hamilton says cleaning usually doesn't take longer than 10 minutes per stall.
Hamilton likes to leave horses outside as long as possible before bringing them back into their stalls. For horses who have to stay in, stalls are cleaned thoroughly in the morning and then picked through again in the mid-morning, afternoon and evening. This is especially important if you have a horse that likes to walk through his manure, which grinds it into the bedding and often means the entire stall must be stripped.
Be Prepared
The right tools make any job easier, and stall cleaning is no exception. If you bed with straw or bedding hay, you'll want a pitchfork. If you use shavings or wood pellet bedding, a bedding fork with tines that are close together is essential. A leaf rake and stiff broom will also come in handy, and of course, you need a muck bucket or wheelbarrow to take the used bedding and manure out of the barn.
The type of bedding you use has a lot to do with how fast you can clean your stall.
Manure often "gets lost" in straw and bedding hay, falling under the top layer. Shavings and wood pellet bedding are easier to sift through with your fork.
Your horse's "personal hygiene" habits will also impact the ease and speed of stall cleaning. You're in luck if you happen to have a fastidious horse that makes one concentrated manure pile in the corner and one urine spot in another location. With a neat horse, you can often get away with cleaning the stall once a day.
Of course, many horses aren't that tidy and will simply go wherever they happen to be standing. If they're also the type that likes to walk through their piles, then you'll definitely want to clean the stall twice a day, typically morning and evening. Another quick "pick through" sometime mid-day can help save time and bedding.
Keep in mind that horses are meant to live outside and were designed to roam miles each day, eating for as long as 18 hours a day. Shutting them up in a stall goes directly against their nature, so whenever possible, do your horse a favor and turn him out. You'll have a cleaner stall…and a happier horse.
Ready, Set, Clean!
Toss clean, unsoiled bedding against the walls and into back corners.
Toss manure and dirty, wet bedding into center of the stall or directly into a muck bucket or wheelbarrow.
Rake out center of the stall.
Sweep the center of the stall thoroughly and pick up any remaining dirty material with a shovel.
Sprinkle absorbent deodorizer on any wet spots.
Leave the empty stall to air dry with bedding pushed back as long as possible until you need to bring the horse back inside.
Pull clean bedding back into the center of the stall, add new bedding if needed, and fluff the whole stall with a fork.
Bring your horse inside and just watch…he's sure to "christen" his newly-cleaned stall shortly!
Get more advice with Mucking 101 >>