Life can surpass the best of fiction, particularly for someone like Eitan Beth-Halachmy, the founder of cowboy dressage. Called "8" by his friends, he first came on the radar of many horse enthusiasts for his performances in the opening ceremonies of the 2006 and 2010 FEI World Equestrian Games, where hundreds of thousands of fans flocked to Aachen, Germany, and Lexington, Ky. Over the last 10-plus years, there has been explosive growth and a worldwide embrace of the horsemanship culture he created.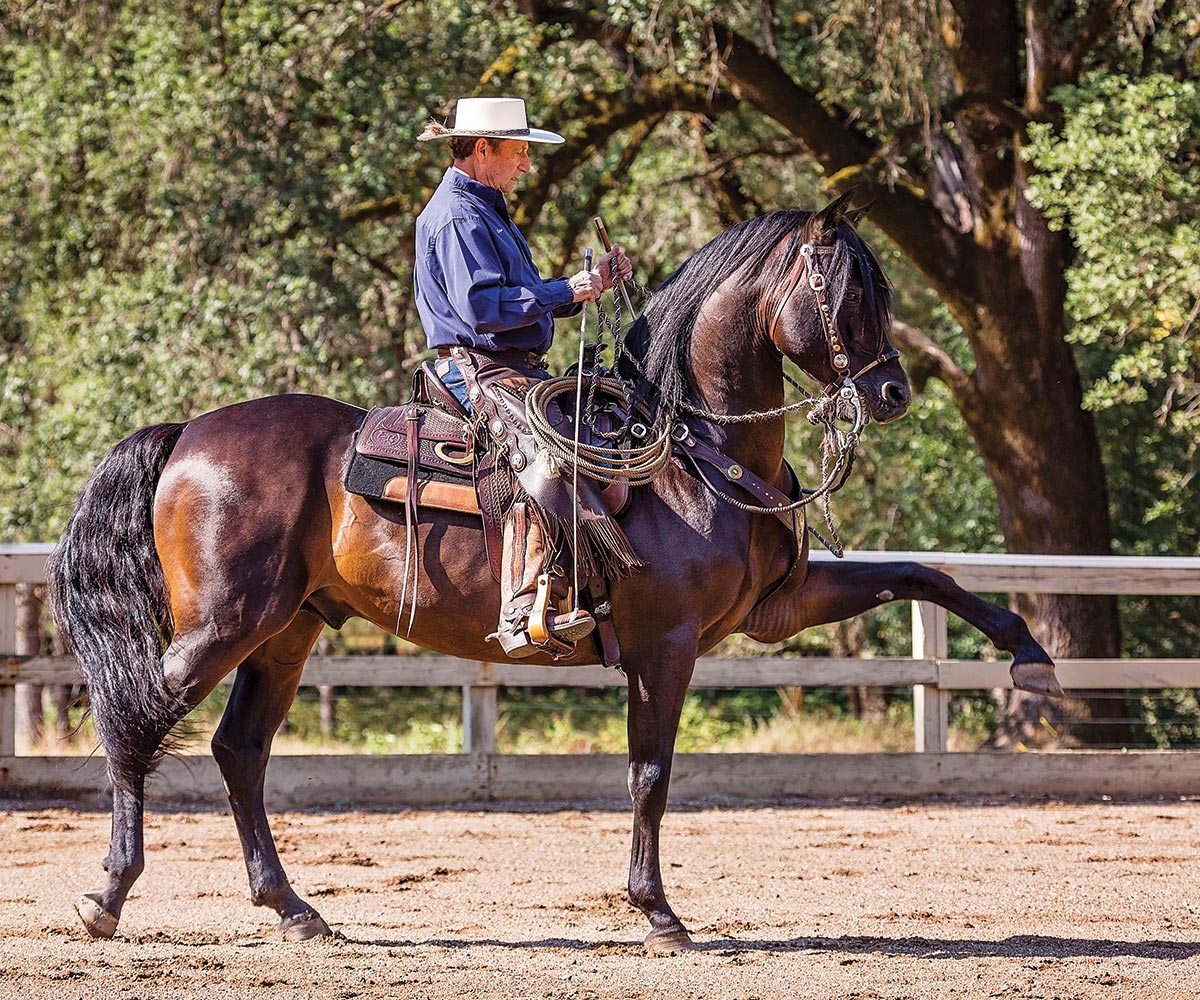 Born November 24, 1940, Beth-Halachmy grew up in a small town south of Tel Aviv, Israel, and dreamed of becoming a cowboy.
"The only thing we knew about cowboys was from movies—John Wayne, Glenn Ford and all those guys we saw on the screen," says Beth-Halachmy. "I wanted to be like them. We didn't know there were people in Montana and Wyoming freezing outside watching their cattle. I looked at the cowboy as freedom, doing the things you wanted to do."
Early Days for the Future Founder of Cowboy Dressage
Beth-Halachmy first sat on a horse at 5 after his mother's funeral, when a mounted sheriff set him astride an Arabian. Growing up, he took herds of 500 sheep into the mountains outside Jerusalem for a month at a time, whiling away the hours as a shepherd carving wood.
He then served in the military and later cleaned stalls at the Spanish Riding School in Vienna while attending veterinary school. Becoming a veterinarian was his father's dream, but Beth-Halachmy's childhood call of the cowboy brought him to America, where his passion for horses unleashed the talent that's made him an influential leader—and the founder of cowboy dressage.
Unknown when he arrived in Oklahoma City in 1993, Beth-Halachmy soon gained recognition.
"It was the first or second time I showed up in the Morgan community," he recalls. "I rode Holiday Compadre in a western pleasure class. Long story, short, I won that class."
He topped off the win—Morgan World Champion Western Horse—with a most unusual victory pass.
"I did some tempi [every stride or every other stride lead] changes, a little piaffe, and extended the jog," he continues. "Compadre knew all that. He was really not a western pleasure horse, but there was no place for me to show that off."
While driving home to Grass Valley, Calif., Beth-Halachmy got word of an invitation to perform at the American Royal Concert of Champions in Kansas City, a black tie event with a live symphony. Not keen for another long road trip, Beth-Halachmy passed.
"So what did my dear wife do?" he laughs. "She called them back and said I'd love to."
The First Performance by the Founder of Cowboy Dressage
It came together in Kansas City. At a meeting for all the performers before the Concert of Champions, the organizer asked for details on Beth-Halachmy's act.
"I said, 'I have no idea, there's probably something I can do to make it happen.'"
Music? Another question mark.
"Whatever they play is good enough for me," he remembers saying.
The symphony conductor chose "The Nutcracker." Beth-Halachmy was just pleased to have music.
"I didn't even know what The Nutcracker was," he admits.
Asked the name of his act, Beth-Halachmy answered the stunned organizer.
"No name," he recalls. "Just me and my horse. Then he looked at me and asked, 'What do you think about Cowboy Dressage?' I said, 'Sounds good to me.' That's how cowboy dressage came to life."
In a scene straight from Hollywood, Beth-Halachmy landed the finale spot with Holiday Compadre. It was in that moment that he became the founder of cowboy dressage by introducing the world to a new sport.
"I remember standing behind this huge black curtain blocking the entry to the coliseum," he says. "The only thing I could hear is the music playing inside and my horse chewing on the bit; I have no idea what I'm doing. I'm waiting for the music. It's like going dancing. You don't know what they're going to play. Whatever they play, you dance."
And what a dance it was.
"The minute the curtain opened, they hit me with the spotlight," he remembers. "My horse and I were blinded. Couldn't see a damn thing. I'm trying to get him going, and he refuses to go in. The music was playing. Everybody started clapping, screaming and yelling."
After two minutes, he rode Compadre into the arena.
"I had three minutes left to play to the crowd," he continues. "When I was done, I got a standing ovation. I couldn't believe it! My first-ever performance before the public. From there on, it's a sweet story."
An Artist at Heart
His story is entwined with his wife, Debbie.
"She was there from the beginning," says Beth-Halachmy. "She is the core of the whole thing. I'm really a shy person internally. When I started teaching and became an educator, I discovered some talent hiding inside me. Deb was the one who woke it up."
Incredibly, things could have been different.
"There was a time I really wanted to get out of horses," he recalls. "All my friends were horse people. I got to the point where I was overflowing with horses. I said, 'I've got to start doing something else.' I knew I was good with my hands and creative, but I never knew how to cross between a craftsman and artist. I think I learned it from being with horses."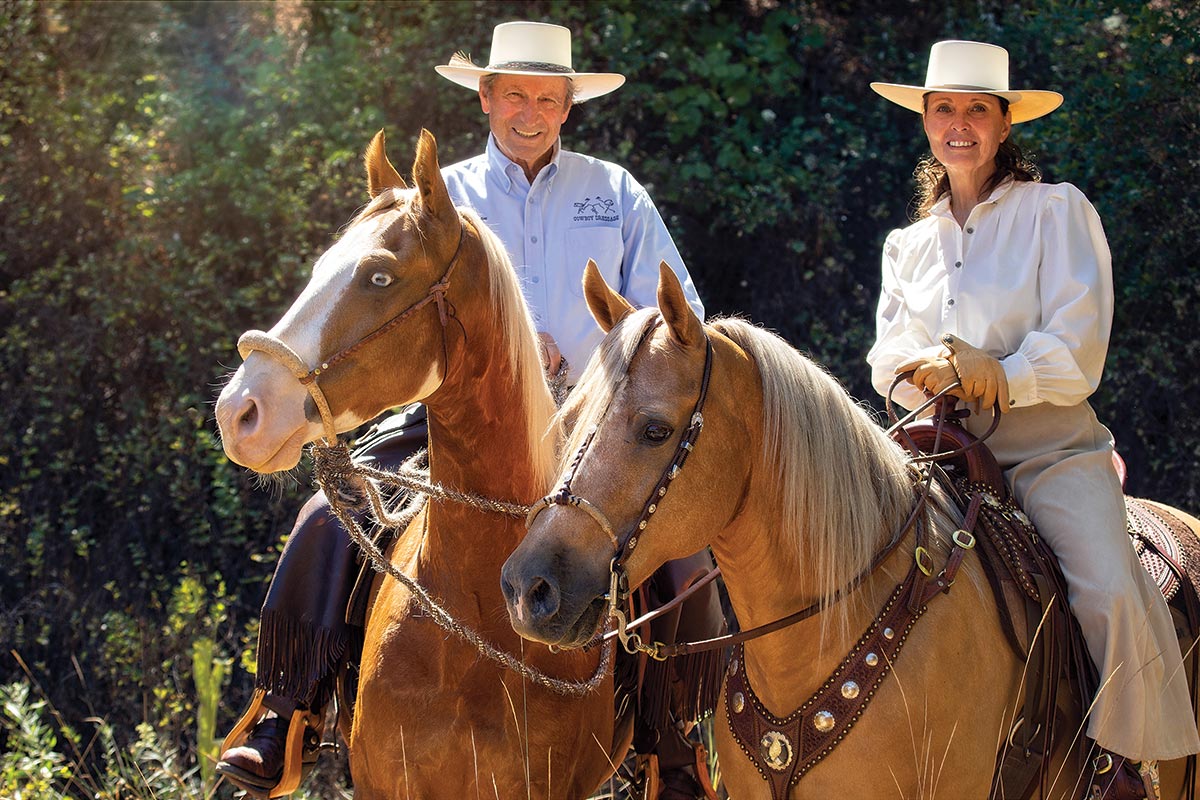 The caliber of Beth-Halachmy's art soon found him trading in craft shows for the likes of Neiman Marcus and Gump's San Francisco.
"I was sculpting," he says. "I did some bronze, some woodwork. I remember walking into Gump's in San Francisco. I had cutting boards in the shape of animals. They loved it."
So much, in fact, it would have required mass production to meet the order. That ended up sending him back into the horse world.
Education from the Founder of Cowboy Dressage
"In the beginning, cowboy dressage was never meant to be a competition," says Beth-Halachmy. "Combining classical riding with the spirit of the cowboy was more a fantasy than anything real, but people got excited about it."
More than 10,000 people are now Handshake Members, one of Debbie's ideas.
"She woke up one morning and said, 'I have an idea. We should offer a membership to people on a handshake, like in the old days. It was the code of the cowboy.'"
It's also free.
"We promised to give them a place they can come and socialize with people like them, who love horses," he says. "It's all about being kind to the horse."
He now manages 60-some Facebook pages.
"Most people I deal with really only want to love their horse, go trail ride, and come home in one piece," he explains. "Horses can be a friend, but you have to pay attention, because they're still horses. When they give everything they have to give, you've got to say, 'Thank you,' and not ask for more."
Cowboy dressage is not about the ribbon or the money. It's not about rider ego.
"It's about the love of the horse," says Beth-Halachmy. "I think it's always going to be my way of looking at life. To do the things you love to do, because you love it."
For more information on cowboy dressage or to become a member of Beth-Halachmy's Educational Horsemanship Program, visit www.cowboydressageworld.com.