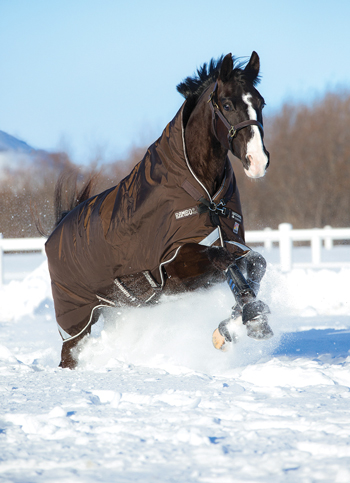 If you've decided that your horse can benefit from wearing a blanket, his conformation will be a deciding factor in what type and fit of blanket is best. Is he slab-sided? Does he have shark-fin withers? Or is he the exact opposite, with low, round withers and a stocky build?
Finding the perfect blanket fit can be a challenge. Read on for tips from the pros at SmartPak, Horseware Ireland and Weatherbeeta.
Sizing and Measuring for Horse Blanket Fit
Proper measuring is the key place to start. Measuring your horse correctly is much easier with two people; he should be standing squarely on level ground to get the most accurate measurement. If your horse falls between two blanket sizes, it's recommended you buy the next size up, according to Abby Barker, brand coordinator at Weatherbeeta.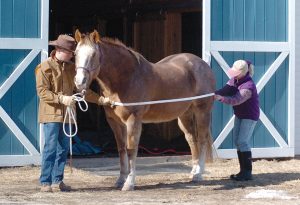 While there are some quick fixes to doctor a poorly fitting blanket if the weather is especially nasty and there's no time to buy a new one, it's worthwhile to buy a properly fitted blanket for the upcoming season. Winter can seem to drag on forever; it can be even more miserable when your horse is suffering from rubs and shifting straps.
If your horse begins to get rubs on his withers or his chest, you can try using a close-fitting nylon hood (when he is inside) or a chest or shoulder guard under any blanket to minimize further rubs. It should be noted that these are not permanent fixes, nor are they guaranteed to work on every horse.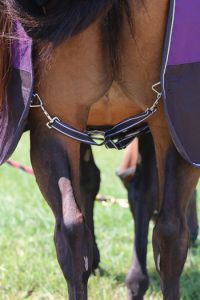 The Great Strap Debate
All chest straps should be buckled facing the horse's chest so that the chance of him getting hung up on a fence, hay net, bucket or anything else is minimized.
While belly bands or surcingle-type closures are generally a matter of personal preference, it's helpful to remember that if you own a Houdini horse, the more straps that cross under his belly, the better. Surcingles help keep a blanket in place, preventing it from shifting where it may be easier for him to undress himself.
Leg straps keep the blanket from flipping up over your horse's hips if he plays, rolls, or gets caught in a strong wind. They shouldn't hang loosely, where they can get caught over hocks or a hoof might slip through and get stuck.
To make sure the leg straps work well, loop them through one another and connect them back to the side from which they originate. In addition to helping keep the blanket in place, this method helps avoid rubs between a horse's hind legs.
Tail cords are an option on some blankets in the place of leg straps. When correctly used, a tail cord can eliminate the safety concerns of leg straps, including a horse getting caught in them or putting a handler in a precarious position while dressing a touchy equine.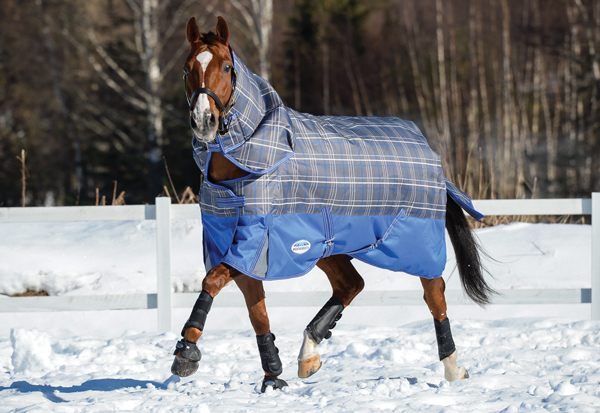 Wide Load
If your horse is a stocky steed, finding the perfect blanket fit can be tricky. If he's a stock horse, a warmblood, or just bigger-boned, blankets tend to fit too tight over hips and shoulders. In addition to limiting his range of motion, blankets that are too taut can cause rubs, which can become quite painful once the hair has been worn away.
The blanket types that work best for broader horses are generally labeled as such. These blankets are designed to be broader through the shoulders and deeper on the sides to allow adequate coverage and range of motion.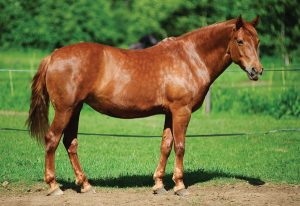 Additionally, a front closure that is V-shaped in can offer relief on some of the traditional pressure points, notes Horseware. Gussets, which allow for a wider range of motion, are also helpful. Some blankets not only have shoulder gussets, which allow more room for shoulders to move and prevent constrictions around the neck, but also gussets near the hind legs to reduce blanket pressure across hips.
Weatherbeeta ComFiTec Premier Free Range features forward-cupped shoulder darts with a forward-positioned gusset that often suits wider horses better, according to Barker.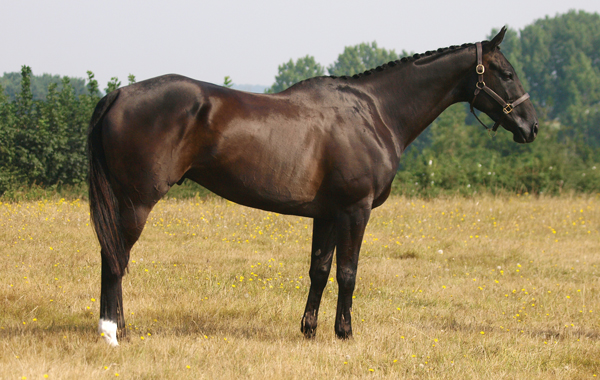 High Withers
Traditionally cut blankets on high-withered horses may gap around the neck, letting in rain and snow. Amy Miller, a buyer on SmartPak's merchandising team, recommends investigating high-neck blankets for higher-withered horses or for those horses that get rubs along their withers. SmartPak has a variety of turnout blankets in varying weights with high-neck designs, including their Ultimate High Neck Turnout Blanket.
Weatherbeeta offers a collection of ComFiTec blankets that help combat rubs on prominent withers, including blankets that have fleece at the withers and memory foam wither relief to lift the blanket to reduce pressure points, according to Barker.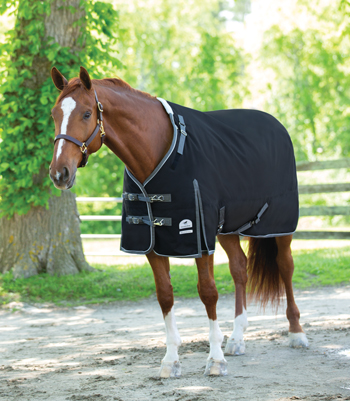 Narrow Body
If your four-legged love is slab-sided or just dainty, traditionally cut blankets may hang off his frame, gapping in the shoulder and chest. SmartPak recommends blankets with adjustable necks like their Ultimate Adjusta-Neck Turnout Blanket for these narrow beasts, which allow you to tailor the fit.
Horseware suggests their blankets that have Surefit neck designs for narrow horses with deep shoulders. These blankets sit further in front of the withers and have a smoother slope to cup the front of the shoulder and finish further in front of the neck. This design gives a snugger fit yet offers more freedom to graze. If your horse is narrow with high withers, the Horseware Wug reduces the wither pressure.
Opting for a blanket that can be adjusted at the chest is ideal for narrow horses as this offers more versatility to the front fit of the blanket, according to Barker. The Weatherbeeta ComFiTec Essential and Classic varieties feature buckle-front closures that are easily adjusted.
This or That?
Standard Neck or High-Neck Blanket?
Standard-neck blankets are adequate for horses that are unclipped and that live in areas with milder winters. High-neck blankets are ideal for horses that have been clipped along their neck or for those horses that have high withers.
Combo Neck or Detachable Neck Cover?
Combo necks are seamless and have less chance of shifting; detachable neck covers are helpful if the climate in which the horse lives requires lots of blanket changes, says Horseware.
Layering Blankets or Blankets of Different Weights?
While some horse owners prefer to have a blanket for every season, others like the freedom that layering affords. It's important to note that blankets that are layered can shift if the horse roughhouses, so if your horse loves to play, a single blanket may be the better option, says Amy Miller, a buyer on SmartPak's merchandising team.
Dry Blankets in a Machine or Let Them Air Dry?
Machine drying contributes to the breakdown of water repellency. Line drying blankets is always recommended, as is storing them away from temperature extremes, says Horseware.
Change Blankets When the Horse Comes In, or Leave Him in Muddy Clothes?
As long as the horse remains dry under his turnout blanket, swapping him into a stable blanket is truly a personal preference, says Abby Barker, brand coordinator at Weatherbeeta

This article about horse blanket fit, along with horse blanketing at a glance, originally appeared in the November 2019 issue of Horse Illustrated magazine. Click here to subscribe!
Further Reading