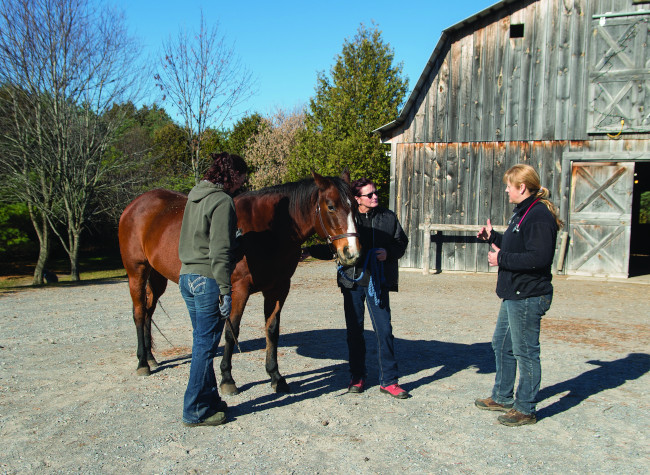 Building your horse care dream team is a huge step. You've welcomed a new horse into your family, or decided to pull up roots and move to a new area—of course bringing your beloved equine with you. Now you need to build a horse care team that can work with you in giving your horse the high-quality care he deserves.
Where do you start?
Finding the Right Veterinarian
The horse world is a little different than the small-animal world in that there are not as many health care options for horses. In most towns, there are multiple small-animal clinics
and maybe one large-animal clinic, if you're lucky. If you're located in a remote rural area, it can be very difficult to find the right equine veterinarian.
"Location is definitely important," says Tony Wolfe, DVM, owner and veterinarian at Wolfe Equine Services in Petersburg, Ky. He suggests asking fellow horse owners for their recommendations to learn about their experiences with not only routine horse care, but also emergency situations.
"Word of mouth is our largest referral center," says Wolfe. "People are very honest; if they like the vet, they love them, and if they don't, they're very quick to tell you they don't
and tell you the reasons why."
Clinics can differ in what services they offer and how they schedule appointments. Wolfe Equine Services offers both haul-in appointments, where the owner can transport their
horse to the clinic, and appointments where the veterinarian comes to you. It's important to ask what the farm call fee is, if that is an option.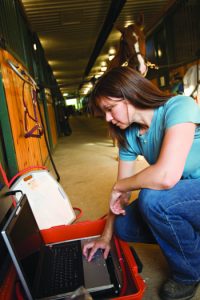 Once you've chosen a suitable veterinarian for routine horse care, you may need to look a little deeper to be prepared for a situation where your horse needs a specialist.
"You're going to find a huge variation with practices," says Wolfe. "We are lucky because Lexington is only an hour away, so while we don't offer surgical options, we can refer you to a place that does that's not too far of a drive."
After all the other considerations, you should make sure that you get along with your veterinarian. Wolfe says this is a very big thing for new clients to consider.
"If you don't feel like you can approach your vet or call them, that will hinder the ability for proper treatment for your horse," he says.
Veterinarians will tell you they don't mind over-communication with a client, especially when it comes to the horse and his issues; what an owner might think is a minor problem might actually be a bigger issue. Your veterinarian should be proficient in communication — responding to text messages and voicemails.
"I'd rather a client tell me something their horse did and for me to be able to say, 'That's not a big deal,' than to not know everything and have it turn into a much bigger issue," says Wolfe. If a practice has multiple veterinarians, there may be various personalities, so try working with all of them in case one fits your horse-care style better than the others.
Finding the Right Barn
Location is a big factor in finding the right barn for keeping your horse. A long drive to the barn may keep you from going there daily (if that's what you want) and shorten the quality time you can put into your horse's care. Whatever you do, avoid the dreaded "Bermuda Triangle," where work, home and the barn are all far apart from each other.
Jody Neill, owner of Camarillo Springs Ranch, between Los Angeles and Santa Barbara, Calif., knows her location might not be the quickest drive thanks to the typical traffic pattern in Southern California. But she feels that her 1,000- acre ranch is an oasis for the 50 horses that live there and their owners to get away from it all.
"No matter what's going on in your life, when you get to the barn, you want to drive through the gates, take a deep breath and relax," says Neill. She and her husband have owned Camarillo Springs Ranch for 24 years.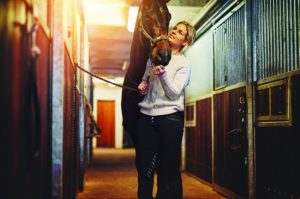 After looking at location, Neill recommends that you choose a farm where you feel comfortable. Your horse will be living there, so you want to feel confident in the care your horse is receiving. Also, relationships are important to Neill and other barn owners.
"My ranch may be 1,000 acres, but as far as I'm concerned, this is my front yard," she says. "If you're not happy, you need to move along, so I'll help find a place that fits you better."
Consider your "musts" when choosing a boarding barn: Do you prefer to clean your own stall, bond with your horse and trail ride, or do you want a dedicated trainer to help you tune your horse up for his next show? Do you plan to feed daily, or is your schedule such that you can only come out on the weekends, which means you need full care for your horse?
Horse owners should feel comfortable discussing the following when searching for the right barn, according to Neill:
◆ What is the age range of owners that visit the barn?
◆ Does this barn have all of the facilities and amenities you find important?
◆ If you are trying to support your horse habit on a limited budget, does this barn fit into that budget?
◆ If you already have a relationship with a veterinarian or farrier, can they come to the barn, or does the barn owner have their own list of designated ones you can use?
Finding The Right Farrier
It might not seem too difficult to find a farrier in your area, but are you sure of their credentials?
Brandon Stubbs is a Certified Journeyman Farrier (CJF) in the St. Louis, Mo., area. His business focuses solely on hunter/jumpers, but it has grown dramatically thanks to word of mouth and his certification with the American Farriers Association (AFA).
"The AFA has a search option on their website where you can find a list of farriers in your area that are either a Certified Farrier or a Certified Journeyman Farrier," says Stubbs.
A certification means that the farrier is dedicated to continuing education and has passed evaluations of their skills. A CJF is the highest certification level.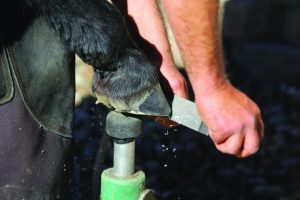 "While it doesn't necessarily mean that farrier isn't a very good one because he doesn't have a certification, it does help for owners to know if they need something specialized, this farrier stays up to date on all that pertains to the horse's feet," he says.
Neill makes sure she keeps a list of recommended farriers for her boarders who need a farrier as part of their horse care team.
"There are basically three types of farriers, so if a boarding barn is going to have a long-term relationship with a farrier, you need to make sure you have one that can do barefoot, one that can do basic shoes all the way around, and another that is more specialized," she says.
Stubbs says it's important for owners to ask potential farriers what disciplines they work on; not every farrier can cover every discipline. Farriers who specialize in certain disciplines understand the effort and needs for that particular event. For example, Stubbs is specialized in hunter/jumper horses, so if an owner asks if he can shoe her reiner, he turns them down, because he's not the right farrier for that job.
The same goes for horses requiring therapeutic shoeing. In this case, you might want to consider the importance of finding a certified farrier recommended by your veterinarian.
Stubbs says your farrier should also be willing to openly communicate with you and educate you on your horse's hoof needs. If there isn't a comfort level between owner and farrier, it'll make caring for your horse difficult and uncomfortable.
You Get What You Pay For
Every horse owner realizes that horses are an expensive habit and investment, so when a horse owner looks to trim the budget, our experts caution them to avoid cutting corners with the basic overall care of the horse. The most important variables include how personalities mesh, communication and location.
Many equine vets are happy to discuss costs with you before going ahead with a treatment plan, especially if you let them know up front that you're on a tight budget. Some clinics will work out a payment plan if you can't pay a big bill in one lump sum.
Neill says she interviews potential boarders over the phone before she brings them out to her ranch, because she wants to be straightforward on her charges from the very beginning.
"I think that any time someone is seeking out a service, it's important that you understand the pricing associated beforehand, but I try to encourage owners to not keep that as the primary focus when it comes to caring for their horse," says Stubbs.
Keep in mind that you are not only a part of your horse's care team—you're also the manager and your horse's No. 1 advocate. Finding the right horse care team means that all the players can work together for the good of the horse when needed.
This article about how to build a horse care team appeared in the April 2021 issue of Horse Illustrated magazine. Click here to subscribe!