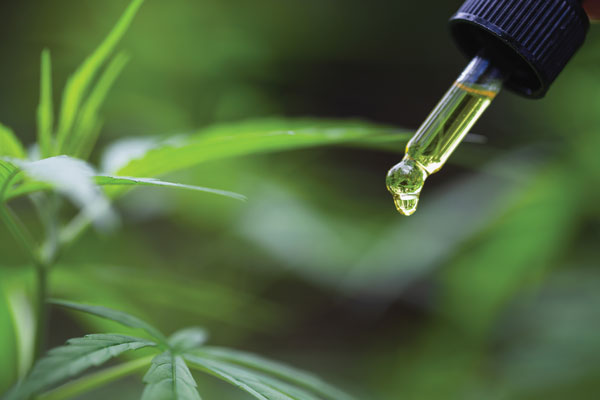 Earlier this year, Olympian Steffen Peters become a spokesperson for Trove CBD, a brand of hemp-based cannabidiol products with targeted lines for humans, dogs, cats, and horses. Peters' advocacy for CBD in general, and Trove in particular, is rooted in his own positive experiences.
"I have seen that [CBD] helps to 'starve out' anxiety," says Peters. "It improves my mental focus so that I can better organize my thoughts and dismiss the negativity."
Peters' openness to try CBD and the benefits he's experienced are increasingly common. Since Congress legalized hemp in 2018, products featuring cannabis' won't-get-you-high cousin are popping up all over, with sales expected to top $1.9-billion by 2022.
And as more people have luck with CBD for themselves, the more horse owners get curious as they wonder—can it help my horse, too?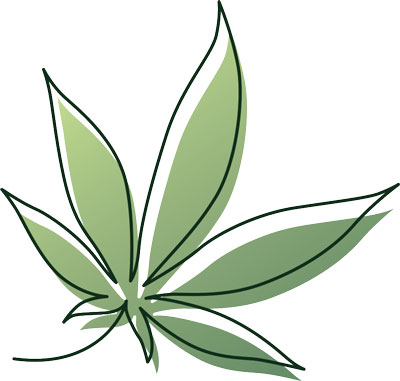 Here, we'll take a look at the research and talk to an expert to get a better handle on just what it is you should know before giving your horse CBD.
What Is It?
CBD, or cannabidiol, is an active component found in cannabis. Unlike THC (tetrahydrocannabinol), it won't get you (or your horse) high, but its fans claim it can help with inflammation, anxiety, digestive issues, and more, all by acting within a system our body already has.
In the 1990s, scientists discovered the endocannabinoid system, a network of receptors found in all vertebrate animals, including horses, donkeys and mules. The receptors are found throughout the body—brain, skin, blood vessels, gastrointestinal tract, and more—and we produce chemicals, called endocannabinoids, that bind to them. It turns out that CBD and other active components in cannabis also like binding to these receptors.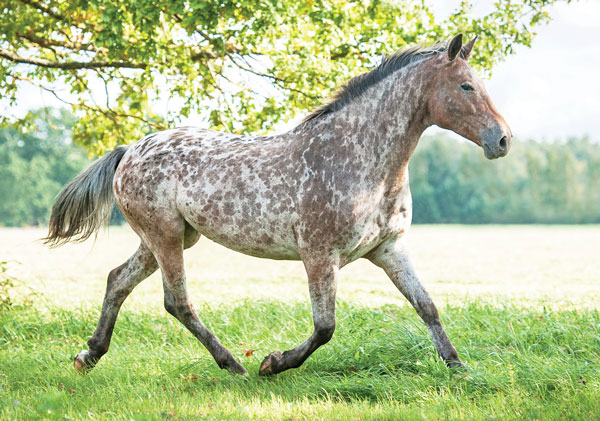 What Can CBD Treat?
When it comes to the therapeutic potential of CBD, the research is limited but promising. The American Veterinary Medical Association (AVMA) cautiously acknowledges that cannabis has "therapeutic promise," particularly for "the treatment of epilepsy and the management of pain and inflammation associated with osteoarthritis."
Colorado-based equine veterinarian and acupuncturist Chelsea Luedke, DVM, became curious about CBD because clients were asking about it after the state legalized cannabis for humans.
"Nobody had been using [CBD] in horses, but people had been using it in dogs, so that planted the seed," says Luedke. "My partner was a vet tech at the time with me, and we started talking about it. In horses, we have so few labeled drugs, so we wondered what alternatives are out there?"
The pair went on to co-found VetCS, through which they formulate veterinary-grade CBD pastes and powders and work with a Colorado State University laboratory to run small equine clinical trials.
Thus far, their best results have been in treating anxiety in horses. CBD seems to improve focus and reduce worry over external stimuli without producing a dopey, sedated animal. In addition, and consistent with early trials in humans and dogs, Luedke is also seeing success in managing mild arthritis, as well as allergies.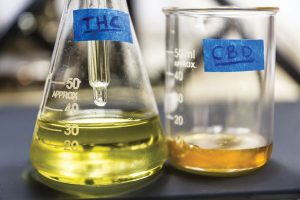 When it comes to more severe pain, such as animals with founder, she says CBD may help in the short term, but at this stage it tends to be cost-prohibitive at high doses.
While the AVMA has begun to acknowledge CBD's therapeutic potential in animals, the organization still cautions veterinarians against recommending it outside of well-controlled clinical trials. In addition to the fact that research is in early stages, the organization's concerns are rooted in regulatory issues.
According to a recent statement on the AVMA website, cannabis-derived products marketed to animals to date "have not followed the traditional path to FDA approval," and recent lab analyses indicate many products are inaccurately labeled.
Will My Horse Get High?
Of the dozens of cannabinoids active in cannabis, THC is the one that's responsible for the plant's trademark euphoria. Currently, equine CBD products on the market in the U.S. come from hemp, which by definition has extremely low THC content (less than 0.3%).
Many manufacturers—including Trove and VetCS—also test their products to ensure they're THC-free. So no, they won't get your horse high.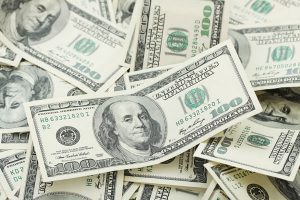 Choosing a Product
Do a quick Google search for equine CBD, and you'll find plenty of targeted products. There are pellets, tinctures, infused oils, pastes and more. But with the research still new and the regulations murky, how is a responsible horse owner to proceed?
It'll take some legwork, but it's doable. Look for a product that has a therapeutic dose of CBD that lacks solvents, bacterial contaminants or pesticides.
Track down a certificate of analysis if possible, and ask whether the company conducts laboratory testing, and what types of quality control measures they practice.
Dosing
An important function of clinical trials is working out how much medication will produce benefits with minimal side effects. Since CBD is still in early research phases, and equine clinical trials tend to happen with very small numbers of horses (often as few as eight to 10), consumers are left with the job of estimating the dosage.
However, there are some basic guidelines. As with many medications, equines seem to be more sensitive to cannabinoids than canines, so don't treat your horse like a 1,000-pound dog. A standard therapeutic dose for equine anxiety would be 100 to 125 mg of CBD, while managing severe pain could take roughly four times that.
However, it's important to read specific manufacturer recommendations and labels carefully.
"The most common issues for horse owners is they get too small of a concentration [of CBD]," says Luedke. "Most pellets in a 1- or 2-ounce scoop have little cannabinoid because you need so many fillers to be in pellet form, so you end up underdosing."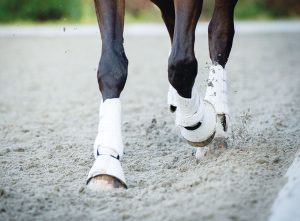 For example, 100 mg of CBD-infused horse cookies might be a weight concentration rather than the CBD dose in a serving. So, whether you opt for a paste, an oil or a CBD-infused food, make sure it provides enough CBD for your purposes.
Before you start this exploration, talk to your vet. Even if they're not comfortable making a product recommendation, they can help you figure out the dose, avoid drug interactions and watch for side effects.
When to Steer Clear
Despite the slowly growing acceptance of CBD in the veterinary community, it's not appropriate for every animal. Luedke cautions against giving CBD to pregnant or nursing mares and notes that the reproductive effects are unknown in breeding stallions.
While it's non-intoxicating, CBD is prohibited by a number of organizations that govern competition, including racing commissions and individual breed and show associations. It pays to do your research beforehand to ensure safety and compliance if you are competing your horse.
This article on CBD for horses appeared in the February 2020 issue of Horse Illustrated magazine. Click here to subscribe!