Certified Horsemanship Association (CHA) members, instructors and speakers gathered in Houghton, N.Y., October 24-27, to participate in the yearly CHA International Conference. During the three days, attendees engaged in networking, expanded their knowledge over a variety of equine topics and honored the highly anticipated award winners.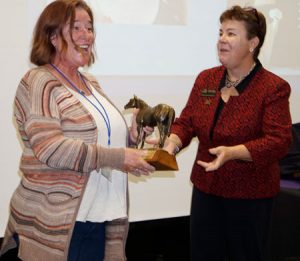 CHA Volunteer of the Year
The first award recipient to be honored during Friday night's banquet was the 2019 CHA Volunteer of the Year. The coveted award that recognizes the countless hours and dedication CHA volunteers spend changing lives through safe experiences with horses went to Aimee Edwards from Waco, Texas. Edwards has been a member since 1996, was certified in 1997, became a standard English/Western Clinician in 2011 and an Equine Facilities Manager in 2017. Those nominating Edwards for this
award
described her as "a dedicated professional" and that "she runs a wonderful facility and is liked as well as respected by her staff."
Others went on to say, "This person goes above and beyond to help CHA not only as a host site coordinator, an instructor, and a clinician for us, but also putting our monthly eblast together and sending it out each month."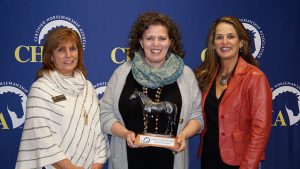 CHA Certifier of the Year
CHA Certifiers are vital in order to continue growing the association and accomplishing our mission. The CHA Certifier of the Year Award is reserved for someone who has shown outstanding service to CHA by conducting meaningful certifications and influencing the careers of equine professionals over many years. This year's award was given to Andrea Richardson from Brantford, Ontario.
Richardson became a CHA member and certified instructor in 2004 and later became a certifier in 2006. Described as "a strong advocate for training staff and running safe programs" and "she is very invested in setting people up for success and encouraging confidence in certification participants," it is easy to see how she was chosen as the award recipient.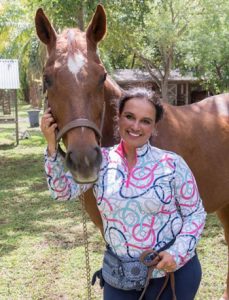 CHA Instructor of the Year
Often described as the life blood of the association, individual certified instructors undoubtedly play a key role in the success of the association and its mission. Earning the title of 2019 CHA Instructor of the Year was Celia Bunge from the Miami International Riding Club in Miami, Fla. Nominated by her students and recognized by her peers, this year's winner was described as fair, consistent, hard-working and empathetic. Other descriptions included things such as, "what makes her stand out is her amazing ability to adapt to each rider's needs, while processing the gift to read and anticipate each horse's behavior" and "she loves the horse first and the sport second. She is a confidence builder in us all."
After receiving her award Bunge said: "I would not have ever imagined that I could be the recipient of such extraordinary recognition. I promise to keep on going, striving for excellence and safety in our sport. Working hard to make horses a part of more and more people, because horses truly transform lives. They have transformed our lives, and they have introduced us to so many amazing and good people like yourself, and to groups and organizations that exemplify what service to others really looks like."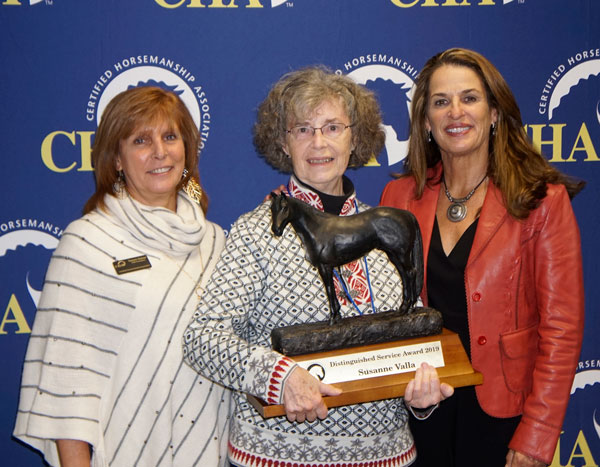 CHA Distinguished Service Award
The CHA Distinguished Service Award is a lifetime achievement award for an individual who has gone above and beyond through the years promoting and upholding the mission of the association. Throughout the years, the 2019 recipient, Susanne Valla from Mocksville, N.C., has worked tirelessly on a wide variety of CHA projects, including serving on the board, committees, and in executive offices for many years. Described as a mentor for many new board members and clinic staff over the years her leadership abilities are undeniable. Valla also used her artistic talents to design many of CHA's manuals and the CHA logo and is known for her knowledge of the association and its history.
Valla, a CHA Life Member, has been involved with CHA since 1978. A past president of the board, she served on the board of directors through 2011. She has been a clinician since 2011 and has conducted 31 certifications as of this year.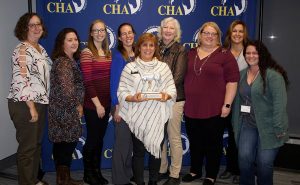 CHA Partner in Safety Award
Safety is top priority when it comes to every interaction with horses. Earning the 2019 CHA Partner in Safety Award was Pegasus Farm in Hartville, Ohio. The program at Pegasus Farm has over 130 volunteers, 500 students, has been a CHA Program member since 1995, and an accredited site since 2012. To date, they have held 17 CHA certifications including Standard English/Western, Equine Facility Manager, Instructors of Riders with Disabilities and Vaulting.
Nominators described the program at Pegasus Farm as: "They are so professional and safety conscious. I enjoyed the facilities, horses and staff there. They provide a vast array of services for the special needs community."
"The staff, volunteers, students and horses made an exceptional impact, not only on my career as an instructor, but on my LIFE!" said another nominator.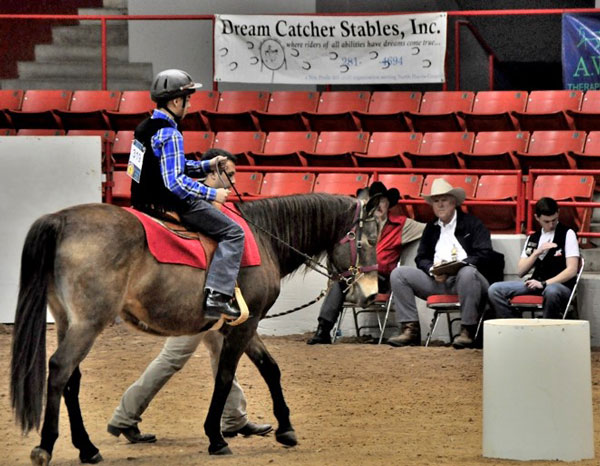 CHA Horse of the Year
Without horses there would be no reason for CHA, so it is only fitting that an outstanding horse be honored as the CHA Horse of the Year. To commemorate such an outstanding honor, the winning horse receives a hand-painted oil painting from CHA member Julie Fischer from Colorado with bark from her camp as the frame.
Earning the title of 2019 CHA Horse of the Year was Smut, a 33-year-old grade mare owned by Dream Catcher Stables in Spring, Texas. Smut is named after a fungus that grows on corn in the Midwest that is the same color as she is.
Her riders describe her as careful and a smooth mover and she listens well and never gets spooky. "She is just a wonderful horse and richly deserves to be school horse of the year," the continue.
"She is a magnificent horse," wrote one rider. "She has won me two belt buckles in the Houston Livestock Show and Rodeo Top Hands Horse Show."
Sanna Rolling, who runs Dream Catcher Stables, had this to say when asked about Smut being the award recipient: "To own a horse that touches so very many lives and at the age of 33 in semi-retirement is still herd boss is awesome. This is the second time we have had the CHA Horse of the Year (Smokey in 2008). With the vast number of CHA program members, I never thought we could win twice."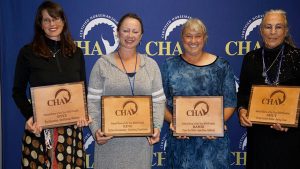 The CHA School Horse of the Year Program honors the best of the school horses who are part of CHA member programs. Each equine finalist receives a plaque from CHA and were also honored at the awards banquet.
The top five finalists included:
Bambi from Santa Rosa, Calif.
Ginger from Methow Valley Riding Unlimited in Winthrop, Wash.
King from Big Bear Horsemanship in Gettysburg, Penn.
Onyx from West Equestrian in Sand Springs, Okla.
Smut from Dream Catcher Stables in Spring, Texas
Resources: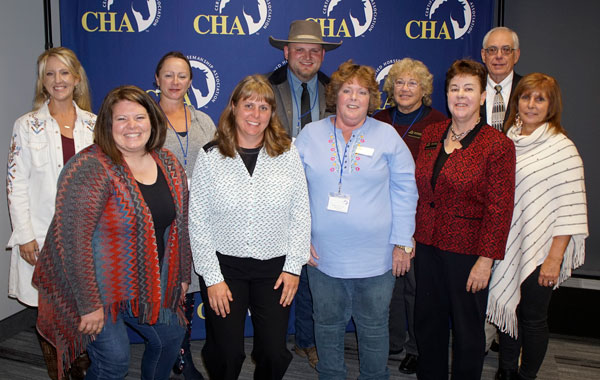 CHA Welcomes New Board Members for 2020
CHA welcomed four new board members at the 2019 CHA International Conference. Joining the CHA Board of Directors are Jessica Hersey, Kristin Jaworski, Katrina Lechlitner, and Amanda Reardon. Candidates for the board seats were introduced and voted on during the general membership meeting.
Jessica Hersey, of Gettysburg, Penn, is a CHA Lifetime member and a Master Instructor/Assistant Certifier. Her skill set includes over 20 years of teaching and training in addition to prior board experience. She is the former vice president and board of directors member for the Maine Cowboy Mounted Shooters, and vice president/outreach officer of the Standardbred Pleasure Horse Organization of New Hampshire.
Involved in many different areas of the equine industry, Hersey has held memberships in the Cowboy Mounted Shooting Association, Cowboy Sports Association, United Mounted Shooters, Mustang Heritage Foundation, FN Verlag, U.S. Equestrian Federation, American Youth Horse Council, Intercollegiate Horse Show Association, state chapters, and regional clubs. Hersey has also earned two business degrees and is currently completing a Master of Education in Equestrian Education from William Woods University.
Kristin Jaworski, of Fort Worth, Texas, is the director of the Fort Worth Herd where she manages and directs the world's only twice daily longhorn cattle drive. She grew up raising mules and horses in northern Arizona and later graduated with her Master's degree in Management and Leadership from Tarleton State University. Since 2002, she has expanded all aspects of the herd, including educational programs, facility operations and horsemanship to support the economy and raise awareness of western heritage.
Jaworski was introduced to CHA through The Herd program and is now a CHA Certified Instructor. When asked what she was looked forward to the most, she said it was to be more involved in the association to inspire people and generate awareness and excitement for those who want to explore their dreams with horsemanship.
Katrina Lechlitner, of Reed City, Mich., grew up very active in the American Quarter Horse Association and has been at SpringHill Camps as ranch director since 2005. She is a CHA Certified Instructor and has been involved in a 4-H Horse Leaders Group for the past five years. Lechlitner became certified when she joined SpringHill Camp and continues to use CHA as a resource, not only for herself, but SpringHill as an organization, local 4-H extension and others seeking a starting point.
"My desire to be involved on the board is because safe, positive experiences with horses is important to me, and I continue to let that lead my decisions in my own career and the areas I volunteer," said Lechlitner. "Secondly, I value education and creative presentation of information to students and leaders. The access to resources and continued education builds stronger programs. Lastly, I understand that building a base of individuals who will continue to represent CHA with the esteem that I have come to respect is important to move forward during the next 50 years!"
Amanda Reardon, of Lexington, Ky., started her riding career over 20 years ago as a young pony clubber, advancing over the years to competitive riding with high school and college teams. At 18, she became a CHA Certified Instructor. Reardon has worked as a teaching assistant for the University of Kentucky's Equine Handling courses, taught lessons and camps at a Lexington lesson farm and has spent time working in the Thoroughbred breeding industry.
Earning a degree in Equine Science/Management and a minor in Agricultural Economics from the University of Kentucky, immediately following graduation Reardon joined the Kentucky Horse Park staff, where she manages the Equine Education Department.
In her time at the Kentucky Horse Park Reardon has developed, planned and executed four years of summer camps and teaches over 100 children every summer. She also started and runs the first riding lesson program at the park. Reardon recently earned her CHA Master Level Certification and is moving forward with her education and practices to earn her CHA Clinician status. She envisions hosting clinics at the park once again, as they were held when she started her involvement with CHA in 2011.
Returning CHA Board members include: Hayley Eberle, Oklahoma Veterinary Medical Association, Oklahoma City, Okla.; Teddy Franke, Camp Morrow, Pine Hollow, Ore.; Susan Garside, YMCA Camp Noah, Canal Fulton, Ohio; Beth Long, YMCA, Ky.; Katie Reynolds, American Quarter Horse Association, Amarillo, Texas; and James Rickner, Champ Chippewa, Kan.
The CHA Executive Board consist of: President Tammi Gainer, Pegasus Farm and PATH International, Alliance, Ohio; President Elect Dr. Bob Coleman, University of Kentucky, Lexington, Ky.; Vice President of New Initiatives Anne Brzezicki, Intercollegiate Horse Show Association, Murfreesboro, Tenn.; Vice President of Regional Relations Jennifer Eaton, Interscholastic Equestrian Association, Groveland, Mass.; Secretary Elizabeth Duffy, Camp America, Eatonton, Ga.; Treasurer Terry Williams, Blanchester, Ohio; and Past President Beth Powers, YMCA and American Camp Association, Bellefontaine, Ohio.
About the Certified Horsemanship Association
The purpose of CHA is to promote excellence in safety and education for the benefit of the horse industry. CHA certifies instructors and trail guides, accredits equestrian facilities, publishes educational manuals, produces educational horsemanship DVDs and YouTube Safety shorts and hosts regional and international conferences.
For more information on the largest certifying body of riding instructors and barn managers in North America, the Certified Horsemanship Association, please visit www.CHA.horse or call 859-259-3399. To find a certified horseback riding instructor or accredited equine facility near you, visit www.CHAinstructors.com.