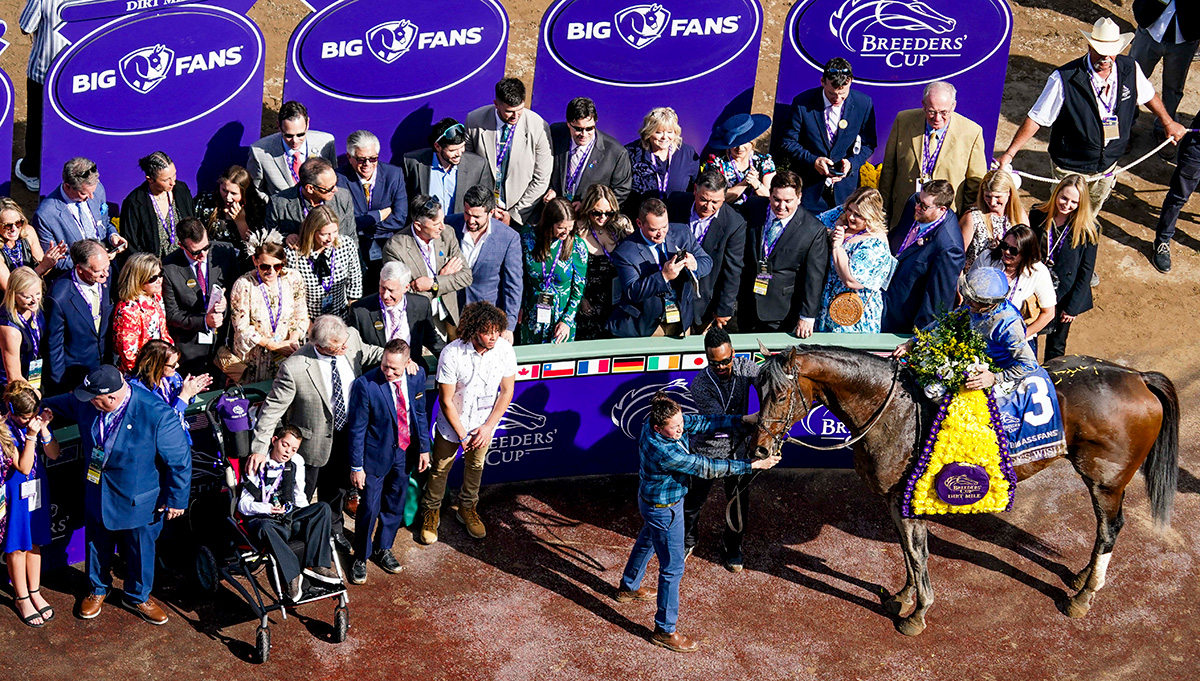 It's not often that a story about horse racing reverberates beyond the small world of horse sport, but this one has tugged at the heart strings of anyone who loves horses and underdogs.
It all began in 2018 when then 12-year-old Cody Dorman, diagnosed with Wolf-Hirschhorn syndrome, a rare genetic disorder that can greatly shorten life expectancy, was granted a chance to visit Gainsborough Farm in Kentucky by Keeneland and the
Make-A-Wish Foundation
. One of the weanlings, a colt by Breeders' Cup Classic (G1) winner Curlin out of a Tapit mare, took a shining to the wheelchair-bound boy and put his head in his lap.
While Godolphin Racing, the stable that owns the colt, doesn't normally name horses after living people, they made an exception after this highly unusual and touching moment, and the colt's official Jockey Club name became Cody's Wish.
On the Track
Cody's Wish went on to stellar performances on the racetrack, never finishing off the board in 15 starts—10 of them wins—going into this year's Breeders' Cup. He was undefeated at a mile coming into the race, including a win in last year's Breeders' Cup Dirt Mile (G1) at Keeneland Race Course in Kentucky.
The Dorman family had logged their first trips to an airport to travel from Kentucky to New York to watch the horse run, and no doubt the journey to California for the 2023 Breeders' Cup at Santa Anita was taxing for the family.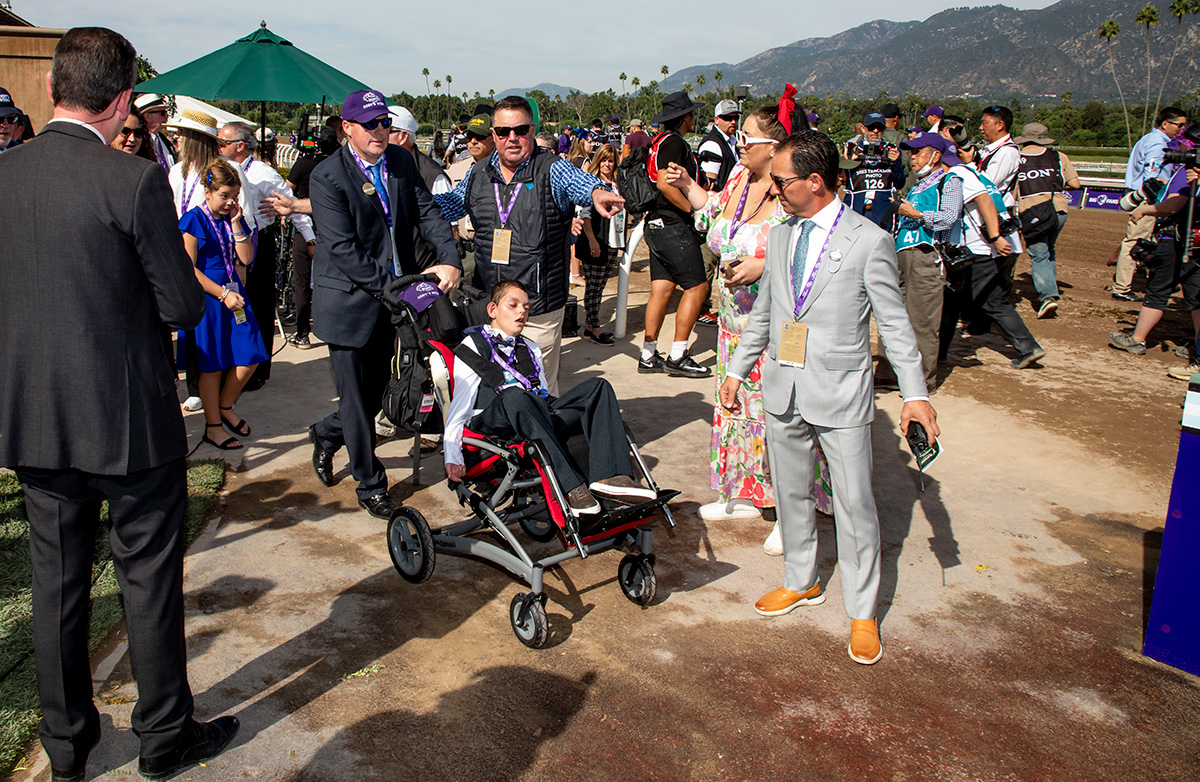 The Wednesday before the race, Team Cody's Wish was honored at the National Turf Writers and Broadcasters Annual Awards Dinner with the Mr. Fitz Award for typifying the spirit of racing, where Cody's father, Kelly, gave a touching speech, and Cody himself read a statement from a computer device that can speak for him.
The story seemed to reach a climax on Saturday, however, when Cody's Wish came from the back of the pack, digging in throughout the stretch run to make up ground on 2023 Preakness Stakes (G1) winner National Treasure. Coming to the wire, Cody's Wish was all heart, putting a nose in front on the line to win a photo finish in the $1 million Big Ass Fans Breeders' Cup Dirt Mile (G1).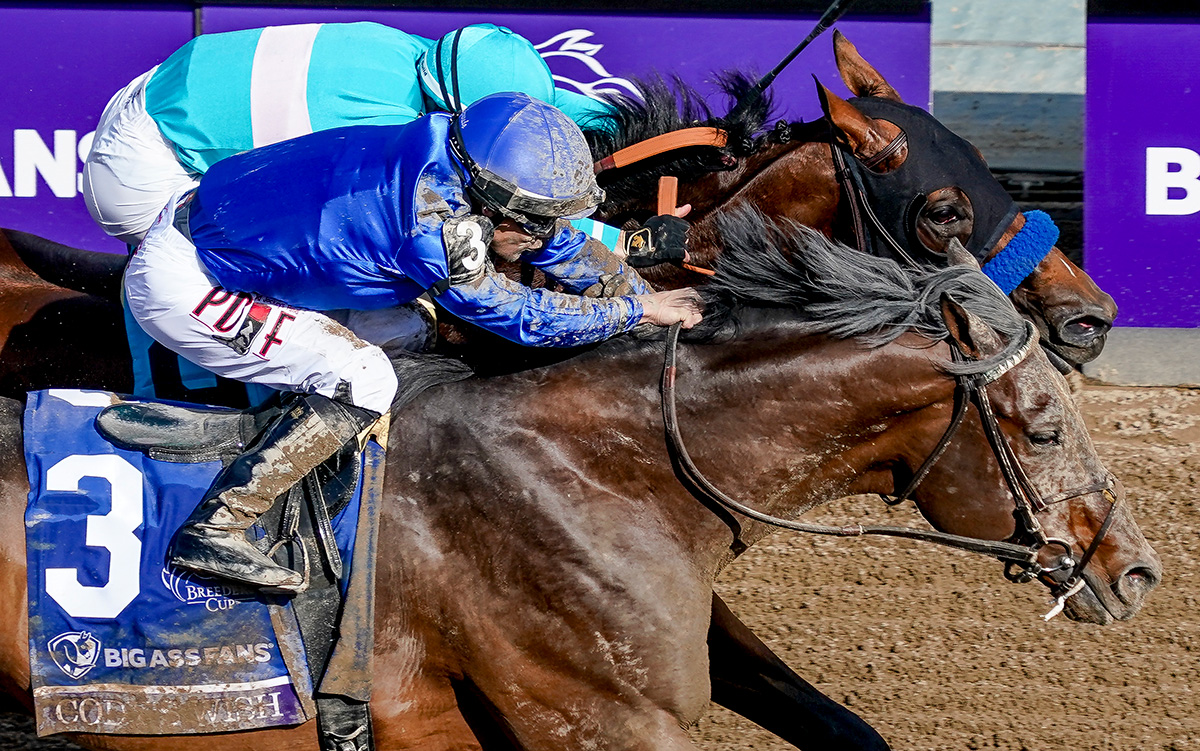 This was always slated to be the career finale for Cody's Wish, who retires with more than $3 million earnings to Jonabell Farm in Kentucky for a 2024 stud fee of $75,000.
He Lived His Best Life
On Monday, however, the racing world was in mourning when Godolphin released a statement via Kelly and Leslie Dorman, published in Thoroughbred Daily News:
"We are heartbroken to share the news that our beloved Cody suffered a medical event on our trip home to Kentucky yesterday and he has passed away. On Saturday, Cody watched his best friend, Cody's Wish, display his usual perseverance and toughness in winning a second Breeders' Cup. Those are the same characteristics Cody has showed time and again for the 18 years we were blessed to have him. We have been completely amazed to experience the impact Cody has had on so many people, through the journey that this wondrous racehorse has taken us all on. From Churchill Downs, to Keeneland, to Saratoga, to Santa Anita this weekend, we could not move 20 feet without someone stopping to tell us just that.
"With Cody's diagnosis at birth, we always knew this day would come, but we were determined to help Cody live his best life for however long we had him. Anyone who has seen him at the racetrack, especially around Cody's Wish, understands that in many ways he taught us all how to live, always keeping a positive attitude and being more concerned about those around him than himself."
This article about Cody Dorman and Cody's Wish is a web exclusive for Horse Illustrated magazine.