As young riders graduate high school, a concern among many is where and how they can keep riding during their college years. There are several intercollegiate riding programs in the United States that offer riding opportunities and camaraderie for college equestrians. Here is our complete guide to intercollegiate riding programs. For those who want to learn more about paying for college, check out our Primer on Equestrian Scholarships and Grants.
Intercollegiate Horse Shows Association (IHSA)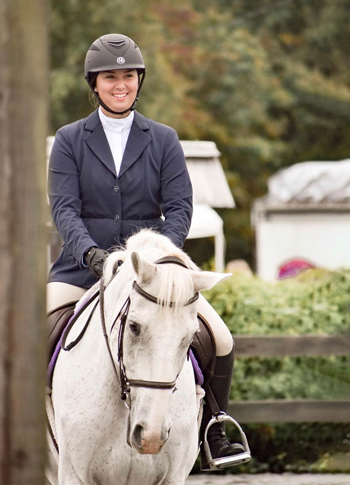 The Intercollegiate Horse Shows Association (IHSA) is the oldest and largest intercollegiate equestrian organization. Founded in 1967, this membership-based program provides equestrian competition for college and university students at more than 400 member colleges and universities in 47 states and Canada regardless of riding level, gender, race, sexual orientation, or financial status.
The IHSA offers individual and team competition in hunt seat equitation, western horsemanship, reining, and the newest addition—ranch riding. Members compete at eight different levels ranging in riding experience from beginner through advanced. Horses are provided by the host school for each competition, and riders draw their mount's name for a class and then must show that horse to the best of their abilities. This format opens up opportunities to riders that may not own their own horse.
Other membership benefits include the opportunity to apply for academic awards and scholarships through the Intercollegiate Equestrian Foundation (IEF) and free memberships to governing bodies like U.S. Equestrian, the United States Hunter Jumper Association (USHJA), and the American Quarter Horse Association (AQHA). Plus members receive discounts to great products and services.
"The IHSA is a great way to continue to ride in college without the expense of horse ownership," says IHSA Executive Director Peter Cashman. "For advanced through beginner riders, competition is fun and challenging. But what I hear from members time and again is how the IHSA impacted their lives by providing a sense of accomplishment in a supportive and inclusive team environment."
For more information, visit www.ihsainc.com. Connect on Facebook, Instagram, and Twitter.
National Collegiate Athletic Association (NCAA)
The National Collegiate Athletic Association (NCAA) is a member-led organization dedicated to the well-being and lifelong success of college athletes. Currently, NCAA Women's Equestrian is considered an NCAA Emerging Sport for women and provides college competitive opportunities to almost 1,400 female student athletes. NCAA Equestrian teams can offer up to 15 scholarships, which can be divided among multiple team members.
"The NCAA Emerging Sports for Women Program was created to provide meaningful and equitable intercollegiate participation opportunities for female student-athletes in sports," says Jean Merrill, NCAA's director of inclusion. "Equestrian provides women with the opportunity to enjoy the collegiate experience, while also earning a college degree. The NCAA, with more than 1,200 colleges and universities and close to 500,000 student athletes, has a strong brand that is recognized throughout sports and higher education. As equestrian continues to grow and work toward NCAA championship status, our NCAA Office of Inclusion and the Committee on Women's Athletics look forward to seeing the exciting opportunities that the sport will offer girls and women as they pursue their professional and personal goals."
NCAA equestrian sports' respective organization is the National Collegiate Equestrian Association.
National Collegiate Equestrian Association (NCEA)
The National Collegiate Equestrian Association (NCEA), which is the recognized organization for NCAA equestrian sport for women, is committed to providing collegiate opportunities to almost 1,400 female equestrian student athletes to compete at the highest level. It is subject to all of the rules and regulations of the NCAA.
NCEA competitions have five riders from each team compete in head-to-head competition with each pair using the same horse. Riders compete in jumping seat or western and there are two events within each discipline—jumping seat fences and jumping seat flat and western horsemanship and western reining. Teams compete in a minimum of three head-to-head sanctioned meets from September to March to determine seeding for the NCEA National Championships.
"We are currently working with over two dozen athletics directors who are considering the addition of equestrian as a varsity sport on their college campus," says NCEA Executive Director Leah Fiorentino.
For more information, visit www.collegiateequestrian.com/index.aspx. Connect on Facebook, Instagram, and Twitter.
Intercollegiate Dressage Association (IDA)
The Intercollegiate Dressage Association (IDA) started in 1955 as an informal competition among a small group of colleges and secondary schools in the northeast region of the United States. The organization began with only a handful of college members, but quickly grew to include riders from all over the U.S. and Canada. The IDA introduces and promotes dressage to many students. At IDA shows, collegiate riders compete as individuals or are placed into teams of four at various levels—Introductory Level, Lower Training Level, Upper Training Level, and First Level. The host college provides the horses used during competitions, which not only adds to the challenge and sportsmanship of the competition, but also eliminates the cost of horse ownership for students. Dressage seat equitation and a quiz challenge are also offered.
Ginger Henderson, IDA president, says that like other intercollegiate equestrian organizations, the team format sets it apart from the rest of the horse industry.
"Many young riders have never had the benefit of being part of a team competition," she says. "In this setting, riders are able to learn from each other, enjoy the camaraderie of being part of a group, make lasting friendships and spend a ton of time traveling with your buddies!
"IDA focuses on the ability to influence the horse as demonstrated through classical dressage, as well as rider equitation in the DSE [dressage seat equitation] classes. Whether you have ever ridden dressage before or not, there is a place for you in IDA! This is a great opportunity to be introduced to the sport if you are new to it or continue to hone your skills on a variety of horses if dressage is already your passion."
She emphasizes that there are spots on teams for riders of all abilities and experience levels.
For more information, visit www.teamdressage.com. Connect on Facebook and Instagram.
United States Eventing Association Intercollegiate Eventing Program
The United States Eventing Association (USEA) Intercollegiate Eventing Program was created in 2014, and since then, has been quickly gaining in popularity. This program offers team challenges across the country with national leaderboards at every level of eventing, year-end prizes, and a national championship in May. Collegiate members also receive a $25 discount on their USEA membership.
"Our collegiate members are passionate, fun, and very supportive of their team members," says Claire Kelley, USEA Intercollegiate Committee staff liaison. "Any individual who is a current undergraduate student at an accredited university, college, community college, or online university is welcome to join the USEA Intercollegiate Eventing Program."
For more information, visit www.useventing.com/events-competitions/competitions/intercollegiate-eventing-program. Connect on Facebook, Instagram, and Twitter.
American National Riding Commission (ANRC)
The primary goal of the American National Riding Commission (ANRC) is to promote the American Forward Riding System and to promote the highest quality of educated riding and related services within schools, colleges, universities, and public or private riding establishments. For the ANRC National Equitation Championships are held every year and a rider does not need to qualify.
Unlike IHSA, NCEA, and the Interscholastic Equestrian Association, competitors bring their own horse, whether that be a school-owned horse, a leased horse, or a privately owned horse. The championship is an invitational competition for collegiate, junior, and adult amateur teams that pay an annual ANRC membership fee. Teams may compete in a 3' national division or a 2'6" novice division and are judged for their horsemanship skills and equitation skills in four phases—flat, a hunter seat equitation medal course, an equitation derby course, and a written test on riding theory and stable management.
"ANRC also offers a free educational DVD series on our website for use by anyone that wants to expand their knowledge and horsemanship skills," says ANRC Chair Patte Murphy Zumbrun. "In addition, we are getting ready to launch a virtual clinic and horse show series in August that anyone can participate it." Patte Murphy Zumbrun, ANRC Chair
For more information, visit www.anrc.org. Connect on Facebook and Instagram.
Intercollegiate Saddle Seat Riding Association (ISSRA)
The Intercollegiate Saddle Seat Riding Association (ISSRA) was founded in 2008 to provide college students the opportunity to continue their riding without the need to own their own horse and to promote the saddle seat discipline to new riders. Riders compete on the American Saddlebred, Morgan, Arabian, National Show Horse and other trotting breeds of horses traditionally shown in saddle seat classes.
The ISSRA has current programs at the University of Kentucky, University of Louisville, Midway College, Georgetown University, Morehead State University, and are currently expanding to more schools across the country.
"The ISSRA is open to all riders, whether they have no experience at all riding, or are seasoned saddle seat riders, says Deveau Zubrod, ISSRA President. "We encourage people across disciplines to give saddle seat riding a try!"
For more information, visit www.intercollegiatesaddleseatriding.com. Connect on Facebook.
Further Reading