Want to stay on-site with your horse during shows or trail rider, but don't have a fancy living quarters trailer? There are options to convert your horse trailer into a home away from home so you don't have to pack your stuff up and head to a hotel.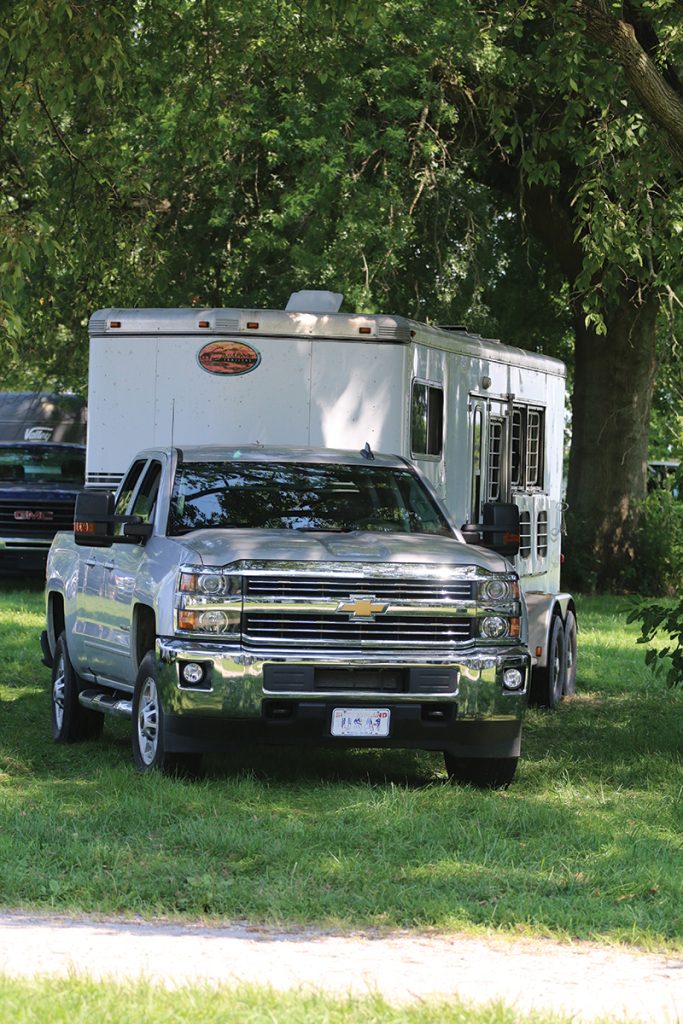 There's nothing like waking up at the showgrounds with the sounds of your fellow competitors feeding, grooming and warming up. Catching up with friends, sharing the excitement and nerves before you start the day, and maybe even enjoying an after-show celebratory beverage are all part of the fun!
Staying on the show grounds has its benefits: You can check on your horse as many times as you want (in your pajamas) and you don't have to worry if your horse is safe in the middle of the night.
Hotels can be far away and budget-busting. Keeping up with the schedule is also easier if you stay on-site because you'll have a place to hang out in between classes. But if you don't have a horse trailer with living quarters, how can you stay at a show comfortably in your dressing room?
Let's look at what it takes to convert your horse trailer and stay at the showgrounds.
Convert Your Trailer with a Place to Sleep
Put simply, you need a place to sleep, eat, hang out, and shower.
Sleep is super important! You and your horse need to be rested to perform at your best. If you have a gooseneck trailer, measure the height of the space to ensure you have head room, then measure the nose to figure out what size of mattress will fit. Most trailers will accommodate at least a full size or a "short queen," which is an RV-size mattress.
Numerous options are available, from custom-sized, high-end mattresses to foam beds-in-a-box that will ship from Amazon or Walmart.com to your house. (Be sure to measure correctly, as these foam mattresses are nearly impossible to get back into the box once they expand.)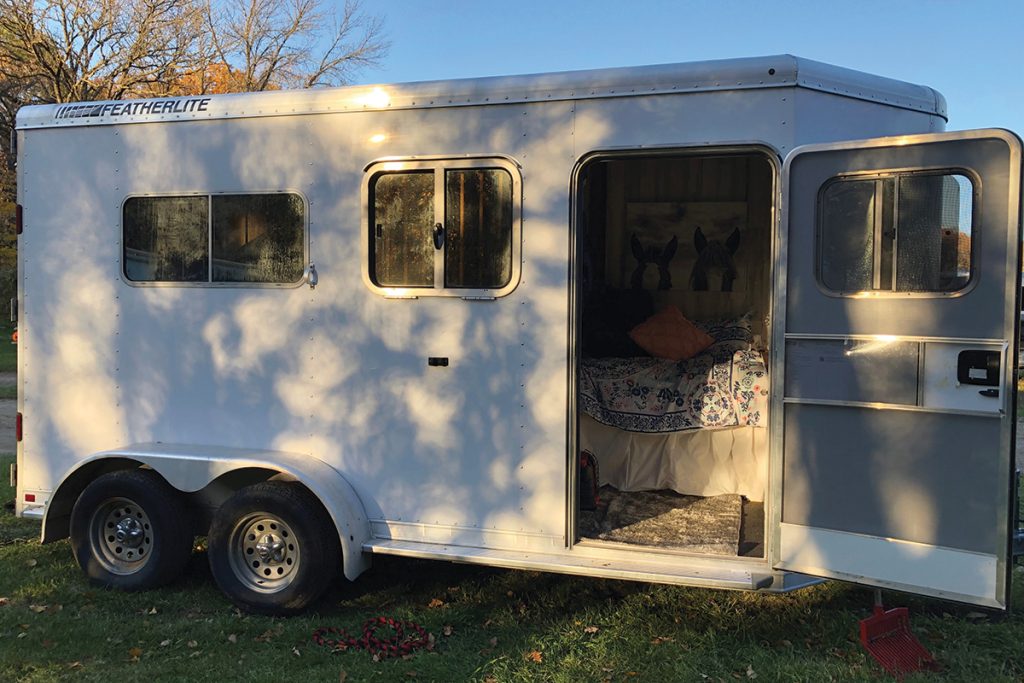 If you're looking to stay budget-friendly, many RV buyers upgrade their mattresses right away, so you can often snag a brand-new RV mattress off Facebook marketplace. They're not the most luxurious, but with limited headroom, a thin mattress with a fluffy topper might be just the ticket for infrequent trips.
For bumper-pull owners, often the dressing room has enough space for a raised platform with storage underneath, and a twin-sized mattress will fit just fine. Maximizing storage is key, so elevate the mattress on a sturdy base and put plastic storage bins or drawers underneath. Even using second-hand nightstands and dressers for storage can work if you have some DIY repurposing skills.
Plan to Eat at the Trailer
While some fairgrounds and show facilities have on-site options, you never know what will be open when you get the urge to snack. If you have an electric plug-in or a generator, you can run a small dorm fridge. Pre-cooling the fridge before you leave home ensures that your food stays cool during the drive and has a head start on the weekend.
If you're going to be working out of a cooler, you can freeze water bottles to use as cold packs, which then melt into usable water as the weekend progresses. Pre-freezing your food also makes it stay cooler longer into the weekend if you don't have power. There are some coolers that run off of your vehicle's battery via a 12V plug, but be sure you aren't going to drain your vehicle's battery before attempting to start up your truck and head home.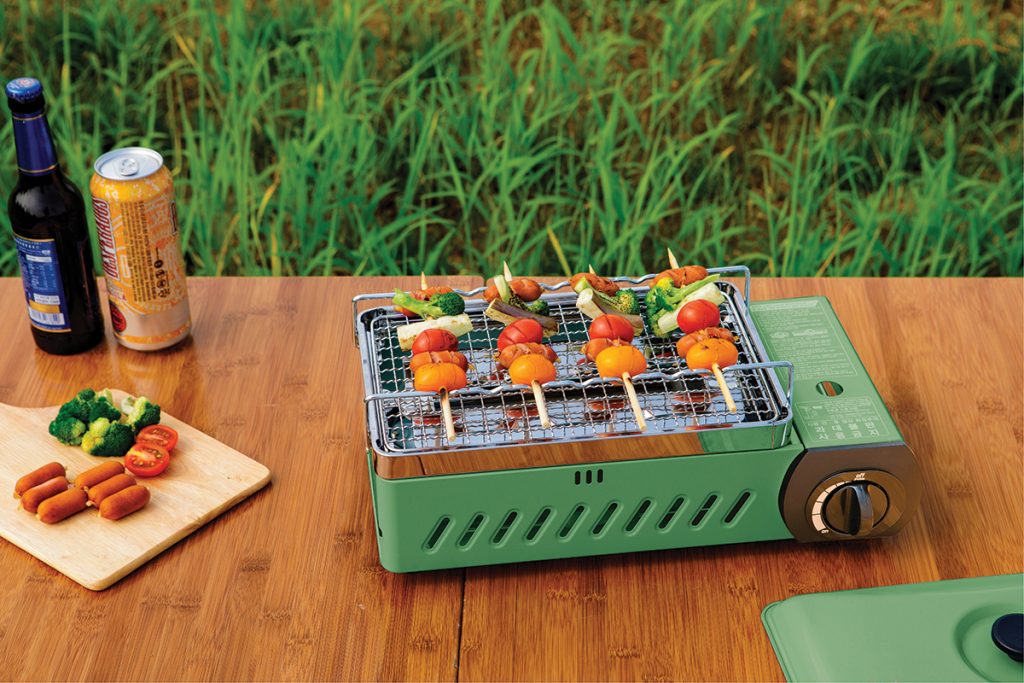 Cooking in a small space is often a challenge, so many small-space camping cooks create an outdoor kitchen for more room and easier cleanup. Propane griddles or grills are an easy portable option, but if you have electric, why not bring an air fryer? These appliances are more versatile than a microwave, and the fancier ones have multiple options for toaster oven, broil, air fry, bake and more.
Think about what you like eating while at shows, as well as the weather. A Crock Pot (slow cooker) for soup may be a better bet if the weather will be cold or chilly. Sandwiches and snacks are great, but you can be a horse show gourmet with a little pre-planning. Search online camping groups for strategic meal prep and on-the-go recipe ideas.
Other fun cooking options are small personal-size panini sandwich makers, or a waffle iron, which can cook much more than waffles. Canned biscuits, cinnamon rolls, breakfast sandwiches, eggs, grilled sandwiches, calzones, and quesadillas can be made in these inexpensive and small electric gadgets. Bring a folding outdoor table and some comfy camping chairs, and you've got yourself a kitchen!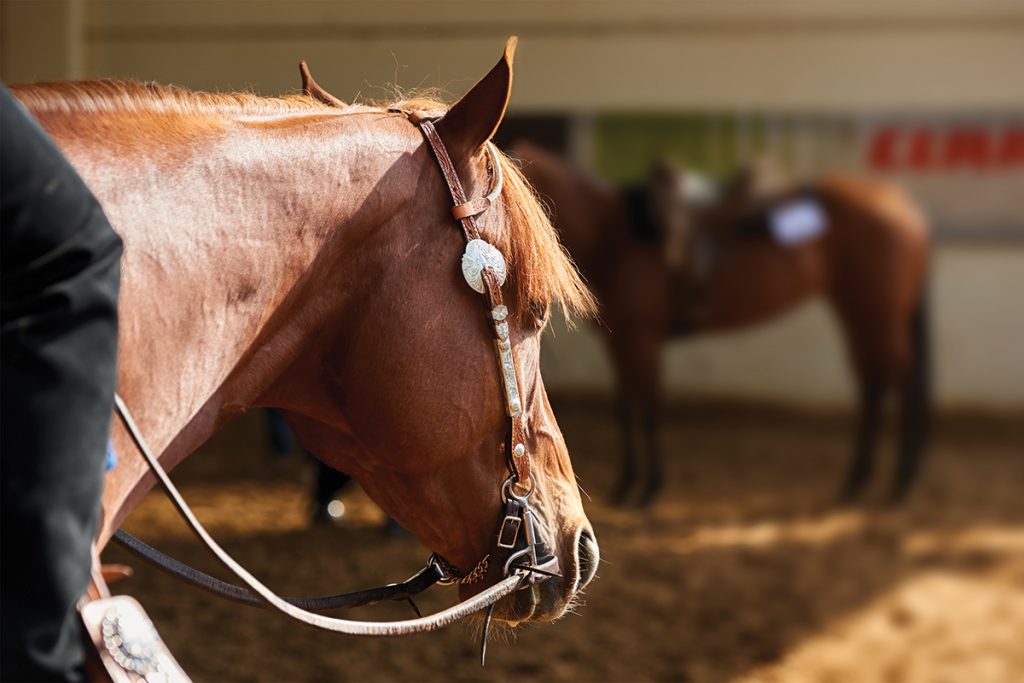 Space is always a concern, so look for collapsible kitchen items, such as silicone bowls and storage containers that fold into themselves and stack. There are also garbage cans, laundry hampers, and more that unfurl from a small, lightweight footprint to maximize hauling space. All of these are great options to purchase when you convert a horse trailer.
Search your favorite online store for "camping, RV, folding, collapsible, space saving" keywords. Keep food storage space minimized by packaging food in smaller zip baggies or resealable containers instead of bringing the entire family-size box along.
Sink and Shower Conversion
A water source is trickier if you don't have a full bathroom in your trailer. For general hand-washing, clean up, and dishes, Amazon has USB-chargeable pump spigots that attach to 5-gallon water bottles. You can use a collapsible basin or plastic container to catch your used water, or have a tube to drain your "sink" into an empty 5-gallon jug to dispose of the used water later.
After a long day in the dusty arena, a shower will feel especially good. Some showgrounds have locker-room shower facilities, making it super easy; try asking a maintenance man if you can't locate them.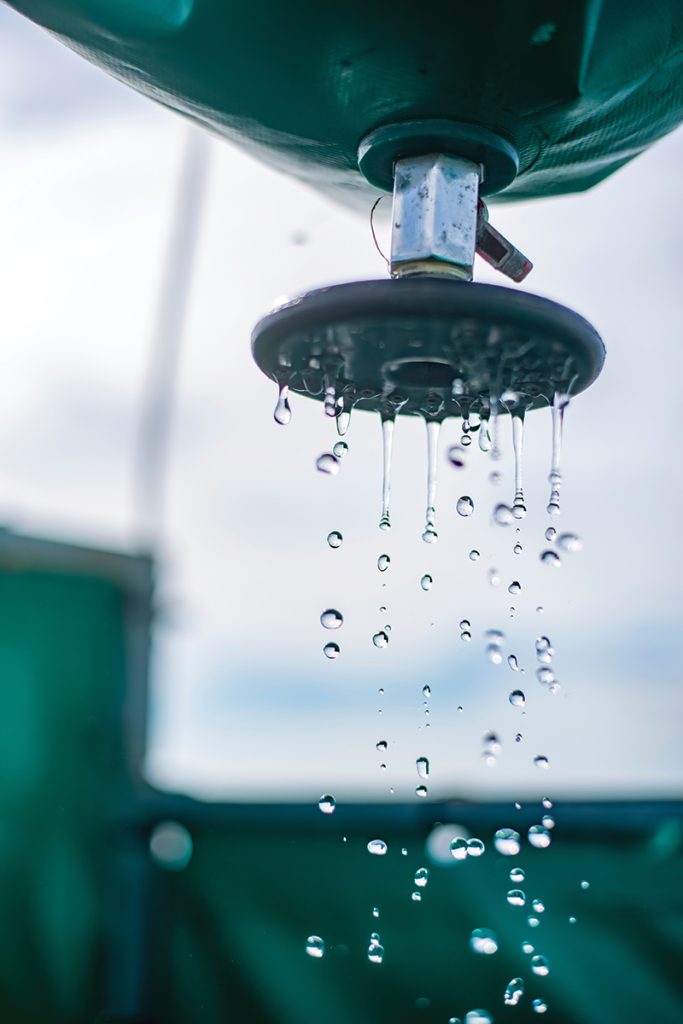 But if you don't mind getting creative, you can rig up a makeshift shower when you convert your horse trailer. Some ingenious folks hang up showers in the horse compartment of their trailer by suspending a hula hoop from the ceiling with hooks and shower curtains, and then use a folding dog or kiddie pool to stand in and catch the water.
Depending on your water source, you can get propane or electric water heaters that are portable and work with pressurized hose-water hook ups. This will be the nicest option, as you have almost unlimited hot water, and they tend to have decent pressure.
If you don't have water hookups, you'll need water containers and a pump of some sort. There are mid-priced portable camp showers that use batteries to run the pump and 1-pound propane bottles to heat water.
Simple USB or battery-operated options that don't heat the water may be fine for sweaty summer days. Just place the pump in the bucket, hook the shower head to the side of the trailer, and turn it on! Inexpensive camping solar showers allow you to heat up a gallon or so of water in the sun for a quick gravity-powered shower that gets the job done—just hang above head level.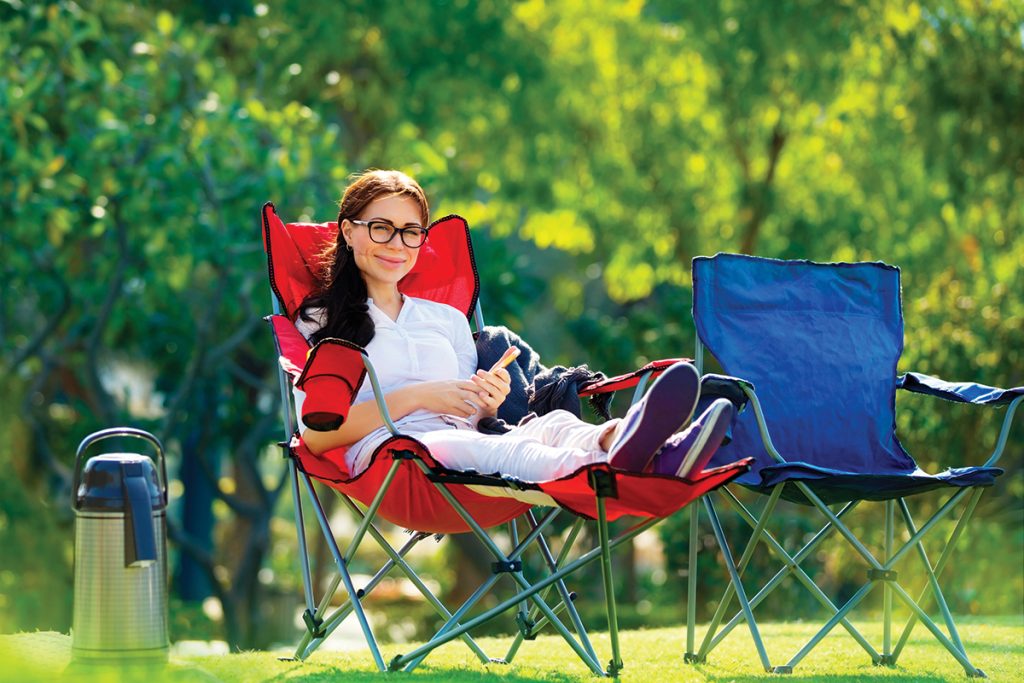 Using some creative packing and up-front prep, you can easily convert your horse trailer into a comfortable place to stay on-site at shows and enjoy the full ambiance and proximity to your horse and friends.
This article about how to convert your horse trailer into a living quarters appeared in the June 2022 issue of Horse Illustrated magazine. Click here to subscribe!