How much does horse ownership cost? That depends on several factors, from where you live to how you plan to keep your horse. Calculating costs can be complicated. Here's how to budget and learn about the cost of owning a horse. Horse board or housing costs are typically the biggest expense associated with horse ownership. Hay and feed bills are also among the highest costs and can fluctuate based on weather and other factors.
Shortly after bringing her horse home to her Florida farm from a nearby boarding barn, Helen Yakin-Palmer looked up from her desk to find her mare, Cera, peering at her through the office window.
"It was a wonderful surprise," Yakin-Palmer recalls. "It's the upside of keeping a horse at home."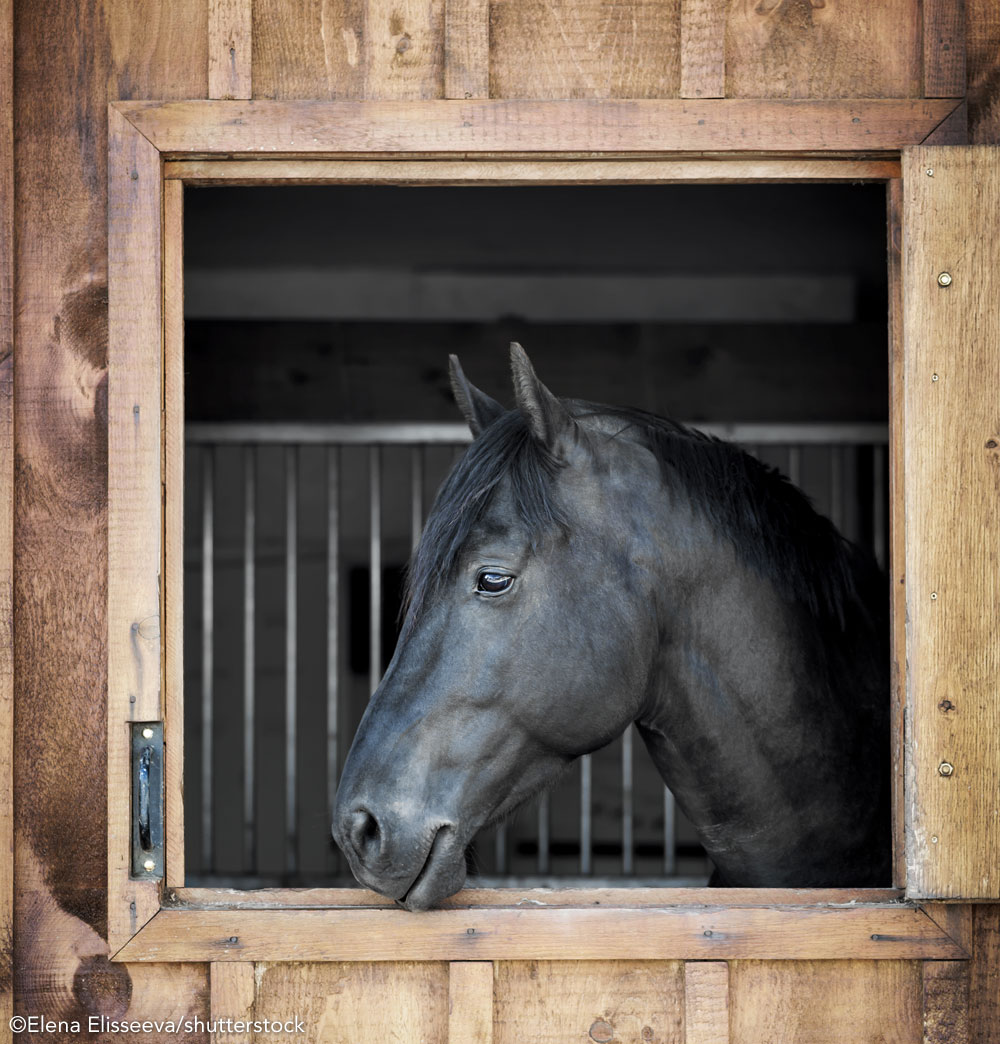 In fact, it's what some horse owners—especially prospective ones—dream about. But keeping a horse at home is not as simple as it seems. And keeping one anywhere—whether a farm or a boarding barn—is not an inexpensive proposition. Either way, providing for its needs makes all the difference between a horse that is thriving and one in danger of becoming a welfare statistic, whether he is a performance horse, a trail horse or a companion equine.
Your Costs May Vary
Annual horsekeeping expenses vary widely. Here's a rough look at the major expenses and what they'll cost per year on the low end and high end for the cost of owning a horse.
Expense

Low

High

Basic full-care board (includes feed & hay)
$4,800
$9,600
Keeping a horse at home
You'll need to factor in the cost of property, fencing and shelter. Recurring annual expenses include electricity, repairs, insurance, pasture maintenance, hay and grain.
Farrier
$600-$1,200 (barefoot trims)
$1,200-$3,600 (four regular steel shoes; more for specialty shoes)
Routine Vet Care
$350
Veterinary emergencies are unpredictable and can escalate into the thousands.
Tack, Gear, and Riding Clothes
Turnout blankets, fly spray and other items need regular replacement. Some things, such as a saddle, may last a lifetime with good care.
Equine Insurance
Although optional, some owners purchase equine medical and mortality insurance for at least $600 annually.
Lessons, Clinics & Shows
The sky is the limit, but outside assistance can be vital to keep riding safe and enjoyable.
Transportation
If you own a truck and trailer, annual maintenance, fuel and payments (if financing) will cost thousands per year.
Overall Horse Ownership Cost
"The No. 1 reason why horses go into rescue or are sold is because people realize that they can't afford them," says Nicole Maubert-Walukewicz, founder of the Palmetto Equine Awareness and Rescue League (PEARL) in Anderson, S.C.
As most horse owners know, the cost of keeping the horse is usually greater than the cost of purchasing it.
"The cost of the horse is going to be the least expenditure an owner is going to make," says Amy McLean, Ph.D., equine lecturer (PSOE) in the Department of Animal Sciences at the University of California. "You are going to spend more taking care of it."
So how much can owners expect to spend on horsekeeping? Calculating costs can be complicated. While some expenses, such as basic veterinary and farrier fees, are relatively consistent over time, others vary from state to state, region to region and year to year, such as feed and hay.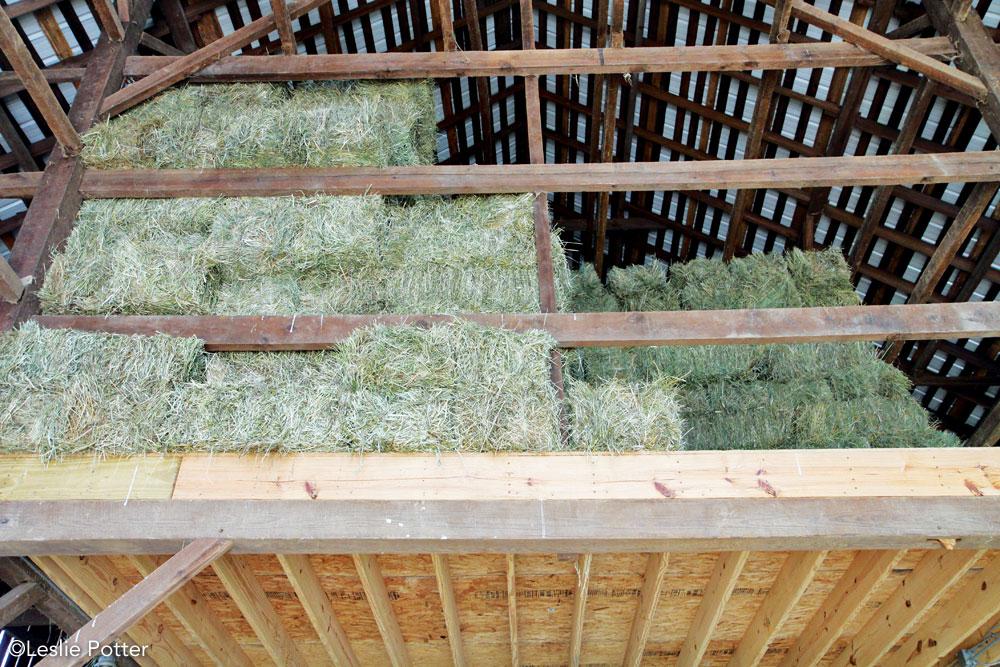 Horse Ownership Cost: Horse Feed
According to the Unwanted Horse Coalition, (UHC) a horse's dietary requirements depend on its breed, activity level and age. For example, horses with extensive training and show schedules generally require more feed and forage than horses that are only occasionally under saddle or are not ridden at all. Likewise, older horses may need to eat more just to maintain good body condition.
Generally, a healthy horse should consume at least 1.5 percent of his body weight in forage daily. For some owners, that means making sure the horse has lots of grazing time on pasture, supplemented by high-quality hay. But hay costs vary depending on your location, the volume of the local hay crop, and how far the hay must be transported. As a result, the cost of hay is higher in California than it is in the Midwest, for example.
"Hay is a large and regionally-produced crop that is shipped long distances, so problems in some areas won't necessarily impact price," says Daniel H. Putnam, Ph.D., extension agronomist and forage specialist in the Department of Plant Sciences at UC Davis.
In Florida, Yakin-Palmer pays $13.50 to $15.50 per bale for hay. Meanwhile, trainer Clarissa Cupolo recalls buying hay annually by the ton.
"In New Jersey, we had to buy hay by the ton," says Cupolo. "We would pay $2,000 for hay to feed six horses for a whole year."
Horses' diets can also include feed, either commercially manufactured or locally milled. Those costs can vary too, depending on where the feed is milled and where ingredients are grown.
A 50-pound bag of commercially formulated equine feed runs anywhere from $15 to $35; the average stabled horse eats 5 to 15 pounds per day. Don't forget to add onto this the cost of any supplements you feed, which can vary widely.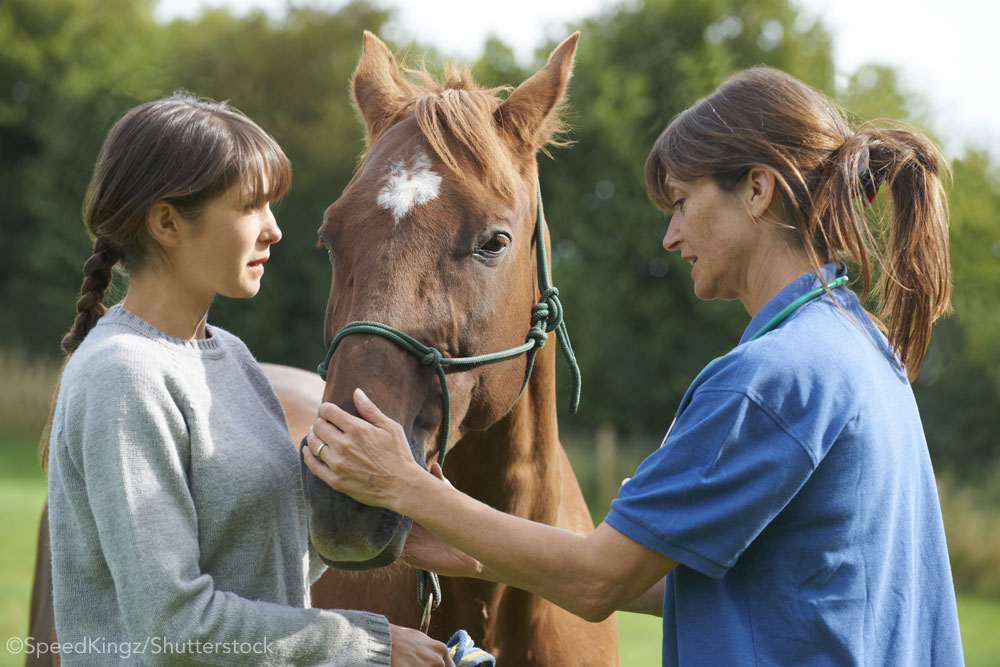 Horse Ownership Cost: Hoof Care and Veterinary Expenses
Aside from meeting their horses' dietary needs, owners must also provide routine veterinary and other professional care to keep their animals healthy. In general, those costs do not fluctuate much from month to month or year to year. Nevertheless, having a plan to finance these costs is critical.
For example, veterinarians generally charge $25 to $75 for a basic farm call, which covers the cost of the veterinarian traveling to the horse's location. Frequently the owners of horses kept at boarding barns split farm call costs when all the horses residing at the barn receive vaccinations at the same time.
Once the veterinarian has arrived, routine vaccinations, including rabies, tetanus, West Nile, EEE and WEE, range from $75 to $150, according to Jennifer Williams, Ph.D., executive director and founder of the Bluebonnet Equine Humane Society and author of How To Start and Run A Rescue. While some vaccinations are administered annually, booster inoculations represent an additional cost, and an additional farm visit.
General health care costs should also include $50 to $150 for annual teeth floating. Additional dental work generally adds a cost of $100 or more depending upon what the horse needs.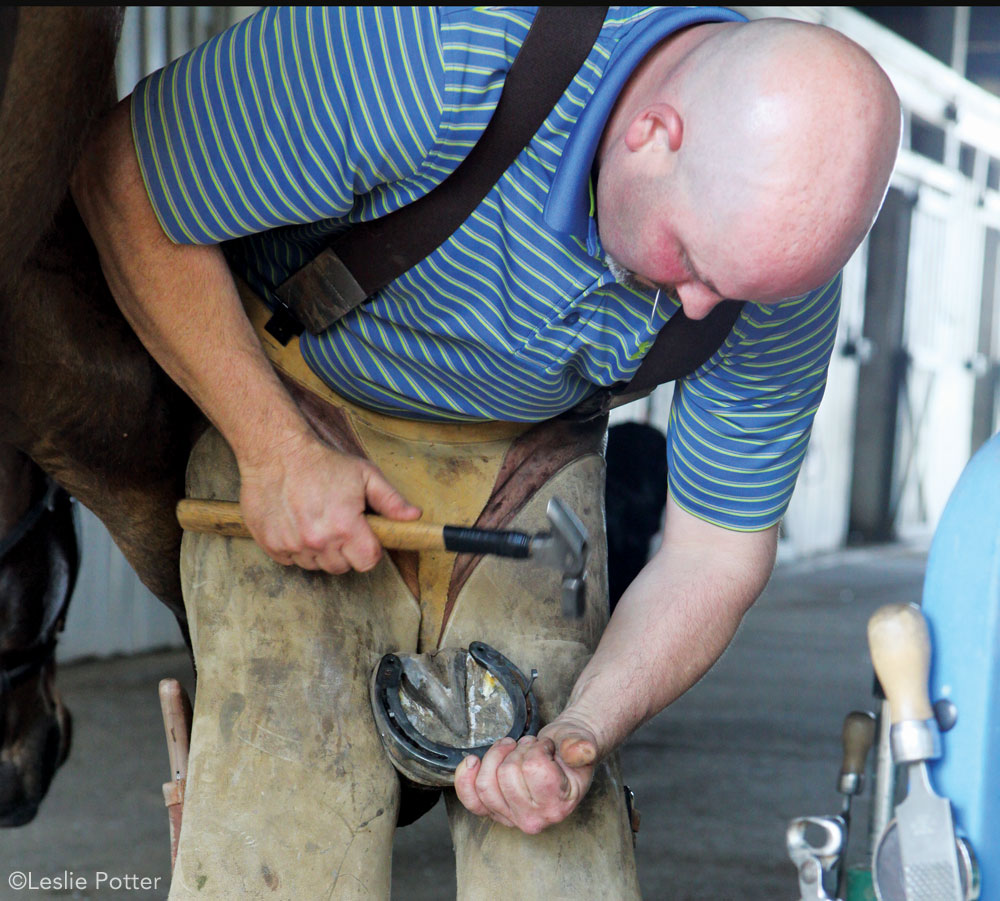 But veterinarians are not the only professionals that help keep a horse healthy. All horses require routine farrier care every four to eight weeks, whether they are shod or not. Cost for trimming a barefoot horse may range between $25 and $40 ($150 to $240 annually), Williams says. Routine farrier care for shod horses ranges between $50 and $150 per visit, or $300 to $1,200 annually, she says.
"If your horse is lame or develops problems with his feet, he may need more frequent farrier work or the assistance of a specialist, which will cost much more," she points out.
Horse Ownership Cost: Unexpected Vet Emergencies
But even if owners budget for the best routine care, all horses are at risk for injury or illness. When that happens, an emergency farm visit can cost as much as $100 before the veterinarian even begins to treat the animal's condition. More serious treatment can require transporting the horse to an equine clinic, or even surgery.
That's something Yakin-Palmer learned when Cera required surgery after a severe colic episode.
"The bill was $15,000 in veterinary, hospital and aftercare costs," she says. "That's why people should have an emergency fund for their horses if they can."
Insurance policies are also available. One type is directly through veterinary equine practices, where owners pay an annual fee that covers routine services, such as vaccinations and farm calls, as well as for reduced "deductibles" for surgeries and other major services.
Other policies are available through equine health and liability insurance. Some supplement companies, such as SmartPak and Platinum Performance, offer a program to cover the costs of colic surgery with a qualifying order and routine wellness care from your vet.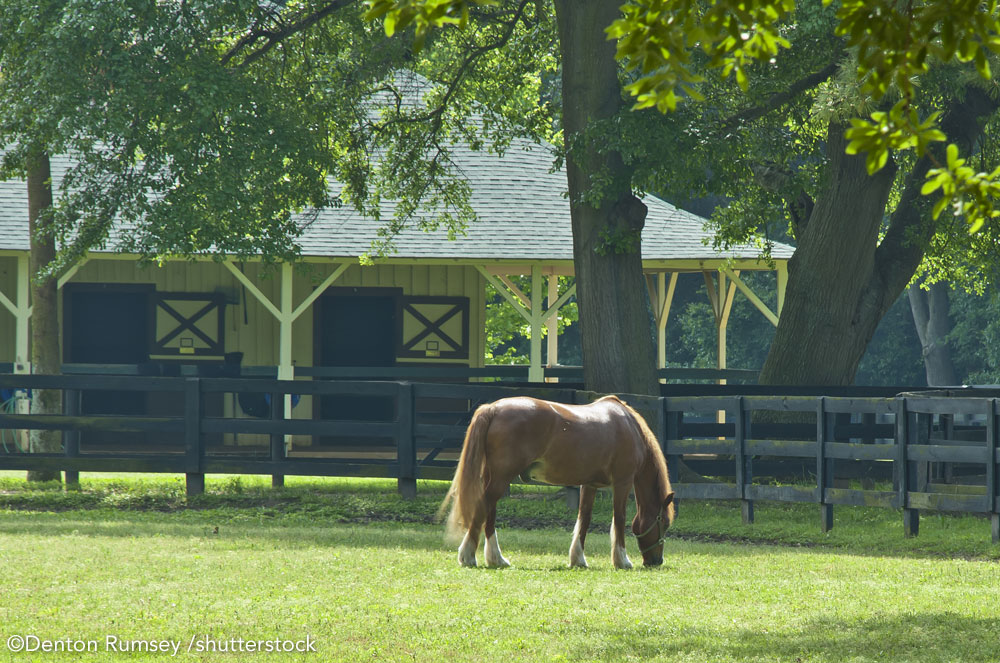 Costs of Boarding vs. Home Horsekeeping
Some novice owners believe that horsekeeping costs will be lower if the animal is kept at home as opposed to being boarded at a local barn. But that's not always the case, says McLean. Owners who intend to keep their horses at home must factor real estate costs into the horsekeeping equation and balance it against that of boarding.
"For example, real estate costs can be $700,000 to $1 million for 2 acres if you want your own horse facility," California-based McLean points out. "But boarding costs can run between $400 to $700 for full board, depending on the facility. Barns where Olympic-level horses are boarded can run between $1,200 and $1,500 a month."
The cost of basic services, such as stall cleaning, turnout, hay and feeding are typically included with full-care board.
At some facilities, blanketing and holding a horse for a farrier or veterinarian is also included, says Clarissa Cupolo, owner of Gemini Performance Horses in Florida. Owners must still pay their own bills for these services, however. Elsewhere, horse handling is passed on to owners at an hourly or per-service rate.
Still, boarding a horse may be most cost-effective for some owners.
"For example, if you have to travel for work, you may want to board your horses," says McLean. "Also, you have to factor in the cost of your hours feeding your horses, cleaning their stalls, turning them out, et cetera."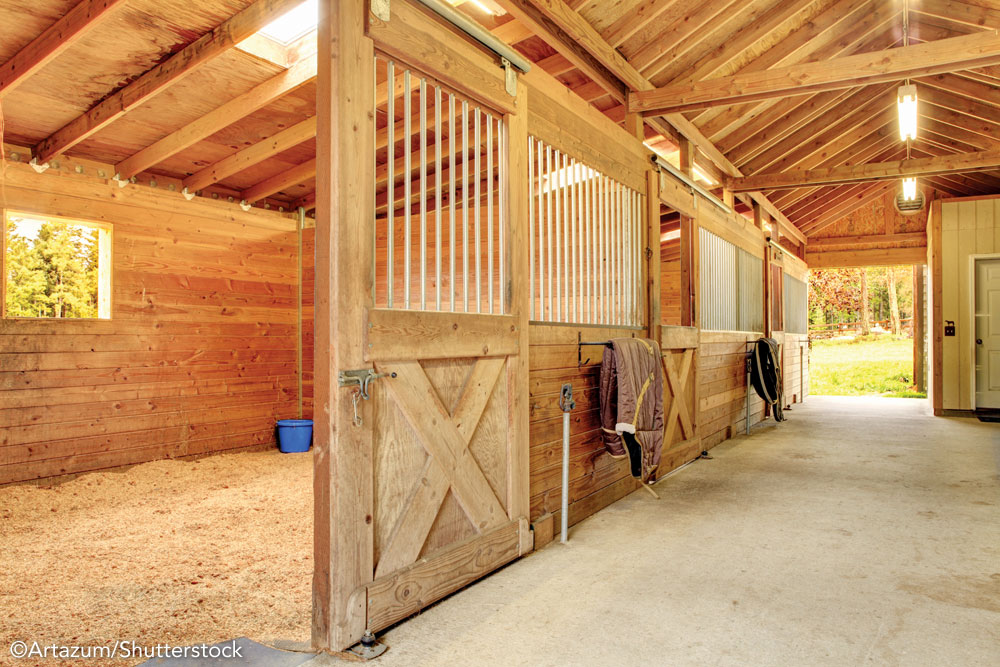 These facts are not lost on Yakin- Palmer, who boarded both her horses before she brought them home.
"Keeping your horses at home is certainly limiting," she says. "You have to have a flexible schedule, and you have to be there. I work at home so my schedule is flexible, but I can't just take a vacation; my vacation is being with my horses."
Ultimately, each owner must decide how to calculate—and afford—the cost of horse ownership. To do that, Maubert-Walukewicz advises prospective owners to gather opinions from local horse owners before they purchase a horse.
"Find out what the costs are [in your area], what kind of work is involved, and what they think of keeping a horse at home versus boarding it," she says.
For her, the choice was simple.
"I spend about $4,800 a year on keeping my horses at home," she says. "I'm the one feeding them, taking care of them, and interacting with them every day, so I know them much better than I would if they were boarded. But even if the cost is equal, that choice is not for everybody. Whatever you choose, you have to do what's best for the horse."
This article about the cost of horse ownership originally appeared in Horse Illustrated magazine. Click here to subscribe!