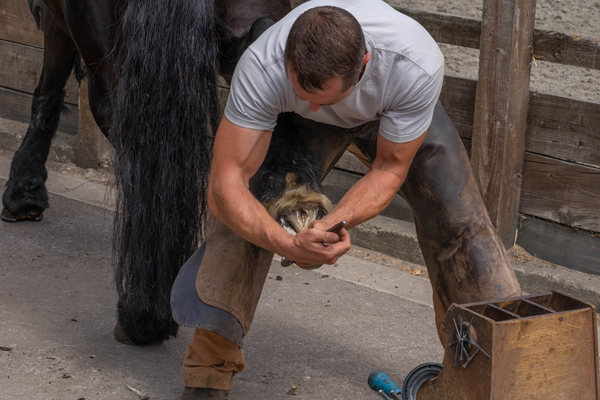 The COVID-19 pandemic has meant that entire equestrian competitions and series have needed to be cancelled, boarding barns were forced to close due to lockdowns, and some horse owners found themselves out of work. While this devastated the equine industry, the horses never stopped needing care. In response, veterinarians and farriers who provide much of it, have been challenged to deliver their services in ways that keep their clients safe from COVID-19 without compromising their relationships with them.
"Horse owners want one-on-one relationships," said farrier TJ Steele, CJF, Dipl. WCF, APF-I. "The trick is to maintain it within the COVID-19 guidelines."
Under federal and state guidelines, veterinary and farrier practices are designated essential businesses. That means veterinarians and farriers have been allowed to continue performing their duties even during so-called COVID-19 lockdowns, so long as they established certain protocols that conformed to state and local quarantine, distancing and decontamination guidelines.
Changes Made by Veterinarians and Farriers for COVID-19
"For example, when the virus was first announced and the stay-at-home order was in effect, we sent over 50 percent of our team members home for two to seven weeks, depending on each team member's personal circumstances," said Liz Yelvington Steele, DVM, of Steele Equine Veterinary Services & Performance Horse Center, and TJ's wife. "Also, we were available for urgent care and emergency only—we did not see (patients for) elective appointments for three and four weeks."
When team members were allowed to return to work on as needed basis, general procedures at the facility also changed. Automatic gates were converted to allow only team members to open them. Once clients are inside, technicians meet clients in the parking lot and lead their horses into the facility.
"Most clients are asked to wait in the parking lot," Yelvington Steele said.
Meanwhile, Steele has adopted biosecurity measures of his own. Normally a horse receiving farrier care would be handled either by a trainer or an owner, who would stand nearby to watch him and his colleague, Alex Garraus, work, and they might ask questions or just socialize. COVID-19 has changed all that.
"When we visit barns, we might have the trainer there or put the horse in the cross-ties and then watch (us) from a distance," he said. "And because they may not be in the barn with me when I work, I must include visiting with the client in the time I schedule for each job."
Between clients, everything is disinfected. "Biosecurity is the main thing," Steele said.
While the procedures are intended to prevent clients' exposure to the virus, Yelvington Steele still laments that COVID-19 has affected the way she and her husband interact with their clients.
"All of our clients were very understanding and complied with these requests," Yelvington Steele said. "However, the new protocol is difficult because it is so different from the way we work–treating horses with their owners present and actively engaged."
According to the Steeles, implementing biosecurity measures will continue to be a priority even as state and local governments lift stay-at-home orders and return to business as usual. How they will permanently change the way horse care professionals, such as veterinarians and farriers, interact with clients during the era of COVID-19 remains to be seen.
"Slowly, we are allowing some client into the facility to observe (their horse's treatment) through a window or directly into the exam room or workspace," Yelvington Steele said. "But even though we will allow clients full access to our facility during appointments, I foresee enhanced biosecurity protocols, such as handwashing, disinfecting surfaces and social distancing to continue."
Steele agrees.
"And as things loosen up, we'll move a bit back toward the way it was," he said. "But if we see the virus come back, we will go right back to the COVID-19 protocol."
Further Reading