This coverage of cross-country day at the Pan American Games is a web exclusive for Horse Illustrated magazine.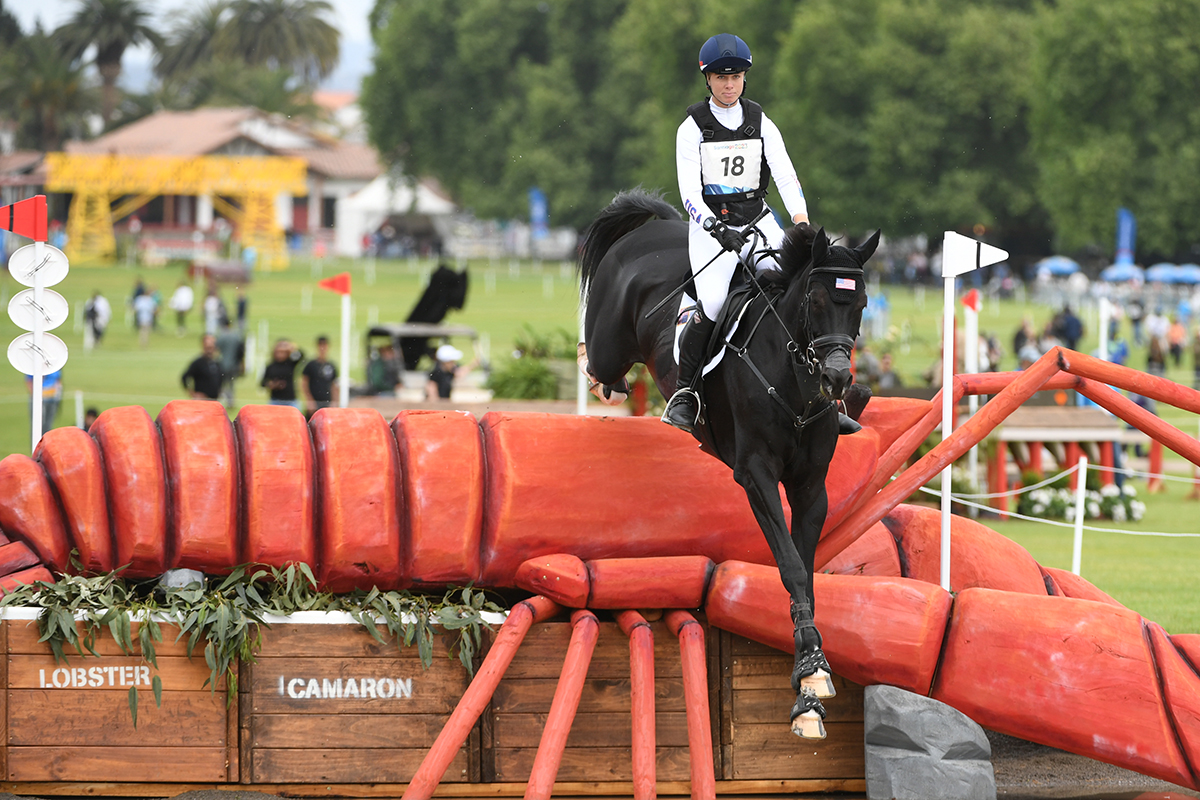 Nestled in low mountains on the border of La Campana National Park about half an hour inland from the Pacific coastline, the Grenadier Regiment Riding School (a military cavalry school) is the equestrian venue for the 2023 Santiago Pan American Games. Both the Pacific Ocean and part of the Andes mountain range can be viewed from the 6,170-foot mountain called Cerro La Campana which is located inside the park.
British explorer Charles Darwin visited the area in 1834 while on one of his many excursions. In fact, there is a large tree within the compound of the military post that was already planted and growing in the year that Darwin visited. The area is known for producing lemons, avocados and cherimoya fruit, among other agricultural products.
This scenic backdrop gave Pan American Games cross-country course designer Pierre Le Goupil (FRA) and course builder Dominic Moore (GBR) a wonderful opportunity to incorporate the landscape and history of the area into his course design. Each jump had some sort of theme related to Chilean history, culture, agricultural and mining products and geography.
For example, jump #1 was the famous Viňa del Mar clock (located at a seaside resort about half an hour from Quillota) and the jump #7 A-B-C complex was called the "Paso de Libertadores," a pass through the Andes used by Chilean patriots to defeat the enemy. Then, jump #14 A-B was the Darwin fox and Darwin frog themed obstacle, while #17 was the Andean condor nest. Other fences featured local things such as a Chilean barbecue, a copper mine, an Aconcagua Valley (the river which runs through the region) market cart, the Andes rails, the Maipú battle wall, Easter Island moai, the cavalry school yard, the Pan-American oxer, and more.
One of the most interesting equestrian stories tied to the name of yesterday's cross-country obstacle #3 is that of a horse named "Huaso" (chestnut colt, foaled 1933-died August 24, 1961, the horse was named for the Chilean word for cowboy). Huaso was ridden by local cavalry officer Captain Alberto Larraguibel. Together they set the high-jump world record (not to be confused with an indoor Puissance high jumping competition) on February 5, 1949, by jumping 8 feet 1 inch in Viña del Mar, Chile. This is one of the longest-running unbroken sport records and is still unbroken. Huaso is buried on the cavalry school grounds here and the avenue which runs along the school grounds is named for Larraguibel. To learn more about Huaso, go to the Chilean Equestrian Federation and Wikipedia.
Now for the statistics from the day, the course was 4,425 meters in length with an optimum time of 8 minutes, three seconds (speed of 550 meters per minute) and a time limit of 16 minutes, six seconds. The course had 23 numbered jumps and 35 jumping efforts. While 20 horse and rider combinations jumped clear on cross-country, only six of those were within the time.
Thirty-four horses from nine nations started on cross-country yesterday with 25 horse and rider combinations finishing the course for a completion rate of 73.529%. Countries represented were Argentina, Brazil, Canada, Chile, Colombia, Ecuador, Mexico, Uruguay, and the United States. All but Ecuador (which had only two entries) fielded an entire team of four horse/rider combinations.
By the time the last horse had jumped the final fence, the "Caribbean Treasure Ship," the leaderboard had changed a bit from the previous day of dressage. U.S. riders still fill the top three spots, but Caroline Pamukcu and HSH Blake had a clear, fast round to move up to first ahead of Liz Halliday who had 4 time penalties with Miks Master C. Sharon White and Claus 63 remain in third despite 2.4 time penalties.
"I really have to thank the [U.S. Equestrian] Federation, because I felt very prepared coming into this event and Blake did too," said Pamukcu. "We did the young horse and young rider program together and we went to Strzegom this summer for the Nations Cup. That was such a perfect prep for this event. We felt confident out there and I'm quite pleased with him. I made sure I moved on the galloping tracks. I had to set him up a bit more than normal. It was a championship course that asked 4* questions at the 3* height. The ground was unbelievable; all the jumps were just so beautifully decorated."
The final U.S. rider, Sydney Elliott riding QC Diamantaire had a fault-free, within-the-time trip and advanced from 10th place after dressage to seventh. So, all in all, a very strong showing for the U.S. riders thus far here in Chile.
Looking at the others in the top ten after cross-country, Brazil's Marcio Carvalho Jorge riding Castle Howard Casanova moved up a spot yesterday, too, and now sits in fourth. His fellow teammates, Carlos Parro on Safira and Rafael Mamprin Losano on Withington also moved up in three places with Parro moving from 11th to eighth and Mamprin Losano jumping from 12th to ninth.
The Canadians switched their order as well. Colleen Loach and FE Golden Eye had been fourth after dressage, but accrued 13.2 time penalties to move them down to 11th in the Pan American Games standings after cross-country. Lindsay Traisnel and Bacyrouge moved up from seventh to fifth and Karl Slezak and Hot Bobo jumping from eighth to sixth, both on the strength of fault-free rounds within the time allowed.
The USA leads the team standings (86.2) with Brazil in second (101.5) and Canada only a few points back in third (105.2). Argentina is in fourth (194.1) and Mexico in fifth (209). Sadly, the home team, Chile, had two rider eliminated yesterday, as did Uruguay. Colombia had three of their horse/rider combinations eliminated as well.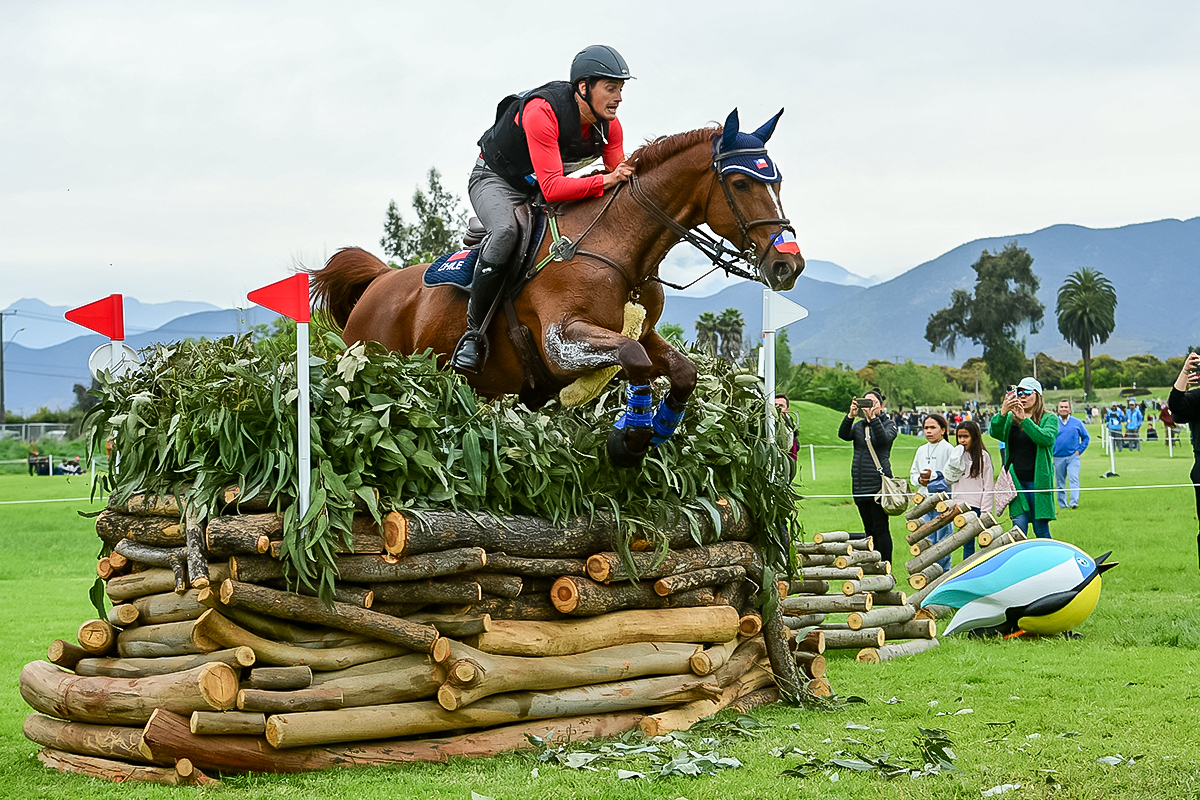 U.S. Chef d'Equipe Bobby Costello summed up the day, "The team really went out and executed our game plan yesterday and each of them did the job we tasked them with. Ian [Stark] was really thorough with how he wanted them to approach this course and all of them delivered. The horses are all looking great and finished well―which is a testament to their fitness and preparedness coming into this event. We have one more day left though, and we are not taking our eye off the ball."
The cross-country fence analysis shows that one frangible pin was broken and there were three rider falls, but no horse falls. Four obstacles had two refusals incurred and there were 18 single refusals. Overall, the course designer did a very good job of safeguarding horses and riders.
Today will bring new challenges for the remaining competitors with the second horse inspection scheduled for 9 a.m. and the show jumping at noon Chile time (11 a.m. Eastern US, 10 a.m. Central, 9 a.m. Mountain, 8 a.m. Pacific and 5 a.m. Hawaii). Team and individual medal ceremonies will follow. The competition can be viewed on ClipMyHorse.tv (subscription required).
For more information on the U.S. Equestrian Team competing in Chile, click here.
Find schedules, start lists and results on the official games website here and click on "equestrian eventing."