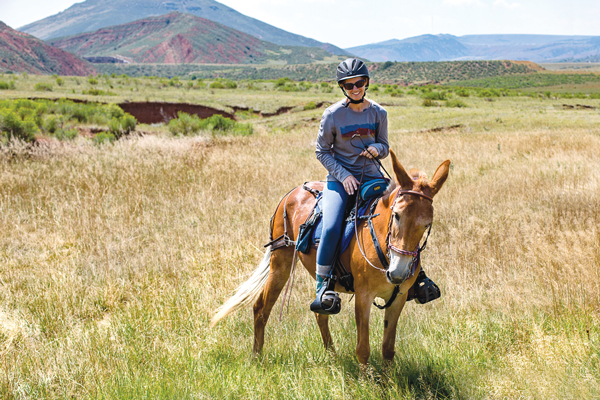 In this story from writer Stacey McKenna, she describes the life lessons she learns from Daisy the Wonder Mule.
In the book
Outliers, Malcolm Gladwell
argues that it takes 10,000 hours of focused practice to master a skill. Most equestrians would likely challenge that idea; even the most adept among us still encounter horses that teach us something new.
From the first time I sat on a pony at about 2 years old, I was driven to become an expert, or as close as I could get.
At first, my goals were simple ones. I wanted to perfect my posting trot, pick up the correct lead, hold a steady pace. As I got older, my goals became more elaborate: I wanted to ride junior jumpers, compete at the Pennsylvania National Horse Show, and to be a grand prix show jumper.
I had an agenda for myself and often for my mounts. We had to meet certain milestones before we became too old, too scared, or too distracted.
This mentality stayed with me into adulthood as I pulled Thoroughbreds off the track in search of my next 4-foot jumper. When I traded the arena for the trail, I shifted my ambitions, but not the way I approached them.
In the spring of 2018, everything started coming together when I met Daisy, or as I sometimes call her, Daisy Donut the Wonder Mule. She's a strawberry blonde molly mule—athletic, curious and as snuggly as they come. Within a year, she had changed everything about the way I approach my equestrian life.
Getting Out of the Saddle
Daisy arrived in early June, and I had big plans to start hitting the trails as soon as possible. She was well-trained and had far more backcountry experience than I, so I figured by the end of summer we would have put miles behind us. But there was a catch. I didn't have a saddle that fit her.
Before getting Daisy, I knew I would need time to find the right tack. Fitting a mule can be tricky, and I was transitioning from a jumping saddle to something more suited to hours on the trails, but I hadn't expected it to take as long as it did. I eventually ordered a semi-custom endurance saddle, but it wouldn't arrive until September.
My plans derailed, Daisy and I had months to get to know one another. Mules and donkeys have a reputation for being stubborn, but many devotees will tell you that there's something else going on. Long-eared equines have a strong sense of self-preservation and expect to be consulted on decisions that could affect their well-being or survival. Consequently, that first summer of earning trust without rushing paid off.
Abandoning the Timeline
Some days we did groundwork in a round pen, and occasionally I hopped on bareback. But Daisy and I passed the majority of our time just walking through the rabbit brush, matching our steps, and pausing occasionally for ear scratches or snatches of grass. When my golden-maned mule heard a potential predator (actually barn cats) rustling through the reeds, she froze. I stopped, too, standing a few feet in front of her until she agreed it was safe to proceed. She always did, though some days it took longer than others.
In the months that followed, it became apparent that I simply couldn't hold my adventure goals to a strict timeline. Our slow path to friendship was paying off: The more I gave Daisy a say, the more she looked to me for direction.
Forced to postpone my agenda of getting out into the wilderness as quickly and consistently as possible, I embarked on what would ultimately be a much longer journey: Daisy and I were becoming partners on a different level than I had ever known, and the barn had become the one place where I could show up without a plan. This freed me up to meet Daisy where she was on any given day, whether that meant taking a stroll, practicing our fledgling rock-hopping skills, or galloping in an open pasture.
I don't know when Daisy and I will make it into the backcountry on our own, or what that will even look like when we do. Relieved of the pressure of an external deadline, I'm making the most of our time together. And the more I do it, the more it feels like that's the point.
This article on Daisy the Wonder Mule appeared in the August 2020 issue of Horse Illustrated magazine. Click here to subscribe!