Friday was the day dressage fans eagerly anticipate at every FEI World Cup Finals ― the Grand Prix Freestyle to music. The dressage competition in Omaha is sponsored by Havensafe Farm, Wellington, Florida and Middlefield, Ohio, owned by Betsy Juliano. Juliano is a long-time supporter of the sport and a primary horse owner for US Equestrian Team riders Adrienne Lyle and Jennifer Baumert. 
Thirteen competitors rode down centerline Friday evening in front of a very appreciative crowd. Sadly, three of the original 16 dressage starters had to withdraw their horses for veterinary reasons, although all are expected to be OK according to reports from their national federations. 
On Wednesday before the Grand Prix started, Dutch rider Dinja van Liere had to withdraw Hermes N.O.P. Then, on Thursday, Ingrid Klimke announced that Franziskus FRH had "overreached" (probably clipping a heel) and therefore for the stallion's welfare she was withdrawing him. Friday, the Dutch Equestrian Federation issued a statement saying that unfortunately Marieke van der Putten's mount Torveslettens Titanium RS2 had colicked mildly and they felt it was in his best interest to pull him from the freestyle competition as well. 
The competitors were divided into two groups, six in the first and seven in the last, with an arena drag break in between. First into the arena was Singapore's Caroline Chew, who is now an attorney with a practice in London, and rides her own 19-year-old Norwegian Warmblood gelding Tribiani. Chew is the first World Cup competitor from Southeast Asia. 
Following Chew was Lithuania's Justina Vanagaite riding her 10-year-old Belgian Warmblood gelding Nabab in her first World Cup Final. Belgium's Jorinda Verwimp and her 11-year-old Oldenburg gelding Charmer were next in the order. After Verwimp, Morgan Barbançon of France and Sir Donnerhall II OLD, a 17-year-old Oldenburg gelding, took their turn. 
Then, the first American rider, Alice Tarjan and her elegant dark bay American-bred Hanoverian mare Serenade MF (bred by Maryanna Haymon) entered the ring with double canter pirouettes then moving into a broken line of two- and one-tempi canter lead changes. They performed to music which included "Bach Fugue in C Minor," "Road to Tomorrow," "Sawdust Breeze" and the 396 Hz Solfeggio Frequency for liberating guilt and fear. The pair improved on their miscues from the Grand Prix on Wednesday and increased their level of difficulty earning a 75.207 percent for 9th overall. 
Tarjan and Serenade were followed by Australia's Simone Pearce who rode the 14-year-old Oldenburg stallion Fiderdance owned by Gestüt Bonhomme GmbH & Co.KG. Next to compete were the only remaining competitors from the Netherlands, Thamar Zweistra and Stal Hexagon's 14-year-old grey NRPS (a Dutch studbook) stallion Hexagon's Ich Weiss; the placed 5th with a 78.204 percent. Then, the lone entry from Sweden, Johanna Due Boje and the 15-year-old Swedish mare Mazy Klovenhoj entered the arena. 
The final five competitors included the two other American riders, Anna Buffini riding her 16-year-old Hanoverian mare Davinia la Douce and Steffen Peters and Akiko Yamazaki's 15-year-old KWPN gelding Suppenkasper. Buffini and Davinia entered the arena after Due Boje's test and performed a lovely routine to songs from the soundtrack of the movie Top Gun: Maverick. They earned a 77.843 for their efforts which put them in 6th place overall. 
Peters and Suppenkasper, who had been the best American pair in the Grand Prix on Wednesday, pulled out the stops to an updated version of their Tokyo 2021 Olympic freestyle (which earned "Mopsie" the title "Rave Horse" after the Olympics). They danced to songs including "Safety Dance" (Men without Hats), "Calabria" (Firebeatz remix), "Staying Alive" (Bee Gees), "What is Love" (Haddaway), and a little bit of rap. The crowd was really behind them and Peters and Mopsie ended their run in the 2022 World Cup Finals earning a personal-best 83.921 percent and 4th overall. 
Peters was over the moon at his performance with Suppenkasper, "To have almost an 84 percent at the moment it really counts the most is so amazing. Mopsie was so with the music; there was never a moment that he was behind or ahead of the music. This was the most fun―a real party out there."
Riding in between Buffini and Peters was Isabell Werth and Madeleine Winter-Schulze's and Victoria Max-Theurer's 13-year-old German Sport Horse Quantaz DSP, followed by her countrywoman Jessica von Bredow-Werndl on the 16-year-old Trakehner mare TSF Dalera BB owned by Béatrice Buerchler-Keller. Then, riding last after Peters and Suppenkasper, was Denmark's Nanna Skodberg Merrald and Blue Hors Aps's Blue Hors Zepter, a 15-year-old Oldenburg gelding. 
Werth confidently guided Quantaz through a technically difficult test which included a piaffe pirouette into a canter pirouette and an extended canter to a canter pirouette to a piaffe pirouette. Werth exuded pure joy through their entire test and smiled and laughed during her post-ride interview and the press conference. A veteran of 23 World Cup Finals now, she seemed so relaxed and at ease, even though she admitted in the press conference she still gets nervous before she rides. The music for Werth and Quantaz was a mix of songs including "Game Over" by Eminem, "Straight from the Heart" by Bryan Adams, and "It's Heartache" by Bonnie Tyler. 
Von Bredow-Werndl and her long-time partner Dalera's much anticipated freestyle came after Werth's. They glided around the arena to music celebrating the city of Paris as a nod to next year's Olympic Games including "Paris Cheri" and "Non je ne Regrettes Rien." While not yet quite up to the form they had before von Bredow-Werndl's maternity leave, they were technically very correct and had perfect phrasing. Nearly all of their individual marks topped those of other riders. They garnered 90.482 percent which ultimately locked in the World Cup Finals win for the second time in two years. 
She was elated when interviewed for FEI TV, "I'm grateful for that wonderful mare I'm allowed to dance with. Grateful to have a horse who always gives her best every time she enters the arena, and when there are mistakes they are my mistakes. When I entered the arena she lifted herself up. I am definitely going to celebrate with my father and the horse owner who are both here and with my German teammates."
Last in the arena for the evening, Skodberg Merrald's and Zepter's freestyle was a super-smooth, powerful test ridden to "Time to Say Goodbye" by Andrea Bocelli as well as some music by Ed Sheeran. Though she's only ridden the gelding for four months, she felt he has much potential and he certainly showed it! They scored a personal-best 87.146 percent to surpass Werth and Quantaz in the standings for second place. 
See the complete results from the Grand Prix Freestyle World Cup Finals dressage here.
Temple Grandin & More
A full docket of education and entertainment was offered at the Omaha World Cup Finals, so visitors had lots to choose from Friday. Even though the Dressage Freestyle competition didn't start until 6 p.m., the trade fair, educational activities and entertainment opened at 9 a.m. 
Breeds showcased in the demonstration arena Friday included Akhal-Tekes, Fell Ponies, Fjords, Foxtrotters, Friesians, Highland Ponies, Paint Horses, Saddlebreds and Thoroughbreds. Educational demonstrations included foundational to advanced horsemanship, in-hand jumping, steaming hay, vaulting, and Western dressage. And, there was a meet and greet time with a 17-year-old Percheron draft horse named Luke, the tallest horse in Nebraska at 19.3 hands and 2,300 pounds.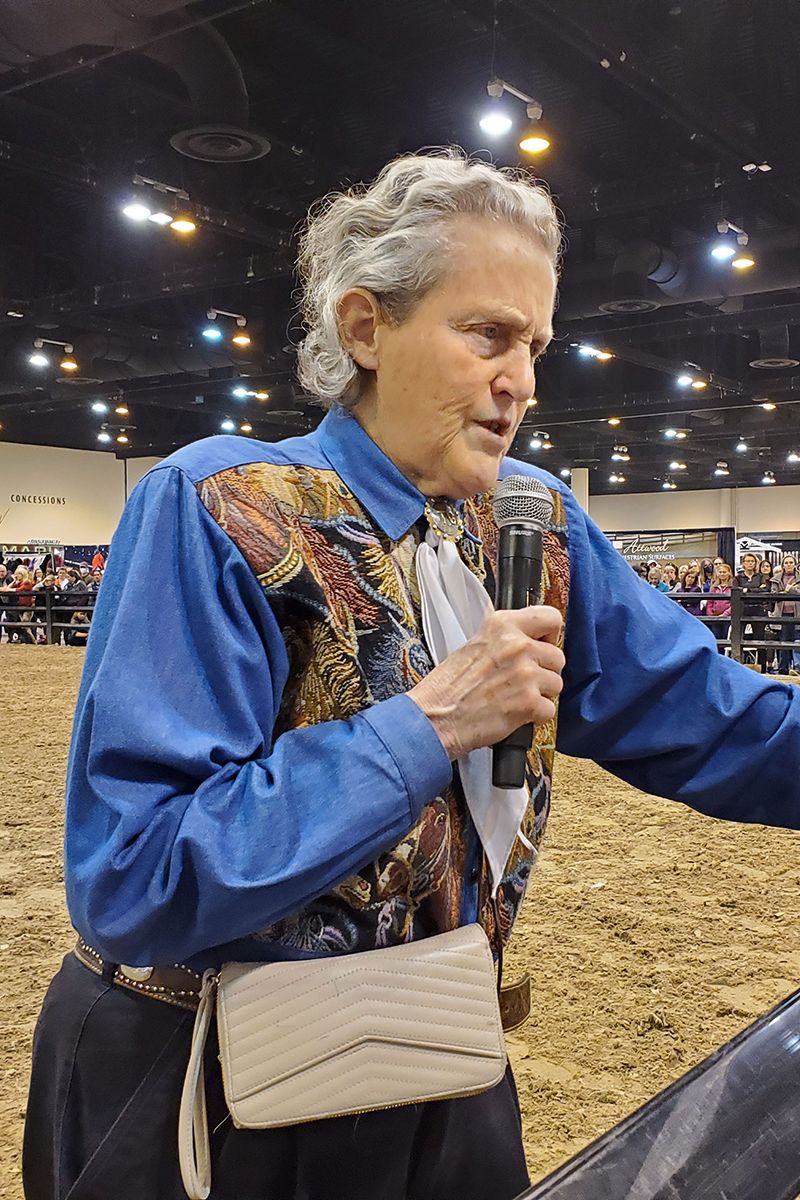 But beyond the competition, the biggest draw of the day at the World Cup venue was an appearance by renowned Colorado State animal scientist and animal welfare and autism advocate, Dr. Temple Grandin. Crowds overflowed the stands and wrapped around the demo arena to hear her speak for 45 minutes and followed her back to the Omaha Equestrian Foundation booth where she answered questions and signed books for a lengthy amount of time. 
Friday's World Cup Wows
Our associate photographer Shelley Higgins from Ontario, Canada, shares her "world cup wow" moment from Friday night's competition. "For me it was Steffen Peters' and Mopsie's amazing amount of collection in the canter pirouettes tonight!"
For Michelle Downey from Amaranth, Ontario, her wow for the day came while she was sitting in the stands watching the freestyles. She says she could just feel the positive energy and joy rising from the riders on the competition floor. "The dressage freestyle was unreal. Isabell Werth has a million-dollar smile.  She engaged with the audience and brought us right into the moment with her. Unbelievable!"
For me the wows were two-fold. The first was listening to Temple Grandin speak and marveling at the insight and intellect she shared with the audience and, being autistic, what she had overcome to become a professor, scientist and animal welfare advocate. The other was the true feeling of joy and camaraderie that all of the dressage riders brought to the venue. They were smiling and laughing, supporting each other regardless of nationality, and thanked the organizers and sponsors and volunteers often. It made you realize that there is a real sense of community in the international world of equestrian sport! 
For all articles about the 2023 FEI World Cup in Omaha, click here.
This article about the FEI World Cup Grand Prix Freestyle is a web exclusive for Horse Illustrated magazine. Click here to subscribe!